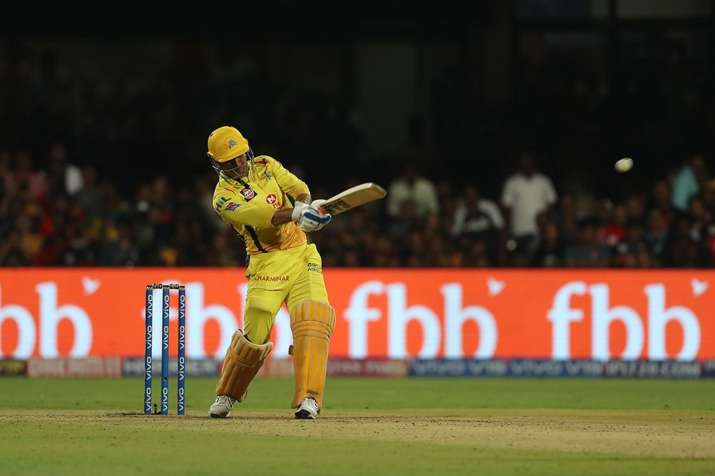 Mahendra Singh Dhoni, on Sunday night, turned back the clock when he produced one of his best-ever knocks in the shortest format of the game, tyring to take his team Chennai Super Kings over the finish line against Royal Challengers Bangalore at the M. Chinnaswamy Stadium in Bengaluru. Dhoni slammed an unbeaten 48-ball 84 to take CSK closer to their target of 162. However, despite his heroics, Dhoni's CSK were short by just one run.
Though Dhoni was unable to finish his job, the impact of his knock, which was studded with 5 fours and 7 sixes, was felt by the cricket pundits.
Not only was this Dhoni's highest-ever IPL score, the CSK heavyweight also became the first Indian to hammer 200 sixes in the league.
Dhoni is only the third batsman ever to hit 200 sixes in IPL. Jamaican stalwart Chris Gayle leads the list with a staggering 323 sixes while RCB and South African superstar AB de Villiers is second on the list with 204 sixes. 
As far as the Indians are concerned, Mumbai Indians captain Rohit Sharma and Chennai Super Kings' Suresh Raina lead the list with 190 sixes each. Meanwhile, India and Royal Challengers Bangalore captain Virat Kohli has 186 sixes to his name.
On Sunday, chasing a target of 162, CSK needed a near-impossible 26 off the last over bowled by Umesh Yadav and Dhoni with 84 off 48 balls that had seven sixes showed that nothing is indeed impossible until the Cricketing Gods intervened.
Only that Dhoni was at the crease and having consumed dot balls off the previous over, he had to go for the jugular and boy he did it with three sixes and a four.
With two needed off the last ball and Umesh looking increasingly helpless, he managed to bowl a slower delivery and Dhomi missed it only for Parthiv Patel to effect a run-out as non-striker Shardul Thakur inches out of his crease.
In the end it was Dhoni who lost to RCB, who eked out their third win of the tournament.