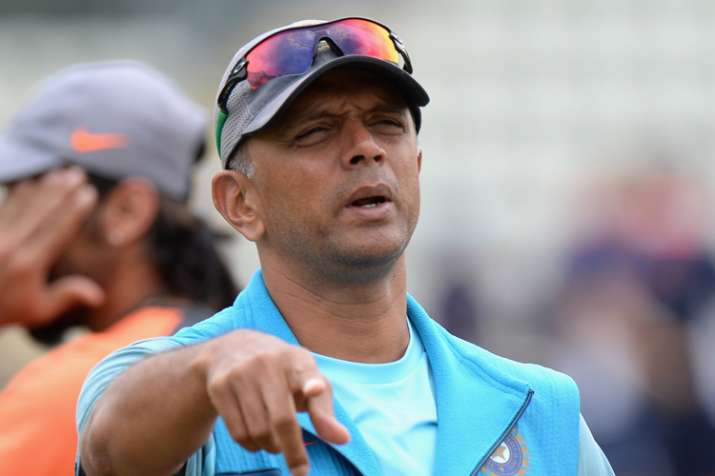 Kings XI Punjab (KXIP) skipper R Ashwin's 'Mankading' of Jos Buttler in the ongoing Indian Premier League (IPL) has divided the world of cricket into two halves with one condemning the spinner for acting contrary to the 'spirit of the game' while the other finding nothing wrong in the player's deed. But when The Times of India posed the matter to former India captain and current U-19 coach Rahul Dravid, he said that he doesn't see any problem with what Ashwin did as he was within his rights and the laws of the game to run-out the Rajasthan Royals (RR) opener.
According to 'The Wall', it would have been better if Ashwin had warned Buttler first, but even if he didn't, the off-spinner was 'well within his rights to do what he did'.
"It's within the laws of the game and that's pretty clear. So I don't have a problem with someone deciding to do it. Ashwin was well within his rights to do what he did. However, personally, I would prefer it if somebody warns someone first. That would be my personal choice, but I respect someone's view to think differently. I might not agree with it necessarily, but I would just have to agree to disagree whether someone should run someone out without warning him," said Dravid.
Further, the former India captain felt that it was up to Ashwin as to how he interprets the law regarding Mankading, as far as giving a prior warning to Buttler was concerned. In Dravid's opinion, it was entirely up to the bowler to issue a warning or not and we shouldn't grudge him as the law doesn't say that you are required to warn the player before running him/her out.
"I think some of the reactions were overblown. Questioning Ashwin's character because he did that is totally wrong. He has every right to his view. You might not agree with it, but it was well within his rights to do it and that does not make him a bad person. As I said, I would rather he had warned first, but if he chose not to do it, then that's his interpretation and you can't have an issue with that.
"It is not about being a gentleman or a non-gentleman. This is not a judgement on his character, but his reading of the law. He has not cheated anybody, nor is he a bad person because he did that," Dravid added.
On the issue of 'spirit of cricket' being violated, Dravid was of the view that it is a player's 'personal choice' what constitutes the former. The worry for Ashwin and KXIP coach Mike Hesson, he said, was to handle the team going forward as there would be different opinions within the team on whether Mankading is right or not.
"The interpretation of sportsman spirit is different for different people and I don't think we need to go into that. You can decide in how you want to be. It's a player's personal choice. The toughest thing for Ashwin and his coach in Kings XI is that an issue like sometimes polarizes opinion. Among the players and support staff, there might be some who feel he could have done things differently and that becomes difficult for the captain and coach going forward."
When Dravid was asked if he felt the law should stay, the 164-Test veteran said that the law was 'there for a reason' and if revoked, there is a risk of batsmen taking unfair advantage.
"I don't see any other way. Tomorrow if you don't have the law, you can have somebody standing five feet outside the crease. So how do you make sure that someone doesn't take advantage? The law is there for a reason and how you choose to use it is a tricky one," Dravid signed off by saying.