Follow us on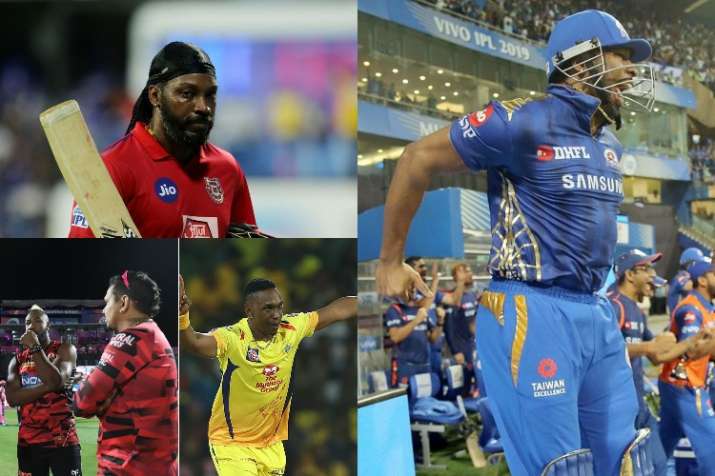 The Indian Premier League (IPL), which is running in its twelfth year currently, has seen a number of players from across the globe set the stage on fire with their sparkling performances. Throughout its journey, the IPL has emerged as the most sought-after T20 tournament in the world. While on one hand, the Jamboree has given wings to many young Indian cricketers, it has also catapulted a number of international players to legendary status. But it is the Caribbean Islands whose cricketers have left an indelible imprint like no other on the league.
Over the years, the likes of Chris Gayle, Dwayne Bravo, Andre Russell, Sunil Narine and Kieron Pollard have single-handedly won many games for their respective teams and still continue to do so. Here we take a look at the impact West Indians have had on the Indian extravaganza:
Chris Gayle
'Universe Boss', 'Gaylestorm', 'Gayleforce', 'Inter-Gayle-actic' and who knows what else the giant opener from Jamaica has been called due to his exploits in the IPL. The last one is from last night in Wankhede where he belted Kings XI Punjab (KXIP) bowlers to all parts of the ground, hitting another entertaining fifty. But in 2008 when he was lapped up by Kolkata Knight Riders (KKR) for a whopping USD 8,00,000, a lot was expected of him. Though the batsman failed to live up to the hype initially so much so that he went unsold at the 2011 auction.
Gayle's fortunes, however, took a big turn when he was brought in as a replacement by Royal Challengers Bangalore (RCB) in 2011. After announcing his arrival with a century in his very first game, the explosive opener finished as the highest run-getter in the league - a feat he repeated the next year. In 2013 Gayle finally assumed the title 'Universe Boss' after world-record innings of 175 runs against Pune Warriors which also included a 31-ball century.
Having owned every major T20 record, his exploits have redefined T20 batting in a way no one else has. And even though his reflexes have slowed down, Gayle still remains a force to be reckoned with in the IPL.
Matches: 118
Runs: 4217
Avg: 40.94
HS: 175
Strike-Rate: 151.09 
Andre Russell
Russell has been in ominous form this season for KKR, having already hit more than 250 runs at an average of 128.50 and a Strike-rate of 212.39. In a way, he has come a long way since being bought by Delhi Daredevils (now Delhi Capitals) in 2012. A spate of injuries and adverse team combinations meant that he couldn't produce the high voltage innings he had been famous for in the Caribbean.
Cut to 2015-16 and Russell hit the jackpot with defining performances for his new team - KKR. While racking up close to 300 runs with the bat every season since then, the Jamaican has also proved as an asset with the ball picking up crucial wickets which helped him to be adjudged the Most Valuable Player (MVP) in 2015 along with numerous Man of the Match awards.
The impact of Russell can be measured by the sheer fear that he ignites amongst bowlers who know that no total is big enough once the West Indian has found his range. And there are no signs that he is slowing down as he has already helped KKR chase 53 of 18 balls twice this season - a feat that was not achieved even once in the 11 years of IPL, let alone twice!
Matches: 56
Runs: 1147
HS: 88
Avg: 32.77
Strike-Rate: 184.11
Sunil Narine
If mystery-spin rules white ball cricket today, a lot of credit should go to Narine. The spinner can happily walk into any T20 team in the world - such have been his exploits with the ball. Out-foxing batsmen with his variations he has led a resurgence of spinners in a format ideally suited to big-hitters who traditionally take a special liking to slower bowlers.
Roped in by KKR in 2012, Narine proved an instant success with the ball finishing with 24 wickets and the Player of the Tournament award as his team lifted their maiden trophy. Since then he has remained an integral part of the side and has fashioned victories out of thin air - if not with wickets, then his miserly economy rate. Batsmen have often been found playing him with more caution than other bowlers due to the obvious threat he has become.
And if that was not enough, KKR experimented by sending him to open the innings - a role he has made his own by taking the opposition bowlers to the cleaners early on. With the kind of impetus that he provides in the powerplay combined with his skills with the ball make him an invaluable player for KKR.
Matches: 103
Strike-Rate: 170.64
Wickets: 115
Economy: 6.6
Best: 5/19
Dwayne Bravo
The quintessential T20 superstar. Dwayne 'Champion' Bravo took to the IPL as a fish does to water. His international accomplishments aside, it was the IPL that made the Trinidadian a household name and launched him as one of the greatest all-rounders in the shortest format.
In Chennai Super Kings (CSK) and under the guidance of MS Dhoni, Bravo has flourished really well becoming the former Indian captain's go-to bowler in times of crisis. And boy he has delivered! Even though he has lost some of his touch with the bat over the years, with the ball in hand Bravo still manages to outsmart the greatest of batsmen in the IPL.
There is no doubt that the role played by Bravo in CSK's success over the years has been seminal. Give him a target to defend and he will make sure - with his slower balls, cutters and bouncers - that it stays out of reach of the opposition. With the bat, he is still a handy player and is capable of hitting some lusty blows as he showed during CSK's 3rd title-winning campaign last year.
Matches: 126
Wickets: 143
Runs: 1442
Kieron Pollard
If anyone had any doubts about Pollard's place in the Mumbai Indians (MI) lineup, Bravo's fellow countryman put them to bed with a blistering 31-ball 83, pulling off a heist like no other against Kings XI Punjab last night.
After shining in the Champions League T20, Pollard was bought by the franchise as the power-hitter they desperately needed. He has exceeded those expectations by a fair margin by single-handedly winning games for MI along with grooming younger players in the team to believe in their strengths. The likes of Hardik Pandya, Ishan Kishan and Suryakumar Yadav owe a lot of their batting confidence to their giant teammate who has led by example making them believe that they can do what he can.
Primarily an aggressive batsman, Pollard is also quite handy with the ball but fitness issues have plagued that side of his repertoire. However, if he keeps performing like yesterday, MI and his fans would not be complaining much.
Matches: 138
Runs: 2655
Strike-Rate: 148.24
Wickets: 56