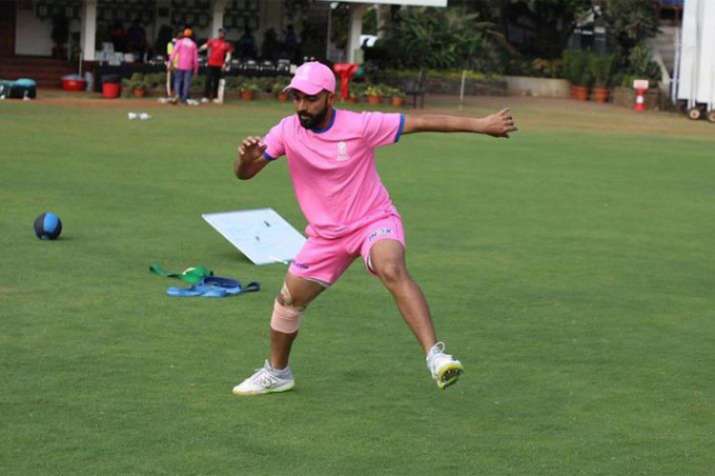 India batsman and Rajasthan Royals' skipper Ajinkya Rahane yesterday was trolled heavily on social media after he posted a picture of himself during training and asked fans to guess what he was 'trying to do'. With the Indian Premier League (IPL) set to begin in less than a week's time, Rahane and his team is gearing up to try and win their second title in 12 editions of the tournament.
Posting a photo from training, India's Test vice-captain had written on his Twitter page: "Any thoughts on what I was trying to do? MondayThoughts".
Soon after the tweet was posted, Rahane was bombarded with some hilarious answers from users on the micro-blogging site. While some said that his stance reminded of what one does while sweeping the floor while others photo-shopped the image with different backgrounds depicting Rahane jumping off.
Any thoughts on what I was trying to do? #MondayThoughts pic.twitter.com/QO1ChuhAmb

— Ajinkya Rahane (@ajinkyarahane88) March 18, 2019
Here are a few samples:
Mami ne Abhi Abhi poocha lagaya hai... Uske upar se kud kar ja rahe ho...😁😁

— Bhupesh Singh Rathore (@BhupeshSinghRa5) March 18, 2019
Trying to get down from a moving local.. pic.twitter.com/2hIxArsdrU

— Jitendra (@hydbadshah) March 18, 2019
Releasing gas😂😂😂😂

— Shamkumar (@Ch_shamkumar) March 18, 2019
Trying To Get Place in Indian Team..

— Kratika Sharma (@kratika4feb) March 18, 2019
Just remembering "Jumpin' Jack Flash" by Rolling Stones (1968), and that's very apt here.

Dear @BCCI, you should reconceptualise contenders for coming WC.

— Pratapsinh Patil (@gpekmaratha) March 18, 2019
Trying to dance like Grandmaster Sunny 🤔 pic.twitter.com/dCmvD7t8ev

— टिंप्स (@manya747) March 18, 2019
sumo wrestling..

— Guryon_Man_United🔰🔰 (@guryon_pk) March 18, 2019
Get ready to jumping japak jampak jampak....IPL

— चौकीदार आलोक झा (AJ) (@AlokkumarjhaAJ1) March 19, 2019
Practicing steps of Khalibali song from Padmavat 😜😂😂😂😜

— Darpan Bhatt (@DarpanBhatt11) March 18, 2019
Rahane was elevated to the captain's role last season after Steve Smith was suspended, due to the Sandpaper Gate. This season will see the India batsman take charge for the second time. 
(With IANS inputs)