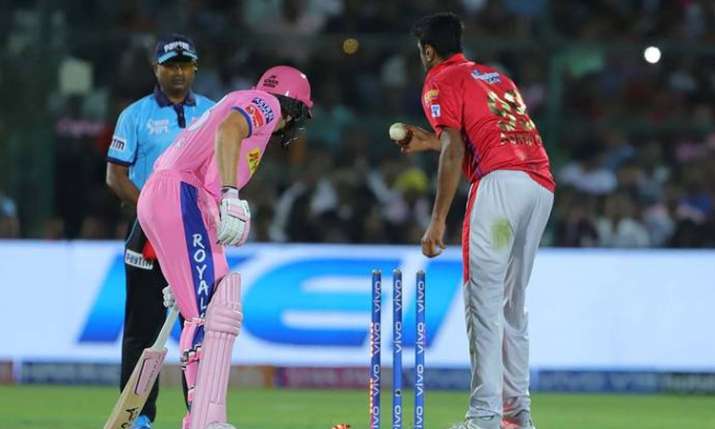 Kings XI Punjab captain Ravichandran Ashwin stirred up a controversy in the ongoing 12th edition of the Indian Premier League when he dismissed Rajasthan Royals' batsman Jos Buttler via a 'Mankad' run out on Monday, making the Englishman first to be dismissed in such a manner in the history of the league.
A desperate Ashwin did the unthinkable when he Mankaded Buttler in controversial circumstances in the 13th over with the batsman going strong at 69 off 43 balls. 
With Buttler going strong at 69 off 43 balls while chasing 185 runs, Ashwin Mankaded the Rajasthan Royals opener without giving him any warning.
As per the laws of the game, the third umpire declared Buttler out but such dismissal had always raised eyebrows as it is considered against the spirit of the game.
As expected Buttler seemed furious and had a heated exchange with Ashwin before leaving the field. 
The dismissal quickly raised a fresh debate over the spirit of the game as the off-spinner didn't give the Englishman a prior warning.
Many former and present cricketers offered their views on the controversial run out. Here are some of the tweets:
That is terrible!!!!!!

— Sam Billings (@sambillings) March 25, 2019
Very very poor wasn't it

— Chris Lynn (@lynny50) March 25, 2019
He ain't winning any spirit of cricket awards is old ashwin

— Dale Steyn (@DaleSteyn62) March 25, 2019
Average behaviour from R Ashwin in the @IPL
Is that really how you want to win a game of cricket??? #KXIPvRR

— Alexandra Hartley (@AlexHartley93) March 25, 2019
What an absolute disgrace! @josbuttler spitting tacs and rightfully so!!! #RRvsKXIP

— Mitchell McClenaghan (@Mitch_Savage) March 25, 2019
I can't believe what I'm seeing!! @IPL Terrible example to set for young kids coming through. In time I think Ashwin will regret that.

— Eoin Morgan (@Eoin16) March 25, 2019
If @josbuttler had been warned well that's fine ... if he hasn't and it's the first time I think @ashwinravi99 is completely out of order ... watch how often this happens from now on !!!!!!! #IPL

— Michael Vaughan (@MichaelVaughan) March 25, 2019
Ashwin, that's shocking behaviour! Very disappointed to see that.

— Jason Roy (@JasonRoy20) March 25, 2019
How's playing within the laws of the game 'unfair'?? #RRvKXIP #IPL #Ashwin

— Aakash Chopra (@cricketaakash) March 25, 2019
It's within the laws of the game but Jos Butler should have been warned by Ashwin before that. Very Surprised ! Remember Ashwin doing the same in an international game where Sehwag withdrew the appeal.

— Mohammad Kaif (@MohammadKaif) March 25, 2019
Am sorry Michael with all due respect does the wicket keeper ask the same question when u stump him by one millimeter or a million miles or when he loses his balance on the leg side.. Pls don't validate something which is wrong🙏 https://t.co/EUH3n8XdGA

— Kartik Murali (@kartikmurali) March 25, 2019
Don't blame Ashwin here. As it's allowed in the Laws of the game.. how is it disrespectful or against the spirit of the game if it's allowed within the Laws of game?

Blame the administrators for making the Law.

— Dean Jones AM (@ProfDeano) March 25, 2019
So disappointed in @ashwinravi99 as a Captain & as a person. All captains sign the #IPL wall & agree to play in the spirit of the game. RA had no intention of delivering the ball - so it should have been called a dead ball. Over to u BCCI - this a not a good look for the #IPL

— Shane Warne (@ShaneWarne) March 25, 2019
As Captain of your side - you set the standard of the way the team wants to play & what the team stands for ! Why do such a disgraceful & low act like that tonight ? You must live with yourself & FYI - it's to late to say sorry Mr Ashwin. You will be remembered for that low act https://t.co/jGif2TOnjI

— Shane Warne (@ShaneWarne) March 25, 2019