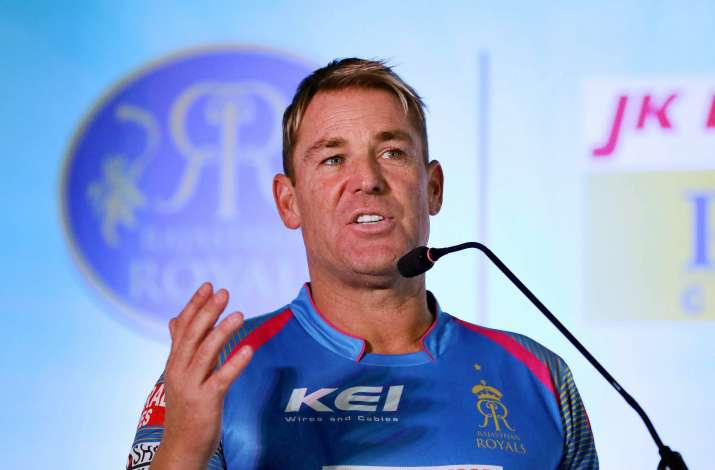 Back in the Rajasthan Royals fold after a few years, legendary Australian leg-spinner Shane Warne said it was like a homecoming for him. "I am happy to be back with the Rajasthan Royals and I am grateful for the great opportunity given to me. It's like coming back to home. The best squad is put together and we have the best captain in Ajinkya Rahane whom I fully trust," Warne told PTI.
"We have few match winners with bat and the ball as well. We have great talent at our disposal and it was wonderful job done at the auction." 
Skipper Rahane said that it was another opportunity for him to learn from Warne. "We have a great side and I am really excited for the coming season. I am looking to learn some more things from Shane Warne," said Rahane.
Talking about the DRS system introduced for the first time in IPL, Rahane said that it would be helpful.
"DRS is being introduced for the first time in IPL and it would be helpful. I am excited regarding it but the only thing is that I will have to trust the wicket-keeper and the bowler before making an appeal," he said.
"I feel Sanju Samson who would be keeping the wickets will have to be more watchful.
Speaking about the ball-tampering scandal, Warne feels the whole incident has given a chance to the cricketing world to "slam boot" into Australians. He feels every country should take this opportunity to look into their own backyards and decide how they want to play the game. 
Warne, who has taken over the role of a mentor for Rajasthan Royals, said he was disappointed and embarrassed by what happened during the third Test between Australia and South Africa in Cape Town. 
Warne, who had also led Rajasthan Royals to the title in the inaugural edition of the IPL in 2008, said every nation should introspect and decide how they want to play the sport.
"I think it is a great opportunity for every single country look into its own backyards and think the way they want to play cricket and for what we stand for including the Australians. Otherwise, this opportunity would go," said Warne who was the skipper of Rajasthan Royals for four seasons.
"It is very disappointing but I feel that this given an opportunity to others to slam boot into Australians without any reason," Warne added.
"I am not defending what Smith has done and I am also embarrassed as any other Australians with the happenings."
"Anyone who has been beaten by Australia, who don't like the way the Australians play the game or they don't like any individual in any country have taken the opportunity to take boots into the Australians.
(With PTI Inputs)