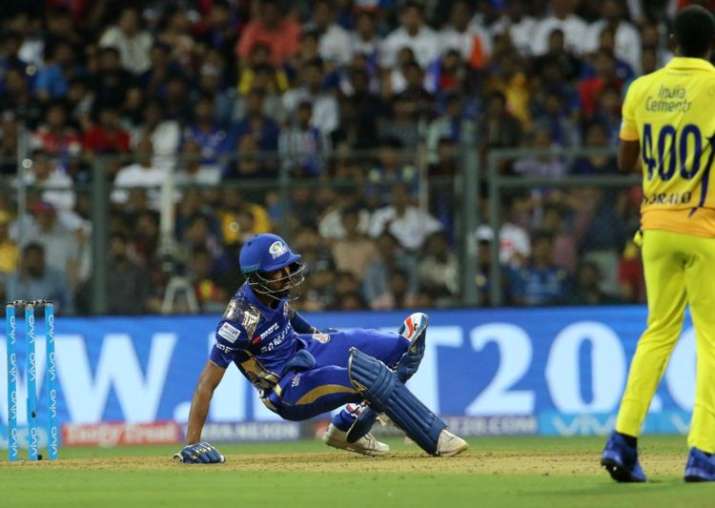 Mumbai Indians captain Rohit Sharma has claimed that star all-rounder Hardik Pandya, who suffered an ankle injury during the IPL 2018 opening game against Chennai Super Kings (CSK), looks fine at the moment and hoped he would be in good shape when they take on Sunrisers Hyderabad on Thursday.
The freak injury had happened off the final delivery of the Mumbai Indians innings bowled by Dwayne Bravo. Pandya wanted to go for a second run but twisted his ankle.
"He's looking good for now. He twisted his ankle but he came (back on the field) and bowled four overs. We still have three days (for the next match, against Sunrisers Hyderabad on April 12). I think he will be fine," Sharma told reporters here today.
The MI captain was speaking after launching 'AlphaBounce Beyond', a running footwear by adidas, in presence of his teammate Kieron Pollard.
MI were defeated by CSK by a wicket and a ball to spare in a thriller courtesy a whirlwind 30-ball 68 by West Indian Dwayne Bravo and some late hitting by Kedar Jadhav.
Sharma said his side was in the game till the 17th over, adding it is difficult to contain batsmen when they are set at the Wankhede stadium.
"Everyone saw what happened. There were certain things that we did not do right in the pressure situation. That's all. We were in the game till the 17th over. In the last three overs the game drifted away from us.
"You cannot do much about it. At Wankhede it is always difficult to contain batsmen once they are set. With the dew and all those factors it is very hard for the bowlers, but that is not an excuse. I am just trying to say what exactly happened on that day and in that particular over," the skipper said.
He also backed India and MI pacer Jasprit Bumrah who had an off-day in office against Chennai.
"Bumrah is one of the highest rated Indian death bowlers. Anyone can have a bad day. Yes, of course (he will make a strong comeback). He is a very strong character. Games like this teaches you more as an individual and he has played enough now to understand how he needs to comeback from those situations.
"He also knows that there is a lot of pressure on him. He wants to take it up as a challenge. Games like this will happen but again, he will still be our best bowler," the 30-year-old right-handed batsman said.
Debutant Mayank Markande had impressed with his figures of 3/23 including the prize scalp of Chennai skipper Mahendra Singh Dhoni and Sharma praised the leg-spinner.
"He has got great control of whatever he does, so, I think going forward he will be a great weapon for us. You never know, he has got great skills and potentially he is good. It's just about going out there and doing what he is doing. For us, me and Mahela (Jayawardene), as captain and coach, we just have to be supporting this guy.
"He has got everything that he needs to be successful at the highest level," Sharma signed off.
(With PTI inputs)