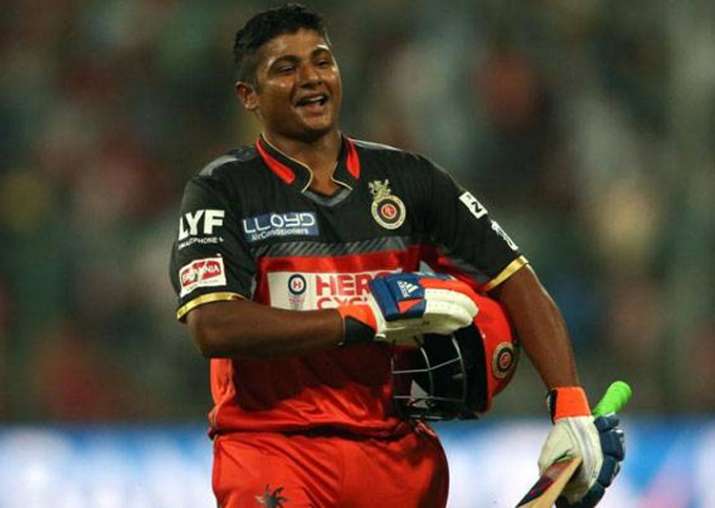 It was 20-year-old Mumbai batsman Sarfaraz Khan besides top-guns Virat Kohli and AB de Villiers, who got his name featured in the Royal Challengers Bangalore (RCB) retention list for the eleventh season of the Indian Premier League (IPL). Picking Sarfaraz over West Indies run-machine Chris Gayle, RCB paid Rs.3 crore for his retention. The right-handed batsman was bought by RCB for Rs.50 lakhs in the 2015 IPL auctions. He, then, became the youngest ever cricketer to feature in the IPL.
According to Sarfaraz, he was retained by the franchisee with the consultation of the team management and captain Kohli. Speaking exclusively to India TV, Sarfaraz thanked Kohli for "keeping faith" in him. 
"I would like to thank the RCB management as they have made me more confident and also to Virat Kohli, who kept his faith in me. Avinash Sadhya told me on phone that RCB is retaining me. Since my dad takes the decisions for me, he spoke and confirmed the matter. I am really glad to be a part of the team," Sarfaraz told India TV.
Having played three seasons with RCB, Sarfaraz has played 18 IPL matches scoring 177 runs with a highest knock of 45 runs. Both the team management and cricket fanatics expect a lot from the young cricketer this time. Though, Sarfaraz is not much worried and promises to help RCB win more matches this season.
"I'll stick to the basics and whenever I am given the opportunity, I'll perform well and will try to stick with the present and help the team win. The past is past and it's time to focus on the upcoming season.
"It all depends on the game, like how many wickets have fallen or who is batting; if it's Kohli or AB de Villiers, then you don't have to look for runs. We just have to rotate the strike and allow them to do what they do best. I'll play according to the deliveries that are being bowled," he continued.
Talking about the bond he shares with Kohli, Sarfaraz added that this responsibility is huge and Kohli has shown a lot of support. 
"I remember when I was going to play my first IPL match and suffered an injury in the knee, Kohli had comforted me with a long and sweet message, stating that whatever happens, happens for the best and this is the time one gets to know themselves; so no need to worry. This really boosted my confidence," he recalled.
The prodigious batsman scored 211 runs at an average of 70.33 for India's under-19 team during the 2014 World Cup. Sarfaraz is elated with the fact that he was picked next to de Villiers and Kohli, from whom he always draws inspiration.
"It's a really wonderful feeling. I just can't believe that I am next to them. It's like, I am still watching them on television. I get to learn a lot from them," Sarfaraz added.
Commenting on both batsmen's style of play, Sarfaraz said de Villiers and Kohi are very different to each other. "I cannot compare the two; the important part is scoring runs and they are the top batsmen of their countries for a reason."
"They have never made me feel small in any kind of way. They have supported me and helped me in times especially when they are at the crease, that's when their experience counts. They tell me on what shots to play, how's the wicket and what type of deliveries are being bowled," he said, thanking seniors for their guidance.
Sarfaraz said the seniors in the team keep the atmosphere light all the time. However, watching MS Dhoni keeping wickets behind intimidates the young cricketer.
"The senior players like to keep it cool, discuss a few matters on how to play and not to lose the wicket cheaply, a few laughs here and there and its quite cool being around them at the crease."
"Dhoni is quite intimidating when he is behind the wicket as he always has some trick up his sleeve on how to get a batsman out early," he explained.
Sarfaraz was introduced to the gentlemen's game by his father Naushad Khan, who later coached him. "If my abu (father) wasn't my coach, I wouldn't have been in this field. Even when I had my operation, my family supported me and I owe it all to them."
With an eye on a better season, Sarfaraz promised: "I want to perform well and help the team win and all we think about is how we can win and this time RCB have to win."
Having achieved much at an early age, Sarfaraz has a valuable advice for youngsters in India. "When I started in the IPL, my fitness was quite low, but it was Kohli who advised and guided me. My advice for the youngsters is to learn from the seniors. If you're looking for success then you should spend more time on the field and work hard," Sarfaraz signed off with a broad smile.