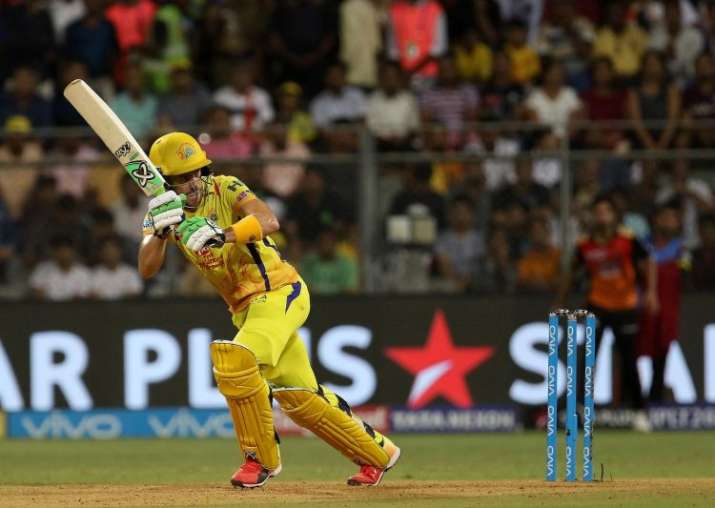 HIGHLIGHTS, SRH vs CSK, Qualifier 1 in Mumbai:
What a game. Chennai have defeated Hyderabad for the third time this season to storm into the finals.
Ambati Rayudu
did one over them twice, and now, it's
Faf du Plessis
who becomes the star of the show. Talk about the perfect timing to find some form. Chennai lost their way early chasing 140, and were staring down the barrel of a defeat. Things almost slipped out of their hands till that
Carlos Brathwaite
over in the 18th, where 23 runs were scored from it by Faf. That completely changed the tide and along with Shardul Thakur in the end, the Protea got his side over the line with a well-deserved fifty. Hyderabad were maybe 15-20 runs short. Though, despite that, they were exceptional with the ball tonight. Started off well, restricted Chennai to 62/6 and were right on top, but such is this format where the margin for error is less. The Brathwaite over stole the momentum from them. Siddarth Kaul too got taken for runs in the next over, thereby seeing them miss out. Rashid Khan in particular was the standout performer, conceding just 11 runs and picking up 2 wickets in his spell. Earlier in the evening, Brathwaite powered his team close to 140, but a clinical performance for the most part from the Chennai bowlers did just enough to help their batters gun the target down. (
SRH v CSK Qualifier 1 SCORECARD
)
SUNRISERS HYDERABAD VS CHENNAI SUPER KINGS HIGHLIGHTS FROM WANKHEDE
22.43 IST: Chennai Super Kings (140/8) beat Sunrisers Hyderabad (139/7) by 2 wickets to enter final. Du Plessis 67*, Rashid 2/11. Bhuvneshwar Kumar to Faf du Plessis, SIX! Faf du Plessis has finished the game in one blow! Kumar relies on his slower knuckle delivery first up, drops it on a length around off, Faf lofts it nonchalantly over the bowler's head for a maximum. The South African raises his hands in triumph as his teammates come running from the dugout. Emotions pouring out in the middle as the players in yellow are jumping and hugging each other. What a win! What a game!
The @ChennaiIPL have beaten #SRH by 2 wickets and are through to the #IPLFinal for the 7th time. On Sunday, they will be gunning for their third title. #VIVOIPL #SRHvCSK pic.twitter.com/2qJTXM94vD

— IndianPremierLeague (@IPL) May 22, 2018
22.40 IST: FOUR! Shardul Thakur, the Mumbai lad is doing it! Kaul delivers it full and on middle, Shardul smashes it straight down the ground and the long on fielder has no chance of cutting it off. He is playing a gem. Remember, he was taken for 20 runs in his last over while bowling and this is the best possible way to pay back.
22.37 IST: FOUR! Another streaky boundary, the crowd here in Mumbai is loving it. The famous Chinese cut. Unintentional, of course. On a good length around middle, 134.2 kph, Thakur tries playing it firmly down the ground but it takes the inside half of the bat and this time speeds past the left side of the keeper. A boundary at fine leg.
22.35 IST: FOUR! EDGY! But Chennai won't mind how they come as long as they come. A low full toss outside off, Thakur tries to keep it out but ends up edging it past the diving keeper for a boundary at third man.
22.34 IST: FOUR! That's rocketed to the fence. Fullish and outside off, Faf bludgeons it through cover-point and finds the rope. 20 from the over, 23 needed off 12 balls.
22.33 IST: Shardul Thakur comes out next.
22.32 IST: OUT! Harbhajan run out for 2. Harbhajan is short! The delivery is full and outside off, once again du Plessis drills it to deep extra cover and this time there is a fielder positioned there. Rashid Khan it is and he dives to make the stop. Then, he stands up to fire a flat throw to the bowler who takes the bails off. They appeal and the umpire goes upstairs. The replays find Harbhajan Singh short of the crease. Also, Rashid Khan seems to have hurt himself and is receiving some medical attention near the boundary line. Chennai Super Kings 113/8 in 17.5 overs vs Sunrisers Hyderabad (139/7) at Wankhede Stadium.
22.30 IST: FOUR! Chennai are up and running! The change of pace has not worked here. It's on the shorter side and du Plessis pulls it off the inner half of the bat. It beats short fine leg to his left and speeds away to the fence.
22.29 IST: FIFTY! Faf du Plessis hits his 9th IPL half-century. FOUR! Fifty for Faf, talk about the timing of this innings. His team is down and almost out but the Protea is refusing to give up. Fetches a length ball from his pads and deposits it to the mid-wicket stand. Chennai Super Kings 108/7 in 17.3 overs vs Sunrisers Hyderabad (139/7) at Wankhede Stadium. 
22.19 IST: Faf du Plessis Not out! It's missing the leg stump! Rashid's well-disguised googly ain't picked by du Plessis. He leans forward to defend but is beaten to get rapped on the pads. The appeal is upheld but Faf quickly takes the DRS. The replays confirm what I said earlier. Turning too much and missing the leg pole. Hyderabad trying to build relentless pressure now.
22.16 IST: Harbhajan Singh will be the next batsman in.
22.15 IST: OUT! Sandeep Sharma removes Chahar for 10. It's a clean catch! Sandeep arrows in a fuller length ball, on middle, Chahar swings his bat across the line, although with limited followthrough of the bat, you can call it half-helicopter and as a result, the ball also flies only half the distance. It loops towards long on where Brathwaite comes running in forward and across to take a low catch. However, he is not too sure whether he has taken it cleanly or not and the umpires go upstairs. The soft signal is out. The replays now roll in and it shows that Brathwaite has his fingers under the ball. Chahar has to continue walking off the park. A handy partnership is broken and Hyderabad will be delighted. Chennai Super Kings 92/7 in 15 overs vs Sunrisers Hyderabad (139/7) at Wankhede Stadium.
22.10 IST: SIX! Chahar has pulled this one out of screws. Anticipates the shortish ball and goes through with the swing of his bat. Not quite from the middle of the bat but still it has enough to fly over the fence. The umpire signals a biggie after getting the confirmation from upstairs.
22.06 IST: SIX! The South African is breaking the shackles. Gets a full delivery in his half, gives it the full whack of his bat and sends it whistling over the rope at long on. 14 from the over. CSK 80/6 in 14 runs.
22.05 IST: FOUR! Misfield in the deep! Shakib once again is on the shorter side, around middle and leg, du Plessis goes deep inside the crease and smacks it towards wide long on. Pandey runs across to his left from deep mid-wicket, puts in a dive to stop it but the ball still manages to get deflected towards the rope. The long off fielder in the meantime overran there and had no chance of cutting it off either. CSK 74/6 in 13.5 overs.
22.01 IST: Deepak Chahar arrives. He showed his batting talent in the last game and Chennai need him to come good today as well and stay with du Plessis.
22.00 IST: OUT! Sandeep Sharma removes Jadeja for 3. Soft dismissal! Sandeep Sharma hurls across a knuckle delivery, just outside off, Jadeja attempts to work it across the line but ends up chipping a straightforward catch to the bowler. Sandeep jumps to take the catch and tosses the ball up in celebration. Orange all over yellow like a rash! 78 needed off 45 balls. Chennai Super Kings 62/6 in 12.3 overs vs Sunrisers Hyderabad (139/7) at Wankhede Stadium
21.55 IST: Ravindra Jadeja in next.
21.54 IST: OUT! Rashid Khan removes Dwayne Bravo for 7. Rashid Khan strikes again! What a bowler! The Afghan jalebi consumes the West Indian entertainer! A leg spinner, landing short outside off and turning away, Bravo spots the chance to slap it over the off side but doesn't account for the spin. He swings his bat only to find the ball taking the outside half of it. Dhawan makes no mistake at first slip and Chennai slip further. Chennai Super Kings 57/5 in 11.2 overs vs Sunrisers Hyderabad (139/7) at Wankhede Stadium.
21.53 IST: Rashid Khan is back on the field and will continue with his spell.
21.51 IST: Shakib Al Hasan to Faf du Plessis, 1 run. Backs away to this short ball and whips it to deep mid-wicket for a run. 84 in 54 now. The game still very much in the balance. CSK 56/4 in 11 overs.
21.40 IST: SIX! Has enough on this to send it all the way. Needed that one. Short ball on middle and leg, du Plessis positions himself well and muscles the pull over backward square leg. Just about clears the man in the deep and that's a biggie.
21.37 IST: Dwayne Bravo comes out to bat.
21.36 IST: OUT! Rashid Khan removes Dhoni for 9. Hello. Hello! Here we go! MS Dhoni is gone. Absolute jaffa from Rashid Khan. Great decision from Kane Williamson to bring on his prime bowler. The googly again around off, Dhoni doesn't pick it up as he comes forward to defend. It goes right through the big gate and disturbs the bails. 101 needed in 74 balls. Chennai Super Kings 39/4 in 7.4 overs vs Sunrisers Hyderabad (139/7) at Wankhede Stadium.
21.33 IST: Rashid Khan into the attack.
21.30 IST: Carlos Brathwaite to Faf du Plessis, no run. Take a bow, Manish Pandey. All these runs saved could be vital in the end. Du Plessis slaps this to the right of point, where Pandey runs and dives at full stretch to stop it.
21.26 IST: FOUR! This pull shot symbolises Dhoni's confidence. In perfect control of that one. Well done. Short into the body, Dhoni swivels and pulls it through backward square leg, beating the man in the deep.
21.23 IST: Bhuvneshwar Kumar to MS Dhoni, 0 run. The batsman chooses to leave the ball outside his off stump. CSK 25/3 in 5 overs.
21.16 IST: MS Dhoni is the new man in and he will face the hat-trick ball.
21.15 IST: OUT! Siddarth Kaul removes Rayudu for 0. Gozunder! Siddarth Kaul on a hat-trick. What an unreal delivery to dismiss the prolific Ambati Rayudu. Couldn't do a single thing about that. It's fired full, swings away late and does enough to beat the outside edge of the bat. The ball crashes into the furniture and Hyderabad are right in this game now. Chennai Super Kings 24/3 in 3.4 overs vs Sunrisers Hyderabad (139/7) at Wankhede Stadium.
21.15 IST: Ambati Rayudu walks into the middle next.
21.14 IST: OUT! Siddarth Kaul removes Raina for 22. Raina departs! His nice little cameo comes to an end. Hyderabad needed this. Length ball on leg, Raina shuffles across a bit too much as he looks to flick. Misses it altogether and the stumps are rattled. Kaul gets the breakthrough, the dangerous southpaw is out of here. Chennai Super Kings 24/2 in 3.3 overs vs Sunrisers Hyderabad (139/7) at Wankhede Stadium.
21.12 IST: FOUR! Full toss from Kaul, Raina drives this square past point and finds the fence with ease.
21.04 IST: FOUR! Three in a row! This is exceptional batting from Suresh Raina. Sandeep keeps it full and just outside off, it's driven down the ground, past mid off for a boundary.
21.03 IST: FOUR! Raina off to a flying start! A lot of swing here from Sandeep, fuller outside off, it's creamed through the covers off the front foot for another boundary.
21.02 IST: FOUR! Full and wide outside off, Raina reaches out to it and hits it a bit square past cover-point for a boundary.
21.01 IST: Suresh Raina is he new man in.
21.00 IST: OUT! Bhuvneshwar removes Watson for 0. Bhuvi finds the edge and it's given! Big blow to Chennai as they lose Watson for a duck! What a delivery, absolute peach! Kumar lands it on a length around that off stump channel, Watson with minimal feet movement has a tame poke at it. The ball moves away ever so slightly, takes the outer half and Goswami behind the stumps makes no mistake. Perfect start for Hyderabad in the chase. Chennai Super Kings 0/1 in 0.5 overs vs Sunrisers Hyderabad (139/7) at Wankhede Stadium.
20.55 IST: We are back for the chase. Chennai have a below-par target to chase down, as Shane Watson and Faf du Plessis stride out to the middle. Bhuvneshwar Kumar will open with the ball. His spell in the Powerplay will be key.
20.42 IST: Sunrisers Hyderabad score 139/7 in 20 overs against Chennai Super Kings at Wankhede Stadium. Bravo 2/25, Brathwaite 43*. Bhuvneshwar Kumar OUT! Run out to end proceedings. Short one but Thakur, well-directed, Carlos tries to pull but misses. They attempt to steal a bye but Dhoni scores a direct hit after collecting the ball. Kumar is well short and Hyderabad end on 139/7!
Innings Break!

A fine bowling display by the @ChennaiIPL restrict #SRH to a score of 139/7 in 20 overs.

Follow the game here - https://t.co/el5bb7ZlLu #Qualifier1 #SRHvCSK pic.twitter.com/P5dCWjcKXL

— IndianPremierLeague (@IPL) May 22, 2018
20.41 IST: SIX! All power! He is a powerhouse! We know that. Windies know that. Eden Gardens knows that. Ben Stokes also knows that. This one is short and wide outside off, Brathwaite latches onto it and launches it over the bowler's head.
20.39 IST: FOUR! Boom! Too full and wide outside off, once again Carlos has his weight on the back leg but does well with his extension of arms. Connects superbly and sends it rocketing to the deep cover fence. SRH 132/6 in 19.4 overs.
20.38 IST: SIX! High and handsome! Thakur aims for the blockhole but ends up serving a full toss outside off, Brathwaite dismisses it from his sight and clears mid-wicket with ease. SRH 128/6 in 19.3 overs.
20.32 IST: Lungi Ngidi to bowl his last over.
20.27 IST: SIX! And here comes another one from Brathwaite. Another one which has travelled miles in the stand. The West Indian is opening his arms now. Thakur goes short around off and Brathwaite picks up the length quite early. Packs a punch and nails his pull over mid-wicket for a maximum. Pressure on the bowler for sure. Momentum shift? SRH 110/6 in 17.2 overs.
20.26 IST: SIX! Brathwaite on fire! A length delivery on middle and leg, right in the arc for the West Indian, Carlos swings his big bat and muscles it over mid-wicket for a biggie. That's thumped!
20.19 IST:  Lungi Ngidi to Bhuvneshwar Kumar, 1 run. Length ball angling into the batsman, Kumar taps it down towards cover-point and scampers across for a single. SRH are 92/6 after 16 overs.
20.15 IST: Bhuvneshwar Kumar is in next. Meanwhile, Lungi Ngidi is back into the attack as well.
20.14 IST: OUT! Dwayne Bravo to Yusuf Pathan for 24. Goodness me, that's a bullet which Bravo has caught. Unreal stuff from the West Indian. He pitches this one up and outside off, Yusuf goes hard at it and smacks it right back. It's uppish and Bravo shows excellent reflexes to grab it by catching the low chance stupendously well. Tumbles in the process but immediately gets up and starts to dance in the same rhythm. He must have the hands of steel, showing no effects of taking a ball travelling with the speed of light. Yusuf was looking good but now has to walk back. Hyderabad lose their sixth wicket. Can they play out their whole quota? Sunrisers Hyderabad 88/6 in 15 overs vs Chennai Super Kings at Wankhede Stadium.
20.12 IST: FOUR! Brutal! That's Pathan power for you! Fetches a short delivery from outside off and whacks it through the line. The sweeper cover rushes across to his right but has no chance. SRH 88/5 in 14.5 overs. 
20.09 IST: FOUR! Aahhh...a boundary off the last ball spoils his bowling figures just a little bit. Still 4-0-13-1 is a mighty big effort from Sir. Quicker one outside off, just a little bit of space there as Pathan gets back and guides it past backward point for a boundary.
20.05 IST: FOUR! First boundary after the Powerplay! Have to say, against the run of play. It's full and on middle, 139 kph, Pathan clips it off his pads and it speeds through mid-wicket. Ngidi in the deep rushes across to his left but fails to stop the ball from crossing the rope.
20.00 IST: Carlos Brathwaite is the new batsman. Hyderabad will hope that he does something which will be worth remembering his name.
19.59 IST: OUT! Jadeja remves Manish Pandey for 8. A simple caught and bowled for Jadeja. He fires this one in, around middle and leg at 99.7 kph, Pandey tries to work it on the leg side but closes the face of the bat early. It pops out off the leading edge back to the bowler who moves across to his right and takes the catch with his fingers pointing skywards. Things continue to go from bad to worse for Hyderabad. Manish Pandey's sorry season continues. Sunrisers Hyderabad 69/5 in 11.3 overs vs Chennai Super Kings at Wankhede Stadium.
19.54 IST: Deepak Chahar is back into the attack.
19.53 IST: Ravindra Jadeja to Yusuf Pathan, no run. Short and outside off, cut square but straight to point. SRH 64/4 in 10 overs.
19.51 IST: Strategic break. Hyderabad falling down the hill here. 4 wickets down, 2 of them soft dismissals, 1 of them being the in-form Kane Williamson. The Orange Army doesn't have many left, so this pair of Pandey and Pathan will have to carry them now.
19.50 IST: Dwayne Bravo to Manish Pandey, 1 run. Full delivery, at 131 clicks outside off, Pandey gets a little low and squeezes it out towards point for one.
19.39 IST: Yusuf Pathan is the next batsman in.
19.38 IST: OUT! Dwayne Bravo removes Shakib for 12. Another soft dismissal, almost identical to Williamson's wicket. Length delivery around leg, Shakib too attempts to pull this down to fine leg but ends up getting it off the inner part of the glove behind to Dhoni who takes it with absolute glee. Hyderabad falling deeper here, they need a partnership. Sunrisers Hyderabad 50/4 in 6.4 overs vs Chennai Super Kings at Wankhede Stadium.
19.34 IST: FOUR! Shot! Back of a length on middle and off, Al Hasan pulls this all along the ground through backward square leg for a boundary.
19.27 IST: Shakib Al Hasan to bat next.
19.26 IST: OUT! Shardul Thakur removes Williamson for 24. That's the big one! That's the wicket which Chennai wanted. A soft dismissal in the end, to be honest. It's short and down the leg side from Thakur, Williamson looks to pull this hard across the fine leg fence but gloves it behind to Dhoni who makes no mistake in taking it. Hyderabad in some trouble now. 3 wickets down inside the Powerplay.  Sunrisers Hyderabad 36/3 in 4.2 overs vs Chennai Super Kings at Wankhede Stadium.
 19.23 IST: Manish Pandey is the new man in.
19.22 IST: OUT! Lungi Ngidi removes Goswami for 12. Superb catch from Lungi Ngidi! Wonderful stuff. Hits the deck hard again, cramps Goswami for room who looks to back away and pull it across the line. Ends up getting it off the higher part of the bat back down the track where Ngidi dives forward and takes an excellent return catch. The southpaw was struggling a bit, he departs for just 12. Sunrisers Hyderabad 34/2 in 3.5 overs vs Chennai Super Kings at Wankhede Stadium.
19.18 IST: FOUR! That went to the fence in a flash! Right off the meat. Ngidi overpitches this in line of the stumps, Goswami stays leg side and thumps it through the covers across the boundary line.
19.16 IST: Deepak Chahar to Kane Williamson, no run. Kane stays back and offers a solid punch on the off side. SRH 28/1 in 3 overs.
19.14 IST: FOUR! Oh, wow! All class from Kane. This is unreal. Back of a length and he has some room outside off, wastes no time in rocking back and cutting it fiercely through point for a boundary.
19.12 IST: Goswami Edged and FOUR! With the way he's moving the ball, maybe a second slip should have been in place? Easier said in hindsight I suppose. Length delivery moving away, around off, Goswami plays away from his body and gets a thick edge past the slip fielder for a boundary.
19.07 IST: FOUR! Third on the trot! 12 off the over and a wicket to go along with it. All happening here at the very beginning. Sprayed on the pads again, Kane Williamson flicks it fine down the leg side, comfortably sending it across the boundary line.
19.05 IST: FOUR! And there it is! Shot from a man oozing with confidence. Full and wide outside off, Williamson lunges forward and drives it sweetly through the gap in the covers for a boundary. SRH 4/1 in 0.4 overs.
19.03 IST: Skipper Kane Williamson walks in next. He's going to have to play a big one tonight with Shikhar Dhawan gone so early.
19.02 IST: OUT! Chahar removes Dhawan for 0. BOWLED EM! Shikhar Dhawan is gone first ball! Literally, the absolute perfect start for Chennai. Deepak Chahar comes steaming in and lands it on a length around off, it shapes back in a touch and Dhawan is undone by that. Looks to play at but gets an inside edge back on which rattles the stumps. The Yellow Army rejoices. Sunrisers Hyderabad 0/1 in 0.1 overs vs Chennai Super Kings at Wankhede Stadium.
19.00 IST: Time to set the ball rolling. The Chennai players walk through the red carpet and are in a customary huddle. Now, out come the two openers of Hyderabad - Shikhar Dhawan and Shreevats Goswami. This pair had an excellent last game and would be aiming to provide a similar start. Deepak Chahar will take the new ball first up. A slip in place for him. 
18.55 IST: Kane Williamson wanted to bowl as well for the same reasons as mentioned by Dhoni. Feels that they have adapted to different conditions nicely and considers Wankhede to be having a very good surface. Informs that they are playing the same XI.
18.50 IST: MS Dhoni says that they will bowl. Feels it's a 7 o' clock start which means if there is dew, it will be more in the second half. Also adds that they have chased well this season. (On them being consistent to get to the playoffs) MS Dhoni credits his team for performing so well and considers himself lucky to get good performing players at the beginning. About his team, MS replies that Shane Watson comes in for Sam Billings.
18.40 IST: Sunrisers Hyderabad Playing XI: Shikhar Dhawan, Shreevats Goswami (w), Kane Williamson (c), Manish Pandey, Shakib Al Hasan, Yusuf Pathan, Carlos Brathwaite, Rashid Khan, Bhuvneshwar Kumar, Siddarth Kaul, Sandeep Sharma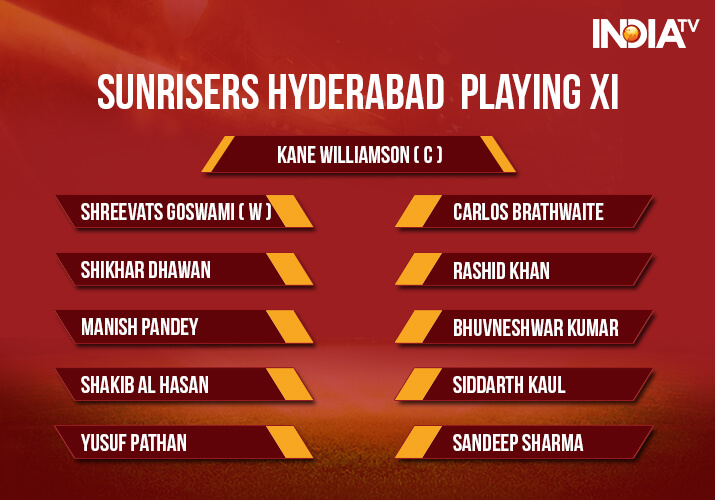 18.35 IST: Chennai Super Kings Playing XI: Ambati Rayudu, Shane Watson, Suresh Raina, Faf du Plessis, MS Dhoni (w/c), Ravindra Jadeja, Dwayne Bravo, Harbhajan Singh, Deepak Chahar, Shardul Thakur, Lungi Ngidi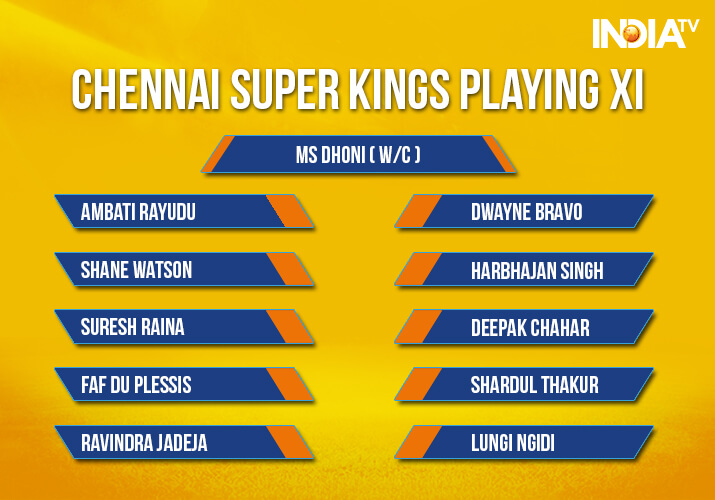 18.32 IST: IPL TOSS! Chennai Super Kings win toss, opt to bowl against Sunrisers Hyderabad at Wankhede Stadium.
.@ChennaiIPL Captain @msdhoni calls it right at the toss and elects to bowl first against @SunRisers.#Qualifier1 #SRHvCSK pic.twitter.com/i5bIOyLVVq

— IndianPremierLeague (@IPL) May 22, 2018
18.20 IST: Here are the IPL Teams for the IPL 2018 Qualifier 1 cricket match between Chennai and Hyderabad.
Chennai Super Kings: Mahendra Singh Dhoni (C), Suresh Raina, Ravindra Jadeja, Faf Du Plessis, Harbhajan Singh, Dwayne Bravo, Shane Watson, Ambati Rayadu, Deepak Chahar, K M Asif, Kanish Seth, Lungi Ngidi, Dhruv Shorey, Murali Vijay, Sam Billings, Mark Wood, Kshtiz Sharma, Monu Kumar, Chaitanya Bishnoi, Imran Tahir, Karn Sharma, Shardul Thakur, Narayan Jagadeesan, David Willy
Sunrisers Hyderabad: Kane Williamson (C ), Shikhar Dhawan, Manish Pandey, Bhuvneshwar Kumar, Wriddhiman Saha, Siddharth Kaul, Deepak Hooda, Khaleel Ahmed, Sandeep Sharma, Yusuf Pathan, Shreevats Goswami, Ricky Bhui, Basil Thampi, T Natarajan, Sachin Baby, Bipul Sharma, Mehdi Hasan, Tanmay Agarwal, Alex Hales, Carlos Brathwaite, Rashid Khan, Shakib Al Hasan, Mohammad Nabi and Chris Jordan
18.05 IST: What is IPL 2018 Qualifier 1?
The cash-rich league is set to host two qualifiers, through which two teams will qualify for the final, which will be played at the Wankhede Stadium, Mumbai on May 27. (Explained: IPL Qualifiers and Eliminator)
Read in Hindi: This is why MS Dhoni opted to bowl first vs Hyderabad
Read in Hindi: This is how Deepak Chahar castled Shikhar Dhawan on first ball
Brief preview: Even though Delhi Daredevils closed the doors for Mumbai Indians on Sunday, the spectators at the Wankhede Stadium will be at the edge of the seat when two former champions table toppers Sunrisers Hyderabad and second-placed Chennai Super Kings clash in the Indian Premier League (IPL) 2018 Qualifier 1 on Tuesday.
A slight net run-rate difference separated the two teams which finished the league stage on 18 points.
The riveting contest at the Wankhede Stadium will spell out who goes directly to the May 27 final, also scheduled at this venue, with the winner guaranteed a spot in the summit clash and the loser left to play Qualifier 2 in Kolkata on May 25. (Read Full Match Preview)