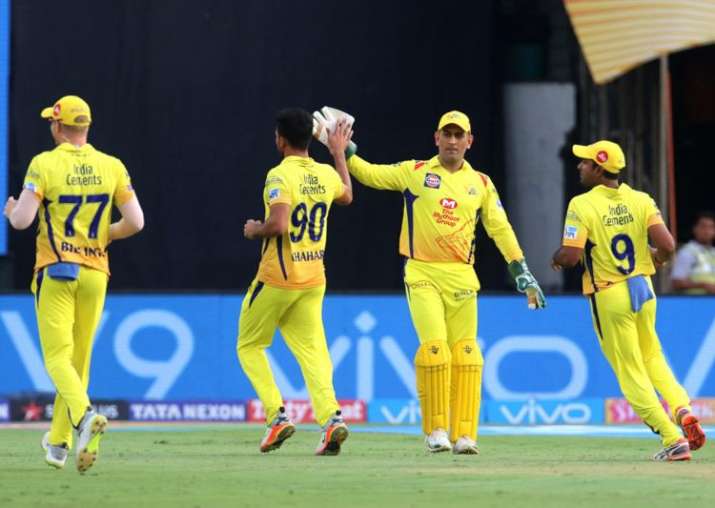 HIGHLIGHTS, CRICKET SCORE, IPL 2018 MATCH 20: SRH vs CSK
Hello and welcome to our like coverage of the
Indian Premier League
(
IPL
) 2018 Match 20 as the super weekend action begins with
Sunrisers Hyderabad
take on the
Chennai Super Kings
at the
Rajiv Gandhi International Stadium, Hyderabad
. Here you can get all the live cricket score, live score online, IPL match updates and plenty more. Sunrisers Hyderabad have won the toss and elected to bowl against Chennai Super Kings in Hyderabad. Billy Stanlake comes in for Chris Jordan and Ricky Bhui makes his IPL debut, replacing
Shikhar Dhawan
in Hyderabad.
Imran Tahir
is not fit so
Faf du Plessis
comes in his place for Chennai. The first match of the day and surely promises plenty of fireworks as the batsman will be put to the test from both sides as the bowling unit of SRH and CSK are regarded as 'challenging'. The
MS
Dhoni
-led CSK and
Kane Williamson
-led Hyderabad have suffered one loss each, surprisingly both fell to the hands of Kings XI Punjab. The R Ashwin led Lions ended their winning streak. However, Chennai bounced back against Rajasthan Royals to win the encounter in glorious fashion and will aim to claim the top spot in the league which is currently being held by Kings XI Punjab. Will the Sunrisers be able to tame a rampant Chennai Super Kings or will the
MS Dhoni
-led side be surprised by the hosts? Stay tuned as we bring you all the live cricket score and updates of Match 20 of the VIVO IPL 2018 clash between Sunrisers Hyderabad and Chennai Super Kings. (
IPL FULL COVERAGE
) (
LIVE STREAMING
) (
LIVE SCORECARD
)
HIGHLIGHTS, IPL 2018 MATCH 20: SRH vs CSK LIVE FROM HYDERABAD
19.36 IST: Chennai Super Kings (182/3) beat Sunrisers Hyderabad (178/6) by 4 runs in Hyderabad. Chahar 3/15, Williamson 84, Pathan 45. Dwayne Bravo to Rashid Khan, 1 run.  No, he can't! Dwayne Bravo has done it for his side. Perfect yorker, into the blockhole, all Rashid can do is dig it out towards long on and get one. Not enough. CHENNAI WIN BY FOUR RUNS!
That's it from Hyderabad.

The @ChennaiIPL win by 4 runs and now sit atop the #VIVOIPL points table. pic.twitter.com/RdVJSWiavV

— IndianPremierLeague (@IPL) April 22, 2018
19.34 IST: SIX! Rashid Khan has evoked life back! What a hit under pressure! This isn't over, not over, for sure! Length delivery on middle, Khan swings it powerfully over square leg and it goes sailing over the fence. 10 needed from 2. Another boundary coming?
19.31 IST: SIX! Is there life still in this? Rashid Khan, who was taken for aplenty with the ball gives it back with a meaty blow. Stays back, gets under a full ball and bludgeons in down the ground for a maximum.
19.30 IST: Rashid Khan is the new man in.
19.29 IST: OUT! Thakur removes Pathan for 45. Top edge... and Pathan departs! Is that the game for Chennai? Many would feel, yes! Knuckle delivery from Shardul and he gets the big fish here. Yusuf Pathan backs away to go big but is done in by the lack of pace on it. Skews it off the outer half of the bat towards extra cover where Suresh Raina takes an easy catch. Sunrisers Hyderabad 157/6 in 18.4 overs vs Chennai Super Kings (182/3).
19.25 IST: Wriddhiman Saha is the new man in.
19.24 IST: OUT! Bravo removes Williamson for 84. A stunning catch from Jadeja! Chennai have got rid of Williamson. The skipper fails to take his team over the line. Has it swing back in the favor of Chennai? We shall find out. Ball - It's the slower one, the cutter on a length on middle, poor Kane with all his might tries to lunch it down the ground but doesn't have enough meat behind the shot. Jadeja from long on, sprints in and dives at the right time to grab it cleanly. Looks so easy but it wasn't by any means. Sunrisers Hyderabad 150/5 in 18 overs vs Chennai Super Kings (182/3). 
19.20 IST: The man who is striking them well needs some assistance from the physio again. There is a bit of a delay. 36 needed from 15 balls. We have a nail-bitter on the cards, folks. In the meanwhile, Pathan is up and ready to go.
19.19 IST: Pathan in some discomfort! Dwayne Bravo to Yusuf Pathan, 2 runs. Slower delivery, very full on the stumps, Yusuf looks to whip it away but gets it off the inner half. It beats the dive of the short fine leg fielder and they look for another. The throw comes from the deep as Pathan puts in a desperat dive to get back in. Oh, he's down in pain. That hamstring, ouch! This will hurt Hyderabad!
19.13 IST: SIX! Another big hit by Patahn! Pathan has clubbed it! Kane rushes to the other end and gives a fist punch to Yusuf. Clearly he is angry about the no ball call on the previous ball. A full toss, a juicy one and it's gone miles over long on. Pathan power, shouts my colleague. SRH 140/4 in 16.3 overs.
19.19 IST: SIX! Nails the slower one! Off the screws shes goes. Holds back to a slower short ball and smacks it deep into the stands at mid-wicket for a biggie. 52 required from 24 balls. Game on. I reckon!
19.07 IST: SIX! Picks the slower one and launches it cleanly over long off. A maximum results! Yusuf Pathan, can this man stand there with his skipper? SRH 125/4 in 15.4 overs.
19.04 IST: SIX! Ohhhhhhh! Kane is put on a show here. Moves to 80 off 45. This is finesse from the skipper. Floated ball outside off, he doesn't overhit it. Just leans ahead and extends his arm. Makes enough connection to send it sailing over the long off fence. 22 off the over and Hyderabad have turned things around. This will get Dhoni thinking now.
18.58 IST: SIX! Bam goes Williamson but he needs many more if he wants to take his team over the line. Flatter delivery outside off, Kane goes back and pumps it over extra cover for a biggie all the way.
18.53 IST: FIFTY! Kane Williamson hits his 6th IPL half-century off 35 balls. Karn Sharma to Kane Williamson, 1 run. Fifty for Kane Williamson! Such a consistent batsman! Jumps out of the crease to a full ball and knocks it down to long off for a run. His third consecutive fifty. Holds the key for Hyderabad. Sunrisers Hyderabad 79/4 in 12.1 overs vs Chennai Super Kings (182/3).
Leading from the front is Captain Kane Williamson as he brings up his FIFTY off 35 balls.#SRH require 102 runs off 44 balls remaining. pic.twitter.com/7QdompfzOf

— IndianPremierLeague (@IPL) April 22, 2018
18.50 IST: NOT OUT! Just behind the line! Yusuf Pathan comes to the crease, sees the flight and decides to slog it across the line. It was the wrong one which turns away. Dhoni behind the stumps takes the ball and disturbs the bails. He appeals and it's taken upstairs. Replays show Pathan just about managed to drag his back foot behind.
18.49 IST: And a stumping appeal against Pathan is taken upstairs. Dhoni never appeals unless and until he is sure. So this could be close...
18.48 IST: Yusuf Pathan is the next man in.
18.47 IST: OUT! Karn Sharma removes Shakib for 24. The bowling change has done the trick for Dhoni. Karn Sharma break the 49-run stand. Lovely delivery! Bowls a tossed up googly, Shakib reads it as he gets down to sweep it away but there is a bit of extra bounce which bring his downfall. It takes the top edge and lobs towards short fine leg where Raina accepts a dolly. Will this slow things down again? Sunrisers Hyderabad 71/4 in 10.3 overs vs Chennai Super Kings (182/3).
18.45 IST: Karn Sharma into the attack now.
18.44 IST: Shane Watson to Shakib Al Hasan, 1 run. SRH 71/3 in 10 overs. 
18.32 IST: FOUR! Flayed! Jadeja fires it flat, short and outside off, Kane Williamson slaps it square on the off side. Beats the man at sweeper and finds the fence.
18.32 IST: FOUR! Short of a length delivery outside off, Sahkib Al Hasan slaps it over backward point. There is a third man in place but he is a bit squarer so a boundary for the all-rounder.  SRH 50/3 in 7.5 overs.
18.26 IST: SIX! Just helped it on its way! Good batting from Shakib! Short delivery down the leg side, the southpaw has enough time to swivel and pull it over fine leg for a maximum. Hyderabad end the Powerplay on a good note, as they end with 40/3. SRH 40/3 in 6 overs. 
18.23 IST: FOUR! Shakib gets off the mark! Back of a length delivery on middle and leg, Shakib pulls it through square leg and it races away to the fence. He needs to give his skipper good support and bring it back on track.
18.17 IST: Shakib Al Hasan is the new man in.
18.16 IST: OUT! Chahar removes Deepak Hooda for 1. Leading edge... taken! Deepak Chahar, what are you up to? Three wickets in three overs. Boy, he is running through the batting line-up here. Bowls a slower one, angles it in, Hooda looks to clip it away but gets it off the leading edge over extra cover. Jadeja from mid off moves across to his left and takes a simple catch. Hyderabad going no where in the run chase. Sunrisers Hyderabad 22/3 in 4.2 overs vs Chennai Super Kings (182/3).
18.13 IST: FOUR! Another one off the meat! Williamson is playing a blinder here. Waits back for the short ball and hits it powerfully over mid-wicket. 11 off the over.
18.07 IST: Deepak Hooda is the new man in.
18.06 IST: OUT! Deepak Chahar removes Manish Pandey for a duck. Hyderabad are in big trouble. In the air... gone! Deepak Chahar is on a roll here. 7 dot balls and a wicket, wow! He does a Bravo dance to express his joy. Serves it full and a bit wide outside off, Pandey goes hard at it. Slices it high in the air and it's a simple catch for Karn Sharma at third man. It was Pandey's 100th Indian T20 League inning and he fails to make a mark. Hyderabad rocked early. SRH 10/2 in 2.1 overs.
18.03 IST: FOUR! Another one by Kane Williamson in the same area. SRH 10/1 in 2 overs
18.01 IST: FOUR!  First boundary of the innings and Kane Williamson cuts Shardul Thakur's delivery. SRH 6/1 in 1.4 overs
17.57 IST: OUT! Shane Watson removes Ricky Bhui. Hyderabad have lose their first wicket and pressure got the better of him. Debut match for Bhui and not the perfect start. SRH 0/1 in 0.5 overs
17.39 IST: Chennai Super Kings score 182/3 in 20 overs against Sunrisers Hyderabad. Rayudu 79, Raina 54*. Billy Stanlake to MS Dhoni, 2 runs. Low full toss on middle, Dhoni drills it straight back down the ground. It hits the stumps at the other end and the ball deflects towards mid-wicket. Dhoni calls for two and they get it comfortably in the end. CHENNAI WITH A STRONG FINISH - 182/3!
Innings Break!@ChennaiIPL post a total of 182/3 for #SRH to chase.

Chase coming up in a few minutes #SRHvCSK pic.twitter.com/s5n2ziJWLB

— IndianPremierLeague (@IPL) April 22, 2018
17.35 IST: SIX! Shot-arm jab, shouts Manjrekar on air. The slower back of a length delivery, Dhoni picks it up and dumps it over mid-wicket for a maximum. Booooming hit!  CSK 178/3 in 19.2 overs. 
17.31 IST: FIFTY! Suresh Raina hits his 32nd IPL half-century off 39 balls. FOUR! That's fifty for Suresh Raina, 32nd in the League. Started the innings very slowly and was struggling to middle the ball but didn't give up. Gets a round of applause from his mates, thoroughly deserves! Short and outside off, it's the knuckle delivery. Raina hits it through cover and gets to the milestone in a grand manner. Chennai Super Kings 166/3 in 18.3 overs vs Sunrisers Hyderabad in Hyderabad.
And, with this half century, @ImRaina is back on top in the leading run scorers chart in the #VIVOIPL pic.twitter.com/9zVzoGwB9c

— IndianPremierLeague (@IPL) April 22, 2018
17.22 IST: OUT! Rayudu Run Out for 79. Dear me, Ambati Rayudu is run out! Sigh! Twice in two games he has been run out. In the previous game it was brilliance from Ashwin but here, this was a waste of a wicket. Good length delivery outside off, lifted down to long off for a single. Rashid Khan in the deep returns the throw to the bowler who fails to collect. Rayudu thinks of taking another run and sets off before Raina sends him back. Kaul picks up the ball and gives it to Williamson who takes the bails off. Will this slow things down as the set batsman departs after a classic knock. Chennai Super Kings 144/3 in 16.4 overs vs Sunrisers Hyderabad in Hyderabad.
17.16 IST: SIX! Local boy Rayudu is unstoppable now. Rayudu is playing on different planet! Wrong one, tossed up but Ambati picks it up. Gets down on one knee and slog sweeps it massively over deep mid-wicket for half a dozen. Will he score a ton? Well, he is on course for sure. CSK 132/2 in 15.4 overs.
17.12 IST: FIFTY! Ambati Rayudu hits his 15th IPL half-century off 27 balls. Shakib Al Hasan to Ambati Rayudu, 1 run. Fifty for Rayudu, his 15th in the League. Well played! He is playing a gem of an innings and has bailed his side out of the early stutter. Eases this full ball down to long on and raises the bat. CSK 108/2 in 14.2 overs.
A brilliant half century for @RayuduAmbati and it comes off 27 deliveries. pic.twitter.com/g13thl0ibp

— IndianPremierLeague (@IPL) April 22, 2018
17.11 IST: FOUR! Edgyyyy! This is frustrate Stanlkae, he is taken for 19 runs. Back of a length, at 140.4 kph, Rayudu throws his bat at it. Gets an edge which flies fine down to third man for another boundary.  CSK 106/2 in 14 overs. 
17.03 IST: FOUR! Glorious! Tossed up ball outside off, Rayudu uses his feet, gets to the pitch of the ball and nails the cover-drive. No stopping it.
16.58 IST: SIX! Back-to-back sixes by Raina take CSK to 78/2 after 12 overs. Floated delivery on middle and off, Raina gets down and belts it over deep mid-wicket for back-to-back maximums. Raina in full flow here and Rashid Khan doesn't know what to do. Looks clueless and walks off from the bowling area. The 50-run stand has been raised between the two. Shored things up really well, these two.
16.57 IST: SIX! Rain revives CSK with his heroics here. Shot! Excellent use of the feet from Raina! Skips down the track to the leg break and whips it cleanly over mid-wicket for a biggie.
16.52 IST: FOUR! Welcomes Hooda with a boundary! Tossed up outside off, Rayudu gets down on one knee and reverse sweeps it past backward point for a boundary. Two boundaries in two balls for Chennai. Will this break the shackles?
16.49 IST: FOUR! Up and over! Raina dances down the track to short of a length ball, makes room and lifts it inside out over extra cover for a boundary. The stand moves to 22 now, they need these two to go on. CSK 54/2 in 10 overs.
16.45 IST: SIX! Picks the bones out of that one! Slower delivery, fuller in length and it's hurled at 111.4 kph, Rayudu gets down on one knee and slog sweeps it high and over wide long on for a biggie.
16.36 IST: FOUR! Top edge! Tossed up delivery, landed outside off, Rayudu gets down on one knee and looks to go for the slog sweep. Gets a top edge but there is no one manning the deep mid-wicket fence. A lucky boundary results.
16.34 IST: Ambati Rayudu is the new man in.
16.33 IST: OUT! Rashid Khan removes du Plessis for 11. Stumped! Rashid Khan puts Faf du Plessis out of his misery. Starts off with a loop leg break, Faf du Plessis lunges ahead to play the sweep but misses it completely and to add to it, his back leg comes out of the crease in the process. Saha behind the stumps collects the ball and takes the bails off. He appeals and the square leg umpire rules it out. Rashid Khan, the man who was taken to the cleaners in the last game against Gayle has come back with a bang as he strikes on the very first ball. Chennai in trouble. CSK 32/2 in 7.1 overs.
16.28 IST: Shakib Al Hasan to roll his arm over again.
16.24 IST: FOUR! Down the track and over the infield! Not off the middle but he will take that. Good length delivery outside off, du Plessis skips down the track and attempts for the loft over cover. Manages to hit it over the man there and picks up a boundary, his first one of this innings. Will that get him going?
16.20 IST: FOUR! Sliced away! Raina is early to make room, Stanlake does well to follow him but such is the talent of the southpaw that he still manages to put that away. He slices it square on the off side past point for a boundary. The third man tries his best to stop it but the ball still wins the race.
16.16 IST: Suresh Raina is the new man in.
16.15 IST: OUT! Bhuvneshwar removes Watson for 9. The knuckle delivery gets the better of Shane Watson. Kumar gets his man, what a response from the bowler after getting hit for a biggie on the previous ball. Drops it around middle, at 118.6 kph, it comes slowly off the deck and Watson had no clue about it. He just tries to tuck it away but the ball goes off the splice of the bat and it's a good catch taken by Deepak Hooda at short mid-wicket. There comes the stare from Kumar to the batter. Shows he's pumped up and why not? Perfect start for the hosts as they get rid of the danger man early. CSK 14/1 in 3.3 overs.
16.13 IST: SIX! Pummeled! What a shot! Back of a length delivery on middle, Watson with a minimal swivel, picks it up and pulls it with disdain over square leg for a maximum.
16.09 IST: Spin time. Shakib Al Hasan into the attack now.
16.05 IST: Bhuvneshwar Kumar to Shane Watson, Drops it on a back of a length, just outside off, tight lines from Kumar. Watson is happy to pat it away. Superb first over from him. Just 2 runs from the first over.
16.00 IST: All set for the action to begin. The players and umpires have made their way out to the middle. There is a change in the opening combination for Chennai. Faf du Plessis is the new partner for Shane Watson. Will we see them firing on all cylinders? Bhuvneshwar Kumar to steam in first up. A slip in place? 
15.50 IST: Chennai Super Kings Playing XI: Shane Watson, Ambati Rayudu, Suresh Raina, Faf du Plessis, MS Dhoni (w/c), Sam Billings, Dwayne Bravo, Ravindra Jadeja, Deepak Chahar, Karn Sharma, Shardul Thakur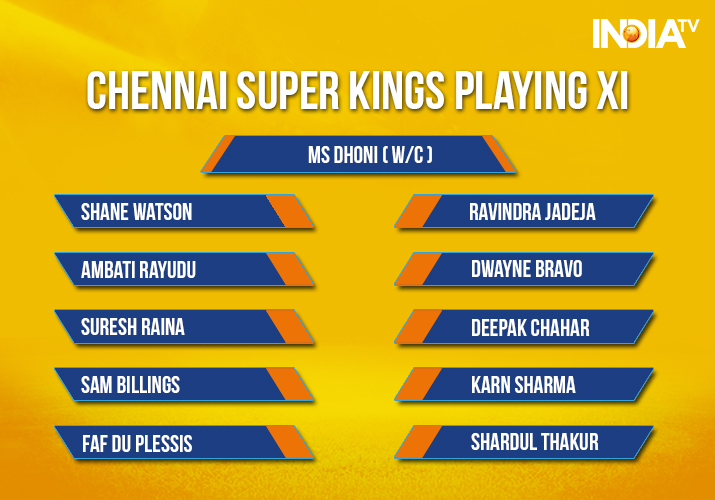 15.40 IST: Sunrisers Hyderabad Playing XI: Wriddhiman Saha (w), Kane Williamson (c), Yusuf Pathan, Manish Pandey, Deepak Hooda, Shakib Al Hasan, Ricky Bhui, Bhuvneshwar Kumar, Rashid Khan, Billy Stanlake, Siddarth Kaul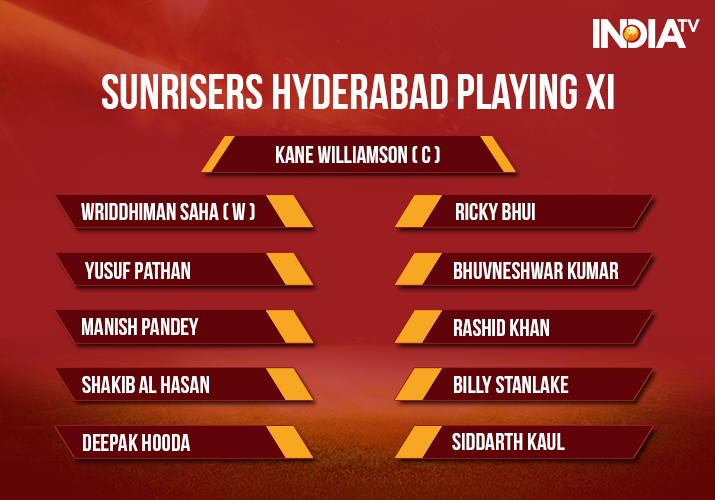 15.32 IST: IPL TOSS! Sunrisers Hyderabad win toss and opt to bowl first against Chennai Super Kings at Hyderabad.
#SRH Captain Kane Williamson wins the toss and elects to bowl first against the @ChennaiIPL #SRHvCSK #VIVOIPL pic.twitter.com/OgttdGUMI9

— IndianPremierLeague (@IPL) April 22, 2018
15.23 IST:  Before the toss, read what Royal Challengers Bangalore skipper Virat Kohli has to say about South African wonder, AB de Villiers.
READ: AB de Villiers performances always makes you smile: Virat Kohli
15.15 IST:  The Yellow army on the other side are also making their way into the stadium. Bright colours to shine bright on a Super Sunday at Hyderabad.
#Yellove Hyderabad! #WhistlePodu #SRHvCSK 🦁💛 pic.twitter.com/iViUF4vJjS

— Chennai Super Kings (@ChennaiIPL) April 22, 2018
15.00 IST:  Half an hour till the toss commences and the Orange army is packing up a full house at the Rajiv Gandhi International stadium. 
14.50 IST: 
Who'll come out smiling in this long drawn battle of All-Rounders?#SRHvCSK #IPL2018 pic.twitter.com/SntogHELAy

— SunRisers Hyderabad (@SunRisers) April 22, 2018
14.45 IST: UPDATE: Chennai Super King's leg-spinner Imran Tahir will miss today's clash with Sunrisers Hyderabad due to indisposition.
#ParasakthiExpress will be missed.😔🦁💛https://t.co/0PIXTTuK4v

— Chennai Super Kings (@ChennaiIPL) April 22, 2018
14.25 IST: How crucial will this guy be today?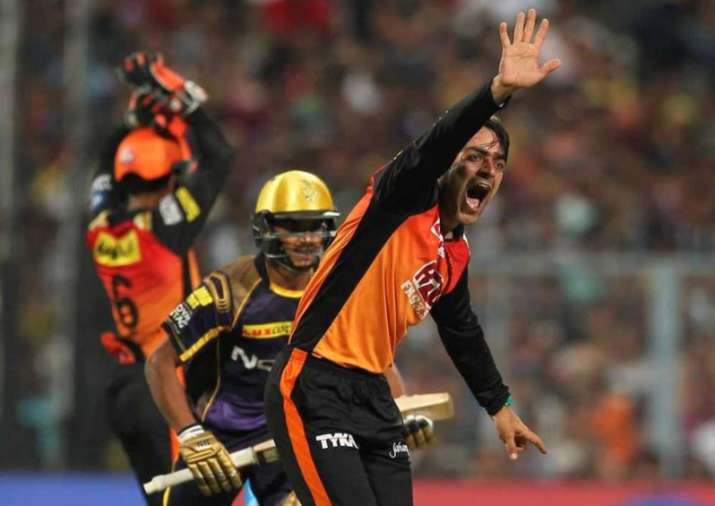 14.12 IST: 
Bhuvi has restricted Rayudu to a strike rate which is below 100 over 7 innings played and dismissed him twice. Will this continue today?#SRHvCSK #IPL2018 pic.twitter.com/PeoNqIgfL1

— SunRisers Hyderabad (@SunRisers) April 22, 2018
14.00 IST: At Hyderabad, will we get to see some of this action?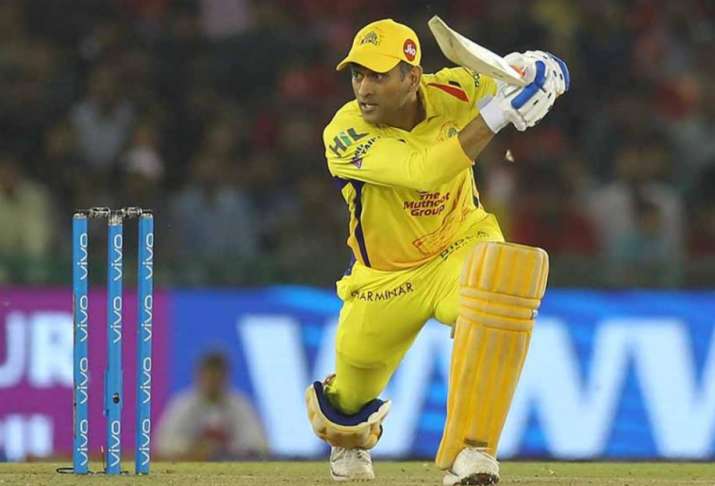 Brief Preview: Their unbeaten run in the tournament snapped by the 'Gayle Storm', Sunrisers Hyderabad would look to bounce back when they take on Chennai Super Kings in an Indian Premier League (IPL) match in Hyderabad on Sunday. Both the Sunrisers and the Super Kings have six points each from four matches, having lost just one game so far, and a win by either side at the Rajiv Gandhi International Stadium at Uppal will take them to the top of the table. The Sunrisers began their IPL campaign with three wins on the trot before they were stopped on their tracks by West Indian swashbuckler Chris Gayle, who played a special innings of 104 not out off 64 balls at Mohali on Thursday.  Read Full Preview here