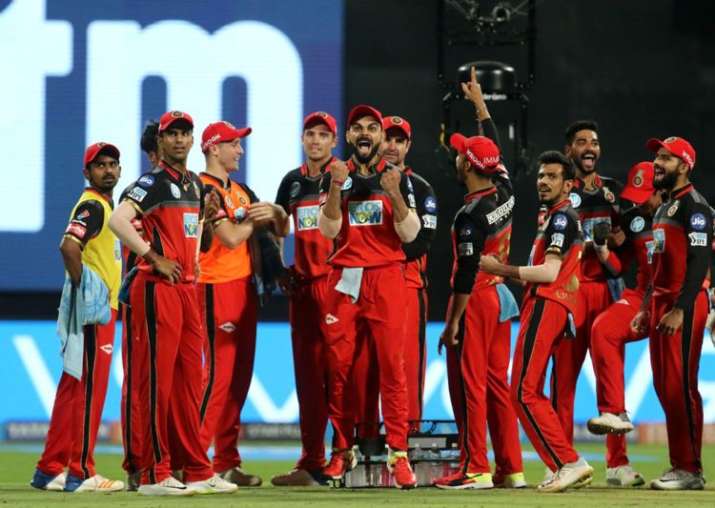 HIGHLIGHTS, IPL 2018 MATCH 31: RCB vs MI
HIGHLIGHTS, RCB vs MI: 
Royal Challengers Bangalore pacers blew away the Mumbai Indians' top order before shining in the death overs to set up a much-needed 14-run win, which kept them alive in the
IPL
Play-offs race in Bengaluru on Tuesday. Mumbai Indians bowlers had also exploited a difficult batting track but leaked a few runs towards to end to allow the hosts post 167 for seven, which was a fighting total under challenging conditions. Captain
Virat Kohli
(32) and Brendon Mccullum (37) added 60 quick runs in the middle overs to help RCB recover from a slow start and
Colin De Grandhomme
(23 from 10) hit three sixes in the last over, bowled by fellow New Zealander Mitchell McClenaghan, to provide a flourishing finish to the RCB innings. (
SCORECARD
)
HIGHLIGHTS, IPL 2018 MATCH 2018, RCB vs MI LIVE FROM BENGALURU
23.38 IST: Royal Challengers Bangalore (167/7) beat Mumbai Indians (153/7) by 14 runs in Bengaluru. Southee 2/25, Hardik 50. Tim Southee to Ben Cutting, SIX! But it does not matter. BANGALORE WIN BY 14 RUNS! This is full and on off. Cutting tonks it over the long on fence for a maximum.
That is it! The @RCBTweets have defended 167 to beat #MI by 14 runs. This is their 3rd win the season. #VIVOIPL #RCBvMI

Details - https://t.co/ha0Z6Qlsaa pic.twitter.com/LBH1kRhVGk

— IndianPremierLeague (@IPL) May 1, 2018
23.33 IST: OUT! Southee removes Hardik Pandya for 50. Game, set and match? It has to be. What a ripper of a catch by Kohli. He pulled something similar in his last game but ended up on the losing side. Can this catch help him win this game? It should. The slower ball on middle, Pandya hits it towards long on. It is uppish but for a second he mist have felt he is safe. But Kohli in the deep runs forward, dives and takes it inches above the ground. Pandya gets to his fifty and is walking back. MI 143/7 in 19.1 overs vs RCB (167/7)
23.32 IST: FIFTY! Hardik Pandya scores his 2nd IPL half-century. Mohammed Siraj to Hardik Pandya, 1 run. Can't find one! Another very full ball outside off, Pandya can't get under it and hits it towards long off for a run. 21 more needed.  MI 141/6 in 18.5 overs vs RCB (167/7).
23.30 IST: Ben Cutting is the new man in.
23.29 IST: OUT! Siraj removes Krunal Pandya for 23. This over keeps getting better. Kurnal Pandya is walking back. Top, top stuff from Siraj. Krunal goes for the paddle scoop but gets a top edge which goes towards point. Mandeep Singh there accepts a dolly. Krunal's struggle comes it an end. 28 needed from 9. Bangalore right on top now. MI 140/6 in 18.3 overs vs RCB (167/7)
23.20 IST: FOUR! They needed this and Hardik provides it. 10 from this over. 35 needed from the last 3. Full and outside off. Pandya goes over covers and the ball races away to the fence. MI 133/5 in 17 overs.
23.16 IST: FOUR! Yes they can! Poor line and it has been put away. On the pads, Pandya works it fine past the short fine leg fielder for a boundary. 17 from the over. 45 needed from 24.
23.14 IST: FOUR! Streaky by Mumbai will take it. On a length around off, Pandya swings and gets an inside edge past short fine leg for a boundary.
23.12 IST: SIX! A much-needed one! They had to go for it and they have got a biggie on the first ball. Slower ball on middle, Krunal shuffles across and hits it over the square leg fence for half a dozen. Pressure on the bowler now.
23.04 IST: 100 up for RCB! Colin de Grandhomme to Hardik Pandya, 1 run. Pushes this ball through covers for one more. 68 needed of the last 6 overs.
22.59 IST: FOUR! Poor ball to finish the over but it has been lovely spell from Chahal. He finishes with figures of 4-0-23-0. Darts this short down leg, Krunal helps it on its way to the fine leg boundary.
22.54 IST: OUT! Duminy run out for 23. OUT! He is short indeed! A very good throw from Umesh from the deep. Duminy rocks back and punches this ball wide off Yadav at deep point. They take the first run quick and hare for the second. Umesh gets rid of the ball quickly and gives it to de Kock who takes the bails off. The umpire is not sure so he takes it up. Replay's show us that Duminy is just of his crease. Mumbai need more 88 from 48. Can the Two Pandya brothers do it for them from here. MI 84/5 in 12 overs vs RCB (167/7)
22.48 IST: Just 3 runs from this over! Yuzvendra Chahal to Hardik Pandya, 1 run. Punched off the back foot by the batsman. The batsmen have run through for a single. 88 more runs needed from the last 8 overs. MI 80/4 after 11 overs.
22.45 IST: SIX! Full of confidence is Pandya! Tossed up ball on middle, Hardik slogs this over the mid-wicket fence for a big one.
22.43 IST: FOUR! Full and on middle and leg, Hardik hits this with the turn over mid-wicket in the gap for a boundary.
22.40 IST: FOUR! A little too full and Chahal pays the price. Floats it up on middle, Pandya hits it hard and uppishly towards the bowler. Chahal, even before he reacts the ball passes him and goes into the long off fence.
22.35 IST: Hardik Pandya comes ahead of his elder brother.
22.34 IST: OUT! Siraj removes Pollard for 13. Pollard fails again. He had a big chance today to prove his mantel but gets out yet again. A very good ball from Siraj, he lands on a good length on that fourth stump channel. It moves away from Kieron who tries to flirt with it. Gets an outside edge to it and the ball goes to de Kock who takes another catch. Mumbai dig their hole deeper. 76 more needed from 120 balls. MI 47/4 in 7.1 overs vs RCB (167/7).
22.31 IST: Yuzvendra Chahal to JP Duminy, no run. Slow ball again, Duminy gets behind the ball and blocks it. An eventful over comes to an end. MI 47/3 in 7 overs.
22.23 IST: FOUR! Top shot from Pollard! Umesh bowls this full on off, Pollard stands tall and just lofts this over mid off. The ball races away to the fence.
22.21 IST: Mohammed Siraj to JP Duminy, no run. Leading edge! Once again the slower ball proves to be difficult to play. Cutter on leg stump. Duminy tries to flick but gets a soft leading edge towards point. MI 29/3 in 5 overs.
22.11 IST: Kieron Pollard to face the hat-trick ball.
22.10 IST: OUT! Umesh Yadav removes Rohit Sharma for a golden duck. Yes! Bangalore looked confident and knew they had their man. Umesh gets two-in-two and Rohit's sorry form at Bangalore continues. A big wicket this for the hosts. A very big one indeed. Yadav bowls this a tad shorted than the good length around off, too close to cut. Rohit tries to flat-bat it to the off side and gets an inside edge to it. The ball goes towards de Kock who dives to his left an low to take a good catch. He was very confident that Sharma nicked it. The umpire didn't give it but Kohli straightaway took it up. Replay's show us that Rohit had a faint inside edge and now has to take the walk back. Umesh on a hat-trick! MI 21/3 in 3.2 overs
22.08 IST: OUT! Umesh Yadav removes Suryakumar Yadav for 9. LWB given by the umpire and he walks back. That looked plumped and umpire's call stays. Umesh lands this on a good length on leg, Yadav shuffles across and looks to flick it away. He misses it and gets wore on his pads. Umesh appeals and the umpire straightaway raises his finger. After a long chat, Yadav takes it to the TV umpire. On seeing the replays, we see that that would have clipped the leg stump. Mumbai do not lose their review as it was umpire's call. MI 21/2 in 3.1 overs
22.04 IST: Five runs off the over and Southee had a few spells which just needed a touch which could have gone safely in the hands of the keeper. MI 21/1 in 3 overs
22.02 IST: FOUR! That was a beautiful shot played by Duminy. Through the covers as they watch it sail towards the fence. Southee again overpitches and pays the price. He has driven through covers and the ball races away to the fence. MI 21/1 in 2.1 overs
22.00 IST: FOUR!  Another one by Duminy  and Umesh's length is being thrashed. The South African all-rounder knows what to do in such situations. MI 16/1 in 2 overs
21.58 IST: FOUR! Smashed and cut by Duminy as he slaps it through cover point for a boundary. MI 12/1 in 1.3 overs
21.56 IST: OUT! Plum and clean bowled. Tim Southee removes Ishan Kishan for a duck. Mumbai lose their first wicket of the match.  MI 5/1 in 1 over
21.53 IST: Dropped! Edged the finger tips on the slip and Vohra nearly had Suryakumar. Brilliant effort thought by the fielder. MI 5/1 in 0.5 overs
21.52 IST: FOUR! Off the mark and Suryakumar gets started with a perfect drive to deep extra cover. MI 4/0 in 0.3 overs
21.49 IST: We are back for the chase! Bangalore will think they have just managed enough as the pitch is not the regular Chinnaswamy. Mumbai open with Ishan Kishan and Suryakumar Yadav. Tim Southee will bowl the first over for RCB. Let's get started. 168 on the board in 120 balls.
21.48 IST: The wicket is quite slow and Mumbai will have to bat really well to get to it. They do have a strong batting line-up and considering the way the hosts have bowled they will back themselves. Join us for the chase in a while
21.47 IST: 
On a tricky surface, we managed to pull things back thanks to one special Hardik over and restricted RCB to 167/7. Let's chase this down! #क्रिकेटमेरीजान #MI #RCBvMI pic.twitter.com/Lt4DcoI85m

— Mumbai Indians (@mipaltan) May 1, 2018
21.38 IST: 
Innings Break!

The #RCB post a total of 167/7 for the #MumbaiIndians to chase.#RCBvMI #VIVOIPL pic.twitter.com/xCTW222MUP

— IndianPremierLeague (@IPL) May 1, 2018
21.36 IST: So an excellent last over for Bangalore has seen them post a total which can prove to be more than competitive on this wicket. They were put into bat and their openers got them off to a very good start with Manan Vohra making most of the opportunity given to him at the top of the order. Once the two openers departed, Virat Kohli and Brendon McCullum joined forces and stitched a 60-run stand and while the two were batting, something above 180 looked possible.
MUMBAI INDIANS NEED 168 RUNS TO WIN vs RCB
21.35 IST: SIX! That's what you get when a Free Hit is given. Colin de Grandhomme smashes that one. Yes, he can! He has tonked it. 24 from the last over and the look on Rohit Sharma's face says it all. Grandhomme has made full use of the Free Hit as he sends it sailing over the long on fence. BANGALORE FINISH WITH 167 ON THE BOARD! RCB 167/7 in 20 overs
21.34 IST: SIX! And a FREE HIT! Wow. Didn't see that one coming and Colin has smashed that. RCB 161/7 in 19.5 overs
21.31 IST: SIX! Colin sends that one to the stands. A massive one and it seems like Mumbai forgot about him. He hammers his fellow countrymates delivery for a big one. RCB 153/7 in 19.4 overs
21.29 IST: OUT! Bumrah removes Tim Southee for 1. Another one bits the dust and once again it was the slower ball which does the trick. Outside off. Southee tries to drag it over deep mid-wicket. He only gets height on it and not the distance. Cutting steadies himself under it and takes a tumbling catch. RCB 143/7 in 18.5 overs
21.26 IST: OUT! That's three for Pandya in an over! He removes Washington Sundar for 1. Another slower ball, never arrives. Sundar rocks back and flicks it towards Sharma at deep mid-wicket who takes it easily. What an 18th over to bowl, just 2 and three wickets from it. RCB 141/6 in 18 overs
21.21 IST: OUT! Hardik Pandya removes Virat Kohli. Two-in-two for Hardik Pandya and he gets the big fish. Bangs this one short on middle, Kohli rocks back and pulls it flat towards long on. Pollard there runs in and takes a good catch. A dejected Kohli walks back and this could be vital. He could have easily made a difference of ten or more runs. Bangalore are losing their way and Pandya will be on a hat-trick. RCB 139/5 in 17.2 overs
21.20 IST! OUT! Hardik Pandya removes Mandeep Singh. The slower one does the trick. It is full and on off. Singh goes down on one knee and tries to drag it over the mid-wicket fence. Does not get the desired connection and it falls into the hands of Yadav at deep mid-wicket. A good cameo by Mandeep comes to an end. RCB 139/4 in 17.1 overs
21.16 IST: SIX! Mandeep Singh has just smashed that! Brute power and on a short delivery, he gobbles that up. Bumrah did not expect that. The key here was that he picked the length up early. Short and on middle, Singh stands tall and pulls it over the mid-wicket fence. RCB 138/3 in 16.4 overs
21.12 IST: FOUR! Mandeep hits that to square leg and Pandya's delivery. Change in length by Hardik and he pays the price. Goes short and on middle, Singh does well to roll his wrists over the ball and pull it along the ground and through backward square leg for a boundary. RCB 128/3 in 15.5 overs
21.04 IST: RUN OUT! Brendon McCullum departs for 37. What a throw by Hardik Pandya. He may have been thrashed in this overs, but that piece of fielding was something! RCB 121/3 in 14.3 overs
20.58 IST: In the air... but lands in between two fielders! Kohli will consider himself lucky there. This was short by Bumrah. It shoots off the surface and Kohli is surprised by the bounce. The ball takes the top edge as he tries to pull and lobs towards mid-wicket. The fielder from that position is running backwards and the fielder from the deep comes inside but the ball lands in between them. A run taken.RCB 110/2 in 13.2 overs
20.56 IST: SIX! Kohli!! A step up and blasts that one for a maximum. RCB 110/2 in 12.1 overs
20.55 IST: FOUR! Another one by McCullum and the slog-sweep comes into play, going past the fielders at square leg. RCB 104 in 12 overs
20.54 IST: FOUR! McCullum is on song at the moment. This spoils the over! This ball had hit me written all over it. Short and on middle. Brendon rocks back and pulls it through square leg for a boundary. RCB 100/2 in 11.5 overs
20.53 IST: FOUR! Smashed down the ground by Kohli. The skipper dances down the track, gets to the pitch of the ball and smashes it past the bowler for a boundary. RCB 95/2 in 11.1 overs
20.50 IST: FOUR! Kohli plays his classic drive and goes all the way to long-off for a boundary on Krunal's delivery. Up and over! Top shot! Pandya tosses this one up on off, this is a little too full. Kohli lunges and goes over covers for a boundary. Runs starting to flow now. RCB 86/2 in 10.1 overs
20.47 IST: FOUR! Smashed and cut by McCullum on Pandya's delivery.Expensive over by Pandya and the New Zealand swashbuckler is finding his rhythm. RCB 81/2 in 9.4 overs
20.45 IST: FREE HIT! SIX! Took full advantage of that and not the start Hardik Pandya would have wanted. A freakish over the waist delivery which goes for a six. And the free hit also is gone for a big one as well. The scoop that McCullum is famous goes all the way. RCB 76/2 in 9.2 overs
20.44 IST! SIX! And a No Ball as well. Over the waist and McCullum sends it back. RCB 68/2 in 9.1 overs
20.41 IST: OUT! Mayank Markande removes Manan Vohra for 45. Bangalore lose their second wicket and Markande's googly is on the dot. RCB 61/2 in 8.4 overs
20.37 IST: SIX! Massive! Vohra sweeps that shot and its one of the prettiest sites to see a shot go high and for a big one. Tossed up ball on middle, Vohra gets low and slogs this over mid-wicket for a half a dozen. That six also gets him past 1000 runs in the Indian T20 League. RCB 61/1 in 8.2 overs
20.33 IST: Three runs of Krunal's over. RCB 53/1 in 8 overs
20.28 IST: FOUR! Mayank Markande comes on to bowl and is treated to a boundary by McCullum. Innovation and he plays it with the turn. Clever batting from the veteran. Gets into position early to play the reverse sweep. Connects well and the ball races away to the third man fence. RCB 48/1 in 6.2 overs
20.26 IST: 5 runs off Krunal Pandya's over. RCB 44/1 in 6 overs
20.22 IST: OUT! Mitchell McClenaghan removes Quintin de Kock for 7. Brilliant catch taken by Rohit Sharma. RCB 38/1 in 5 overs
20.19 IST: FOUR! Tossed in the air by Quintin, luckily for the powerplay, it has gone down for a boundary. Bangs this short outside off, de Kock cuts this to the third man region where there is no fielder. RCB 37/0 in 4.4 overs
20.15 IST: SIX! Another one! Vohra is on fire!! RCB 31/0 in 3.4 overs
20.14 IST: FOUR! Duminy is getting thrashed! Three balls still yet to go. Comes over the wicket his time but the result is the same. Lofts this over mid-wicket to get another boundary. What a start to the over. RCB 25/0 in 3.3 overs
20.14 IST: SIX! Goes to mid off this time. Loopy ball on off, Manan times it perfectly to that region. His second of the night. RCB 21/0 in 3.2 overs
20.12 IST: FOUR! Smashed down the ground and Vohra steps up. Floated ball in line of the stumps, Vohra gets to the pitch of the ball and lofts it over JP's head to the fence. RCB 15/0 in 3.1 overs
20.09 IST: Three runs off Bumrah's over. Mumbai are having it the way they want. RCB 11/0 in 3 overs
20.08 IST: Jasprit Bumrah comes into the attack to bowl the third over.
20.04 IST: Good over by McClenaghan which just sees two runs conceded. RCB 8/0 in 2 overs
20.03 IST: End of the 1st over which just sees that lone six out of it. RCB 6/0 in 1 over
20.00 IST: SIX! And that's how Vohra wants to start matters.Tossed on the leg and Vohra slog-sweeps the shot through square leg which travels to the stands. RCB 6/0 in 0.2 overs
19.50 IST:  The two teams are out and at Bengaluru, the atmosphere is electrifying!! The fielders are out and the RCB batsman, Quintin de Kock and Manan Vohra are out to open.  JP Duminy is given the new ball and is ready to steam in. Let's get started with the southern derby!!
19.45 IST: ROYAL CHALLENGERS BANGALORE PLAYING XI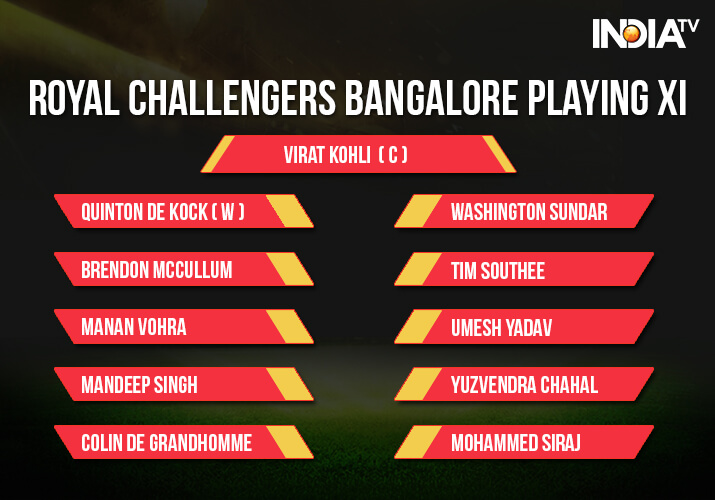 MUMBAI INDIANS PLAYING XI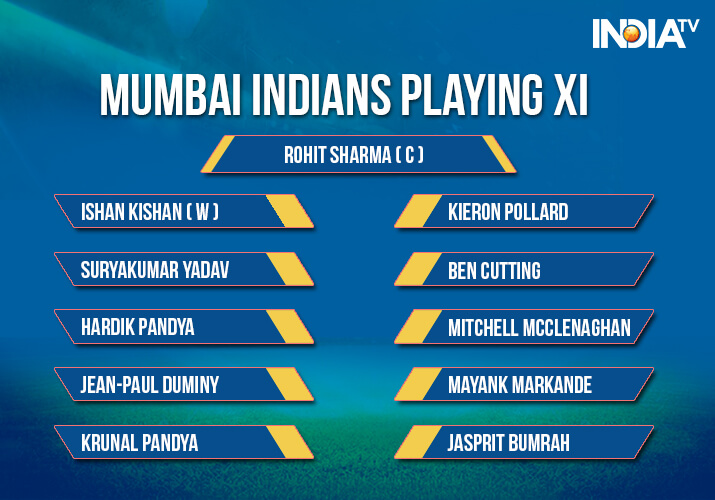 19.40 IST: The Bangalore skipper says that they have not played good cricket at home and needs to change that. Adds by saying that they too would have fielded first. Reckons that the pitch is a bit slow compared to the previous match. Opines that they need to put enough runs on the board.
​19.35 IST: Evin Lewis will miss out today's match for Mumbai Indians and Keiron Pollard comes in place. For RCB, De Villiers will miss today's match due to sickness and Washington Sundar comes in place of Murugan Ashwin.
19.30 IST: TOSS! Mumbai Indians have won the toss, opt to field vs Royal Challengers Bangalore at M Chinnaswamy.  
#MumbaiIndians Captain @ImRo45 calls it right at the toss and elects to bowl first against #RCB#RCBvMI pic.twitter.com/NpwqEw9zms

— IndianPremierLeague (@IPL) May 1, 2018
19.21 IST: Surprisingly RCB coach Ashish Nehra is seen bowling. Is he warming up the players or we may get to see him come out of retirement to help Bangalore fix their bowling issues on field?.
19.15 IST: We're just a few minutes away from the toss and the two team's players are out on the ground. A bit of a concern for the hosts maybe is that AB de Villiers is nowhere to be seen just yet. He missed out on the previous match against KKR due to a viral. 
19.05 IST: 
👀👀

Taking a close look at the pitch is #MumbaiIndians Skipper @ImRo45 ahead of the game against #RCB#RCBvMI #VIVOIPL pic.twitter.com/IV4G6JLQrC

— IndianPremierLeague (@IPL) May 1, 2018
18.50 IST: In the meanwhile, take a look at how Chennai Super Kings' skipper MS Dhoni smashes away despite back pain this season. DHONI PLAYING IT COOL
18.40 IST: 
🗣 It's a wonderful environment to be in and I fully believe in this group.

Baz reckons that a win tonight will stand us in good stead ahead of our matches on the road. #PlayBold #RCBvMI #RCB pic.twitter.com/hLTWQPMI6f

— Royal Challengers (@RCBTweets) May 1, 2018
18.30 IST: 
All set to perform tricks with the ball. 💪

Paltan, how many wickets will @Jaspritbumrah93 pick up tonight?#CricketMeriJaan #RCBvMI #MumbaiIndians pic.twitter.com/BrFw6AvI8X

— Mumbai Indians (@mipaltan) May 1, 2018
Hello and welcome to our live coverage of today's match which features two rivals taking on each other in the southern derby as Royal Challengers Bangalore host Mumbai Indians at the M Chinnaswamy stadium in Bengaluru. We will shortly get underway with the updates as the toss will take place at 7.30 PM IST and the match commences from 8.00 PM IST. 
Brief Preview: 
Struggling sides Mumbai Indians and Royal Challengers Bangalore will have a fight for survival when they lock horns in an Indian Premier League in the match. Having beaten Chennai Super Kings in their adopted home ground in Pune, MI will go out with their tails up with confidence to take on a strong batting line-up of RCB, which has the likes of Virat Kohli and Brendon McCullum.
On the other hand, the heartbreaking back-to-back defeats at the hands of CSK and Kolkata Knight Riders in their backyard would have devastated the team's confidence, but RCB will have to play out of their skins to stay in the competition. READ FULL PREVIEW HERE