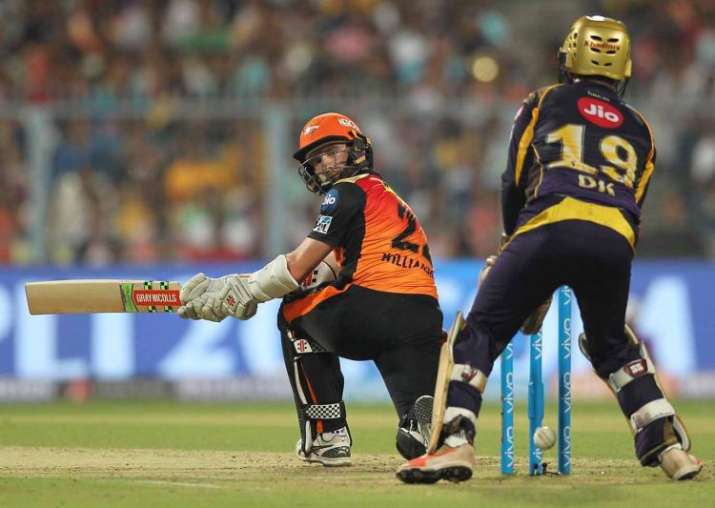 IPL 2018, KKR vs SRH HIGHLIGHTS
SUNRISERS HYDERABAD
 beat 
KOLKATA KNIGHT RIDERS
 by 5 wickets in the match no.10 of 
Indian Premier League 2018
  at the Eden Gardens in Kolkata. And Sunrisers Hyderabad seal their first-ever win at the Eden Gardens. But what would please them, even more, will be - it's their third win on the trot this season and surely they have kicked their campaign off in a grand manner. After yet another clinical show from their bowlers, a different sight was witnessed in the run chase. It was
Wriddhiman Saha
who got them off to a flying start but perished soon after Narine was introduced. The West Indian struck twice inside the Powerplay to stem the run flow. (
CRICKET STREAMING - KKR vs SRH
)
Kolkata Knight Riders' other spinners then came to the fore. They not only slowed things down but also picked up a couple of wickets in the process to keep the match in balance. However, Williamson kept a cool head and took the matter in his hands. He was happy to milk singles and doubles and then stroked some boundaries to dictate terms. He got an able partner in Shakib as the duo nurtured along and strung 59 runs together to bring the equation down to run-a-ball. Things once again got heated up towards the end as both the set batsmen perished but Hooda and Pathan made sure that they don't repeat the same mistake that the committed against Mumbai in the last game. Both hung in there and safely saw their side cross the finish line with a over to spare. (SCORECARD)
HIGHLIGHTS, KOLKATA KNIGHT RIDERS vs SUNRISERS HYDERABAD, IPL 2018, MATCH 10 FROM KOLKATA
00.30 IST: 
A hard fought encounter as a Captain's knock from Williamson guides @SunRisers to their first win over KKR at Eden Gardens. Tough luck, #Knights! #KKRvSRH #IPL2018 #KKRHaiTaiyaar pic.twitter.com/0s2bASdQD7

— KolkataKnightRiders (@KKRiders) April 14, 2018
​
00.28 IST: 
A solid victory for the @SunRisers as they beat #KKR by 5 wickets at the Eden Gardens.#KKRvSRH #VIVOIPL pic.twitter.com/uoa81zEJxd

— IndianPremierLeague (@IPL) April 14, 2018
00.26 IST: SIX! Yusuf Pathan, the ex-Kolkata player has silenced the Eden Gardens here. Gets a hug and a pat from Russell and the customary handshakes follow. Russell with another short one on middle, Yusuf goes for the pull but gets it off the top edge. Still good enough connection to end the game with a maximum over deep backward square leg. A 5-WICKET VICTORY FOR HYDERABAD! Williamson 50, Shakib 27
00.24 IST: FOUR! Up and over Lynn at extra cover! On a length and outside off, Pathan looks to punch it on the up. Didn't time it well but has enough to clear a leaping Chris Lynn at extra cover. More importantly for his side, it then goes to the fence. Happy faces in the Hyderabad dugout.  SRH 131/5 in 18.3 overs
00.19 IST: FOUR! Yusuf Pathan drills one! Releases all the pressure that was applied on the previous four balls. Mitchell goes fuller outside off, Pathan nails the drive through extra cover. Finds the gap and he doesn't even bother running. SRH 124/5 in 17.5 overs
00.15 IST: OUT! Straight to Russell! Kane Williamson is gone. Is there a twist in the tale now? This surely must have shaken the Hyderabad dugout. Good length delivery, at 134.1 kph, Williamson walks across and tries to clip it away. All he manages is to hand a simple catch to Russell at square leg. Kolkata breathe a sigh of relief because they would feel they can turn it around from there as well. Can they? Sunrisers Hyderabad 119/5 in 17.2 overs vs Kolkata Knight Riders (138/8)
00.13 IST: Fifty for Kane Williamson, his 4th in the League! Has played sensibly and needs to be there to take his team over the line. Gets to the milestone with a punch down to long off. Just a raise of the bat form him as he knows the job isn't done yet. Sunrisers Hyderabad 117/4 in 16.5 overs vs Kolkata Knight Riders (138/8)
Strategic break! Deepak Hooda is the new man in. He was the star for them in the last game.
00.07 IST: 
WICCKKKEEETTT!!!
Chawla strikes with a quicker delivery, as Shakib (27) comes down the track but misses his shot and he's clean bowled. #KKRvSRH #IPL2018 #KKRHaiTaiyaar pic.twitter.com/dwaAPVOPpR

— KolkataKnightRiders (@KKRiders) April 14, 2018
00.06 IST: OUT! There is the wicket Kolkata were searching for! But has it come a bit too late? Or maybe not. Remember, Hyderabad slipped massively from such a position against Mumbai in their last game so the hosts can take a leaf out of that. It's the leg break, on a shorter length as Shakib was giving the charge. Misses it, the ball hits the pads and clatters the stumps behind. The 59-run stand has been broken! 25 needed off 25 balls. Sunrisers Hyderabad 114/4 in 15.5 overs vs Kolkata Knight Riders (138/8)
00.02 IST: Good running! Williamson looks to tap and run but gets an inside edge on the pads. Shakib calls him through and seeing this Mavi charges to the ball. He picks it up and throws it at the stumps at the striker's end but the southpaw is easily home. SRH 112/3 in 15 overs
23.59 IST: SIX! The 50-run stand is up between the two! The duo has done well to not stutter after a fall of some quick wickets. Shortish delivery, angling down leg, Williamson swivels inside the crease and pulls it over fine leg. A maximum results! The skipper has stood tall. Can he see his side through?
23.57 IST: Kuldeep Yadav to Kane Williamson, 1 run. Another googly, cut towards sweeper cover for a single. 4-0-23-1, Kuldeep is done for the night. 37 needed in 16 balls. SRH 102/3 in 14 overs.
23.49 IST: SIX! Make that 16 off the over! This is the over that can tilt the game back in the visitors' favor. It's short, it's wide and it's slashed hard. Gets too much meat to send it across the third man fence. Boy, how well has he struck that one? He was too good with the ball and now is doing it with the bat.  SRH 88/3 in 12 overs.
23.48 IST: FOUR! Sliced over mid off! Runs are coming for Hyderabad! Good length delivery, angled across at 119.1 kph, Shakib looks to hit it over covers but slices it. Has enough the clear the man at mid off and gets back-to-back boundaries to his name.
23.46 IST: FOUR! Top edge and it's over the keeper. Russell digs in a short one on middle, Shakib looks to pull but this one keeps getting big on him. It takes the top edge and flies over Karthik for a streaky boundary. Andre can't believe it.
23.44 IST: FOUR! Another boundary, this will release some pressure. Yadav persists with the shorter length ball and this time the Kiwi nails his pull shot in front of square leg. Once again no chance for the fielder in the deep.
23.42 IST: FOUR! FOUR! A welcome boundary for Hyderabad. Kuldeep is on the shorter side around off and Williamson hammers his pull shot to the deep mid-wicket fence. SRH 66/3 in 10.2 overs.
23.36 IST: Shakib Al Hasan is the new man in.
23.34 IST: OUT! Kuldeep Yadav removes Manish Pandey for 4. Trapped in front! Kuldeep Yadav has removed the big fish! Kolkata spinners are running riot at their den. Slower through the air, seemed like it's the top spinner. Pandey presses forward to play for the turn but misses to get hit on the pads right in front of the stumps. A huge appeal and the finger goes up. Pandey has a word with his skipper about the review but they take too long and the time is up, informs the umpire. Manish walks back with his side needing 84 from 68 balls. Sunrisers Hyderabad 55/3 in 8.4 overs vs Kolkata Knight Riders (138/8)
23.30 IST: NOT OUT! Piyush Chawla to Manish Pandey, 1 run. Direct hit this time, it's referred upstairs - Safe! Pandey plays it with the spin to cover-point and rushes across. Russell scores a direct hit at the striker's end and they appeal. Williamson is found safe in the replays. SRH 53/2 in 8 overs.
23.22 IST: Kuldeep Yadav into the attack now.
23.18 IST: Manish Pandey, the ex-Kolkata player is out in the middle. He was electric in the field today, can he do something similar with the bat? 93 needed off 89 balls.
23.17 IST: OUT! Narine removes Dhawan for 24. Bowled 'em! Narine has struck twice in two overs! The Eden Gardens erupts! Flighted delivery around middle and leg, Dhawan tries to work it across the line but is a tad late in bringing his bat down. The ball hits the front pad and goes onto disturb the woodwork behind. After two good innings, Dhawan walks back cheaply tonight. Are Kolkata back in this?  Sunrisers Hyderabad 46/2 in 5.1 overs vs Kolkata Knight Riders (138/8)
23.12 IST: Kane Williamson is the new man in.
23.11 IST: OUT! Narine removes Saha for 24. Narine strikes first ball! A much-needed breakthrough for the hosts as Saha was running away quickly. An off spinner, pitching on middle and turning down leg. Wriddhiman Saha tries to clip it away but gets a faint edge to it. Karthik behind the stumps does well to hold on to it. They appeal but Saha himself starts to walk back as soon as he edged one. Good spirit shown from the keeper-batsman. Sunrisers Hyderabad 32/1 in 3.1 overs vs Kolkata Knight Riders (138/8)
23.07 IST: FOUR! Shot of the match for me! Good length ball on the stumps, Saha stands in the crease and lifts it down the ground past mid on for back-to-back boundaries. He's got off to a good start here.
23.04 IST: FOUR! Shot! Waits back for a short ball, gets on top of it and nails the pull in front of square on the leg side. Right off the screws and away she races to the fence.
23.02 IST: FOUR! Just over the square leg fielder! Back of a length delivery on middle, Saha takes on the challenge to pull it away. He hits it uppishly and just over Lynn at square leg for a boundary.
23.00 IST: Andre Russell will bowl from the other end.
22.59 IST: SRH 6/0 in 1 over. Mitchell Johnson to Wriddhiman Saha, no run. Overpitched ball outside off, driven towards mid off where Chawla stops and falls over.
22.58 IST: FOUR! Whipped away! Good length delivery around the pads, Wriddhiman gets across and clips it neatly behind square on the leg side for a boundary.
22.55 IST: We are back for the run chase. 139 is what Hyderabad need to make it three wins in a row. The man in form - Shikhar Dhawan is out with Wriddhiman Saha to open the batting. It will be Mitchell Johnson to steam in first up. A slip in place.
22.40 IST: OUT! Another knuckle delivery, another wicket for the visitors! Terrific from Kaul. Mavi swings across the line but gets a top edge instead. It spoons over the keeper and Bhuvi from short fine leg goes for the catch. Billy Stanlake from short third man also wants it but it's the former who takes the catch. But wait... the latter almost dashes into the former but luckily no harm is done. They share a smile. HYDERABAD RESTRICT KOLKATA TO 138/8!  Kolkata Knight Riders score 138/8 in 20 overs vs Sunrisers Hyderabad at Eden Gardens. Lynn 49, Bhuvneshwar 3/26
22.33 IST: Caught off a Free Hit! Twice in the same over has Bhuv overstepped! This is very unusual of him. Mitch makes room and looks to loft it down the ground but mistimes it. Williamson at long off takes the catch and is in the mode to celebrate but it is cut short. KKR 134/7 in 19 overs
Mitchell Johnson is in next.
22.31 IST: OUT! The knuckle ball does the trick again for Bhuvi! He now has 120 T20 wickets, a spectacular feat indeed! This one moves away a touch, Karthik with all his might throws everything at it. Gets an edge and Saha behind the stumps takes a regulation catch. He was the last hope for his side and now even he is being removed. Kolkata Knight Riders 129/7 in 18.3 overs vs Sunrisers Hyderabad
22.27 IST: SIX! Makes the most of the Free Hit! Another slower delivery from Kumar, Karthik dances down the track and clouts it high and over long off for a much-needed maximum. The crowd is right behind, they want their new skipper to hit a few more.  KKR 129/6 in 18.1 overs
22.25 IST: FOUR! Used the pace, DK! Flatter and quicker through the air, at 102 kph, Karthik waits and at the last moment opens the face of the bat to get it past the keeper for a much-needed boundary towards third man. KKR 119/6 in 17.4 overs
Shivam Mavi is in next. Another one from the U-19 Indian team. Let's see what he can do.
22.21 IST: OUT! Not a great outing for Gill! Bhuvneshwar Kumar takes the pace off the ball, lands it on a back of a length wider on off. Gill already had made room and goes after it with a flat-bat shot. Mistimes it high in the air towards extra cover where Shakib Al Hasan takes an easy catch at the edge of the circle. Kolkata Knight Riders 112/6 in 16.4 overs vs Sunrisers Hyderabad
22.17 IST: Wrong one on the shorter side, DK goes back and pulls it over mid-wicket to keep strike. Just 5 runs from the over. KKR 111/5 in 16 overs
22.12 IST: FOUR! Shot! Kaul digs in a short ball outside off, Karthik gets on top of the bounce and punches it square on the off-side for a boundary. He holds the key now for his side if they are to post a fighting total on the board. KKR 103/5 in 14.1 overs
22.11 IST: Time for strategic break!
22.10 IST: 
KKR - 97/5, 14 overs

Skipper, @DineshKarthik & 18-year old @RealShubmanGill have got a job on their hands. Come on, #Knights! #KKRvSRH #IPL2018 #KKRHaiTaiyaar pic.twitter.com/FXs5NzEoul

— KolkataKnightRiders (@KKRiders) April 14, 2018
Shubman Gill is the new man in.
22.04 IST: OUT! In the air... Manish Pandey, what are you upto mate? He pulled off a stunner earlier and now has taken even better to dismiss the dangerous Russell. Kolkata are falling apart now. Stanlake delivers a length delivery outside off, Russell backs away and throws the kitchen sink at it. Slices it high up in the air over backward point and Pandey goes after it. He runs backwards, keeps his eyes on the ball and at the right time throws himself forward to pluck it out with his hands outstretched. Outstanding! Half the side back in the hut for the hosts. Kolkata Knight Riders 96/5 in 13.2 overs vs Sunrisers Hyderabad
22.02 IST: SIX! But what an effort by Deepak Hooda. A back of a length delivery around off, Russel goes hard at it and slices it over cover-point. Hooda in the deep attempts to catch it near the fence but seeing that he will cross the rope, he releases the ball. The umpire goes upstairs to check it. The replays roll in and finds that Deepak was in touch with the rope while catching. A biggie signalled. KKR 96/4 in 13.1 overs
Billy Stanlake to bowl out.
The crowd is going bonkers as Andre Russel arrives in the middle.
21.58 IST: OUT! Another great catch in the field! Shakib has pulled out a stunner off his own bowling. He sends out a flighted delivery on middle, Lynn punches it from the crease, fails to keep it down and Shakib dives full length to his left to catch it inches above the surface. The umpire goes upstairs to check it and the replays find that it has been cleanly pouched by Shakib. Fingers under the ball. A big wicket for Hyderabad. Kolkata Knight Riders 87/4 in 12.2 overs vs Sunrisers Hyderabad
21.56 IST: Karthik goes on the back foot and works it towards mid-wicket to keep strike. 5 runs from the over. KKR 86/3 in 12 overs vs SRH
Dinesh Karthik is in next.
21.51 IST: OUT! Narine runs out of luck this time. Another arm ball by Narine, more of a seam up delivery as it skids through the surface. Narine attempts for a big shot yet again, that's his role, throws his bat at it and gets a top edge over extra cover. Kane Williamson is in pursuit this time, backtracks and takes an excellent catch. He is a safe fielder. Kolkata Knight Riders 79/3 in 10.4 overs vs Sunrisers Hyderabad
21.48 IST: FOUR! Throwing his bat at everything. Once again gets it away off the top edge and it flies over backward point. Kaul races after it from short third man but it lands on the practice pitch and scoots away. Kaul tries to pull it back with a slide but the ball ends up touching the rope. KKR 79/2 in 10.3 overs
21.45 IST: FOUR! Streaky boundary! Kaul dishes out a fuller length ball on middle, Lynn tries to heave it over the leg side but ends up inside edging it to the fine leg fence. Not for the first time he is lucky in this innings. Closing in on a fifty! KKR 70/2 in 10 overs
21.43 IST: SIX! Another mistimed shot and it has gone all the way! In fact, it was dropped near the fence by Rashid Khan. Returning to the delivery, it's on a length around off and Lynn moves back to thwack it over long off. Once again it's high but not long. Williamson from long off and Rashid from long on rush across. The latter attempt for the catch with his left hand but ends up parrying it over the rope. KKR 66/2 in 9.3 overs
Siddarth Kaul returns in the attack. He went for 14 in his first over and will be looking to fare better this time around.
21.40 IST: Strategic break. Hmm... Just two overs after the rain break and they take another one. Rules are rules. It's been a slow beginning by the home team and they lost Rana also to a stunner of a catch. Would be looking to rebuild but with Narine sent in now, we can expect some fireworks.
21.39 IST: Almost another ripper by Manish Pandey! Gosh, he is in the thick of things here. Narine attacks a full ball and tries to clear long on. Gets more elevation than distance and Pandey near the fence jumps to catch the ball. He realizes that his body weight is pushing him beyond the rope and hence he quickly tosses it up in the air. Tries to return and take the catch with a dive but it falls just short. Great attempt nonetheless, saves five runs.  KKR 60/2 in 9 overs
Sunil Narine walks in next. Interesting move. With the field relaxed, not sure what he can do...
21.34 IST: OUT! Catch of the match, no catch of the season! Manish Pandey has taken a ripper! Stanlake delivers a shortish delivery outside off, Rana plays a full-blooded square cut and it goes quickly to Pandey at backward point. He dives full stretch to his right but fails to catch it in the first attempt. However, he keeps his eyes glued to the ball and snaps it before it touches the ground. The umpires get it checked upstairs and it's fine in the replays. Nitish departs. Kolkata Knight Riders 55/2 in 7.4 overs vs Sunrisers Hyderabad
21.32 IST: Manish Pandey has taken a stunner. But the umpires want to check whether it's clean or not.
21.30 IST: Misfield first up! Is it slippery out there? Maybe, just. A back of a length delivery outside off, Lynn runs it down to third man where Pathan gets across, tries to pick up the ball but fumbles. They steal the second run. KKR  54/2 in 7.1 overs vs SRH
21.28 IST: All the covers are off, the players are back on the field and we are ready to get going. Billy Stanlake to bowl.
21.18 IST: 
Play resumes at 9:30pm sharp and with no Loss of Overs. #OrangeArmy your prayers have been answered it seems. Keep the love coming in. #KKRvSRH #IPL2018

— SunRisers Hyderabad (@SunRisers) April 14, 2018
21.15 IST: Good news for the fans! - 
UPDATE - Play set to resume at the Eden Gardens at 9.30 PM IST #KKRvSRH pic.twitter.com/X8hjIWzqxp

— IndianPremierLeague (@IPL) April 14, 2018
20.56 IST: Update - The rain has reduced to a drizzle now and we can see a few players out in the middle. That's a good sign. Hoping that there ain't much delay.
20.45 IST: 
Lynn-sanity at Eden Gardens! 😎@lynny50 has started off well, he's raced off to 3⃣1⃣ from 20 balls with 6⃣ fours. 👌#KKRvSRH #IPL2018 #KKRHaiTaiyaar pic.twitter.com/LAaepatu6u

— KolkataKnightRiders (@KKRiders) April 14, 2018
20.35 IST: 
Play at Kolkata has been suspended due to rain.#KKR are 52/1 in 7 overs. Stay tuned for further updates #KKRvSRH #VIVOIPL pic.twitter.com/rGdZjUICyf

— IndianPremierLeague (@IPL) April 14, 2018
20.33 IST: Dear me, it has started to rain and the covers are coming on. Within seconds the groundsmen have covered the entire ground with white sheets. Very smooth work. Let's hope it's just a passing shower. Stay tuned for more updates...
20.32 IST: Shakib fires this one in, around middle and leg and skidding through, Lynn moves back to hit across the line but misses. KKR 52/1 in 7 overs vs SRH
Shakib Al Hasan to bowl.
20.29 IST: FOUR! Packed a punch! A little short and around off, Rana goes deep inside the crease and crunches it past the diving point fielder for a boundary. 12 from the over, 49/1 in the Powerplay!  KKR 49/1 in 6 overs
20.27 IST: SIX! It's high, it's long, it's deep into the stand. Rana takes the chance against Rashid. Goes down on one knee to the googly and smokes it against the spin over mid-wicket.  KKR 45/1 in 5.4 overs
20.25 IST: FOUR! Ferociously struck! A juicy half-volley outside off, Lynn keeps his weight on the back leg but through his outstanding hands, he drills it through extra cover for a boundary. 14 from Kaul's first over. KKR 37/1 in 5 overs
20.23 IST: FOUR! That's unfortunate for Kaul. He goes full this time and puts it on middle, Lynn swings his bat across the line and inside edges it past the leg stump to the fine leg fence. KKR 31/1 in 4.3 overs
20.21 IST: FOUR! An attempted knuckle delivery, on a shortish length around off, Lynn hangs back to create room and slaps it over covers for a boundary. KKR 27/1 in 4.2 overs
Siddarth Kaul replaces Kumar in the attack. He has shown great wicket-taking form this season. Will he deliver again?
20.19 IST: Play and a miss! This is brilliant bowling by Stanlake. He is cranking it up and is bowling with great speed and accuracy. Keeps this delivery on a shortish length around off, angling away and leaving the batsman, Rana pushes inside the line and gets beaten. Just 2 runs from the over. KKR 23/1 in 4 overs
20.14 IST: FOUR! A cracking beginning. Kumar feeds him with room outside off, Rana attacks it immediately and blazes it through point for a boundary. Takes no time in getting off the mark. He has been in prime form.  KKR 21/1 in 3 overs
Nitish Rana walks in next.
20.11 IST: OUT! Bhuvneshwar has struck and provided the early breakthrough like he always does. A back of a length delivery just outside off, holding its line, Uthappa stands back to push inside the line and seems to have missed it. But the keeper catches it and goes up in a big appeal along with the bowler. The umpire remains unmoved and Williamson opts for the referral. The Ultra Edge shows some spike and that's the end of Robin tonight. Kolkata Knight Riders 16/1 in 2.4 overs vs Sunrisers Hyderabad
20.10 IST: Huge shout for a catch! Not given and Hyderabad take the referral. They are looking quite confident.
20.09 IST: FOUR! Powered down the ground! Back of a length delivery around off, a knuckle delivery, Lynn backs away and slaps it past the diving mid on fielder for a boundary. KKR 15/0 in 2.2 overs
20.06 IST: DROPPED AND FOUR! Full marks to the attempt though. Kane Williamson it is. A length ball on middle and leg, not enough room there, Lynn moves back and muscles it through the line. Fails to middle it properly though and it flies over mid off. Williamson backtracks and jumps to attempt for the catch but it brushes his hand and goes to the fence. KKR 10/0 in 1.4 overs
20.05 IST: FOUR! Boom! Short and wide outside off, Lynn always goes very hard at any room on offer, latches onto this one and blasts it past point. No stopping this one.
The big Billy Stanlake to operate from the other end.
20.04 IST: Lynn gets behind the line and blocks to end the over. A brilliant first over from Bhuvneshwar, just 1 run from it. KKR 1/0 in 1 over vs SRH
20.00 IST: Bhuvi starts with a good length delivery around off, Uthappa is on the front foot as he defends it to the off side.
19.57 IST: All set to get underway! The famous bell is rung marking the beginning of this match. Out come the players in the middle. Robin Uthappa and Chris Lynn are the openers, no Sunil Narine today.
19.47 IST: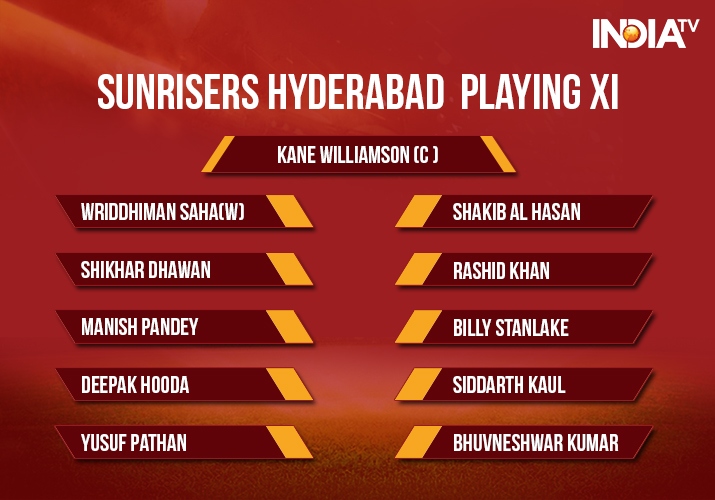 19.45 IST: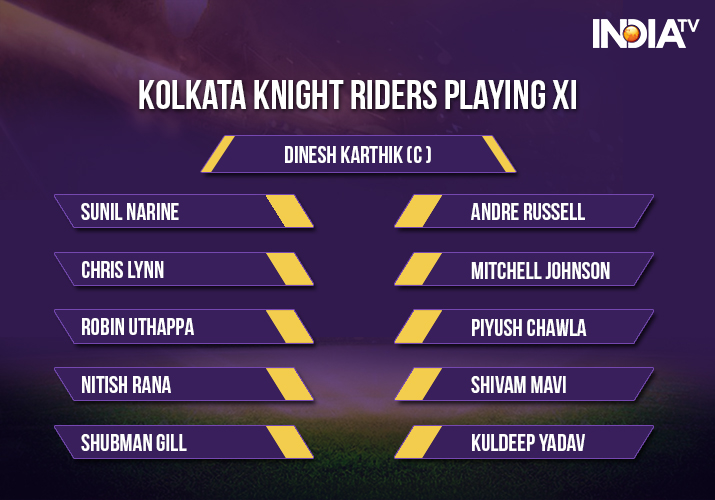 19.42 IST: 
#Bhuvi comes in for Sandy and that is the only change for tonight's match in the squad when compared with the last match #KKRvSRH #IPL2018 pic.twitter.com/IaHf5CNPMx

— SunRisers Hyderabad (@SunRisers) April 14, 2018
19.40 IST: Kolkata Knight Riders (Playing XI): Chris Lynn, Sunil Narine, Robin Uthappa, Nitish Rana, Dinesh Karthik (wk/C), Shubman Gill, Andre Russell, Mitchell Johnson, Shivam Mavi, Piyush Chawla, Kuldeep Yadav
Sunrisers Hyderabad (Playing XI): Wriddhiman Saha (wk), Shikhar Dhawan, Kane Williamson (C), Manish Pandey, Shakib Al Hasan, Deepak Hooda, Yusuf Pathan, Bhuvneshwar Kumar, Rashid Khan, Siddarth Kaul, Billy Stanlake
19.35 IST: Kane Williamson feels it's a good surface while Dinesh Karthik thinks that the pitch won't change much and is not too disappointed with the outcome of the toss. The visitors have made one change, an expected one, as Bhuvneshwar Kumar returns in place of Sandeep Sharma. Kolkata have made three changes, Shubman Gill, Shivam Mavi, the U-19 stars are making their debut while Mitchell Johnson is also in the playing XI. Tom Curran, Rinku Singh and Vinay Kumar miss out.
​19.33 IST: 
Match 10 - @SunRisers win the toss and elect to bowl first against the @KKRiders at Eden Gardens#KKRvSRH pic.twitter.com/bRAvZy6Bew

— IndianPremierLeague (@IPL) April 14, 2018
19.32 IST: TOSS - Sunrisers Hyderabad win toss, opt to bowl against Kolkata Knight Riders at Eden Gardens.
19.15 IST: 
.@im_manishpandey, we look forward to seeing you at Eden Gardens😄#KKRvSRH #KKRHaiTaiyaar #IPL2018 https://t.co/PfF8Fwctet

— KolkataKnightRiders (@KKRiders) April 14, 2018
18.56 IST: 
3⃣ out of 6⃣
Piyush Chawla has bamboozled former #Knight Yusuf Pathan 3 times in his @IPL career!
We can't wait to see the two battle it out against each other😍#KKRvSRH #KKRHaiTaiyaar pic.twitter.com/t8xUNsgUTa

— KolkataKnightRiders (@KKRiders) April 14, 2018
18.45 IST: 
The #OrangeArmy has landed in Kolkata and the Eagles are ready to meet the Knights tonight at Eden Gardens. #KKRvSRH #IPL2018 pic.twitter.com/hmq0KIUZjr

— SunRisers Hyderabad (@SunRisers) April 14, 2018
8.45 IST: 
18.40 IST: 
📹 Our fortress is as strong as our record against SRH at home. 💪
Welcome to Kolkata, @SunRisers . 🏟#KKRvSRH #KKRHaiTaiyaar pic.twitter.com/mU6YVjbaWY

— KolkataKnightRiders (@KKRiders) April 14, 2018
18.30 IST: 
#MatterOfFact
Vice-Captain @robbieuthappa impressed everyone the last time we faced @SunRisers at home. 🙌#KnightRiders, how much will he score today? 🤔#KKRHaiTaiyaar #KKRvSRH #IPL2018 pic.twitter.com/EFrk2nwqfI

— KolkataKnightRiders (@KKRiders) April 14, 2018
Brief Preview: On a roll with successive wins, Sunrisers Hyderabad stand in the way of two-time champions Kolkata Knight Riders, who would be looking to bring their campaign back on track at home during an Indian Premier League T20 match at Eden Gardens on Saturday. With two wins from two matches, SRH lead the table ahead of Chennai Super Kings on the net run rate. The home side, on the other hand, will be smarting from a heartbreak defeat against Chennai Super Kings despite posting a 200-plus total.
On paper, Kane Williamson-led SRH are one of the most balanced sides, boasting an experienced batting lineup and an equally effective bowling unit, a dream combination for any captain. But the visitors did not look too convincing in a modest chase against Mumbai Indians last night before pulling off a one-wicket victory off the last ball, a first in IPL history. (Read Full Match Preview)