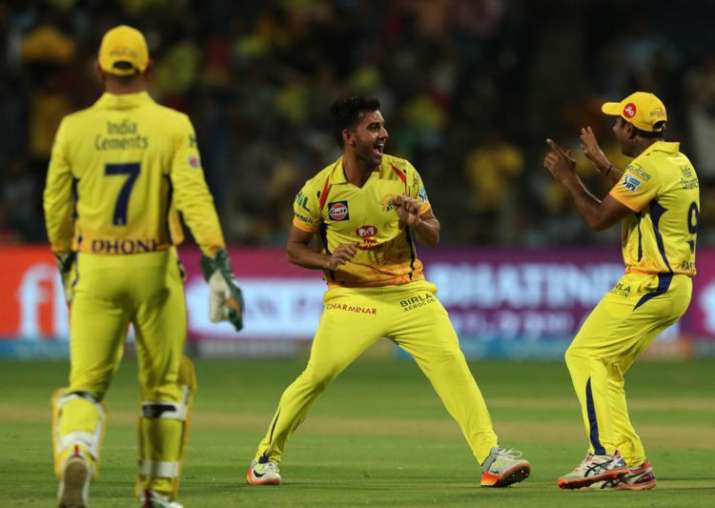 HIGHLIGHTS, IPL 2018 MATCH 17, CSK vs RR:
Seasoned all-rounder Shane Watson smashed his third
IPL
century as Chennai Super Kings moved to their new 'home' in style by producing a comprehensive 64-run win over Rajasthan Royals in Pune on Friday. CSK, forced out of Chennai due to the Cauvery dispute, were shepherded by the 36-year-old Australian, who hammered 106 from 57 balls to lead his side to a challenging 204 for five after being invited to bat. Making full use of a dropped chance in the very first over on a flat track, Watson swung his arms when the ball was pitched outside off and positioned himself nicely against short and straight deliveries to find boundary after boundary. Watson hit nine fours and six sixes in his entertaining knock as another senior player enthralled the fans after
Chris Gayle
and CSK captain
MS Dhoni
showed their vintage touch in previous matches of the League. Three early wickets pegged Royals back and they were all out for 140 in 18.3 overs.
CHENNAI SUPER KINGS VS RAJASTHAN ROYALS HIGHLIGHTS FROM PUNE
23.33 IST: Chennai Super Kings (204/5) beat Rajasthan Royals (140-all out) by 64 runs. Stokes 45, Karn Sharma 2/13, Bravo 2/16. OUT! And Karn Sharma wraps things up! We have lost the count of the bowlers who have picked up two in two this season. A leg break, quicker through the air and turning away from a length just a bit. Laughlin hangs back to push it away but gets a faint edge to Dhoni who takes it really well. CHENNAI BEAT RAJASTHAN BY A HUGE MARGIN OF 64 RUNS!
23.25 IST: FOUR! Takes the aerial route and gets the desired result! Tossed up outside off, spinning away, Unadkat kneels down and slaps it over extra cover to send it across the fence.
23.23 IST: FOUR! Nailed it! Short ball, Unadkat camps back and middles the pull through mid-wicket for a boundary.
23.21 IST: Jaydev Unadkat to walk in next.
23.20 IST: OUT! SN Thakur removes Binny for 10. Phenomenal stuff from Shardul Thakur. He's pumped with that effort. Why wouldn't he be? Stunning. Short of a good length on middle, Binny gets a top edge on the leg side as he looks to pull. Thakur runs to the ball himself, dives to get his right hand under it and then holds on to it as well. A well-deserved wicket. Rajasthan Royals 117/8 in 15.3 overs vs Chennai Super Kings (204/5) in Pune
23.18 IST: Shreyas Gopal is the new man in.
23.17 IST: OUT! Watson removes Gowtham for 1. Watson contributing with the ball as well! He digs in a slower bumper outside off, Gowtham tries to fetch it but all he manages his a top edge which lobs behind. Dhoni moves to his left and takes an easy catch. Rajasthan are falling like a pack of cards now. Rajasthan Royals 115/7 in 14.4 overs vs Chennai Super Kings (204/5) in Pune
23.14 IST: Krishnappa Gowtham is the new man in.
23.11 IST: OUT! Tahir removes Stokes for 45. Stokes departs! He knew straightaway as soon as he hit that. Tossed up this time, it's the leg break from Tahir. Stokes gets down on one knee to slog sweep it but doesn't connect well. Gets a lot of height but no the distance as he Sam Billings positions himself underneath it and takes a smart reverse cup catch over his head. Rajasthan Royals 111/6 in 13.5 overs vs Chennai Super Kings (204/5) in Pune
23.06 IST: FOUR! Tickled away! Fuller and drifting down leg, Binny walks across and tickles it fine down the leg side for a boundary to end the over.
23.03 IST: Stuart Binny is the new man in.
23.02 IST: OUT! Dwayne Bravo removes Tripathi for 5. Straight up in the air! Fifth wicket down for Rajasthan and it's the slower one Bravo that does the trick! Rahul Tripathi gets down to play the big slog but gets a big top edge on it. Sam Billings from deep mid-wicket comes a couple of steps ahead and takes it safely in the end. This is turning out to be a lop-sided game! Rajasthan Royals 96/5 in 12.2 overs vs Chennai Super Kings (204/5) in Pune
22.56 IST: FOUR! Tossed up around middle and off, Stokes presses forward and with a strong bottom hand he blazes it down the ground. Rayudu from long on comes across to his right, puts in a dive but the ball still wins the race. RR 89/4 in 11.2 overs.
22.52 IST: Rahul Tripathi is the new man to the crease.
22.51 IST: OUT! Dwayne Bravo removes Buttler for 22. Bravo comes and picks up a wicket straightaway! And his celebrations begins! Starts off with a slower delivery, a bit short and served a bit outside off. Buttler decides to take the new bowler out of the ground as he looks to swing across the line. Is undone by the lack of pace on the ball and gets a top edge which squirts up in the air towards short third man. Imran Tahir accepts a dolly. Rajasthan Royals 77/4 in 10.1 overs vs Chennai Super Kings (204/5) in Pune
22.45 IST: FOUR! Smacked along the ground! A bit too full in length from Tahir, Stokes makes room and hits it along the ground through cover for a boundary. Tahir is not finding his rhythm.
22.40 IST: FOUR! Not a good delivery but Stokes wouldn't mind it at all. Short delivery, down the leg side with fine leg in the right. Stokes goes for the pull but gets it off the gloves, wide of the man at 45 for a boundary, his first one of the game.
22.37 IST: SIX! That's a massive one! Buttler once again decides to wear his dancing shoes one, it's the googly but doesn't matter to Jos. He is to the pitch of the ball and belts one straight back down the ground for a biggie. 14 coming from Tahir's first over.
22.35 IST: FOUR! Nearly took Stokes along! Fuller and quicker through the air, Jos dances down the track and hammers it past Stokes who takes evasive action. Raced away to the long on fence.
22.33 IST: Imran Tahir into the attack.
22.20 IST: OUT! Clean bowled! Deepak Chahar's knuckleball hitting the stumps could not get any better. Ajinkya Rahane is sent back early and the Royals are in real trouble from here on. Three wickets gone and the visitors are having a tough time. Rahane has been completely deceived there. It is the knuckle ball which does the trick. It is landed on a length around off, Rahane advances down the track and swings. He is way too early into the shot as he misses. The ball hits the top of middle to give Chahar his second. RR 32/3 in 4.3 overs
22.16 IST: Good over by Thakur, conceding just six off it. RR 31/2 in 4 overs
22.13 IST: Ben Stokes walks in. 
22.11 IST: OUT! D Chahar removes Sanju Samson. The Royals lose their second wicket and a big one as their reliable source has just been sent back for a meagre score for two. Excellent field placement as there was a fielder there for that shot. A short ball on middle, Samson goes for the pull and he connects well but it does not get the distance as he holes out at deep backward square leg where Karn Sharma who takes it. Two wickets for Chennai and Rajasthan in trouble. They need another 181. RR 25/2 in 3 overs
22.08 IST: Review taken! NOT OUT! Inside edge! The knuckle ball on middle, Rahane tries to flick it on the leg side. Ajinkya tries to flick but misses to get hit on the pads. The players appeal but the umpire shakes his head. Dhoni goes for the review and replays show there is an inside edge. Chennai lose their sole review.
22.05 IST: Sanju Samson walks out to the middle.
22.04 IST: OUT! Shardul Thakur removes Klaasen for 7. TIMBER! Klaasen does not make much of the chance he got. Thakur draws first blood! This one is bowled on a length around middle. The ball may have stayed a touch low as Klaasen is late in bringing down his bat. He gets beaten and the ball hits the middle of middle. So the debutant walks back cheaply and an early wicket for Chennai. Rajasthan Royals 20/1 in 1.5 overs vs Chennai Super Kings (204/5) in Pune
22.00 IST: FOUR! Streaky but 10 runs to end the first over! 14 from it, ideal start for Rajsasthan. On a length around off. Rahane tries to guide it down to third man but gets an inside edge through fine leg for a boundary.
21.58 IST: SIX! What a shot! RR 10/0 in 0.5 overs. TOP SHOT! Right off the middle! On a length on middle, Rahane comes down the track and lofts it over the long on fence for a biggie. First off this innings and it comes off the back of Rahane.
21.56 IST: Klaasen DROPPED! What is with everybody today? This is maybe the third or the fourth drop today. Klaasen could have bagged a golden duck on his first Indian T20 League game. A peach of a delivery! Lands it on off and it swings away. Klaasen tries to defend it but the ball takes the outside edge and goes towards Watson at first slip who drops it. Watson too was dropped in the first over, he scored a ton. Can Klaasen make them pay in the same manner?
21.55 IST: A false start! Chahar comes running all the way but pulls out as he was about to deliver.
21.54 IST: RR are ready for the big chase. A different opening combination for Rajasthan as Ajinkya Rahane and Heinrich Klaasen will open the innings. Deepak Chahar will open the bowling for Chennai. 
21.39 IST: Chennai Super Kings score 204/5 in 20 overs vs Rajasthan Royals in Pune. Watson 106, Raina 46, Gopal 3/20. Ben Laughlin to Ravindra Jadeja, 2 runs. A couple to end the over! No boundary in the last over, an excellent one by Ben. A full ball outside off, Jadeja works it through mid-wicket. The batsmen complete one and they go for the second. The throw comes in towards Ben who fails to collect it and dislodges the bails with his hand. 204 IS WHAT CHENNAI FINISH WITH!
Innings Break!

A superlative innings from Shane Watson as the @ChennaiIPL post a total of 204/6 for the #RR to chase.

Stay tuned for more updates #CSKvRR pic.twitter.com/4fm28zA80g

— IndianPremierLeague (@IPL) April 20, 2018
21.37 IST: OUT! Laughlin removes Watson for 106. So the good over by Laughlin continues as he gets the wicket of Watson. End of an excellent innings and he walks off to a standing ovation. A full ball outside off, Watson tries to go downtown but gets an outside edge into the mitts off the keeper. Chennai Super Kings 202/5 in 19.5 overs vs Rajasthan Royals in Pune
21.35 IST: 200 up for CSK. Ben Laughlin to Dwayne Bravo, 2 runs. Fuller on middle, Bravo gets it off the inner half through mid-wicket for a brace. No boundaries in the over yet. Turning out to be a good one.
21.32 IST: FOUR! Just over! Dances down the track and goes inside out. Connects well and the ball flies just over the cover fielder for a boundary.
21.29 IST: FOUR! How has that gone to the fence? Bravo was completely decieved there but still got it away for a boundary. A slower one on middle, Bravo swings early but gets it through backward square leg and the ball races away.
21.26 IST: FOUR! Picked his spot to perfection! Knew point was up in the ring. He made room and gets a short ball on off, a poor length by Unadkat. He cuts it over point and the ball races away.
21.24 IST: Shane Watson hits his 3rd IPL century off 51 balls. Jaydev Unadkat to Shane Watson, 1 run. 100 for Shane Watson. Second batsmen in two days to score a century. His third in the Indian T20 League. He has made Rajasthan to pay for the chances they have given him and in what way. He taps this length ball on off and gets to the other end. He takes his helmet off and raises his bat towards the crowd. Chennai Super Kings 177/4 in 17.2 overs vs Rajasthan Royals in Pune
21.21 IST: FOUR! Very smart by Bravo, excellently played! This one was short and on off, Bravo rocks back and pulls it fine through the leg side for a boundary.
21.20 IST: FOUR! Welcome back, Laughlin. Shorter in length and outside off, Watson cuts it through point and the ball races away.
21.16 IST: Dwayne Bravo is the next man in.
21.15 IST: OUT! Shreyas Gopal removes Billings for 3. Another one bites the dust! So a good passage of play here for Rajasthan and once again it is Gopal who strikes. He gets his third. This one is flatter and on the shorter side on middle, Billings rocks back and pulls it hard and flat but straight to Ben Stokes at deep mid-wicket who does not make a mistake. Chennai Super Kings 161/4 in 15.1 overs vs Rajasthan Royals in Pune
21.10 IST: FOUR! Streaky but Watson will take it! A short ball on off, this one is too close to cut but Watson goes ahead with the shot. He gets an outside edge which goes past the keeper and into the third man fence.
21.07 IST: Sam Billings walks out to the middle.
21.06 IST: OUT! Shreyas Gopal removes Dhoni for 5. Gopal strikes AGAIN! Krishnappa Gowtham takes another good catch. The youngster is proving to be a handy fielder for Rajasthan. Dhoni comes down the track, gets to the pitch of the ball but he cannot get underneath it. He smashes it towards Gowtham. He times his jump to perfection but could not hang on to it on the first instance. He shows great match awareness to react quickly and take it on the second attempt. A big wicket for Rajasthan as everybody knows how dangerous Dhoni is. They need to keep chipping away at the wickets here. Chennai Super Kings 151/3 in 13.2 overs vs Rajasthan Royals in Pune.
21.02 IST: FOUR! Finesse! Four boundaries from the over. 150 is up and there are 7 more overs to go. On a length and around off, Dhoni opens the face of the bat and guides it through backward point for a boundary.
21.00 IST: FOUR! 14 from the over so far! Binny is not going to be spared here! A bumper on middle. He should not be bowling that at his pace. Watson rocks back and pulls it through mid-wicket and the ball races away. The third boundary in the over.
20.58 IST: FOUR! Third man and fine leg up, the bowler hardly has any margin for error. This one is on a length and just outside off. Watson is provided the slightest of room and that is enough. He guides it past backward point and the ball races away. CSK 140/2 in 12.3 overs.
20.55 IST: MS Dhoni walks in next.
20.54 IST: OUT! Shreyas Gopal removes Raina for 46. In the air... and that is a stunner by Gowtham! Gopal gets the wicket but a lot of credit has to be given to Krishnappa. Gopal bowls a googly once again on middle, Raina goes for another boundary as he brings out the slog sweep. He hits it flat towards deep mid-wicket where Gowtham runs to his left, dives forward and takes it inches above the ground. A much-needed wicket for Rajasthan. They have broken the 81-run stand. An enterprising innings by Raina comes to an end. Rajasthan will now look to build on this. Chennai Super Kings 131/2 in 11.5 overs vs Rajasthan Royals in Pune.
20.52 IST: FOUR! Up and over! This is bread and butter for Raina. The googly and on off, on the fuller side. Raina goes inside out, a shot which he plays very full. He times it to perfection and it goes over covers for a boundary.
20.49 IST: SIX! FLAT! Watson picked the bones out of that one! Short and on middle, it sits up to be hit. Watson rocks back and pulls it hard through square leg and it goes all the way. This is turning out to be another expensive over.
20.45 IST: FOUR! They keep coming for Chennai! Short delivery, angles in on middle and leg, Raina hops across and pulls it past the short fine leg fielder for back-to-back boundaries. CSK are 107/1 after 10 overs.
20.43 IST: SIX! Boom! Now he tosses it up around off, Watson sits down on one knee and dispatches it over deep mid-wicket for a biggie.
20.41 IST: FOUR! More runs! Another one on the shorter side, flatter through the air, Watson slams it off the back foot, past the diving cover fielder for a boundary.
20.39 IST: FIFTY! Shane Watson hits his 15th IPL half-century off 28 balls. SIX! Whatttt power! Gowtham does the crime of dropping it short, Shane camps back and flat-bats it over Stokes at long on who had no chance. Fifty for Shane and it's his 15 of the tournament. Chennai Super Kings 85/1 in 8.2 overs vs Rajasthan Royals in Pune
20.27 IST: FOUR! Four consecutive boundaries. Raina displays some smart cricketing mind on his return. Make that four in a row! Stokes drags his length back and angles it away on a shorter length outside off. Raina waits for it and since there is no slip in the place, he just opens the face of the bat. Still gets it off the outer half of the bat through the vacant slip cordon for a boundary. 16 coming off the over and Chennai end the Powerplay on a high, 69/1 reads their score.
20.25 IST: FOUR! Some poor bowling display by Stokes here. That's even poor from Stokes! Full toss on the pads, all Raina had to do was to get some bat on it. He walks across and deflects it down to fine leg fence again. Three in a row for Raina.  CSK 65/1 in 5.5 overs. 
20.24 IST: FOUR! Too easy! That was a poor delivery! Length delivery on leg, Raina works it off his thigh pad down to fine leg fence.
20.23 IST: FOUR! Superbly done! Good length delivery, slanting across the southpaw, Raina makes room, gets down on one knee and lifts it inside out over extra cover for a boundary.
20.21 IST: Suresh Raina is the next man in. He is coming after an injury so it would be interesting to see how he goes about his business tonight.
20.20 IST: OUT! Laughlin removes Rayudu for 12. Edged and Rayudu departs! Ben Laughlin provides the breakthrough as he draws first blood. Ben hurls it on a length around off, too close to the body but Rayudu still attempts to play the cut shot. Gets an edge and Buttler behind the stumps doesn't drop these. Some relief for the visitors. Can they pick up one more to nullify the Powerplay? Chennai Super Kings 50/1 in 4.3 overs vs Rajasthan Royals in Pune
20.17 IST: FOUR! Spoils the over with a boundary! Stokes sprays it on the pads, too easy for Watto as he moves inside the line and helps it on its way down to the fine leg fence. 48 comes up for the hosts in just 24 balls, that's some start.  CSK 48/0 in 4 overs. 
20.15 IST: FOUR! Now Rayudu joins in the fun! Stokes begins with a short one on middle, Ambati swivels a touch and pulls it past the short fine leg fielder. No need to run for those.
20.13 IST: SIX! Beast mode on! Watson concludes this over with a huge six. My word, that's blazed over the fence! Touch short and on the stumps, Watson waits back and with a flat-bat he pumps it over the mid-wicket fence to pick another maximum to his name. He's up and running, folks. 12 off Jaydev's first one. CSK 37/0 in 3 overs.
20.10 IST: SIX! Shane Watson is going to make them pay for the dropped catches! On a fuller length outside off, Shane Watson stays deep in the crease and goes bang over extra cover for a maximum. Off the meat, that.
20.07 IST: SIX! CSK 25/0 in 1.5 overs. Wow! Sees the flight, makes a bit of room and lofts it cleanly over long off to bag the first maximum of the innings.
20.04 IST: WATSON DROPPED! What is happening there? Rahul Tripathi drops a regulation catch. That should have been taken. Watson gets an early life. Will he make them pay? On a fuller length and swinging away a shade. Shane leans ahead to drive it through the cover but gets a thick edge which flies towards first slip where Rahul fluffs it. The ball rolls behind him and they sneak a single too.
20.03 IST: FOUR! Another one from Watson. Cracked away! That's a freebie again from Binny! Gives a bit of width outside off, Watson says thank you very much as he crunches it on the up. Pierces it through the gap at cover for back-to-back boundaries.  CSK 9/0 in 0.2 overs.
20.02 IST: FOUR! Top-shot to start the innings. Watson makes full use of the Free Hit. He waits back for the slower delivery and smacks it over the bowler's head for a boundary.
20.00 IST: The match is set to begin. CSK openers Shane Watson and Ambati Rayudu are on the crease. The Rajasthan team is in a huddle near the boundary rope as Rahane is seen exchanging some last moment words. After that, they break the huddle and spread to their respective positions. Stuart Binny, who is playing his first game of the season will be steaming in first up with the ball. A slip in place for him. 
19.52 IST: MS Dhoni smiles and says he can't comment anything about his back all he tells us is that, let's wait for the game to complete and then everyone can have a fair idea. Informs they have made a couple of changes as well. Murali Vijay and Harbhajan Singh make way for Suresh Raina and Karn Sharma.
19.50 IST: "It's a good track and will last 40 overs. No pressure really, the mood in the camp is good. Looking forward to the game. Two changes for us, Klaasen replaces Darcy Short, Stuart Binny replaces Dhawal Kulkarni," Rahane said after winning the toss.
19.45 IST: Chennai Super Kings Playing XI: Shane Watson, Ambati Rayudu, Suresh Raina, Sam Billings, MS Dhoni (w/c), Ravindra Jadeja, Dwayne Bravo, Deepak Chahar, Karn Sharma, Shardul Thakur, Imran Tahir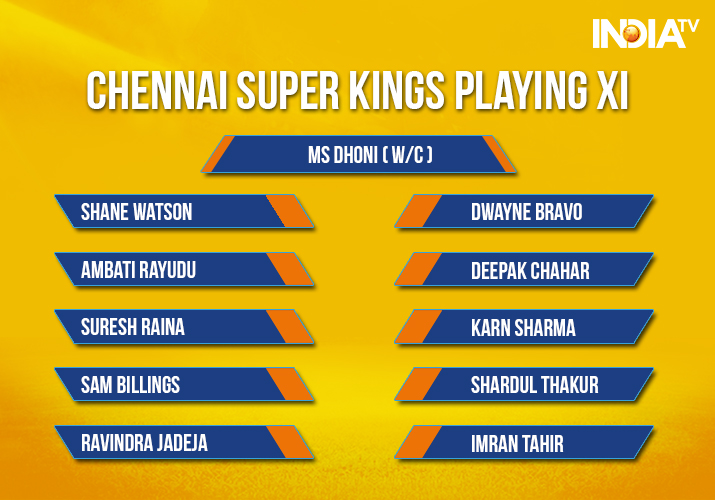 19.40 IST: Rajasthan Royals Playing XI: Ajinkya Rahane (c), Rahul Tripathi, Sanju Samson, Ben Stokes, Jos Buttler (w), Heinrich Klaasen, Stuart Binny, Krishnappa Gowtham, Shreyas Gopal, Jaydev Unadkat, Ben Laughlin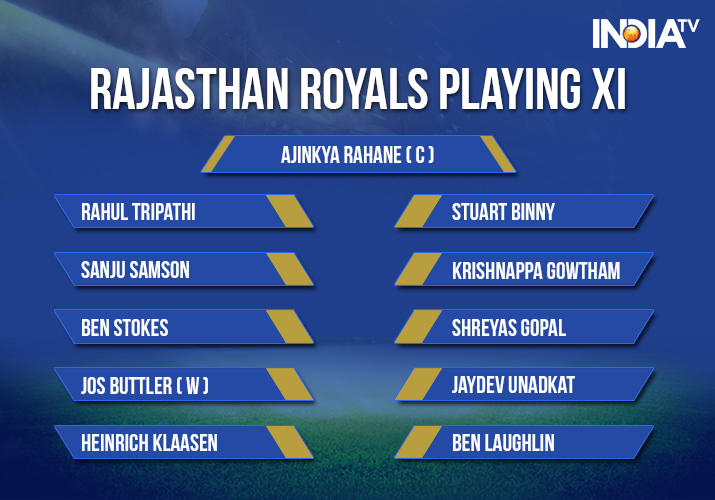 19.30 IST: Rajasthan Royals have won the toss and opted to bowl first. 
The @rajasthanroyals win the toss and elect to bowl first against the @ChennaiIPL.#CSKvRR #VIVOIPL pic.twitter.com/r2QxfLXasx

— IndianPremierLeague (@IPL) April 20, 2018
19.25 IST: The wives and kids of CSK cricketers have reached the venue to cheer for the Yellow Brigade.
The Super Queens and Super Kids are here to support them Lions! #WhistlePodu 🦁💛 #Yellove #CSKvRR pic.twitter.com/abeslMCG8K

— Chennai Super Kings (@ChennaiIPL) April 20, 2018
19.20 IST: Here is a heartfelt message from Pune boy Rahul Tripathi.
A heartfelt message from #Pune boy @ImRTripathi.
आवडले का?#CSKvRR #JazbaJeetKa #HallaBol #VIVOIPL pic.twitter.com/pcd1LEcEx0

— Rajasthan Royals (@rajasthanroyals) April 20, 2018
19.10 IST: CSK's new den MCA Stadium is all set to host high-octane IPL clash.
The @ChennaiIPL's #DenAwayFromDen this #VIVOIPL. pic.twitter.com/PsZYrDaY3O

— IndianPremierLeague (@IPL) April 20, 2018
19.00 IST: England all-rounder Ben Stokes, who is playing for Rajasthan in IPL 2018, expresses how he feels to return to Pune, where he made his IPL debut last year.
Big Ben on returning to the Pune ground!

How many runs will @benstokes38 score tonight?#CSKvRR #JazbaJeetKa #HallaBol #IPL2018 #YetaayTumcheRoyals pic.twitter.com/UtMIa6bSsU

— Rajasthan Royals (@rajasthanroyals) April 20, 2018
18.50 IST: CSK all-rounder Ravindra Jadeja expresses his excitement for the Pune clash.
Sir Jadeja is excited about the game tonight at the #DenAwayFromDen! @imjadeja #WhistlePodu 💛🦁 pic.twitter.com/n2WJr54BCq

— Chennai Super Kings (@ChennaiIPL) April 20, 2018
18.40 IST: Here are the IPL teams for the 17th match between Chennai and Rajasthan. 
Rajasthan Royals: Heinrich Klassen, Benjamin Stokes, Jaydev Unadkat, Sanju Samson, Jofra Archer, Krishnappa Gowtham, Jos Buttler, Ajinkya Rahane, Darcy Short, Rahul Tripathi, Dhawal Kulkarni, Zahir Khan Pakteen, Ben Laughlin, Stuart Binny, Dushmantha Chameera, Anureet Singh, Aryaman Vikram Birla, Midhun S, Shreyas Gopal, Prashant Chopra, Jatin Saxena, Ankit Sharma, Mahipal Lomror
Chennai Super Kings: MS Dhoni (C), Suresh Raina, Ravindra Jadeja, Faf du Plessis, Harbhajan Singh, Dwayne Bravo, Shane Watson, Kedar Jadhav, Ambati Rayudu, Deepak Chahar, KM Asif, Kanishk Seth, Lungi Ngidi, Dhruv Shorey, Murali Vijay, Sam Billings, Mark Wood, Kshitiz Sharma, Monu Kumar, Chaitanya Bishnoi, Imran Tahir, Karn Sharma, Shardul Thakur, N Jagadeesan
Brief Preview: Under the captaincy of MS Dhoni, Chennai Super Kings (CSK) will host Rajasthan Royals with an aim to regain lost momentum at the Maharashtra Cricket Association Stadium, Pune, on Friday. Both the franchises have returned to the Indian Premier League (IPL) after serving bans in the aftermath of the 2013 spot-fixing scandal and will come face to face for the first time in the ongoing edition.
A loss in their last outing has hurt both the former champions and they will look to get back to winning ways when they face off. With two wins and two defeats, Rajasthan Royals are fifth with four points, while Chennai have also gathered an equal number of points with two victories from three matches. They are placed fourth because of better net run rate. (Read Full Preview)