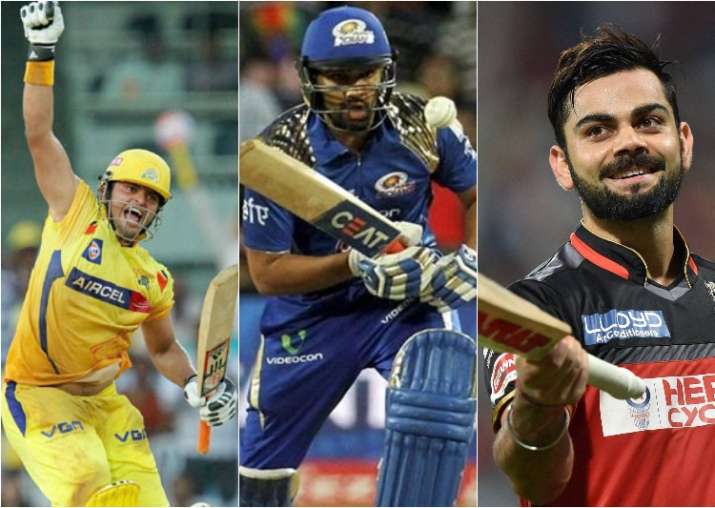 Ever since the inception of T20 cricket, the pressure has always boiled down on the batsman to step up and make it big and since the Indian Premier League commenced in 2008, international stars have been given a platform to go hard or go home. In a larger picture, the big names of cricket have failed to excel, barring a few who literally own the game when they step onto the field during an IPL match.
The top five comprises of four Indians and one Australian batsman. The home players have made it big and out of all, four have been skippers who led their side from the front.
David Warner
Australia's vice-captain and Sunrisers Hyderabad skipper David Warner is known for his aggressive batting on-field and he has always been the power-hitter the Sunrisers can rely on. The Australian swashbuckler started his stint in the IPL since 2009 with Delhi Daredevils and was quick to showcase his skills with the bat. Warner has led the Sunrisers Hyderabad to lift the IPL trophy in 2016.
Stats:
The explosive Aussie batsman has played 114 matches so far where he has smashed 4014 runs. With an average of 40.54 and a thunderous strike rate of 142.13, Warner has hammered three tons, 36 fifties which includes 401 fours and 160 sixes. His highest has been 126.
Gautam Gambhir
Gautam Gambhir has been one of the most reliable batsmen and has saved a match on many occasions, leading from the front. The left-handed batsman has helped Kolkata Knight Riders lift the trophy twice in 2012 and 2014. Gambhir will now lead the Daredevils, aiming to get back on the saddle and ride high. The left-handed batsman has been explosive and very unpredictable at times and this season, the Daredevils will be armed heavily with Gambhir's experience.
Stats:
Delhi Daredevils' new skipper has had a fascinating IPL career as he has played 148 matches where he has scored 4132 runs. With an average of 31.78 and a strike rate of 124.60, Gambhir has never been able to hit a ton yet, coming close to a highest of 93. Gambhir hasn't been the biggest fans of the big one as he has only hit 58 sixes in his IPL career, but his drives have always been a sheer joy to watch as he has hit 483 fours till date.
Rohit Sharma
The Mumbai Indians skipper needs no introduction as he is the only player in the world to score three double-tons and if you take away the International cricket stats, his IPL career has been as equivalent with the Indian jersey on. Rohit has lead Mumbai Indians to three IPL trophies, a record in the history of the Premier League whereas his lone batting skills are a class apart. Rohit will now have a revamped squad by his side but the Team India vice-captain sure does know how to lead the way when Virat Kohli isn't around.
Stats:
Rohit has been explosive and whenever this right-handed batsman hangs on, he will not leave unless he hampers the chances of the opposition winning. Rohit has played 159 matches where he has scored 4207 runs so far. With an average of 32.61 and a strike rate of 130.89, the Team India vice-captain has made one ton in his IPL career, a highest of 109*. Smashing 354 fours and 172 sixes, the opener has been destructive and with the new season dawning, the Mumbai Indian skipper is ready for a new start.
Virat Kohli
If you were expecting the Team India skipper to top the charts, you might have guessed wrong, but the explosive and aggressive batsman isn't too far away from the top spot like he usually is in the ICC Test and ODI rankings. King Kohli has dominated the IPL with the Royal Challengers Bangalore since 2008. He has never won an IPL trophy yet, but with his current form, he might just single-handedly finish the job. Be it Test cricket, One Day Internationals or the shortest format of the game, Kohli is dangerous. Period. He is the only batsman after Chris Gayle to have four tons, whereas the West Indies batsman has five.
Stats:
Kohli has played 149 matches in the IPL where is has scored a whopping 4418 runs. With an average of 37.44 and a strike rate of 129.82, Kohli has four tons to his name with a highest of 113. Kohli has smashed 382 fours and 160 sixes in his IPL career so far and as far as the fans know, the Team India skipper has just started.
Suresh Raina
The Uttar Pradesh batsman is currently the batsman who has scored the most runs in the Indian Premier League so far. Suresh Raina, who started his stint with Chennai Super Kings, went to play for Gujarat Lions when the Chennai franchise was suspended and now back again with the yellow cramp is known as a T20 specialist for a reason. Raina, who had a rough patch for the past two years, is now finally back in the scene, made it big with India in the tour of South Africa for the T20I series and now hammering away in the Nidahas Trophy, Raina is a man that can make the most of any situation. After being retained by the MS Dhoni-led Chennai Super Kings, Raina is the man to look out for.
Stats:
Raina has played 161 matches so far in his IPL career where he has scored a massive 4540 runs. With an average of 34.13 and a strike rate of 139.09, the Uttar Pradesh batsman has scored one ton and 31 fifties with a highest score of a 100* itself. He has scored 402 fours and 173 sixes, Raina will aim to make it big and bring on his consistency game with CSK as he aims to hang around the Indian national team from here on.