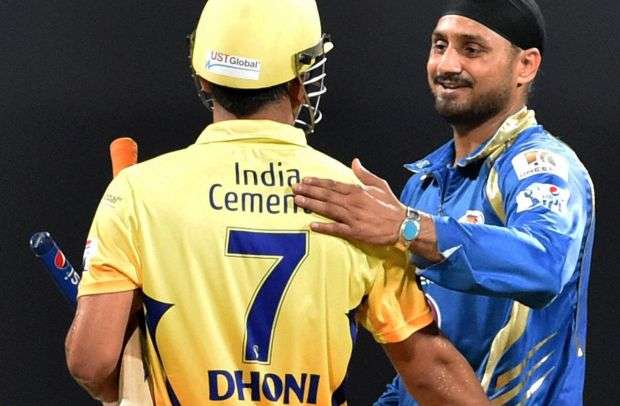 After spending 10 eventful years with three-time champions Mumbai Indians, senior off-spinner Harbhajan Singh has shifted his base and loyalties towards Chennai Super Kings, who are making a comeback to the Indian Premier League after completing a suspension of two years. The 37-year-old cricketer was acquired by CSK at his base price of Rs 2 crore in the IPL players auction in Bengaluru in January this year. One of the biggest match-winners in his heydays, Harbhajan showed excitement to play for Chennai in the upcoming edition of the world's biggest T20 league and promises to give his 100 percent on the field.
In an exclusive interview with India TV, Harbhajan opens up about his experience of playing in IPL, his long stint with Mumbai, the rivalry between CSK and MI, and playing under MS Dhoni's leadership. "With IPL in mind, I'm putting all my hard work on the ground. I'm training hard and putting all my focus on all the three departments be it -batting, bowling and fielding. I'm excited to play for Chennai this year and I'll give my 100 percent on the field. I will like to contribute as much as possible on the field," Harbhajan told India TV.
Speaking about his stint with MI, the off-spinner said: "I'm grateful to Mumbai Indians as I've spent 10 memorable years with the franchise. I'll cherish all the memories I've made with MI. But, I will remain loyal to CSK this time as they have bought me for the new edition of the league and just like any other professional I'll repay my  faith towards the team management."
There's a lot of buzz around him in Chennai as well, more so because he is being seen as local boy Ravichandran Ashwin's replacement. Ashwin has been picked by Kings XI Punjab and will be their skipper for the 2018 edition of IPL.
Harbhajan also praised his new captain Dhoni who will once again be seen in the yellow jersey in the 11th edition of the T20 extravaganza. "I have always enjoyed playing under Dhoni's captaincy. We have made a lot of memories together on the cricket field especially for the Indian team," he said.
He also spoke about the rivalry between Chennai and Mumbai and compared their matches to India-Pakistan encounters. "The rivalry between Mumbai Indians and Chennai Super Kings is equivalent to Indo-Pak games. Both the franchises have some magnificent players in their ranks and have given a tough  fight to each other in the past."
Reminiscing his good old days with MI, he added: "Interestingly, when I was in MI, we have always beaten CSK in the big matches. But, this time I'll give my all from CSK. I wish to play a final representing CSK against MI in this year's IPL."
The 'Turbanator' also iterated the fact that it will be a challenge for CSK to play at Mumbai's fortress Wankhede in their opening encounter of IPL 2018. "Our first match of IPL 2018 is against MI, and it's a big game for us. At first, it will be a weird feeling to come out in the yellow jersey at the iconic  Wankhede stadium which will be full of MI supporters."
"It will be like playing in Australia in front of the hostile crowd. However, it will be fun to play in front of the packed crowd. Once the match starts, you forget everything and focus hard on the 22-yards."
Harbhajan also spoke highly about current India skipper Virat Kohli who he believes is destined for a lot many bigger things in the cricketing world. "Virat is a very big player, he's like my younger brother. Right from his junior days, Kohli has that hunger in him to make it big at the international arena," he said. 
"Even when Sri Lanka's Ajantha Mendis was at top of his game and picking up a lot of wickets, Virat was eager to prove himself in the middle. He loves  challenges and he plays his best game when put under pressure."
"He's ticking all the boxes right now and almost doing everything correct on the field."
Harbhajan also stressed on the fact of making youngsters comfortable in the dressing room and giving them enough chances to prove themselves. "We always want to make the young crickets feel comfortable in the dressing room. Our seniors have taught us these mannerisms, and we will keep passing it forward to the newer generation. 
"It's always about making the new player feel at ease and confident about his own skills and motivate him to do well at the big stage", Harbhajan signed off.