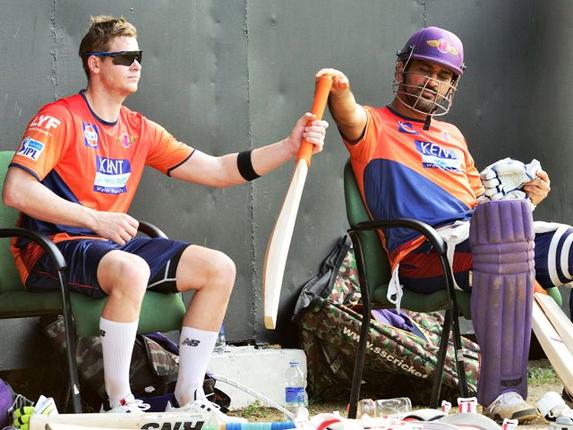 For players of Rising Pune Supergiant, who were previously part of the Chennai Super Kings, Steve Smith's leadership is an all new experience for them. Used to playing the IPL under Mahendra Singh Dhoni for nine years, Aussie skipper's Smith's new role will be something to watch out for. 
In Thursday's match against Mumbai Indians, Smith, with his extravagant unbeaten knock of 84 runs off 54 balls, led the team to a seven-wicket win in a tense last-over finish. 
Although Smith has taken over the reigns from India's most successful skipper MS Dhoni, the match saw Dhoni setting the field placement on a number of occasions while Smith chatted with his bowlers as they walked back to the bowling mark. 
Ajinkya Rahane, who set the stage for Pune's victory with his 60-run innings while chasing Mumbai India's 184, also noticed that Smith took a lot of advices from MS Dhoni. 
"Though Steve Smith has led the Australian side very well, for me, MS Dhoni is still the best leader. This was the first game as leader for Smith, but he was learning from Dhoni as well," said Rahane in the post-match conference. 
"Smith was seen taking more tips from him. Dhoni was seen giving tips and inputs to Smith in the middle," he added. 
Rahane, however, refrained from making any comparisons between Dhoni and Smith's leadership skills. 
"It is very difficult as I have just played one game under Smith. I have played a lot more under Mahi bhai's captaincy and we all know he is a world-class leader. I think people should not compare Smith and Dhoni's captaincy. He (Dhoni) is still a world-class player," he said. 
Ahead of the start of the IPL season 10, Smith had said that while he is open to observations from the experienced campaigners in the team, he doesn't want to clog his mind with too many opinions. 
"I have plenty of guys to talk to, but I will not seek too many opinions. Seeking too many opinions can cloud your own judgement. I want to try and stay as clear as possible. But yes, if someone sees something and feels the need to point it out to me, they are more than welcome," he had said.  
Chasing a target of 185 runs, RPS needed 13 runs from the final over with Smith and Dhoni on the crease. 
With Dhoni's diminishing capability to finish off matches in his signature style which he is famous for, the required rate came to 10 runs off three balls. 
While pressure mounted on the home side, Smith did a Dhoni as he sent the next deliveries into the stands, thereby taking his team to a three-wicket win.