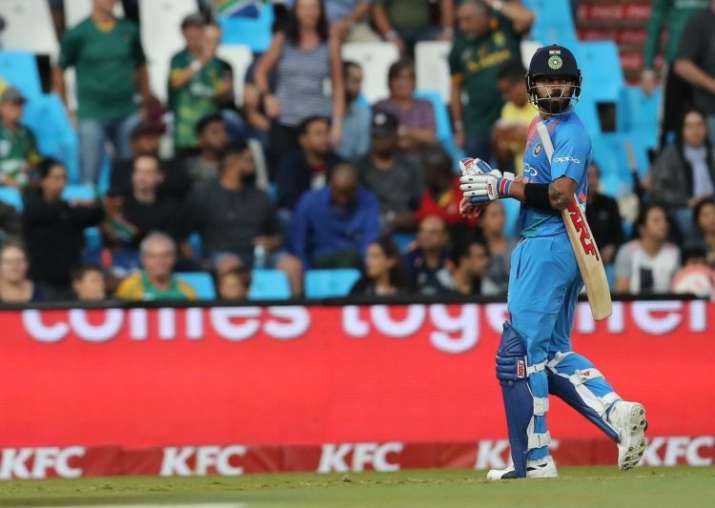 Captain Virat Kohli, who led India from the front on the South Africa tour, missed the third and final T20I against an 'unpredictable' JP Duminy-led side at Newlands, Cape Town, on Saturday. The three-match T20I series is locked at level 1-1 and both the sides will be desperate to sway the shortest-format series as earlier hosts won the Test series 2-1 and then India clinched the ODI series 5-1.
"Virat has a stiff back and he needs some rest. It has been a long season for him and unfortunately, he misses out but gives someone else a chance to step up," Rohit Sharma, who replaced Kohli as India skipper, said at the toss.
Besides Kohli, India decided to play batsman Dinesh Karthik, spinner Axar Patel and pacer Jasprit Bumrah in place of the India captain, Yuzvendra Chahal and Jaydev Unadkat respectively.
The Men in Blue won the first T20I in Johannesburg by 28 runs to take a series lead. However, the Proteas bounced back in Centurion with a six-wicket win.
Analysing India's roller-coaster journey in the series so far, Rohit said: "In the last two games we played we had decent runs on the board and we know exactly where we went wrong. We want to end the tour on a high; it's been a long one and we'll look to finish off well, starting with the bat." 
For the third time in the series, South Africa won the toss and decided to bowl first against India. Rohit expressed his confidence in India's bowling line-up, saying: "Looks like there is a fair bit of grass, dry though, there'll be a bit of carry and that's the reason we are playing with four seamers. 
"But as JP said it isn't going to change a lot and should be a good forty overs. Good to have the last game as a decider for the spectators. They've come out in large numbers and supported us all through and let's hope both the teams put up a good show," the 30-year-old top-order batsman added.