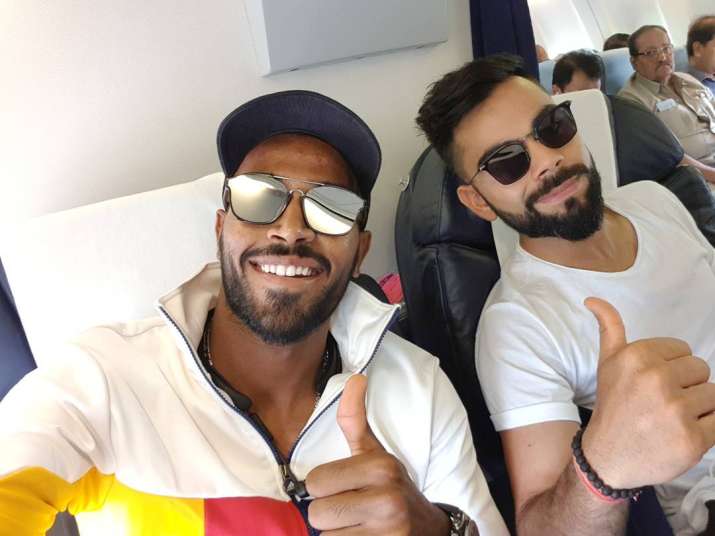 As time goes by there is a diverse change in the atmosphere around and that is what India's chief coach Ravi Shastri has to deal with in the team. Tattoos, hair-styles and a certain style statement is an inner morale boost for the players to build their confidence both on and off the field. In an exclusive interview with India TV, the 55-year-old coach stated in a satirical manner that if he has to stay with a bunch of players who are no less than "models", he needs to fall in line as well.
"All our players are no less than models and if I have to stay with the models, I have to remain fit," Shastri told India TV.
However, Shastri was quick to rebut when asked if is planning to change his hairdo as often as his players do.
"But I can't match their hairstyles. These guys change their hairstyles every week. If I try and do that, I will lose my hair," said Shastri.
And when it comes to setting style statements, India skipper Virat Kohli leads from the front. People are familiar with Kohli's obsession with fitness and tattoos. While Kohli lets his bat do all the talking on the field, the 28-year-old drives his followers crazy with his tattoos and fashion statement off the field. After Kohli, Hardik Pandya, whose hairstyle changes every week, and KL Rahul, who is again a tattoo enthusiast, are the other trendsetters of the team. 
Shastri said this is the "modern generation" and they like to do things in their own way. But Shastri, who was himself a flamboyant personality during his playing days, said when his players are on the field, he wants to them to focus on their game.
"This is the modern generation. I want them to do whatever they want to do off the field, but once they are on the field, they should focus on cricket, on their work ethics," stated Shastri.
In fact, Shastri also revealed the brain behind Pandya's latest hairstyle which has went viral on social media.
"Hardik Pandya's current hairstyle has been given by Shikhar Dhawan. He had cut Pandya's hair. There is a lot of talent in the team," he said.
On and off the field, the players do make an impact and that's what makes the Men in Blue a one of a kind. After routing Sri Lanka in all formats, Ravi Shastri and his men now look upon a greater challenge and that is taking on the rugged and sturdy Australians.
Once the going gets tough, the Indian players know where to draw the line and focus on getting the job done. Sri Lanka was an easy stroll in the park but Australia are known to cause major upsets. India take on the Steve Smith-led side in the first ODI on September 17 in Chennai.