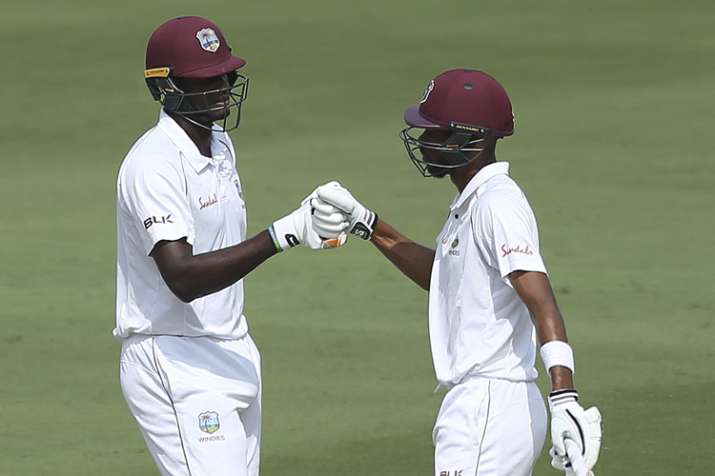 India vs West Indies, 2nd Test, Day 1: Earlier in the day, Windies won a good toss and elected to bat. They got off to a decent start but then kept on losing wickets at regular intervals. The post-Lunch session saw a plenty of runs flowing as the pair of Roston Chase and Shane Dowrich attacked the Indian bowlers. The former, in particular, was very positive right from the onset. However, they would have loved to have their skipper unbeaten. Anyway, Roston Chase's special affinity for India is once again on display as he is only two short of a magnificent century. The visitors have already put up a much-better batting performance than the last Test match and with three wickets left, they would wish to push their score near the 350-run mark. Here you can get all the highlights and ball-by-ball commentary. (MATCH SCORECARD) Click Here to Watch India vs West Indies, 2nd Test, Live Coverage in Hindi.
Highlights, India vs West Indies, 2nd Test, Day 1: West Indies 295/7 at Stumps
16.35 IST: Another good session of Test cricket and Windies will be pleased with the outcome. However, they would have loved to have their skipper unbeaten. Anyway, Roston Chase's special affinity for India is once again on display as he is only two short of a magnificent century. The visitors have already put up a much-better batting performance than the last Test match and with three wickets left, they would wish to push their score near the 350-run mark.
16.30 IST: West Indies 295/7 at Stumps vs India in Hyderabad. Chase 98*
16.25 IST: Bowling change. Ravichandran Ashwin is into the attack. Around 5 minutes left for Stumps. We have already exceeded the number of overs to be bowled in a day. Doing extra work...
16.22 IST: Kuldeep just bowled the first maiden since the 40th over
16.17 IST: Kuldeep Yadav to Devendra Bishoo, Whoa! Plenty of spin and bounce. Kuldeep hurls it outside off and it turns away viciously. Bishoo leaves it alone. As a bowler himself, he will be delighted to see so much spin.
16.13 IST: Devendra Bishoo is the new man in
16.10 IST: OUT! Here comes the breakthrough for India. Umesh has struck with a short delivery to break the century stand. It's around the batsman's rib cage, Holder feels that he has it covered as he goes for the pull shot. But the Windies skipper fails to middle it and ends up gloving it behind. Pant catches the ball, they appeal and Holder is seen walking. Getting strangled down the leg side is not the prettiest way to get out. Virat Kohli, as usual, is pumped up. Umesh removes Holder for 52. West Indies 286/7 in 90 overs vs India in Hyderabad.
*Shout for a run out. It's referred upstairs. No real excitement shown by the Indian players.
16.04 IST: Hundred run partnership off 177 balls up between Holder and Chase!
16.03 IST: FOUR! Holder reaches his 8th Test fifty in some style. He greets the short delivery by Yadav with open arms. Makes space for his pull shot and nails it through mid-wicket for a boundary. West Indies 280/6 in 88 overs vs India in Hyderabad.
*Second new ball has been taken now. Umesh gets first-use of it.
15.54 IST: Umesh Yadav to Jason Holder, Some swing in the air. It lands around off and Jason plays it down with soft hands to covers. They cross for a swift single as the fielder misses his shy at the striker's end.
15.50 IST: Umesh Yadav returns in the attack. He will operate with the old ball, no signs of the new cherry yet.
Jab kutta piche pade #IndiavsWestIndies #IndvWI pic.twitter.com/050jo3cCPR

— SHREY PATEL (@desihumourr) October 12, 2018
15.44 IST: FOUR! Ravichandran Ashwin to Roston Chase, Short and outside off, turning back in, Chase quickly transfers his weight on the back foot and punches it with a lot of power to the deep cover fence. A fact - India have not bowled a single maiden over since the 40th over. WI 265/6 in 83.4 overs
15.35 IST: Drinks. First wicket-less hour of this Test match. It has been a strong performance post Tea by Windies. Both Holder and Chase have looked quite at ease and are amidst a 73-run stand. India once again have not looked too dangerous with the ball, apart from Umesh Yadav, who was getting some reverse swing going. It will be interesting to find out when they opt for the second new nut. WI 255/6 in 81 overs
15.28 IST: Second new ball is available now. Not surprising that it has not been taken straightaway.
15.25 IST: 
Indian bowlers have now conceded 103 byes during Rishabh Pant's stint as a Test keeper!#IndvWI

— Mohandas Menon (@mohanstatsman) October 12, 2018
15.20 IST: FOUR! Byes! Ashwin serves it full and down the leg side. Chase fails to flick and Pant also has no chance of collecting it. The leg gully fielder also attempts to stop it by sticking his right hand out but is not successful. It races through and reaches the fence in no time. WI 243/6 in 77.3 overs
*An unscheduled drinks break taken. Jadeja into the attack now.
15.12 IST: FOUR! Clipped away! Wrong line from Ashwin. He delivers a flighted ball on the pads, Holder accepts the gift gleefully and neatly deflects it fine down the leg side for a boundary. 50-run stand comes up, consecutive ones in this innings. WI 234/6 in 75.3 overs
15.10 IST: FOUR! Kuldeep Yadav to Jason Holder  Beautiful shot! It's a wide half-volley outside off, Holder uses his reach well and drives it with authority through covers. No fielder in the deep and it's a boundary. WI 229/6 in 74.2 overs
15.04 IST: Ravichandran Ashwin to Roston Chase, Flatter ball on off, Chase goes on the back foot and punches it towards Shaw at silly mid on. He picks up the ball and immediately deflects it onto the stumps at the bowler's end. No harm done as Holder never left his crease. It deflects to covers, the Windies skipper wants a run but Chase is not interested. WI 223/6 in 72 overs
15.00 IST: Spin from both ends now. Ravichandran Ashwin returns from the pavilion end.
14.50 IST: FOUR! Slammed. Made space and just hammered that straight down the ground. WI 216/6 in 68.2 overs
14.49 IST: PITCHED OUTSIDE LEG! No need to watch further. India lose a review. But it was a great delivery to deceive the Windies skipper. Googly, Holder has not picked it as he gets opened up inside the crease. Probably tries to work it around but it spins away to rap him on the front pad.
* Appeal for an lbw, a vociferous one but nothing from the umpire. Has it pitched outside leg? Or turning too much? Review has been taken.
14.44 IST: FOUR! Thumped! Yadav overpitches this outside off, Holder just eases into his front foot drive and spears it through covers for a boundary. Pujara chases it but fails to pull it back. WI 210/6 in 67.2 overs
14.43 IST: FOUR! Solidly hit! A flighted delivery landing very full outside off. Spinning in after landing and Chase drives it firmly against the spin but finds the gap at covers for a boundary.
* Kuldeep Yadav to bowl from the other end.
14.37 IST: Runs straightaway and it will be two. Yadav hurls across a shortish ball outside off, Chase stands back and steers it through cover-point for a couple of runs.
14.35 IST: Umesh Yadav to continue from this end. He is getting the ball to tail in which has caused some discomfort to the batsmen. A slip in place and a catching mid-wicket too is present. Play says the umpire...
14.30 IST: We're back for the final session. 25 overs left in the day's play owing to an excellent over-rate. Will India get Windies all out in the first hour itself? Let's wait and watch.
... DAY 1, THIRD SESSION ...
* A mixed session, this! But from a larger point, India will be satisfied with the way this Test match has shaped up for them. Windies are six down with their total still under 200. The pitch appears to be a good one for batting and the way Shane Dowrich and Roston Chase batted, it further vindicates that point.
14.13 IST: FOUR! What a way to end the session! Jadeja gives this one some extra air but lands it too full and close to off stump. Holder leans forward, makes some room and drives it crisply through the gap at extra cover. No chance for mid off there. A boundary for Holder. That will be TEA on Day 1!
14.10 IST: Appeal for an LBW! The umpire remains still. Full and tailing back into the batsman, Chase falls over a bit in his attempt to play the flick shot. Misses the ball to get hit on the pads. The appeal is turned down, maybe because it's slipping down the leg side.
14.08 IST: FIFTY! Roston Chase scores his 7th half-century. A touch short in length, around middle and angling down, Chase tucks it down to fine leg and crosses for a single. 7th Test fifty from Roston Chase! Very good application by Roston. Needs to carry on though. West Indies 192/6 in 63.4 overs
14.05 IST: Tossed up ball on middle, skidding through the surface, Holder gets into an tangle there as he remains back rather than getting forward. To his good luck, it takes the inside edge and squirts through square leg for a couple of runs.
14.00 IST: FOUR! Timing and placement and captain Holder knows where the gaps is. He's off the mark. A back of a length delivery outside off, Holder sticks inside the crease and punches it square of the wicket on the off side. Ashwin ambles across to his right from third man but only to retrieve the ball from the rope. WI 188/6 in 61.4 overs
* Skipper Jason Holder is the new batsman.
13.52 IST: OUT! Umesh removes Dowrich for 30.  What a review! India have hit the jackpot to break the 69-run stand. To be honest, it never looked out to the naked eye. We thought it would have been missing leg but the replays prove all of us and the umpire wrong. West Indies 182/6 in 59.3 overs
13.46 IST: SIX! Excellent shot! Jadeja delivers it full and in line of the stumps, since it's not spinning much, Dowrich takes a chance. He plonks it front leg out of the way and launches it over long on for a maximum. WI 181/5 in 59 overs 
13.37 IST: FOUR! Poor delivery and punished. Ashwin drags his length short and serves it well wide outside off. Dowrich's eyes lit up seeing the width and he goes back to have a real crack at it. Plays the square cut, doesn't bother to keep it down and it races through cover-point. There was a point fielder but he didn't even react. WI 172/5 in 56 overs 
13.37 IST: Switches to over the wicket and bowls it full and on off, Chase drives it through covers and picks up a couple. Dowrich showed interest in the third run but it's not on and Roston sends him back in time.
13.35 IST: Loopy full ball outside off, Chase drives it past the diving point fielder for a single. 50-run stand comes up in a good time!
13.32 IST: Ashwin starts this over from 'round the wicket and delivers a flighted ball on middle. Probably a carrom ball. Dowrich is forward in defense but it takes the outside edge and runs wide of first slip. A couple of runs taken.
13.26 IST: FOUR! Elegantly played! What a shot. Cashes in on a loose delivery. Ashwin bowls it quite wide outside off, allowing Dowrich the room to play a square drive. He has nailed it through the gap at point and fetches a boundary for himself. Good going by Windies! WI 158/5 in 52 overs 
13.30 IST: Sharp single. Tossed up ball on middle, knocked down to mid on and Chase scampered across to the other end. The fielder missed his shy at the bowler's end.
13.18 IST: Windies have crossed the 150 mark. Been an exciting passage of play so far. Wickets and runs. The question arises, how long can Windies hang on?
13.13 IST: Drinks. 64 runs in the first hour after Lunch for the loss of two wickets. A mixed-bag one for both teams. Windies continue to score freely but in the process are losing wickets as well. India won't mind this approach from them much. Exciting passage.
13.08 IST: Nicely flighted delivery, pitching full outside off and spinning back in, Dowrich gets well forward and pushes it through the line. Almost stretched himself too much.
13.05 IST: FOUR! Another one! Boundaries continue to flow. Kuldeep gives this one extra air but lands it too full outside off. Roston takes a big stride forward and crunches his drive through covers. WI 145/5 in 46.1 overs
13.03 IST: FOUR! At least one boundary is coming in every over. Kuldeep dishes out a flighted full ball outside off, Chase is a tall man and he uses his reach well. Latches onto it and muscles his drive through covers. The silly point fielder does well there to jump and avoid getting hit.
13.00 IST: FOUR! Poor start to the over by Kuldeep. He darts it down the leg side, spinning further down, Chase uses his wrists to good effect as he tickles it fine down the leg side for a boundary. 50 runs have come in this session already, so Windies are scoring at a good rate in spite of losing half their side. Attack is the best form of defense, living up to that cliche. WI 136/5 in 44.1 overs
12.56 IST: FOUR! A rare bad delivery by Jadeja. He offers a short delivery wide outside off, Chase goes deep inside the crease to this one and cracks his square cut for a boundary. WI 129/5 in 43.2 overs
12.53 IST: Well played! Yadav gets it to drift into the batsman but the length is on the shorter side. Dowrich with a to and fro movement goes back and punches it through cover-point. Jadeja and Pujara give it the chase, no prizes for guessing who gets there first. Two runs taken.
12.50 IST: SIX! Maximum! The first of the innings and Chase has no problem taking the ariel route. High and handsome! It has been a conscious effort by the Windies batsmen to attack the spinners. With wickets tumbling, not sure how good a strategy is this. Jadeja bowls it on middle and it skids through the surface. Chase clears his front leg and powers it over mid-wicket for a maximum. WI 123/5 in 41.4 overs
12.50 IST: FOUR! Nicely driven! Yadav tosses it up in the air and lands it full around off, Dowrich gets close to the line and drills his drive through mid off for a boundary. WI 117/5 in 40.3 overs
12.43 IST: OUT! Kuldeep removes Ambris for 18. Ambris throws it away. His ultra aggressive approach has brought his downfall. Kuldeep was bowling quite a few googlies post the Lunch break and this time has struck. Ambris fails to read the variation as once again he tries to attack the spinner. Goes hard at it but the ball spins away to take the leading edge. It loops up to Jadeja at extra cover and he is not dropping these simple catches even in his sleep. Windies continue to slip. West Indies 113/5 in 38.5 overs
12.40 IST: FOUR! Risky but effective! Yadav tosses this up in the air and lands it fuller on off. It spins back in a bit after landing as Ambris dances down the track to heave it across the line. It though comes off from the toe end of his bat and flies past the right side of the mid on fielder. WI 109/4 in 38.2 overs
12.35 IST: WAS THAT A CATCH? Nope. The googly again, pitched outside leg, Ambris looks to sweep but the ball takes the top edge and lobs towards square leg. However, Umesh Yadav dives forward but is unable to reach.
12.27 IST: DIRECT HIT? SAFE AS A HOUSE. Full and outside off, Chase pushes it towards cover and sets off for a single. Kuldeep Yadav gets to it from mid off and then scores a direct hit at the striker's end. Referred upstairs but replays confirm that Ambris is in.
* Roston Chase walks in at number 6, replacing Hetmyer.
12.22 IST: Kuldeep removes Hetmyer for 12. Dead duck. Hetmyer was never comfortable against spin and it has been his undoing again. Floated outside off, Shimron thinks that it is a leg spinner and decides to shoulder arms. But to his horror, it is the googly. It comes back in and hits him slightly outside off. But impact does not matter when one has not offered a shot. Crashing into the stumps, as per Hawk Eye. WI 92/4 in 34.1 overs
12.21 IST: FOUR! Great timing! On the pads, Ambris just uses his wrists and flicks it through mid-wicket for a boundary. WI 92/3 in 34 overs
12.12 IST: Welcome back for the afternoon session. Sunil Ambris to join Shimron Hetmyer in the middle. Umesh Yadav to complete his pending over.
... DAY 1, SECOND SESSION ...
That wicket right on the stroke of lunch makes it India's session.

Windies 86/3 at Lunch on Day 1 of the 2nd Test at Hyderabad.

Updates - https://t.co/U21NN9DHPa #INDvWI pic.twitter.com/6aNXoRAgGK

— BCCI (@BCCI) October 12, 2018
* Hard to say much about this Windies side which is full of inexperience, yet talent. You might expect them to fight hard, but then, might also see them crumble. India will look to be more consistent with their lines and lengths. The pitch is already starting to be up and down, so accuracy will help.
* India's new-ball pair did not start well, being inconsistent and then Shardul Thakur's recurring injury caused concern. It did not take time for Ashwin to strike but the hosts simply have had to wait for the batsmen to commit mistakes. Powell threw his wicket away, Hetmyer has been keen on over-attacking while Brathwaite was beaten by spin again. Shai Hope was looking in excellent touch, up until that ball from Umesh.
* Good bowling by India after being asked to field but more than that, it has been poor batting from the Windies which has made it India's session. The bowlers were largely inconsistent and just imagine - if in spite of losing three wickets, 86 runs could be added, then how the situation would have been without those dismissals.
* West Indies 86/3 at Lunch against India in Hyderabad. Hope 36, Ashwin 1/7, Kuldeep 1/21
11.33 IST: OUT! Number 3 down! The best batsman of the session has been dismissed on what is now the final ball of the period. A length ball, around off, coming in, Hope gets across to tuck it away but misses and is hit on the pads, beaten by the pace on that ball. Umesh appeals, umpire Oxenford thinks for a while and this time, raises his finger. Hope wants a review but Hawk Eye shows all three reds - which means WINDIES GO INTO LUNCH AT 86/3!
11.29 IST: FOUR! Beautiful! You could watch this all day. Classy drive by Hope. WI 86/2 in 31. 2overs
11.26 IST: SAFE, UMPIRE'S CALL! The margin was not much. Could have gone either way. On a length outside off, Hope looked to play that from the crease but missed and was hit on the pads. Umesh screamed in an LBW appeal but Bruce Oxenford was calm. Kohli then had a chat with Pujara who convinced him to go for the review. Hawk Eye shows the ball to be clipping the top of the stumps, which means umpire's call will stay and so will India's review.
11.25 IST: HOWZZAT? India have made a huge LBW shout against Hope. Umpire Osenford has not given it and Kohli has reviewed it. Height might be a factor...
11.21 IST: FOUR! Great shot played by Hope. Great timing once again. Slightly short outside off, Hope gets on top of the bounce and punches it through point for a boundary. Moves to 32 with his fourth boundary. WI 80/2 in 29.2 overs
11.20 IST: FOUR OVERTHROWS! FIVE RUNS IN ALL. Wild throw from Ashwin. Full on middle, Hope pushes it towards mid on and takes Ashwin on. The fielder comes in slowly, gets to the ball and then has a shy at the bowler's end. Jadeja moves away but the throw is well wide of the sticks and poor Prithvi Shaw at silly point has no chance as the ball races to his right. Hanuma Vihari tries to stop it from backward point but it is wide of him too!
11.19 IST: FOUR! Hetmyer times the shot perfectly on Jadeja's delivery. Timing! Slightly short outside off, Hetmyer punches it through the covers and gets a boundary! WI 76/0 in 28.5 overs
11.17 IST: FOUR! Fine shot. Fractionally short in length, outside off, Hope stands tall and punches it through the covers for a boundary!
11.15 IST: Oohhh.. close call. A touch short, around leg, spinning away, Hetmyer looks to work it away but gets a thick inside edge. The ball hits his boot but dies down. Could have easily lobbed to silly point.
11.09 IST: FOUR! No ball movement, no feet movement, just pure hand-eye co-ordination. A length ball, wide outside off, Hetmyer just reaches out for that and hits it through the covers. India will not mind that much. WI 61/2 in 26 overs
11.07 IST: Another one keeps low! This is the second time in two overs that we have seen instances of low bounce. This is just Day 1. On a length around off, Shimron looks to defend from the crease but the ball scoots low. Would have been plumb LBW but the bat came down at the last minute. The ball goes off the outside edge to gully. Umesh smiles with his hands on his head.
10.59 IST: LUCKY ESCAPE! Mindless batting. Floated around middle, Hetmyer attempts a slog sweep without even getting to the pitch of the ball. Gets a leading edge but luckily for him, the ball evades backward point. A couple taken.
10.55 IST: OUT!  LBW! As plumb as it gets. Waste of a review. Perhaps Brathwaite expected another googly but this time it was a leg spinner. He went slightly across to defend this flighted ball but could not quite cover the line. The ball missed the bat and then came back in slightly to hit the back pad, right in front of off stump. Kuldeep appeals and umpire Gould sends Brathwaite on his way. He is happy to go but his partner reckons that he should review that - perhaps he felt that the impact was outside off. Hawk Eye disagrees. Two down for the Windies then and we are still some time away from Lunch. West Indies 52/2 in 22.5 overs
10.54 IST: EDGED, BUT SAFE! The wrong 'un, outside off, Brathwaite does not pick it and goes back to play. Is caught in his crease and is squared up.
10.51 IST: Very full and outside off, Kraigg comes down the track and hits it hard. 'PAKAD NA!!!' yells Pant. Kuldeep responds with a leap to his left to stop the ball.
10.40 IST: Down the leg side, Hope looks to flick but misses. The ball goes off his pads past the keeper and then races across the turf. Hanuma Vihari, who is on for Thakur, hares after it from square leg, gets to the ball and then pulls it back in with a slide near the ropes. Two runs taken. The stand is worth 10 now.
* A good hour for both sides. India have largely maintained control over proceedings but at least, the Windies have not imploded. They have lost Kieran Powell trying to attack too much but then have not thrown it away so far. The hosts will be worried about Shardul Thakur's injury - it may not affect them in this Test but it is not a great sign if your debutant goes off in his very second over.
10.33 IST: Well, seems like something has happened on the ground. Judging the crowd's reaction, it seems like a streaker has made his/her presence. Ian Gould has his hands on Virat Kohli's shoulders who does not seem amused at all. It is taking a while for the situation to calm down, hence DRINKS have been called for.
10.29 IST: Full and outside off, Hope plays back to it and gets an outside edge. But since it was played with soft hands, the edge lands short of Ajinkya Rahane at first slip.
10.22 IST: FOUR! ELEGANT! Excellent timing from Hope. Overpitched outside off, Hope leans and drives it wide of mid off and gets a boundary. Strangely, Kohli pushes the man back immediately. Hope is off the mark in grand style. WI 37/1 in 12.5 overs
* Shai Hope walks in at number 3, replacing Powell.
10.15 IST: OUT! Caught. Ashwin strikes first. In just his 4th over. Tossed up outside off, Powell comes down the track and looks to go over cover. However, Ashwin has smartly bowled it wider, hence the southpaw has to reach out. Cannot quite time it well and all Ravindra Jadeja has to do at cover is to make a slight leap. Simple catch. The approach to attack the spinner is okay but the pre-meditation cost Powell his wicket. Also, was there any need to go aerial so early? West Indies 32/1 in 11.1 overs vs India in Hyderabad.
10.11 IST: Huge appeal for a catch! Umpire Oxenford is unmoved. Tossed up around middle and leg, Brathwaite looked to flick but missed. There was a noise as the ball went past the pad and Rishabh Pant collected and whipped the bails off. Then he appealed for the catch. Snickometer shows daylight between bat and ball.
10.09 IST: Terrific bowling! Wow. You don't see too many bowlers going for the yorker with the new ball but Umesh has done just that. He has come charging from around the wicket and fired in a yorker. Clearly catches the batsman by surprise who just about manages to dig it out.
10.06 IST: FOUR! Classy drive there by Powell. A bit streaky from Powell again. Full and wide outside off, the southpaw looks to drive but gets a thick outside edge. It flies between gully and point and races to the third man fence WI 31/0 in 8.3 overs
09.58 IST: DECISION OVERTURNED! Big inside edge. No wonder Powell went up straightaway. The ball was pitched outside off, came back in a touch, Powell looked to defend but got hit on the pads. Umpire Oxenford felt that was close and raised his finger. Powell wanted to have a second look and the first replay detects the inside edge. So big that no Snickometer is needed for the third umpire.
09.52 IST: FOUR! Smashed down the ground by Powell. He's been hammering. Great start to the innings. No half measures. Tossed up slightly, around off Powell, confident after his previous knock in Rajkot, steps out of the crease. Gets to the pitch of the ball and dismisses it from his presence, by bashing it over the non-striker. Mid on has no chance. WI 24/0 in 4 overs
09.51 IST: Oops... problems for Thakur. After bowling that previous ball, he started to limp and straightaway, the physio has been called. AND HE IS GOING OFF. Ravichandran Ashwin to finish Thakur's over.
09.47 IST: FOUR! JUST OVER! A taller man would have taken that. Full and wide outside off, Powell reaches out to drive and ends up slicing it. The ball is in the air, towards backward point where Prithvi Shaw leaps but his height just does not allow him to get anywhere near the ball. WI 20/0 in 3.4 overs
09.46 IST: FOUR! A bit streaky. On a length outside off, Powell looks to defend with an open bat-face and the ball runs off the outside edge, behind point and races to the third man fence. Prithvi Shaw gives it a good chase from backward point and then tries to dive at the last moment, near the ropes but collides into the advertisement boards instead. He gets up gingerly, holding his right shoulder but seems fine. WI 16/0 in 3.2 overs
09.34 IST: Full and miles outside off, almost outside the pitch, left alone. Bruce Oxenford is a kind-hearted man. Does not want to mark the first ball in Test cricket from the debutant as an illegal delivery. That might have been wided in a normal scenario...
* Debutant Shardul Thakur to share the new ball with Umesh.
09.34 IST: FOUR! A half volley on the pads, Brathwaite flicks it uppishly, just wide of mid-wicket and earns the second boundary of the innings. WI 8/0 in 0.4 overs
09.32 IST: FOUR! Off we go and off the mark. Outside edge and a boundary for Braithwaite. A loosener to start. On the pads, Brathwaite just tickles it fine past the keeper and gets Windies going with a boundary to fine leg. WI 4/0 in 0.1 over
* Let us play. Kraigg Brathwaite and Kieran Powell to open up for the Windies. Umesh Yadav to start off with the new ball to the former. Here we go!!!
09.30 IST: The players are stepping out for their national anthems. The Windies one first, followed by the Indian anthem.
📸📸

Moment to cherish 🤙👏#INDvWI pic.twitter.com/a5Hm9g3wiE

— BCCI (@BCCI) October 12, 2018
09.25 IST: WEATHER - The conditions are bright and sunny. Usually, in this part of the year, it does not rain, but considering that this is the southern territory of India which actually gets a taste of both - Southwest and Northeast monsoons - you never know, we might get an odd shower here and there, though the forecast does not suggest anything of that sort.
09.15 IST: Another cricketing weekend is here! After the royal drubbing in Rajkot, can the Windies change or tweak the script a bit in Hyderabad? The good news for them is that both Holder and Roach are in good shape to play and that should raise the hopes of a better display. India, on the other hand, will aim for another clinical performance.
Windies Playing XI: Kraigg Brathwaite, Kieran Powell, Shai Hope, Shimron Hetmyer, Sunil Ambris, Roston Chase, Shane Dowrich(w), Jason Holder(c), Devendra Bishoo, Jomel Warrican, Shannon Gabriel
India Playing XI: Prithvi Shaw, Lokesh Rahul, Cheteshwar Pujara, Virat Kohli(c), Ajinkya Rahane, Rishabh Pant(w), Ravindra Jadeja, Ravichandran Ashwin, Kuldeep Yadav, Umesh Yadav, Shardul Thakur
Update from the toss.

Windies have won the toss and elect to bat first in the 2nd Test at Hyderabad.#INDvWI pic.twitter.com/K3k1yV4tpF

— BCCI (@BCCI) October 12, 2018
09.00 IST: TOSS! WEST INDIES WIN TOSS AND OPT TO BAT vs INDIA
08.45 IST:
08.30 IST: Here's India's 12-member squad
Team India for the 2nd Test against Windies at Hyderabad 🇮🇳 #INDvWI pic.twitter.com/QMgNm6jf4Q

— BCCI (@BCCI) October 11, 2018
Hello and welcome to our live coverage of today's match as India take on West Indies in the 2nd Test live from Hyderabad. The TOSS will take place at 9.00 AM IST and play will commence from 9.30 AM IST.
Brief Report: India's ruthless home run is unlikely to be challenged when the team takes on a below-par West Indies in the second Test Friday in what threatens to be another lopsided contest. After the hosts won the first Test by a record innings and 272 runs, there are hardly any signs that there will be a change in the script as the second Test promises to be another run-feast. Add to it, skipper Jason Holder is still not 100 per cent fit and their only fast bowler of repute Shannon Gabriel is a doubtful starter for the encounter. India, on the other hand, have not made any changes to the squad that won the first game inside three days in Rajkot. (Read Full Report Here)