Follow us on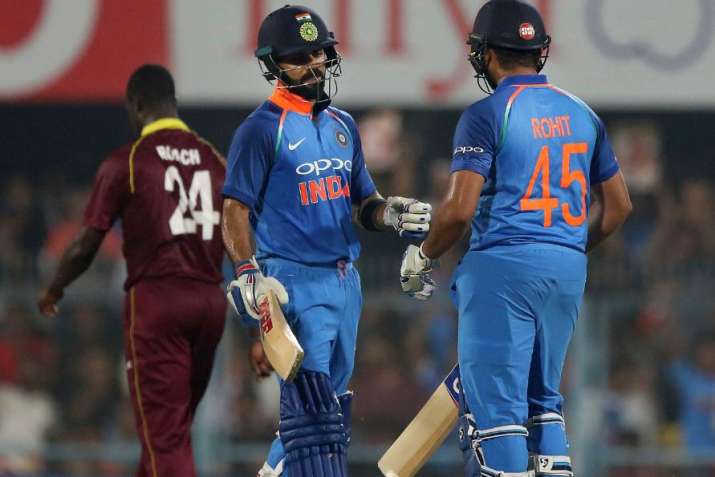 India vs West Indies 5th ODI: INDIA BEAT WINDIES BY 9 WICKETS
India vs West Indies, 5th ODI: 
India have taken the series 3-1 and another clinical performance by them. A clinical performance by the Men in Blue at Thiruvananthapuram as Jadeja's 3/34 and
Rohit Sharma
's fifty led India to a thumping win over Windies. In a series decider, no one expcted Windies to cave in so easily as they were bowled out for 104. Leading the pack once again was Rohit, who struck his 37th ODI fifty and has now become the second Indian player after
MS Dhoni
to reach 200 ODI sixes. The former captain has 218 to his name. So here are the highlights of the 5th ODI at Thiruvananthapuram.​ (
Click Here to get live coverage in Hindi
) (
LIVE SCORECARD
) (
LIVE STREAMING
)
HIGHLIGHTS, IND VS WI, 5th ODI FROM THIRUVANANTHAPURAM:
Sanjay Manjrekar is now interviewing Ravi Shastri. He starts by saying, India are back on track. Admits they were below par in ODIs before and that was the wake up call they needed. Mentions the Windies team is a promising side and they will grow with time. States Rayudu has done well in that number four position and it has not been easy for him as he is making a come back. Ends by saying, Khaleel Ahmed has got the skill and a left-arm bowler is always handy.
Bhuvneshwar Kumar who is up for an interview says the series was a good experience and after resting the first two ODIs they prepared themselves well. Mentions he wanted to polish his skills in this series. Reckons they are doing well in every department and he is looking forward to the tours of New Zealand and Australia.
* India have taken the series 3-1 and another clinical performance by them. To be honest, their bowlers set it up for them with Jadeja leading the pack as he finished with a four-fer. He was also supported by the rest as all of the bowlers picked at least wicket each.
17.10 IST: 
17.00 IST: FOUR! That is it. Rohit Sharma finishes it off in style. It is tossed up on middle, Rohit sweeps it through mid-wicket and the ball races away.  INDIA WIN BY 9 WICKETS! 
17.00 IST: FOUR! Only 2 away now! Short and outside off, Kohli goes back and cuts it through backward point for a boundary.
* Rohit has put on a performance and an insight of what we can expect in the T20Is
INDIA NEED 7 RUNS TO WIN
16.57 IST: Starts off with a half-tracker. Sharma does not take full toll of it as he pulls it towards deep mid-wicket for a run.
16.54 IST: SIX! 13 more needed now. Rohit dances down the track and hits it over the bowler's head. This has been an entertaining performance by the opener. IND 93/1 in 13 overs
16.51 IST: FIFTY! Rohit Sharma smashes his 37th ODI fifty off 45 balls. He was caught of a no ball but since then, he has stepped on the gas and has taken the bowlers to the cleaners. Wide outside off, Sharma throws his bat at it. Takes an outside edge and goes down to third man for a single. IND 84/1 in 12 overs
16.51 IST: SIX! How easy is this for Rohit Sharma! Slightly fuller and the hitman lofts it over the bowler's head for a biggie.
16.47 IST: FOUR! EDGE FOUR! Rohit is dealing in boundaries at the moment. Dances down the track and goes for the pull. The ball takes the top edge and goes towards the third man fence. The fielder there puts in a dive but his effort goes in vain.
16.42 IST: SIX! Rohit is going for it now. He wants to end it before the break. Slightly shorter in length around off, Sharma deposits it into the mid-wicket stand. His 200th ODI maximum. He is rightly nicknamed as the Hitman. IND 65/1 in 10.5 overs
16.41 IST: FOUR! A short ball and Rohit will punish you. Welcome into the attack! A short ball and it bounces at a good height for the batsman. Rohit rocks onto the back foot and pulls it over square leg for a boundary. Also, the 50-run stand is up. IND 56/1 in 10.1 overs
16.38 IST: FOUR! You do not need to run for those! That went to the fence in a jiffy! Full and on middle, Kohli smashes it through mid on. 50 up for India. 53 more needed. IND 52/1 in 9.3 overs
16.36 IST: FOUR! Just a gentle push that! On a length and around middle, Kohli strokes it through mid on and the ball races away.
16.28 IST SIX! The fans were waiting for Rohit to hit a big one. Thomas is dully punished for that delivery. Full and on off, Rohit just lofts it over the mid off fielder. The timing is such that is has gone all the way. IND 38/1 in 7.4 overs
16.24 IST: Well bowled but equally well played! On a length and around off, the ball pitches and then takes off. Rohit Sharma does really well to take one hand off the handle and keep it out.
16.22 IST: A single to end the over! Fuller in length and on middle, Rohit strokes it towards the bowler who gets a hand to it. The ball rolls towards mid on for a run.
16.21 IST: BEAUTY! Pace, bounce, that ball had everything. Back of a length around off, it pitches and then straightens. Also the bowler gets some good bounce there. Sharma tries to defend but is beaten.
16.18 IST: FOUR! Too easy, slightly short and it sits up perfectly to be hit. Sharma swivels inside the crease and then pulls it through square leg for a boundary. IND 29/1 in 5.2 overs
16.11 IST: FOUR! Through the covers and that is classic Kohli. The fielder present couldn't stop that as it runs away for a boundary. Full and around off, Kohli leans into the shot and caresses it through covers. Second boundary of the over. IND 22/1 in 3.3 overs
16.10 IST: FOUR! Edged and safe! The skipper is the culprit. That was a sitter. Who has he dropped? Virat Kohli. Windies would have surely had a sniff, if that would have been taken. A short ball outside off, Kohli hangs his bat out but the ball takes the outside edge and flies towards first slip. Holder there gets two hands to it but the ball bursts through and a boundary results. IND 18/1 in 3.1 overs
16.09 IST: Once again it is bowled on a length and on off, Sharma can't do a lot about it but defend it onto the ground.
16.06 IST: FOUR! Majestic! That is one way to get off the mark. Shows what form this guy is in. Full and on off, Kohli leans forward and times it through mid off for a boundary. So a wicket and 8 runs from the over.
16.04 IST: OUT! Holder removes Dhawan for 6. DRAGS IT ON! Almost a replica of how Dhawan got out in the first ODI to Thomas. It was slightly short and outside off, Dhawan goes for the cut but there is not enough room to play that. The batsman gets a bottom edge and the ball hits the stumps. Thomas is pumped up and an early wicket for the Windies. The start they would have wanted. India 6/1 in 1.5 over
16.00 IST: FOUR! Dhawan is off the mark in style, cut over the covers and sails for a boundary on Holder's first delivery. IND 4/0 in 1.1 overs
15.59 IST: Maiden over for Roach. Rohit begins cautiously, but the fans wanted Ro-HITto start, given the form he is in. 
15.56 IST: And we're back with the chase. The Indians want to waste no time in finishing off matters early in Kerala. Rohit and Shikhar are out and Roach will start the attack. Let's get started.
INDIA NEED 105 RUNS TO WIN
15.56 IST: Now, one would believe it is just a question of how many overs will the Indian batsmen take to chase this down? They have around 70 minutes before they go in for the Lunch break. Can they do it within that? We will have to wait to watch.
15.46 IST: West Indies all out for 104, set 105-run target for India in Thiruvananthapuram. Jadeja 4/34, Bumrah 2/11. Oshane Thomas OUT! That was as plumb as it can get! 4-fer for Jadeja and the WINDIES HAVE BEEN BOWLED OUT FOR 104! Jadeja fires it on middle, it pitches and comes back in. Thomas is beaten on the inside edge and it rapped on the pads. The players appeal and the umpire raises his finger. Thomas takes the review but Hawk Eye shows three reds.
15.45 IST: Thomas is a goner? He has been given out LBW and he reviews. Looks plumb.
15.43 IST: OUT! Jadeja removes Roach for 5. What a catch! That was hit with a lot of power and to add to that, Jadhav also had to time his leap to perfection. This is tossed up by Jadeja on off, Roach hits it really well towards long off. He does not get the desired elevation. Jadhav there jumps at the right time and takes it with both hands. Three-fer for Jadeja and Windies are 9 down.  West Indies 103/9 in 31.3 overs vs India in Thiruvananthapuram.
15.39 IST: FOUR! 100 up for Windies. Not off the middle but the Windies won't mind. He plays the sweep shot through backward square leg and it races away.
15.35 IST: Kemar Roach NOT OUT! Yes, it is spinning down leg. Kuldeep tosses it up around off, it turns back in. Roach lunges and tries to defend. He misses to get hit on the pads. An appeal follows and the umpire raises his finger. Roach reviews. Replays show that it is spinning down leg. Roach survives to fight another day but not sure how log will the fight last.
15.34 IST: Review time! Roach has been judged out LBW. He has reviewed. Is it turning too much?
15.32 IST: Kemar Roach is in at no.10.
15.31 IST: OUT! Kuldeep Yadav removes K Paul for 5. Paul holes out! The big shot was around the corner and it brings about the end of Keemo. Kuldeep tosses it up around middle, it is the googly. Paul goes for the slog sweep but gets a top edge. It goes high up in the air towards Rayudu at long on who takes a few steps inside and catches it. First wicket for Kuldeep and the end is nigh for the Windies.  West Indies 94/8 in 28.1 overs vs India in Thiruvananthapuram.
15.24 IST: FOUR! Swept and swept fine! Bishoo makes it into a full toss by reaching out and then sweeps it through square leg for a boundary. Windies would love a lot more.
15.20 IST: Devendra Bishoo is next.
15.19 IST: OUT! Khaleel Ahmed removes Holder for 25. Holder is gone! Now 150 looks far-fetched. Full and outside off, Holder looks to go over mid off but it rushes onto the batsman. Jason ends up giving it to Kedar Jadhav at mid off who comes forward and takes another low catch. 2nd wicket for Ahmed. West Indies 87/7 in 25.2 overs vs India in Thiruvananthapuram.
15.11 IST: FOUR! The captain takes on the responsibility to score a few runs. Smashes it through the covers. WI 80/6 in 24 overs
15.09 IST: EDGED BUT SHORT! Flatter and on off, it pitches and then turns away. Holder plays it with soft hands but inside the line. It takes the outside edge and goes on the bounce to first slip.
15.07 IST: Wide. The ball is way wide on the leg side but the batsman still goes after it. The umpire signals a wide.
15.07 IST: FOUR! Darts this on leg, Holder just helps this on it's way towards the fine leg boundary. The ball races to the boundary. The umpire signals a boundary.
14.49 IST: OUT! Bumrah removes Allen! This is not looking good for West Indies. An unnecessary shot played by Allen. Short ball outside off, Allen goes for the pull. He connects but finds Jadhav at deep square leg. Kedar gets forward and takes a good catch. A well directed bouncer from Bumrah. All on Holder now to add some runs to the board. WI 66/6 in 21 overs
14.57 IST: BEATEN! On off, pitches and turns away. Allen plays inside the line and the ball whizzes past the outside edge.
14.50 IST: Good length again around off, it comes back in late. Allen tries to defend but the ball takes the inside edge and goes towards fine leg for a run.
14.47 IST: OUT! Khaleel removes Powell for 16. In the air... taken! Half the side back in the hut and Khaleel is amongst the wickets. The short ball does the trick. A bumper and a good one on middle, Powell goes for the pull but does not get on top of the bounce. He mistimes it towards Dhawan at deep square leg. He moves in quickly and takes a good catch. West Indies 57/5 in 17 overs
14.37 IST: OUT! Jadeja removes Hetmyer for 9. Three reds and Hetmyer has been given his marching orders. Back-to-back failures for Shimron. That was plumb, excellent review by India. They have been poor with their reviews in this series but this was spot on. It is bowled flatter and around middle, it spins back in a touch. Hetmyer is a touch late in bringing his bat down and hence, the ball strikes the front pad first. An appeal follows but the umpire shakes his head. After a chat with Dhoni and Jadeja. Kohli signals the 'T'. Replays roll in and it shows the on-field call has to be overturned. Second wicket for Jadeja and the Windies slip further. West Indies 53/4 in 15.5 overs
14.36 IST: FOUR! Misfield and a boundary! Short and outside off, Hetmyer cuts it towards cover-point. Bumrah there dives over the ball and a boundary results.
14.25 IST: Just short! Hetmyer has not learnt from the previous dismissals. He tries to stroke it on the up which is not a good idea on this wicket. The ball does not arrive and hence goes uppishly towards covers. It though lands just short of Kohli there. The skipper misfields and a run is taken.
14.19 IST: OUT! Jadeja strikes! So just as the partnership was starting to build, India have broken through. A soft dismissal. Jadeja slows it up a touch and bowls it on middle, it pitches and comes even slower off the surface. Samuels tries to drive but due to the slowness, he is way too early into the shot. Hits the higher part of the bat and lobs towards covers. Kohli there runs forward and takes it easily. Samuels once again does not make an impact and his poor series comes to an end. WI 35/3 in 11.5 overs 
14.14 IST: MAIDEN! The count of maiden overs is not stopping, excellent over by Jadeja. WI 30/2 in 10 Overs
* Ravindra Jadeja is into the attack. Spinner for the first time today.
14.10 IST: FOUR! Expensive start from Khaleel. It is a little too straight and Marlon whips it uppishly but in the gap through mid-wicket for a boundary. WI 28/2 in 8.4 Overs
14.08 IST: SIX! That has been tonked! As straight as it can get. Full and width on offer, Samuels gets an opportunity to free his arms and does so brilliantly. Lofts it over the bowler's head for a maximum. Runs now starting to come. WI 24/2 in 8.2 Overs
* Khaleel Ahmed is into the attack.
14.06 IST: MAIDEN! Jasprit Bumrah bowls a tight over with excellent control over his line and length. WI 18/2 in 8 Overs 
14.02 IST: FOUR! Back-to-back boundaries! This is even better than the last one. Fullish and on middle, MS whips it through wide mid on and the ball races away. A good over this for the Windies. WI 18/2 in 6.5 Overs
14.01 IST: FOUR! Lovely shot this! Fuller in length around off, Samuels leans into it and times it through mid off. The ball races away. WI 14/2 in 6.4 Overs
14.00 IST: Samuels does not expect this one to swing inside. WI 10/2 in 6.2 Overs
13.56 IST: FOUR! First of the game and what a shot that is! Slightly fuller in length around off, Powell lofts it with a very straight bat over mid off and into the boundary. WI 10/2 in 5.3 Overs
13.53 IST: DOUBLE! But he will look to score of the bad balls, on the fuller side and width on offer. Samuels throws his bat at it, gets it through cover-point. The outfield is not that fast and two taken. WI 6/2 in 4.4 Overs
13.49 IST: That is exactly why the third slip was brought in! Bumrah slips in the outswinger and lands it around off, the batsman has to play with it but the away movement takes the outside edge and goes on the bounce to the third slip fielder. Samuels had played that with soft hands and hence it did not carry. WI 3/2 in 3.5 Overs
13.48 IST: Samuels leaves the ball for wicketkeeper MS Dhoni. WI 3/2 In 3.4 Overs
13.46 IST: MAIDEN! Outstanding over from Bhuvneshwar Kumar he is up to the mark with line and length. WI 3/2 in 3 Overs 
* Marlon Samuels is the new man in.
13.40 IST: OUT! TIMBER! India have two in the opening two overs. Both the new ball bowlers have struck and this is probably the wicket India would have wanted desperately. The man in-form Shai Hope walks back without troubling the scorers. WI 2/2 in 1.4 overs
*Jasprit Bumrah to bowl from the other end.
* Shai Hope is the new man in.
13.32 IST: OUT! EDGED AND TAKEN! The crowd here erupts as Kumar has struck in the very first over. Powell walks back for a duck and once again Windies are dealt a blow early on. Brilliantly set up that one, after a few in swingers he bowls the away swinger. Lands it on a length around off, Powell goes for the drive away from his body. He also tries to hit it on the up as it is not on a driving length. Not clever so early in your innings and also when the ball is doing a bit. It takes the outside edge and goes towards Dhoni who takes it by diving to his left. WI 1/1 in 0.4 overs
13.31 IST: WIDE! Windies are up and running, courtesy an extra. An in swinger down the leg side. Wide given. WI 1/0 in 0.1 Overs
13.30 IST: We are all set for the action to begin. The Indian players make their way out to the middle. A surprise at the top as Rovman Powell is opening the innings. Kieran Powell is his partner. Bhuvneshwar Kumar will open the bowling for India.
* Big news for Indian fans, Rahul Dravid fans in particular. He has been inducted into the ICC Hall Of Fame.
13.10 IST: Playing XIs
West Indies: Kieran Powell, Shai Hope (WK), Marlon Samuels, Shimron Hetmyer, Rovman Powell, Jason Holder (C), Fabian Allen, Devendra Bishoo, Keemo Paul, Kemar Roach, Oshane Thomas
India: Rohit Sharma, Shikhar Dhawan, Virat Kohli (C), Ambati Rayudu, MS Dhoni(WK), Kedar Jadhav, Ravindra Jadeja, Bhuvneshwar Kumar, Kuldeep Yadav, K Khaleel Ahmed, Jasprit Bumrah
13.05 IST: Captain's Corner
Jason Holder: We are gonna bat first. Hopefully we will get some runs on the board and put them under pressure. He is ruled out for the entire tour. Hopefully, he can recover for the next tour. I think it it is about consistency. That is what the good teams though. 
Virat Kohli: We would have bowled first as well. There would be a lot of dew. It has been overcast for the last few days and there would be something in the wicket. If it is too damp, the spinners will also come into play.
13.00 IST: West Indies win the toss and elect to bat first against India at Greenfield International Stadium in Thiruvananthapuram.
12.30 IST: Hello and welcome to our Live coverage of the last and final ODI between India and West Indies in Thiruvananthapuram. Stay tuned as we bring you all the latest updates.
Brief Preview:
India go into the final ODI Thursday eyeing another home series triumph against the West Indies, a far cry from the dominant force it was when the city last hosted a 50-over international three decades ago. A victory in the fifth and penultimate One-day International will ensure India maintain their unbeaten run since the reverse against South Africa in 2015.
Leading 2-1 in the five-match series that also witnessed a tie, the hosts faced unexpected resistance in the past few days, including suffering a shock defeat, since the time the West Indians set foot in the country a little more than a month ago. The weather is expected to play a part with showers predicted. Virat Kohli's men bounced back from the loss in the third match at Pune to record a massive 224-run win at Mumbai. The home team will hope to carry the momentum into the series decider in the Southern city. (Click Here to Read Full Preview)