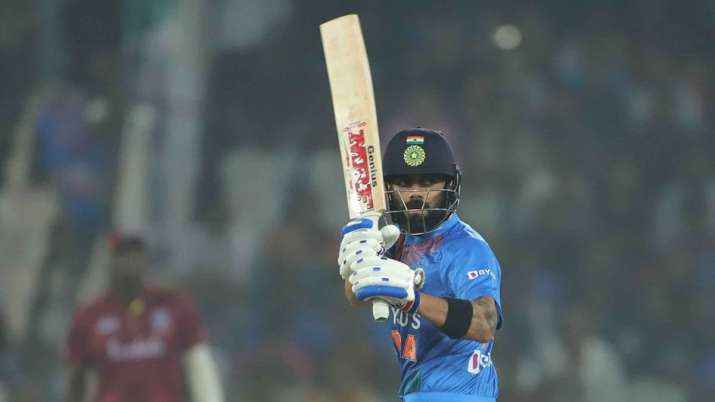 Highlights, India vs West Indies 1st T20I: India beat West Indies by six wickets in the first T20 International to take a 1-0 lead in the three-match series here on Friday. Put into bat, the West Indies scored 207 for 5 but India rode on superb innings from Virat Kohli (94 not out) and KL Rahul (62) to overhaul the target, scoring 209 for four in 18.4 overs. Here you will get all the live cricket score and ball-by-ball commentary of IND vs WI live match from Rajiv Gandhi International Stadium, Hyderabad.  MATCH SCORECARD
Highlights: India beat West Indies by six-wicket
22.28 IST: Kesrick Williams to Virat Kohli, SIX! Finishes off in style! The chase master does it again. Full ball outside off, Kohli hammers the drive over the extra cover region for a maximum. He is ecstatic and celebrates it in style. INDIA WIN BY 6 WICKETS.
22.18 IST: Pollard to Kohli, SIX! Kohli flicks it beautifully for the maximum and gives Pollards the deadly stare.
22.13 IST: Cottrell to Pant, OUT! Pant continues to show his immaturity and throw his wicket away.
22.07 IST: Williams to Pant, SIX! Some classy stuff from Rishabh Pant as this time he goes towards long on for a maximum.
22.02 IST: Williams to Kohli, FOUR! Epic celebration from Kohli, it might remind Williams of his CPL days as the Indian skipper did the trademark autography celebration.
21.54 IST: Holder to Kohli, SIX, FIFTY! Kohli reaches his 23rd fifty with an outstanding shot.
21.53 IST: Pierre to Pant, SIX! Marvellous! Rishabh Pant just slams the first ball with sheer confidence for maximum.
21.51 IST: Pierre to Rahul, OUT! Irresponsible stuff from Rahul as he has already smashed the last ball for six and he lofts again in the long-off region and get caught.
21.49 IST: Pierre to Rahul, SIX! MAGNIFICENT! That's over 100 meters and Rahul is batting at his best
21.47 IST: Williams to Rahul, SIX! Terrific Shot! KL Rahul continues to create problems for Windies as this time he pulls the ball for a magnificent maximum.
21.44 IST: Williams to Rahul, FIFTY! KL Rahul reaches his 7th fifty in T20Is with a quick single.
21.39 IST: Holder to Kohli, FOUR! Full toss and Kohli smashed it hard for a boundary. Probably the first boundary from Kohli in full control.
21.38 IST: Holder to Kohli, SIX! TOP-EDGE! Kohli pulls it hard for a maximum, he was surely not in full control of it.
21.33 IST: Walsh to Kohli, FOUR! BOTTOM-EDGE! Almost kisses past the stumps towards the third man boundary as Kohli attempts a pull!
21.28 IST: Williams to Rahul, FOUR! Sends it away to deep backward point for four!
21.20 IST: Pierre to Kohli, FOUR! Way outside off and Virat lofts it over the cover boundary!
21.18 IST: Pierre to Rahul, FIVE-WIDES! POOR! Completely misses the line this time.
21.15 IST: Walsh to Rahul, FOUR! Down the third-man boundary this time! Rahul is looking up for it tonight.
21.14 IST: Walsh to Kohli, FOUR! First four for the Indian captain on his 10th ball! Hammers it straight towards the bowler who had little chance.
21.10 IST: Pierre to Rahul, SIX! Pierre tosses it up a little fuller and Rahul goes down on one leg to slog it over midwicket!
21.09 IST: Cottrell to Rahul, SIX! Short stuff from Cottrell and Rahul pulls it behind! 
21.03 IST: Pierre to Rohit, OUT! Pierre gets the big fish as Rohit departs early in the big run chase.
20.59 IST: Cottrell to Rohit, FOUR! Cheeky shot from Rohit as he uses the pace of the ball to guide for a boundary in third man region.
20.53 IST: Holder to Rahul, FOUR! Another amazing shot from Rahul as he looks in excellent touch. It was a short ball from Holder and he cuts it beautifully for a boundary.
20.51 IST: Holder to Rahul, FOUR! Lucky for Rahul as the ball was far away from the stumps and the outside edge results into the boundary.
20.50 IST: Holder to Rahul, FOUR! Delightful shot from Rahul as the sound of the ball hits the bat was so pleasing to ears.
20.49 IST: Cottrell to Rohit, DOUBLE! Wristy flick from Rohit but not an ideal connection as the batsmen snatch quick double.
* Indian openers are on the pitch for the big run chase
20.30 IST: Bhuvneshar to Ramdin, DOUBLE!  West Indies score 207/5 in 20 overs against India in Hyderabad. Hetmyer 56, Lewis 40, Chahal 2/36
20.29 IST: Bhuvneshwar to Holder, DROPPED, FOUR! This it was Kohli who commits the crime, it was a tough chance but should have been taken.
20.27 IST: Chahar to Holder, SIX! Length ball from Deepak and Holder just hammers it straight down the ground for a six
20.20 IST: Chahal to Pollard, OUT! BOWLED! Good flipper from YUZI as he gets his second wicket in the span of three balls.
20.18 IST: Chahal to Hetmyer, OUT! Finally, Rohit gets the relief as he takes a sitter to send Hetmyer back to the pavilion
20.15 IST: Deepak to Pollard, DROPPED! SIX! It was an easy catch but India's misery in the fielding department continues as this Rohit Sharma was the culprit here.
20.12 IST: Deepak to Hetmyer, DROPPED! It was a tough chance but it should have been taken by Sundar.
20.09 IST: Chahal to Hetmyer, SIX! FIFTY! Hetmyer scores his maiden T20I fifty with a clean shot over mid-on for six.
20.00 IST: Chahal to Pollard, SIX! Staggering Shot from Captain Pollard as he finally sends the ball for a ride.
19.56 IST: Jadeja to Hetmyer, SIX! Biggest of the night so far as Jadeja bowls the short ball again and it gets the treatment it deserves.
19.50 IST: Dube to Pollard, SIX! Pollard powers the ball for the maximum as the young Dube is feeling the pressure.
19.46 IST: Jadeja to King, OUT! Quick delivery from Jadeja as Kings misses it completely and Pant makes no mistake to destroy the stumps from behind.
19.42 IST: Chahal to Hetmyer, SIX! Googly from the leggie and Hetmyer picked it well to send it in the air for a maximum.
19.39 IST: Jadeja to Hetmyer, SIX! The Southpaw transfers his weight on the backfoot to smash the ball in the air for a powerful six.
19.36 IST: Sundar to King, FOUR! Short ball from Sundar and King charges down the ground to hit the ball for four in cover region.
* Good over Jadeja as only four runs from it and both batsmen looked a bit uncomfortable against the left-arm off-spinner. 
* Ravindra Jadeja comes into the attack
* Shimron Hetmyer comes into bat
19.30 IST: Sundar to Lewis, OUT! Sundar gets the dangerous man as it was a close call from the umpire for the LBW decision.
19.28 IST: Sundar to Lewis, SIX! Another terrific shot from Lewis as he is living up to the expectations this time.
* Washington Sundar returns to attack
19.25 IST: Bhuvneshwar to Lewis, SIX! BEAUTY! Windies batsmen are not stopping at anything, Lewis lofts the ball over the covers for a six.
* Massive Over from Deepak 19 runs from it
19.20 IST: Deepak to King, SIX! WHAT A SHOT! Short ball from Deepak and King actually played the ball like a 'King' to pull it for maximum.
19.15 IST: Deepak to Lewis, SIX! POWER HIT! Massive shot from Windies powerhouse as the ball sails over the boundary line.
19.10 IST: Deepak to King, FOUR! The Windies batsman gets the room and he slaps the ball hard for a boundary.
* Brandon Kings comes to bat at No. 3
19.04 IST: Deepak to Simmons, OUT! Swinging delivery and Simmons edges it to slip as Rohit Sharma makes no mistake to grab a low catch. WI 13/1 in 1.2 overs
* Hero of the Bangladesh series Deepak Chahar to bowl the second over
19.02 IST: Sundar to Lewis, SIX! MASSIVE! Lewis powers the ball in the on side for a maximum to create pressure on Sundar.
19.00 IST: Sundar to Simons, The Caribbean batsman flicks the ball for a quick single
18.58 IST: Washington Sundar to start the proceedings with the new ball for India
18.52 IST: Players of both teams are out for national anthems of both team
18.38 IST: Playing XI of West Indies:
Lendl Simmons, Evin Lewis, Brandon King, Shimron Hetmyer, Kieron Pollard(c), Denesh Ramdin(w), Jason Holder, Hayden Walsh, Sheldon Cottrell, Kesrick Williams, Khary Pierre
18.37 IST: Playing XI of India is out: 
Rohit Sharma, Lokesh Rahul, Virat Kohli (c), Shreyas Iyer, Rishabh Pant (wk), Shivam Dube, Washington Sundar, Ravindra Jadeja, Bhuvneshwar Kumar, Deepak Chahar, Yuzvendra Chahal
18.31 IST: India win toss opt to bowl against West Indies in Hyderabad.
18.12 IST: Kieron Pollard and army are all set to take on India in Hyderabad
Train hard. Train strong 💪 #INDvWI pic.twitter.com/VPSyTbcY0w

— ICC (@ICC) December 6, 2019
17.37 IST: The Windies are ready for action!
It's Friday! Cheers to the a Weekend.

Time to get ready for the first clash vs @BCCI in the T20 Series. We get cracking tonight at the Rajiv Gandhi Stadium in Hyderabad

🗓 Fri 6th Dec
🕝 7pm India / 9:30am Eastern Caribbean / 8:30am Jamaica#MenInMaroon #ItsOurGame pic.twitter.com/F2dhvIqfId

— Windies Cricket (@windiescricket) December 6, 2019
17.09 IST: Virat Kohli's Team India is all set for the matchday in Hyderabad
All set for match day like 👇👇#TeamIndia #INDvWI pic.twitter.com/bEOJRxPuMG

— BCCI (@BCCI) December 6, 2019