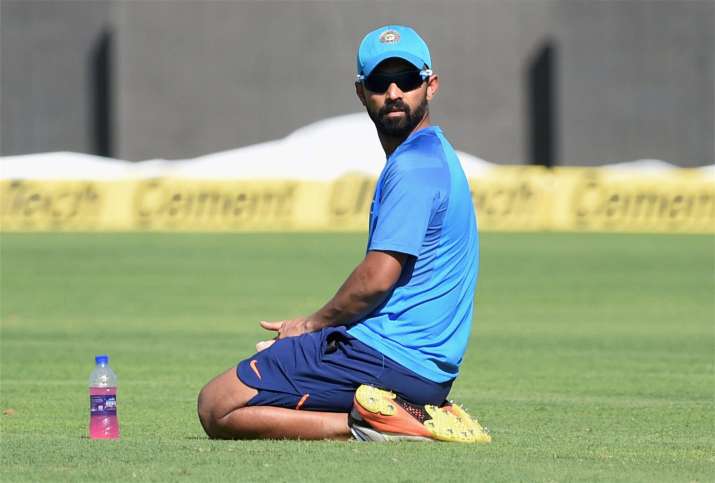 India vice-captain Ajinkya Rahane on Tuesday said his team will not commit the mistake of taking Sri Lanka lightly in the upcoming three-match Test series despite of boasting a strong record against them at home. "Winning the first Test match is very important... it gives you the momentum in the series. I am sure we will be well prepared before the match," Rahane said at a press conference in Kolkata, the venue for the first Test, starting from November 16.
India have a great record against Sri Lanka in Tests at home as the islanders are yet to win a game here. On top of that, Virat Kohli's India recently thrashed Sri Lanka in their own backyard, winning the Test and ODI series as well as the one-off T20I in July-August. India didn't lose a game in the tour and their victory margin was 9-0.
Not much is expected to change in a span of two months and India remain an overwhelming favourite in the series. However, Rahane is not ready to take anything for granted.
"This series is completely different as compared to what we played in Sri Lanka. Obviously, we know the conditions but we are not taking Sri Lanka lightly. For us, each and every series, each and every match matters before going to South Africa. I feel we are focussed on this series right now.. the first game in Kolkata," he said.
"We just want to play our game rather than thinking about their game and strategy," he added.
The Indian team faced short balls, played reverse sweeps against spinners in the training session on Monday and Rahane said this part of their constant evolution. 
The Indian team support staff was seen giving throwdowns of short pitch deliveries as the likes of Rahane, Shikhar Dhawan, KL Rahul and skipper Kohli warmed up. 
Rahane was the longest to take the throwdowns that went on for about half an hour. He was seen tested by short-pitch stuff, an indication of what lies in store for the India team when they go for a two-month long tour to South Africa, which will comprise three Tests, six ODIs and three T20Is.
"It is important to improve your game... when you are practising at the nets, it is important to evolve. I always think that if I improve on one shot at the nets, I will be better off in the game. So, if an opportunity comes during the game, I am 100 percent sure of playing that one particular shot. I am just practising sweep, reverse sweep and paddle sweep to have my options open.
"South Africa will be completely different. For us, if we want to be the number one team, every series is important and we want to win each and every match and each and every series. We will think about South Africa when we go there," he said.
In recent times, managing workload has become a talking point in Indian cricket. And when all-rounder Hardik Pandya was pulled out of the Test series to negate any possibility of a major injury concern, the issue once again gained attention.
Asked how he likes to manage his own workload, Rahane said: "It is important to manage yourself as a professional athlete. Training is very important as well as the recovery. You have to take good care of yourself because in future we are going to play many matches. So, recovery will be very crucial for us."