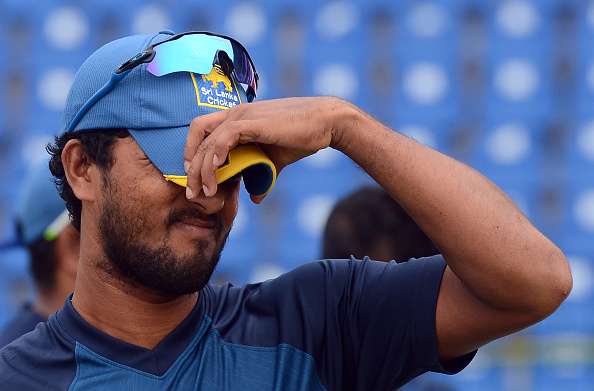 Sri Lanka captain Dinesh Chandimal on Monday appealed his players to stand up as a unit after a tough series against India. A dominant India today completed a 3-0 clean sweep of Sri Lanka with an innings and 171-run win in the third and final Test, bringing to an early end to one of the most lopsided series in recent years. 
None of the three matches lasted five days, with the final one being the shortest, lasting just two and a half days.
India were dominant throughout the series, winning the first two matches by 304 runs and an innings and 53 runs.
Sri Lanka had been whitewashed in a home series only once before, against Australia in 2004 - Ricky Ponting's first series as Australia captain. 
Monday's result was Sri Lanka's fifth heaviest defeat ever in a Test match.
"It was a very disappointing performance," Sri Lanka skipper Dinesh Chandimal said. "We could not get enough runs throughout the series. We take the blame for it, but I must say that we tried hard."
Chandimal said this was was "tough series" where both his batsmen and bowlers failed to perform.
"This was a tough series. Credit to India for playing outstanding cricket throughout the series. Our batting and bowling was below par. We need to stand up as a team. 
Chandimal hoped his players will make a strong comeback in the upcoming Pakistan series.
"We have to be patient and concentrate harder (when batting or bowling). If we can do that, I am sure we will do as a team and come back stronger for the Pakistan series," he said.