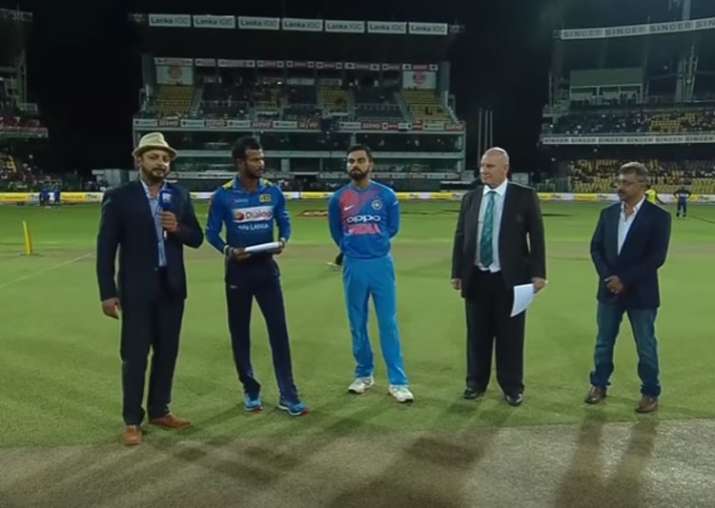 India romped home to a seven-wicket win over Sri Lanka in their only Twenty20 international on Wednesday. The victory gave India a clean sweep of all formats on the tour, after winning the Test series 3-0 and one-day international series 5-0.
Captain Virat Kohli scored 82 off 54 balls and Manish Pandey struck an unbeaten maiden half-century to script India's victory. Earlier, Kohli won the toss and asked Sri Lanka to bat where the hosts made 170/7 in their 20 overs. India reached 174/3 after Kohli shared 119 runs for the third wicket with Pandey, who hit a boundary to get the winning runs and his half-century with four deliveries to spare.
However, did Kohli really won the toss? This is a question which has emerged a day after the match and has left the fans baffled.
In a video posted on YouTube by SPNSportsIndia, the official channel of Sony Pictures Network India, the events that transpired during the toss at R Premadasa Stadium raise doubts over eventual outcome of the coin flip.
Former India spinner Murali Karthik, who was the toss presenter, introduced both the captains - Kohli and Upul Tharanga of Sri Lanka - and Match Referee Andy Pycroft from Zimbabwe. Karthik then asked Tharanga to flip the coin to which Kohli called "Heads", which was duly repeated by Karthik. After the coin stopped rolling, Pycroft went to collect it and said: "Tails, India."
However, Karthik, who probably heard only "India" from Pycroft, announced "Heads, it is" and went straight to Kohli to know his decision. Pycroft's uneasy reaction on seeing Karthik interviewing Kohli first is something which puts a question mark over the outcome of the toss. Another surprising factor here is that if Pycroft had actually realised what had gone wrong, why did not he go there and correct Karthik? A Match Referee does have the powers to do so! 
All said and done, Sri Lanka eventually "lost" the toss and as well as the game. However, what would have happened if Tharanga had won the toss? Well, we can only say that there was indeed a confusion at the toss.
Watch the video and decide for yourself.