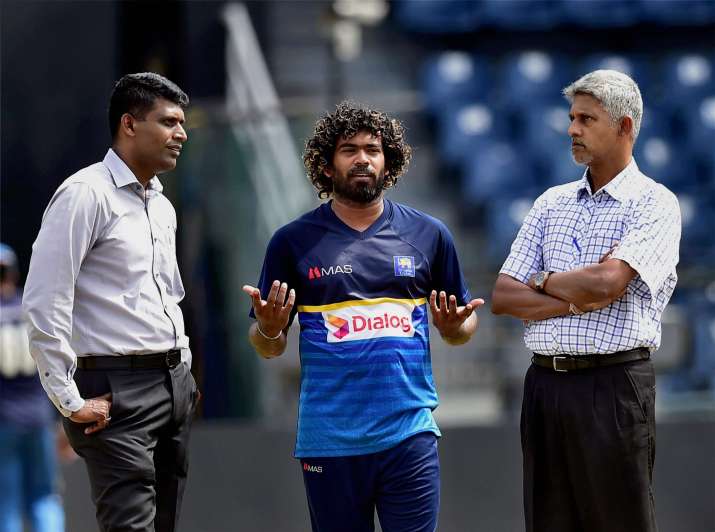 Sri Lanka are down in the dumps after losing all the three matches of this lop-sided series against India but stand-in skipper Lasith Malinga sought to play down the turmoil in the team, saying there's no pressure on the hosts ahead of the fourth ODI on Thursday. In the absence of both suspended Upul Tharanga and injured Chamara Kapugedara, Malinga will lead the hosts, who are trailing 0-3 in the five-match series, in the penultimate game in Colombo tomorrow. 
"At the moment, we have lost a few matches. But I still feel we have good young players and a few experienced players. This is the time we have to stand up and give confidence to young players, that we're still good enough to play international cricket. People think we are not top of the table, but I feel we can change that," said Malinga at the match-eve press conference. 
"I don't recognise pressure. If there is a pressure that means you don't know what to do in a particular instance and you don't have the ability to do what's required. The team and I have to build a mentality whereby we don't feel pressure," he added. 
The Sri Lankan team is in turmoil as the selection committee resigned last evening, causing further upheaval in the hosts' ranks after crowd trouble had erupted towards the end of the third ODI in Pallekele on Sunday following another hapless performance. 
The outgoing committee named Malinga captain for this solitary match before Tharanga returns. 
"I want to do my best for my team and for the youngsters. Now the nation is looking forward to the next match. We want to win these two matches. That's why I want to use my experience and give all the confidence to the young players," said Malinga of this turbulent situation. 
"There's no shortage of talent and skill in our team, but there is a shortcoming in how we execute that. We need to fix our mentality. My main goal is to try and instill a mentality whereby players are able to deal with tough situations and persevere. If that is successful, we will be able to get a good result tomorrow," he added. 
Malinga has only just returned to the ODI fold, but he has not looked the same bowler since his comeback. There are question marks about his form and fitness as also his longevity in the game. But he declared that he is ready to play till 2023. 
"I didn't play for 19 months due to my injury. I've only played a couple of series since then. Now I feel I am getting better. I'm doing treatment and all the rehabilitation. I am also working on the fitness. Now I feel really comfortable to bowl 10 overs and I bowl consistently. I am looking ahead to bowling the next ball and to get wickets in every match that I am given. I'm ready to play until 2023," he said. 
Malinga is the fifth different captain named by Sri Lanka during this Indian tour. Rangana Herath, Dinesh Chandimal, Tharanga and Kapugedara have done the honours previously in the Tests and ODIs. Malinga pointed out that it would not affect his gameplan. 
"The past Sri Lankan team had experienced players. We can see every other country that is playing national cricket worldwide has a high number of experienced players in their eleven. At the moment we haven't had that luxury. But we've had a few talented young players in Sri Lankan cricket. That's why we want to back them. 
"The past is the past. But now we have some good young players. We want to give our experience to them. Then I feel they will do a better stuff for us over the next few years," he added. 
Malinga has 299 wickets in 202 ODIs thus far. He will be gunning for his landmark wicket tomorrow, whilst M S Dhoni will be playing his 300th ODI for India. 
"I have no special aim to get 300 wickets. M S (Dhoni) also has played nearly 300 matches. Whoever is playing that number of matches, they are there because they are doing really well. Otherwise, nobody could do that. MS is doing really well for the country, that's why he's playing 300 ODI matches. I feel also the same. 
"If I'm doing well for the country, that's why I'm being kept in the team. I also have 299 wickets at the moment. So I'm really happy and proud," he said. 
"I've played last 14 years in international and franchise cricket. I've played every other country and every single player in national cricket. Now I'm 34. My pace is cut down. If you asked me 10 years ago, I didn't expect this. But whoever is coming towards the end of their careers, there is a failure. People talk about them not being fit enough, or not picking him," he added. 
The pace spearhead had a long chat with former Indian speedster Zaheer Khan and outlined what the duo had discussed. 
"I played with him in the IPL close to 3-5 years. He is a legend of the Indian bowling attack in previous years. We always talk with so many bowlers around the world. When I meet them I want to get their experience also because they are in the commentary box. They look at every single one of my body movements and my bowling action, and how I swing the ball. 
"They have a good idea of how I'm going now. Then every time I have an opportunity, we speak about my bowling action, and how I have to improve. Zak is more of a seam and swing bowler, and I want to learn more of that kind of thing over the next few years. That's what I talked with him," Malinga signed off.
(With PTI Inputs)