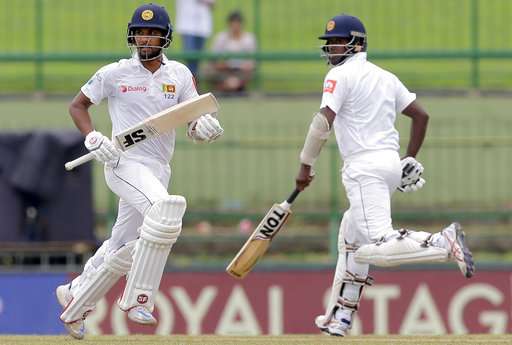 Sri Lanka skipper Dinesh Chandimal on Wednesday confirmed that their seniormost batsman Angelo Mathews will bat at the important number four position in the first Test against India beginning on Thursday in Kolkata. "He gives us confidence as a batting unit. He will bat at number four. He has all the experience and at the top of the order and we will get the maximum out of it," Chandimal said on the eve of the opening Test against India at the Eden Gardens. 
Mathews is yet to score a Test hundred since August 2015 and in that phase, he has aggregated 917 runs in 32 innings at 28.65 with his overall average slipping to 44.93 from 52.06. 
Incidentally, his last hundred came against India - a knock of 102 in Colombo in August. 
"We are looking forward to his experience. He was unbelievable in 2013-14. Hope he will put his hands up and do best." 
Having missed the entire Pakistan series because of a calf injury, Mathews is back in action, albeit only as a batsman. 
"We will miss Mathews as a bowler as he gives us more confidence and can balance the side really well. Unfortunately, with his injury, he can't bowl in Tests." 
Playing their first Test in India since 2009, Sri Lanka will also eye a maiden win in the longer format as they have lost 10 matches and drawn the remaining six in the country. 
The Eden Gardens has a green top on offer and Chandimal hoped their batsmen and bowlers would make the best use of it. 
"In our last series here, we played really good against their seamers. We are confident to play on the grassy conditions and bouncy pitches. 
"We are more than capable of playing in this kind of conditions. We need to get a good start, especially the top four and then we can continue," he said. 
India had whitewashed them 9-0 across three formats not so long ago and Chandimal said they learnt their lessons the tough way. 
"They have been outstanding. They have done a lot of hard work, on and off the field. They are really good as a team in every format. They look really balanced." 
"We all know India are the number one side at the moment in Tests. They have played some really good cricket last two years. It was a tough series in Sri Lanka and as a team, we have learnt a lot from that time." 
Sri Lanka bounced back from the bitter memories back home to surprise Pakistan 2-0 in Tests in UAE. 
"We just need to get positives of the last series. We are more confident after winning against Pakistan." 
Asked about their recipe for success against Pakistan, he said: "We just tried to play five bowlers, as a good team you need 20 wickets to win a match. Then fielding is one area we are looking at and keep our energies up for five days.
(With PTI Inputs)