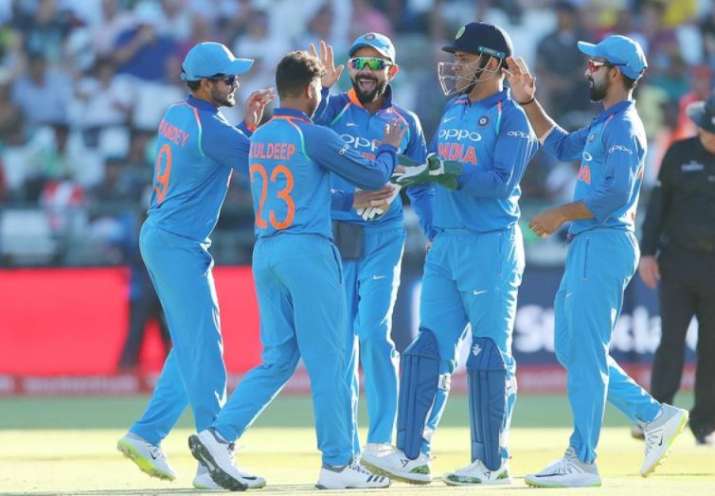 Team India have created havoc since the inception of the six-match ODI series and it has been Virat Kohli and the spinners who are solely responsible for battering a depleted South African team. India won the 3rd ODI by 124 runs with the help of the Indian skipper's unbeaten 160 and the spin duo of Kuldeep Yadav and Yuzvendra Chahal who collected eight wickets at Newlands, Cape Town.
The middle order and lower order batsmen had a mini-collapse but it was the Indian skipper who hung on and smashed the second highest score by an Indian captain after Kapil Dev in South Africa. This is Kohli's second ton in the ODI series against South Africa and his 34th overall.
This has been India's biggest win against South Africa on the Proteas backyard as Kohli and the wrist spinners ripped the hosts once again.
The skipper said that he struggled before smashing his century as the pressure was immense but he managed to carry on and help the team reach a total score of 303/6 at the end of the innings.
"I was struggling a bit while on 95 but I knew I had to carry on and pull the team out. These are times when you are tested and it is pleasing to go through it and do well", said Kohli after scoring his 34th One Day International ton in the post-match conference.
The Indian skipper was surprised about how a flat wicket could help the wrist spinners, who eventually got the maximum out of it. Kuldeep's 4/23 and Chahal's 4/46 wrecked the batting line-up once again.
"This wicket was not supposed to help the wrist spinners. These two got the maximum out of it. These two backed themselves. Today it was outstanding from them as they picked 8 wickets between them", said Kohli on Kuldeep and Yuzvendra's performance.
Kohli said that the team wanted a change than chasing the target and wanted to bat first. The Indian skipper also said that the intensity has built up for the next match as India need one more win to seal the series.
"We wanted to bat first and change things a bit. I think our intensity (for the next game) should be more than the previous games. We would try and close the door on them. Having an opportunity, we would take the confidence into the fourth game", concluded Kohli.