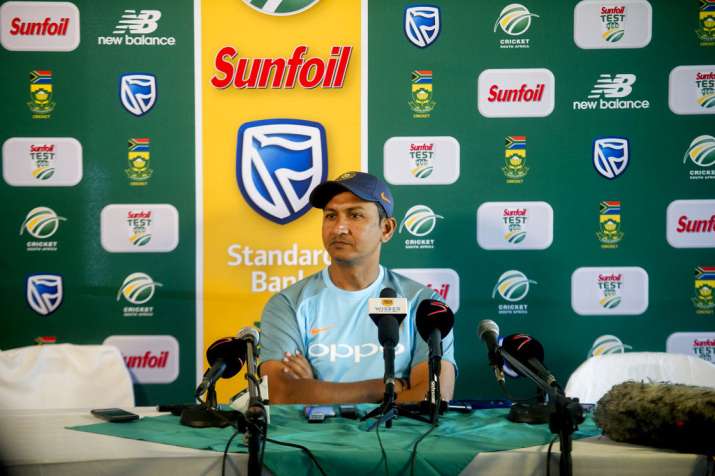 As supremely-confident Indian team gears up to take on South Africa for the first Test of the three-match series in Cape Town on Friday, assistant coach Sanjay Bangar feels neither the opposition nor the conditions would really matter for the world number one Test side. The entire Indian team skipped the optional practice with only support staff and selector MSK Prasad arriving to take a final look at the pitch. Bangar said: "We are very, very confident about our preparation because we got four-five days here before the first Test. And out of those days, we made sure we got plenty out of it. All the boys are in a positive state of mind."
"It is a Test match and it is no different from any other Test match that we play wherein the opposition skills are taken into account. We really focus on our own inward processes, how our mental approach is and how our mindset is in terms of batting rhythm where we stand.
"So the opposition doesn't really matter nor do the conditions. What we are feeling as a batting group is what matters more and we work towards achieving that sort of level that we desire to," he added. 
Asked about the team composition given an expected green-top wicket for the first Test, he said, "Whenever the wicket suits, if it's a bowling-friendly track then obviously we might go with four bowlers and if conditions are perceived to be batting-friendly we might opt for five bowlers. 
"Well, more or less that has been the pattern for the last 24 months or so wherein the team management has made the choices about the team composition. 
"As of now the conditions we found, we expect the ball to seam around a bit on day one. On days two and three, they are going to be very good batting conditions. We will take into consideration the extent of moisture tomorrow on the surface and we will take it from there," he added. 
Bangar lent support to seasoned pacer Ishant Sharma for the third-pacer role and said the discipline displayed by the Indian pacers in the home season would hold them in good stead in the first Test. 
"We have got Ishant Sharma who is having his third tour of South Africa and all the bowlers have been rotated really well keeping into account the work loads that they are going to encounter here," he said. 
"You see the consistency that they have displayed in the home season where they bowled on pretty flat conditions and made sure that they gave the support that was required for the spinners on home soil. 
"They have built a great sense of discipline in their bowling and I am pretty sure that discipline will help us in maintaining the pressure on opposition batsmen." 
However, Bangar was not sure whether Rohit Sharma or Ajinkya Rahane or both, would get the nod for the first Test starting on Friday, given their different runs of form in the build-up to the series. 
"Again, it all depends on the team composition. All of them are batting really well. Rohit, on the back of his performances across formats, is in with a chance of playing," he said. 
"It boils down to the team balance and composition and we will take a call on the morning of the match who will get a nod," he added. 
While Shikhar Dhawan has been confirmed fit, Ravindra Jadeja is more or less ruled out. 
"Shikhar had a minor ankle niggle. He has been cleared and declared fit, and is available for selection. Jadeja is still under observation and yet to recover. His condition is still being monitored," Bangar said.
(With PTI Inputs)