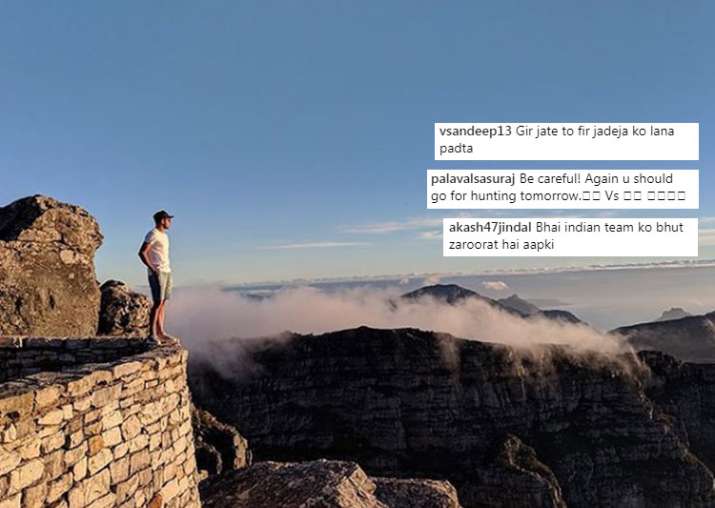 After charming everyone with his skills in the first three ODIs that India won by heavy margins, India's star wrist spinner Kuldeep Yadav was spotted posing for a picture at a cliff of the Table Mountain at Cape Town, South Africa.
"At the tip of Africa #tablemountain #capetown," Kuldeep captioned the eye-soothing photograph.
Amid appreciation for the picture, the fans of the Chinaman spinner started showing their concern, saying he might fall ahead of the fourth ODI, scheduled to be played in Johannesburg on Saturday.
"Gir jate to fir Jadeja ko lana padta (Jadeja would have called up if you had fallen)," a user commented.
Another one joined in, saying: "Be careful! Again you should go for hunting tomorrow."
"Bhai Indian team ko bhut zaroorat hai aapki (You are very important for Team India)," another netizen said.
The spin duo of Kuldeep and Yuzvendra Chahal has been vital in India's remarkable show against depleted South African team. In the third ODI at Newlands, Cape Town, the pair collected eight wickets.
Indian skipper Virat Kohli was surprised to see how a flat wicket could help the wrist spinners, who eventually got the maximum out of it. Kuldeep's 4/23 and Chahal's 4/46 wrecked the batting line-up once again.
"This wicket was not supposed to help the wrist spinners. These two got the maximum out of it. These two backed themselves. Today it was outstanding from them as they picked 8 wickets between them", said Kohli on Kuldeep and Yuzvendra's performance. (Read full story)