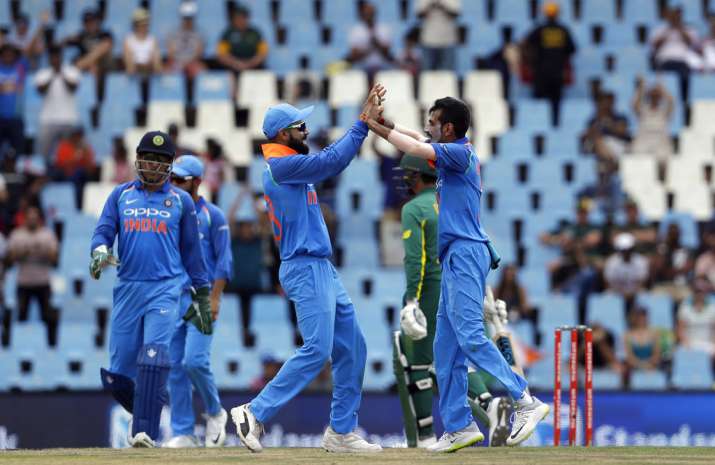 India had no problem in chasing South Africa's lowest ODI total at home of 118 as Virat Kohli and Shikhar Dhawan comfortably cruised past the Proteas attacking unit to win the second ODI by nine wickets. It was another meek surrender by the Proteas. They started their inning cautiously with Amla and de Kock looking to spend some time in the middle. But once Amla got dismissed, it was a complete downfall. The Indian skipper didn't waste time in bringing his spinners and once again they did the job efficiently. Yuzvendra Chahal and Kuldeep Yadav combined to hunt 8 wickets between them and never allowed the South African innings to recover. Apart from a partnership between JP Duminy and debutant Khaya Zondo, there wasn't much fight shown by the home team. South Africa will be disappointed after another hapless batting show. They lack experience but the application was also not there. The skill to deal with the spinners was also lacking and at the moment they are looking completely clueless. India lead the series 2-0.  (MATCH SCORECARD)
HIGHLIGHTS, INDIA vs SOUTH AFRICA 2ND ODI AT CENTURION
Yuzvendra Chahal was adjourned the Man of the Match for his 5/22
18.12 IST: And that's a wrap for today as India had no trouble at all in Centurion this time. Kohli and Dhawan had faced no hurdle in chasing a meagre score as India win by nine wickets. The Men in Blue lead the six-match series 2-0.
18.07 IST: INDIA WIN BY 9 WICKETS (with 177 balls left)! Their second best win in terms of balls remaining against a Test playing nation.
18.06 IST: India are cruising. The chase is almost done. They are only 2 runs away from going 2-0 up in the series. But all that will happen after a sumptuous lunch break. South Africa did manage to remove Rohit Sharma but after that the bowling was more or so flat. Their spinners failed to recreate what the Indian spinners managed to do and that actually reflects the large gap between the two teams. Tahir and Shamsi have been inconsistent with their lines and lengths, so the argument that the Indians are good players of spin doesn't really withstand. They have not bowled enough in testing areas and the current pair has flourished.
17.19 IST: Short and outside off, Kohli goes back and cuts it through point for a couple of runs. Has the umpire called it lunch? Oh yes. What? Mike Haysman on air is not impressed, he voices his opinion that this is where common sense should prevail. Only 2 runs needed. Virat Kohli also has a chat with one of the umpires. But it seems they want to follow the rule blindly. Off they go, a really facepalm moment!  IND 117/1 in 19 overs
17.17 IST: FIFTY! 24th ODI fifty for Shikhar Dhawan! A flatter delivery on middle and off, Dhawan punches it down to long on for a run. Fine knock by the Indian opener.  IND 111/1 in 18.1overs, need 8 runs to win vs SA (118)
17.15 IST: FOUR! Slapped away! Certain amount of arrogance in that shot. A good length delivery outside off, Kohli comes running down the track and whacks it over point for a boundary. IND 110/1 in 18 overs
17.13 IST: FOUR!  A proper heave-ho! Full in length around middle and off, Dhawan clears his front leg, opens his arms, flexes his muscles and dismisses it over mid-wicket for a boundary. IND 105/1 in 17.2 overs
17.10 IST: Too full and outside off from Tahir, Kohli squeezes it through backward point for a couple. 100 up for India!  IND 101/1 in 16.4 overs
17.08 IST: Around leg, Dhawan tries to flick but misses. It takes his back pad and rests near the popping crease. His skipper quickly calls him over for a leg bye. 5 runs from the over. IND 98/1 in 16 overs
Morne Morkel is back on. It seems they have extended the play. 26 more needed.
17.03 IST: FOUR! MISFIELD, FOUR! Quicker and flatter delivery on middle, Kohli flicks it through mid-wicket. Zondo in the deep takes it too casually and the ball sneaks through his legs. The debutant tries to recover and chase it down but fails.  IND 93/1 in 15 overs
16.59 IST: FOUR! Loopy delivery landing too full outside off, Kohli gets on the front foot and pierces the gap at covers with his wristy drive. A boundary as a result. IND 86/1 in 14 overs
16.56 IST: FOUR! Neatly done! A low full toss down the leg side, Dhawan gets down on one knee and sweeps it fine down the leg side for a boundary.  Easy pickings. Shamsi not finding his length. Gave two short ones in his previous over and now a full toss to start this one.  IND 82/1 in 13.1 overs
16.52 IST: FOUR! Another poor ball by Shamsi, short and on middle, Dhawan this time goes on the other side of the field. Connects with his pull shot and finds the gap at mid-wicket. IND 73/1 in 12 overs
16.51 IST: FOUR! IND 69/1 in 11.4 overs
Tabraiz Shamsi to have a go with his wrist spinners. A slip in place. He will be bowling to Kohli, a familiar name for him. Shamsi has played under him in the Indian T20 League.
16.49 IST:  FOUR! A freebie by Tahir. Long hop on middle, Dhawan picks it in a trice, rocks deep inside the crease and hammer-pulls it to the deep mid-wicket fence. No stopping this one. IND 64/1 in 11 overs, need 55 runs to win vs SA (118)
Powerplay 2 time. A maximum of 4 fielders are now allowed outside the ring till the 40th over, don't think the match will last till then.
16.45 IST:  Sharp delivery, around off, Dhawan tries to work it around but gets an inside edge. The ball rests inside the flap of his front pad and Dhawan takes it out after taking the permission. Good over from Rabada, just 2 from it. IND 57/1 in 10 overs
16.40 IST: FOUR! Shot! Morris digs it in outside off, Kohli rises on his back foot and slams it over point for a boundary. 'Catch it' was the shout for a moment but nothing after that...someone went to retrieve the ball. IND 55/1 in 9 overs 
16.36 IST: SIX! Take that for a reply. Kohli knew another short ball was coming. He read the bowler's mind to perfection and was ready to execute his pull shot. As soon as the ball reached in his half, he pulled it disdainfully over long leg for a flat biggie. IND 48/1 in 8 overs
16.32 IST: FOUR! Edgy! Full-length ball outside off, Dhawan edges his attempted drive and it dies in front of second slip before sneaking past to the fence at third man. IND 42/1 in 7 overs
16.28 IST: A low full toss on middle, Dhawan forces it down back to the bowler. Rabada picks it up to have a shy at the striker's end but loses control over the ball. It flies back past a diving mid off and the mid on fielder does the mopping up job. A single taken. IND 38/1 in 6 overs
16.25 IST: FOUR! Cracking shot! Rabada bowls it full and outside off, Dhawan strides forward and strikes it fluently through extra cover for a boundary. IND 35/1 in 5.1 overs
16.23 IST: Acrobatic stuff by Tahir to save a certain boundary. Looked quite comical while doing so but did the job eventually. Back of a length delivery outside off, Kohli camps back and punches it square of the wicket on the off side. Tahir moves across to his left from sweeper cover, puts in an early dive probably but somehow manages to stop the ball just before the rope. Then, he struggles to pick up the ball, fumbles a bit before getting the hold of the nut and then sends in the throw to the keeper. Two runs taken/saved. 5 runs from the over. IND 31/1 in 5 overs
Chris Morris comes into the attack.
Skipper Virat Kohli is in no mood to give his batting slot to anyone else even in this low chase. Arrives at number 3.
16.18 IST: 
WICKET | Rabada makes the breakthrough with the wicket of Sharma 15 who is caught at fine leg. India 26/1 #MomentumODI #SAvIND #ProteaFire

— Cricket South Africa (@OfficialCSA) February 4, 2018
16.17 IST: OUT! Rohit holes out and gets a mild sendoff from Rabada. He bowls a sharp shortish ball on middle, angling in, Rohit tries to glance it off his hips but the bounce gets a bit big on him. It comes from the upper half of the bat and balloons down towards long leg. Morne Morkel speeds across to his left, slides and completes the catch with ease. That wasn't an easy catch but the tall man made it look so. India lose a wicket but stay on top in this game. IND 26/1 in 3.5 overs, need 93 runs to win vs SA (118)
16.15 IST: FOUR! That's bread and butter for most subcontinent batsmen, they say. To me, most good batsmen are strong off their pads. A full ball on middle, Sharma tickles it through mid-wicket and fetches a boundary. IND 26/0 in 3.4 overs
16.12 IST: FOUR! An overpitched ball outside off has been stroked with good timing through covers for a boundary. Doing it easily. IND 18/0 in 2.4 overs
16.10 IST: FOUR! A bit uppish but through the gap. Morkel offers width outside off, Dhawan strides forward and slaps it through cover-point for a boundary. IND 13/0 in 2.3 overs
16.05 IST: NOT OUT! No edge. It's not South Africa's day. Rabada serves a full ball outside off, Rohit commits himself on the front foot and tries to push it through the line. He fails to middle it and it whizzes past the bat, making some sound. Quinton de Kock catches it, he doesn't appeal much (didn't feel the need as he was sure of the edge), but the rest are screaming their lungs out. Up goes the finger and Sharma is quick to take the DRS. The replays roll on and it's a close call. The bat and pad are very close to each other when the ball goes past the former. Is the sound of the bat hitting the pad? The Snicko is showing good deflection but again no one is sure it's off what? The third umpire, however, feels the replays are conclusive enough to change the on-field ruling. He assumes it's bat hitting the pad and not the ball. Rohit survives.  IND 9/0 in 1.4 overs
16.04 IST: Huge shout for a caught behind. The finger goes up and Rohit Sharma takes the referral.
Kagiso Rabada to take the second new ball.
16.02 IST: Once again the line is too straight and Sharma nudges it wide of mid-on for a run.Good start for the visitors IND 8/0 in 1 over
16.00 IST: SIX! Out of here, deep into the stand at mid-wicket. Morkel digs in a short ball and Rohit is quick to drops his weight on the back foot. Lovely transfer of weight and it's followed by a superb bat speed to execute the pull shot. Makes fine connection and sends it whistling into the crowd. He is one of the best Indian batsmen when it comes to pulling or hooking. IND 6/0 in 0.3 overs
15.57 IST: Back for the run chase. Rohit Sharma and Shikhar Dhawan, the familiar opening pair for India are out in the middle. Morne Morkel to begin proceedings with a couple of slips. Sunil Gavaskar on air reckons that with nothing to lose, they should go for the attack and have a gully also. Michael Holding second that. Here we go...
15.47 IST: 
South Africa all out for 118 runs in 32.2 overs (@yuzi_chahal 5/22, @imkuldeep18 3/20) #SAvIND pic.twitter.com/svLQ3kdvob

— BCCI (@BCCI) February 4, 2018
15.45 IST: OUT! All over for South Africa. Chahal gets his maiden 5-wicket haul in ODIs and thanks the heavens. A floated full ball outside off, Morris goes for an inside-out shot over covers but fails to get the desired distance. He is caught near the fence by Bhuvneshwar Kumar. South African are all out for 118, their lowest total at home!. SA 118-all out vs IND. Duminy 25, Chahal 5/22, Kuldeep 3/20
Tabraiz Shamsi is the last batsman for South Africa.
15.41 IST: OUT! Timber! Bumrah delivers a sharp delivery, very full and just outside off, angling in too, Tahir with no footwork, just like a typical tailender, tries to push at it. He once again is beaten for pace and the off pole is disturbed. To take a single off the first ball and hand a number 9 strike against Tahir, Morris seriously made a mistake. SA 118/9 in 31.5 overs vs IND
15.38 IST: SA 118/8 in 31.1 overs
Jasprit Bumrah is back into the attack.
Imran Tahir is in next. A couple of slips in place.
15.35 IST: OUT! You cannot get more plumb than this! Chahal serves a leg spinner in the line of the stumps. It doesn't turn after landing as Morkel tries to flick from the crease. He misses the ball completely to get hit on the pads. The appeal follows and the finger is once again up from the umpire. Chahal has four, the Indian wrists spinners have 7 in total. Domination. SA 117/8 in 30.3 overs vs IND
15.33 IST: SIX! Morris will go for his shots! A flighted ball on middle, Chris attacks it with all his might and launches it over long on for a biggie. SA 117/7 in 30 overs
15.32 IST: 
There is no stopping this spin duo. Six wickets between the two at the moment. How many more to come? #SAvIND pic.twitter.com/x7shhiOkrm

— BCCI (@BCCI) February 4, 2018
Morne Morkel is the new batsman.
15.29 IST: OUT! Gone this time! This one turns back into the batsman from around off, Rabada once again is clueless about which way it will turn. Stays back to defend but the ball spins back in sharply to thud him on the front pad.SA 110/7 in 29.3 overs vs IND
Kagiso Rabada strides in next.
15.25 IST: OUT! Duminy is trapped in front! Chahal roars in delight once again, his third wicket today. He lets out a full floated ball on middle, getting it to spin back in slightly, Duminy kneels to sweep but misses the ball completely. He is rapped on the pads, they appeal and the finger goes up. That looked plumb to be honest. Duminy, however, has a chat with his partner but then either he realizes or is told by the umpire that they don't have any review left. Big blow to South Africa, only batsman who looked a bit at ease is back to the pavilion. South Africa 107/6 in 28.2 overs vs India
15.22 IST: Yadav bowls it on the shorter side around off, JP goes on the back foot and punches it to sweeper cover for a run. 3 runs from the over. SA 107/5 in 28 overs
Kuldeep Yadav is back on.
15.18 IST: FOUR! Nice way to get going! Slower full ball outside off, Morris stretches forward and drills it through covers for a cracking boundary. It spoils a good over, still only 6 runs and a wicket from it. SA 104/5 in 27 overs
100 up! Morris gets off the mark with a four and also brings up the 100 for the Proteas. This partnership holds the key to a meaningful total. Duminy (23*) Morris (4*) SA 104/5 #SAvIND

— Cricket South Africa (@OfficialCSA) February 4, 2018
Chris Morris arrives with a big task ahead.
15.16 IST: OUT! It was gone steadily until now for them but Zondo attempts to take on Chahal and pays the price. The choice of shot was not bad as such but the execution was not there. The leggie delivers his stock ball outside off, turning away after landing, the debutant tries to slog sweep but gets a top edge. The ball balloons in the air towards mid-wicket, Pandya gets underneath it and takes a simple catch in the second attempt. Yes, he failed to pouch it first up but then recovers to grab it quickly. Zondo is on his bike. South Africa have half their side back in the pavilion with the scorecard not even reading 100. South Africa 99/5 in 26.3 overs vs India
15.11 IST: Drags it short and wide outside off, Duminy cuts it through point for one. Dhoni ain't happy, he wants Jadhav to bowl in the line of the stumps. SA 95/4 in 25 overs
Chahal is back in the attack.
15.08 IST: Full and outside off from Jadhav, Duminy pushes it past that man at short extra cover for a run. Kedar is irritated. He wanted to stop that single. 4 runs from the over. SA 92/4 in 24 overs
15.04 IST: FOUR! Cheeky! A length ball outside off, very close to the stumps, Zondo opens the face of his bat and guides it just to the left of that man at wide slip and finds the boundary! SA 85/4 in 22.3 overs
15.02 IST: Brilliant stop. Jadhav delivers this with a round-arm action and bowls it short outside off. Duminy cuts it through the covers but Ajinkya Rahane at short extra cover dives to his right and makes a half stop. Just a single. SA 80/4 in 22 overs
Okay... my colleague was just asking me - How did Kedar Jadhav bowl in the previous game? Kohli did not even give me time to answer. Here comes KJ.
14.59 IST: Steep bounce. A length ball outside off, Khaya initially pushes at that, then tries to withdraw his bat. Is late as the ball bounces steeply past his outside edge. Morne Morkel would be watching this with interest. But for that, he needs at least 220 on the board.  SA 76/4 in 21 overs
14.55 IST: Another tight over from Kuldeep, just a single from it. SA 73/4 in 20 overs
14.52 IST: Hmmm... Bumrah is off the field. The physio is tending to him. Ha ha ha... this is laughable. The physio was looking at his left knee and on seeing that, the South African ground staff brings in the stretcher! Bumrah straightaway smiles and shoos them away!
14.49 IST: FOUR! A bit streaky but in the scoring books, it will read 5 boundaries in 15 balls off Pandya. SA 72/4 in 18.3 overs
14.48 IST: FOUR! And straightaway runs come! Full and outside off, Duminy comes forward and drives it down the ground, past a diving mid off and finds the fence! SA 68/4 in 18.1 overs
Hardik Pandya is back on.
14.42 IST: 
DRINKS: Duminy (1*) and Zondo (10*) have brought some calm to the innings after the flurry of wickets. SA 63/4 after 17 overs. #SAvIND #MomentumODI pic.twitter.com/eS2AACMWB2

— Cricket South Africa (@OfficialCSA) February 4, 2018
Drinks are on the field now. India strutting their stuff. They are not number 1 for no reason. The spinners have already made an impression and the Proteas are on the back foot early. Only JP Duminy is the known batsman in the middle while in the ones to come only Morris has some experience. A wicket here and we could dream of an early finish. 
14.40 IST: Oohhh... another close moment. Comes down the track, does Zondo, pushes at it, the ball spins away and he gets an outside edge. But it is just wide of Ajinkya Rahane at slip and he comes back for a second. 4 runs from the over. SA 63/4 in 17 overs
14.37 IST: A field change requested. Guess Chahal wants an additional fielder on the off side. Not granted.
14.35 IST: FOUR! Careful with the short ball if you are a South African batsman. Zondo pulls it but this is all along the ground, through mid-wicket. Bhuvneshwar Kumar puts in a valiant dive to his left but the ball is too quick for him. SA 58/4 in 15.1 overs
14.34 IST: Zondo gets off the mark, just a single from Chahal's over. SA 54/4 in 15 overs
A debutant comes in to bat inside 15 overs. Tough situation for Khaya Zondo.
14.30 IST: OUT! 3 wickets in the space of 6 balls! Thought Sri Lanka were playing in Chittagong. India are all over the home side here. Full and outside off, Miller leans to drive but the ball turns away a bit, takes the outside edge and goes straight to Ajinkya Rahane at first slip. Shadow practising is done by Miller. Perhaps for the next game. 39/0 becomes 51/4. . South Africa 51/4 in 13.5 overs vs India
David Miller walks in at number 5, replacing his skipper. Two new batsmen at the crease.
14.26 IST: OUT! What is happening? Really poor cricket from South Africa and Markram. One understands that he was trying to stamp his authority but still, he could have kept it on the ground. Landed on middle and leg, Markram flicks it uppishly but straight to the man at deep mid-wicket. Bhuvneshwar Kumar is actually a few yards in and has to run back but he does so comfortably. Makes the catch look easy. The Indians are ecstatic while Markram is downcast. Heartbroken will be a better word. What have I done? He must be asking himself. He will be asked even bigger questions once he enters the dressing room. India on a hat-trick!. South Africa 51/3 in 13.1 overs vs India
JP Duminy walks in at number 4, replacing de Kock. Spin from both ends for India. Kuldeep Yadav into the attack as well.
14.25 IST: OUT! Straight to the man! A poor ball but Chahal will not mind. A short ball, there to be hit, de Kock rocks back to hit it. Attempts the pull but perhaps the extra bounce causes the ball to hit the bat a bit higher than it would normally have. He skews it high in the air and Hardik Pandya comes running in from the fence. Takes it easily. Both openers gone. South Africa 51/2 in 13 overs vs India
14.23 IST: Lovely. After that first ball, Dhoni suggests to Kohli 'LONG OFF KO AAGE RAKH SAKTA HAI! AGAR MAAREGA TOH THEN...' meaning that long off could be brought in. If Markram goes big, then he can be pushed back.
14.21 IST: FOUR! A bad ball from Pandya down the leg side, Markram tickles it to the fine leg fence. SA 47/1 in 11.4 overs
14.14 IST: Powerplay 2 time. 4 fielders can be kept outside the 30-yard circle, till the 40th over, if the fielding captain wishes.
14.12 IST: OUT! Bhuvneshwar Kumar removes Hashim Amla for 23. Edged and safely in the hands of MS Dhoni. The review was taken by the opener but a slight edge send the swashbuckler back to the hut. SA 39/1 in 9.4 overs
14.09 IST: FOUR! Beautiful drive by Amla and its sent down for a boundary. SA 39/0 in 9.4 overs
14.04 IST: FOUR! The ball is coming way too slow off the pitch. 'It looks more and more like an Indian pitch' comments Sunil Gavaskar on air. A length ball around off, once again de Kock walks down the track. He looks to flick but gets a leading edge which flies over point and finds the boundary. SA 35/0 in 9.2 overs
14.00 IST: 
Solid enough start so far by SA. They are up to 22/0 (7 overs) with Amla 15*, De Kock 7* #ProteaFire #SAvIND #MomentumODI pic.twitter.com/Nck5BWXEbV

— Cricket South Africa (@OfficialCSA) February 4, 2018
13.58 IST: FOUR!Almost similar to the first boundary of the match. Fractionally short of good length outside off, but plenty of width. Amla punches it through the covers and gets the second boundary of the over. SA 22/0 in 6.5 overs
13.56 IST: FOUR! This was coming. Something was coming. India have maintained a lid on the openers and in the last 2 overs, Amla has looked a bit itchy. A length ball outside off, Amla throws his bat at it, does not move his feet and gets a thick outside edge. It flies towards the slip cordon, but well wide of the wide first slip fielder to the third man fence. Amla moves to 11 now. SA 18/0 in 6.1 overs
13.53 IST: Good all. Pushes it with soft hands to the off side, in front of cover, calls for a quick single, Amla responds and the run is completed with ease. SA 12/0 in 5.4 overs
13.48 IST:  Very nice bowling, full and just outside off, Amla defends solidly. Some good bowling by the seamers as Bumrah keeps it just off. SA 7/0 in 3.5 overs
13.46 IST: De Kock is away. Down the leg side, de Kock tucks it behind square leg and comes back for the second. SA 7/0 in 3. 3 overs
13.45 IST: Virat Kohli is changing the field again. He keeps a wide first slip, then a gully who is somewhere between third man and short third man.
13.42 IST: OUCH! There is that extra bounce. A length ball around middle and leg, Quinton looks to defend but the ball shoots up suddenly and hits him sharply on the right glove. SA 4/0 in 1.2 overs
13.38 IST: Pure Luck! On a length outside off, de Kock looks to defend but the ball rolls back, then spins in. The batsman tries to kick it away but is too late. The ball is away from his feet and hits the stumps. Bumrah starts to celebrate as everyone has heard the noise. But hello, the bails do not fall! SA 4/0 in 1.1 overs
13.36 IST: FOUR! Amla is up and running! On a length outside off, Amla gets on top of the bounce and punches it between cover and point for a boundary! Wow. That is some sizing up from Virat Kohli. Straightaway, second slip moves out to a catching point position - almost a short point. Just 3 balls for a fielding change. SA 4/0 in 0.3 overs
13.32 IST: Hashim Amla and Quintin de Kock are out on the field.
13.29 IST: PITCH REPORT - Mike Haysman informs that a run fest is on the cards. The average score batting first in the last 5 day-night games is 330. But that comes down to 250 in day-games. Neil McKenzie observes some sheen on the wicket and reckons that it could be on the slower side which could bring the spinners into play. There will be turn and bounce and the pith also looks dry, rough and abrasive. Also, going by the domestic limited-over games at the venue, spinners will have a good game. States that SuperSport Park always helps teams bowling first. The first 10 overs will make the ball move around, then the spinners will come into action and also towards the end, the ball will start to reverse too. There was a lot of rain around yesterday, so there will be moisture on the track as well. Such a comprehensive pitch report. Superb.
While the Men's team is putting in work in Centurion, the @Momentum_za Proteas team is doing likewise in Kimberly ahead of the 1st ODI game with India's women's team tomorrow at the Diamond Oval pic.twitter.com/Sf2gaBwH9Q

— Cricket South Africa (@OfficialCSA) February 4, 2018
13.23 IST: WEATHER - No rain as of now. Bright and sunny, without a cloud in the sky.
13.15 IST: South Africa have made a few changes as they have brought in Shamsi and Zondo will be making his debut today for the Proteas.
Good morning and welcome to coverage of the 2nd @Momentum_za One-Day International between SA and India from Centurion. The tourists have won the toss and bowl first. Here's a look at the SA team. A new captain and debutant for the hosts today #ProteaFire #SAvIND #MomentumODI pic.twitter.com/Ys5T71tHwh

— Cricket South Africa (@OfficialCSA) February 4, 2018
13.11 IST: Team India have stuck with the same players from the Durban ODI
India (Playing XI): Rohit Sharma, Shikhar Dhawan, Virat Kohli(c), Ajinkya Rahane, MS Dhoni(w), Kedar Jadhav, Hardik Pandya, Bhuvneshwar Kumar, Kuldeep Yadav, Yuzvendra Chahal, Jasprit Bumrah
13.06 IST: India have won the toss and have opted to bowl first.
#TeamIndia Captain @imVkohli wins the toss and elects to bowl first in the 2nd ODI against South Africa #SAvIND pic.twitter.com/kCw2kG6b0N

— BCCI (@BCCI) February 4, 2018
12.49 IST: The hosts have suffered a major blow as skipper Faf du Plessis has been ruled out of the ODI series. Test batsman Aiden Markram will lead the Proteas from here on.
12.42 IST: 
And we are here at Centurion getting ready for the 2nd ODI #TeamIndia #SAvIND pic.twitter.com/DTqYM3kOwB

— BCCI (@BCCI) February 4, 2018
Hello Centurion! We are all ready and geared up for the 2nd ODI #TeamIndia #SAvIND pic.twitter.com/nh8S4sJiUP

— BCCI (@BCCI) February 3, 2018
12.15 IST: Hello and welcome to our live coverage of the 2nd ODI between India and South Africa at Centurion. We will shortly get underway with the match as the toss is set to happen at 1.00 PM IST.