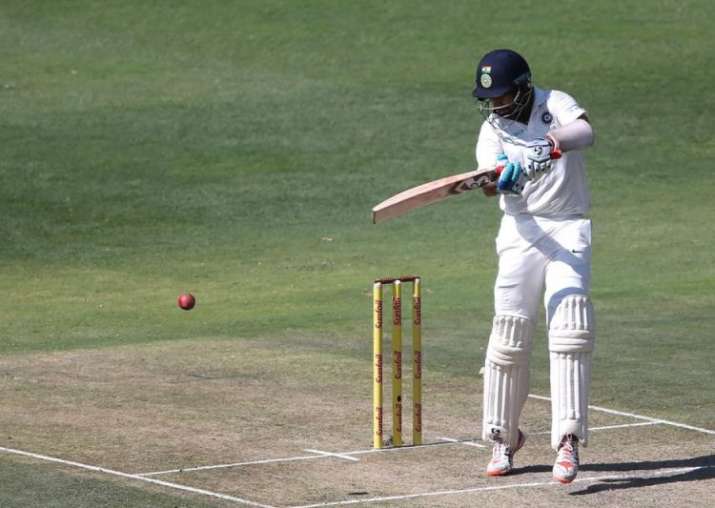 Despite having scored a small total of 187 runs in their first innings, India batsman Cheteshwar Pujara believes that 187 runs are sufficient on the surface at New Wanderers Stadium, Johannesburg, where Indian batsmen were seen struggling on the opening day of the third Test.
Pujara, who scored a gritty 50 in tough conditions on Wednesday, said it was satisfying to get runs on "one of the toughest pitches he has played on".
India were bowled out for 187 but according to Pujara, it was a competitive first innings total.
"It is as good as scoring 300 on a normal pitch. It is certainly one of the toughest pitches I have batted on. It was much tougher than one used for the first Test in Cape Town," Pujara said.
"Overall we batted well. The runs on the board are sufficient and we can bowl them out. There was a lot of deviation and the pitch was initially very slow, but there was enough bounce. There was a lot of lateral movement and a lot of deviation off the cracks."
South Africa ended the day at six for one, losing opener Aiden Markram.
"Our bowlers are used to bowling good lengths. I am sure they will do the needful tomorrow. It is very difficult to survive on this wicket," Pujara said after scoring 50 off 179 balls.
On a green-top, India opted for an all-seam attack but surprisingly batted first after winning the toss. Pujara took 54 balls to get off the mark after the openers were dismissed early.
"After a point obviously yes, I wanted to get off the mark. But as you saw it was a bit difficult to rotate the strike. As I said this is one of the toughest pitches I have played on.
"You need to take your time and get used to the bounce and lateral movement. It was difficult for me early on but as I batted more it became easier for me.
"I wouldn't say it gets much easier (once you get in). I never felt that I was in on this wicket, as I said there was a lot of deviation. When you bat for a bit, things do get easier. But I don't think you can be in on this wicket. If someone scores a hundred, it will be a very brilliant knock, he said.
There was a loud cheer when Pujara scored his first run.
"Yes, you do notice it, because there was a lot of noise from the crowd (laughs). And even personally, obviously I wanted to get off the mark.
"I wasn't seeing the number of balls I was facing, but yes, sometimes when there is lot of noise you do notice it. Even if you are concentrating, sometimes you hear a voice from the crowd."
When asked if he had extra motivation after two suicidal run-outs in the Centurion Test, Pujara replied, "I was looking good in the last Test. The way I was batting, I felt it. But it was a bit unfortunate that I was run out of both innings.
"That was a tough time. I don't think any cricketer would (want to) get out twice (run out) in one Test. That is something that Id like to forget and move on. But yes, the way I was batting today, I'm very happy with it."
Virat Kohli was the top-scorer with 54 runs and his innings was in complete contrast to Pujara's knock. The skipper played a counter-attacking game and managed to keep the scoreboard ticking as long as he was at the crease.
"Each and every player is different. Virat is someone who has been batting really well in all formats of the game. He has lots of shots and the way he batted today, I don't think any other batsman could have batted like that.
"He's in form, and he scored a hundred in the last Test match too. He was timing the ball really well.
"I was finding it difficult initially, as I said earlier. For me the intent is something where you defend well, you leave well, and you play on the merit of the ball.
"Ultimately, what matters is that you score some runs for the team and put up a decent total," he added, talking about the much-discussed 'intent'.
Talking about the decision to bat first on a tough wicket, the batsman said, As the game progresses, we are very sure that this wicket will be difficult to bat on. As we saw even in the later stages of today, the cracks are opening up and a couple of balls deviated a lot.
"I mean I haven't seen deviation like that before. As the game progresses, this wicket will have variable bounce and cracks will open up, so it will be difficult to bat on. That's the reason we chose to bat first."
Pujara commended the disciplined Proteas' bowling but also added that the Indian bowlers were more than capable of getting the same results.
"We always expect them to do that (bowl with discipline). They have good line and length. At the same time on this wicket, our bowlers will bowl better lengths because we are used to bowling on such wickets. Our lengths are slightly better on this particular wicket.
"Well be looking to get them out before 150. And obviously, looking at this total I think the second innings will be very important. Seeing the weather forecast, I think it will be overcast and there will be more help for the fast bowlers, so the first session (tomorrow) will be very crucial for us," he signed off.
(With PTI inputs)