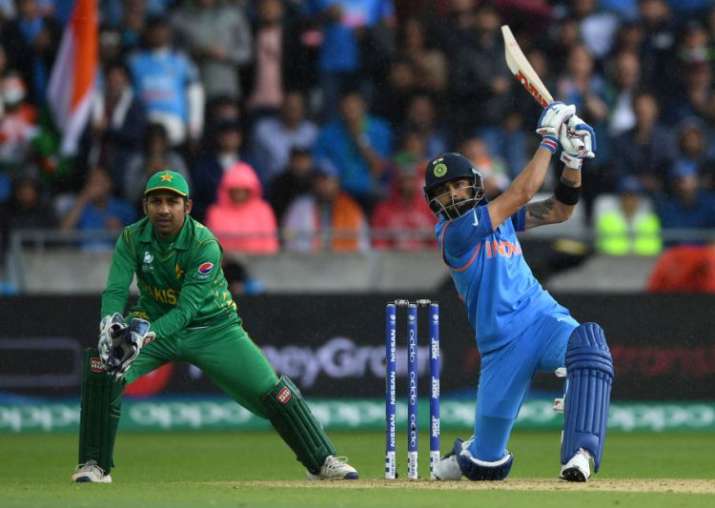 With India set to take on arch-rivals Pakistan in a much-anticipated clash at 2018 Asia Cup, Pakistan opening batsman Fakhar Zaman has claimed that the absence of their fulltime skipper Virat Kohli won't make a big difference. The two neighbours will face off in a group stage ODI match at Dubai International Cricket Stadium on September 19.
"India are a world-class side, and I don't think it'll make that big a difference for them to not have (Virat) Kohli in the side. Kohli is an exceptional player, but India is a good side anyway. So we hope you'll get to see a good contest," Zaman said in a statement released by the ICC.
In ICC Champions Trophy 2017 final, Zaman scored a match-winning 114-run knock to guide Pakistan to the title, crushing India by 180 runs in England.
Both the teams have played a lot of cricket since their last meet in England, though Zaman says the "added pressure" of an India-Pakistan cricket match is unimaginable.
"Normally, any match you play at the international level, there's a lot of pressure. And when it comes to an India-Pakistan game, the pressure is more intense. I've experienced that once," Zaman said, referring to the ICC Champions Trophy 2017 final.
"It would be wrong to say that there won't be any pressure. It'll be on their bowlers as well. It'll be a matter of (which side) keeps their nerves calm, and who seizes the moment. Everything depends on the match situation, and hopefully, we'll be the better side on the day," he added.
Currently engaged in a lengthy series with England, India captain Kohli has been rested for the Asia Cup. While the fifth and final Test against England is scheduled to be held from September 7-11, the Asia Cup is starting in the UAE from September 15.
The 16-member Indian squad will be led by Kohli's deputy Rohit Sharma.
While India could face Pakistan thrice (if both teams are in final) in the tournament, the selectors are looking at the bigger picture -- four Tests against Australia at the end of the year where Kohli would want to be in his prime.
Chairman of selectors MSK Prasad said that the skipper's workload management is paramount as he had issues with a back injury in the earlier Tests in England this summer.
"Considering the workload, we have given him (Kohli) rest. He has been playing continuously for quite some time. He's on the road from the IPL. So that is why looking at the workload we have given him rest," Prasad said at a media conference.