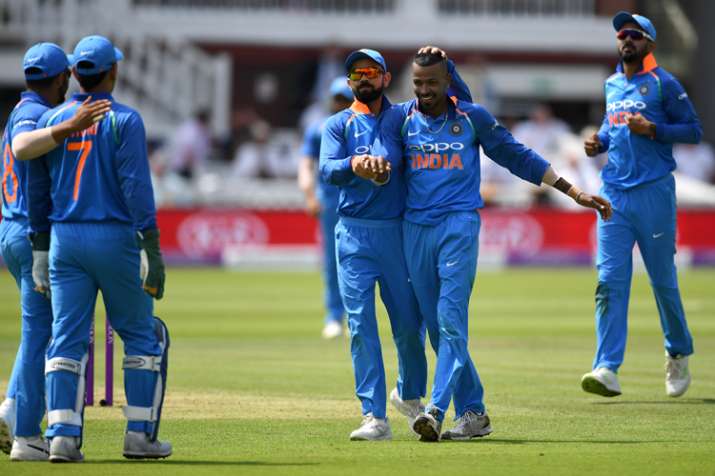 "So whether it's me backing three bowlers or during Asia Cup, every time it happened when Hardik wasn't available. We have had to play three fast bowlers. So every time, the all-rounder is there, you are not thinking about a third fast bowler unless you are playing in conditions which are totally against spin bowling."
This is how Indian captain Virat Kohli, in a very subtle yet strong manner, put across his point about Hardik Pandya's absence from the side, before the 1st ODI against New Zealand in Napier.
Kohli had gone on to add: "Only if someone like a Vijay Shankar or a Hardik doesn't play, then (only) three fast bowlers makes sense. Because if an all-rounder can chip in with a few overs of seam up, then you don't necessarily need a guy bowling 140kmph as the third bowler along with the two fast bowlers."
His wish has come true as the all-rounder has been included in the India squad for the ongoing limited-overs series against New Zealand, while his teammate KL Rahul will join India A squad that is playing 5 one-day games against England Lions after the Committee of Administrators (CoA) on Thursday decided to lift the bans on the duo, two weeks after they were sent home from the tour of Australia due to their sexist comments on a TV show.
Pandya will be sent to New Zealand to join the team at the earliest and KL Rahul will join India A squad to play the last 3 one-day games against England Lions. The inclusion of Pandya is great news for the Men in Blue as they take on the much fancied Kiwis in a series of 5 ODIs and 3 T20Is.
While Pandya has not yet proved to be a genuine all-rounder at the Test level, his aggressive batting coupled with medium-pace bowling does provide India with a few riches in an order boasting of specialist players. Tamil Nadu all-rounder Vijay Shankar whose famous choke in last year's Nidahas Trophy final, was called in as a replacement for Pandya might find his position threatened by the Baroda all-rounder, especially after Kohli leaves the team for a well-deserved rest once the first 3 ODIs are done and dusted.
Even though Pandya has at times provided India much needed control with the ball, especially in the middle overs, it is his explosive batting that should excite the Indians the most. The reason for this is India's not-so-reliable middle-order. The duo of Ambati Rayudu and MS Dhoni who are still making runs, don't inspire the confidence anymore of a ballistic finish to the innings. Here's where Pandya can be made good use of as he has the ability to hit sixes at will as he showed during his memorable 76(43) during the chastening Champions Trophy 2017 final against Pakistan.
Having Bhuvneshwar Kumar and Jasprit Bumrah to share the new ball with the likes of Kuldeep Yadav and Yuzvendra Chahal offering wickets with spin, Pandya provides India with the right balance in the team irrespective of the conditions. Going into the World Cup, Pandya is a very important cog in India's plans and it is pertinent that he has a number of matches under his belt before taking the plane to England. Letting him lick his wounds after the controversy was the worst thing for both the team and the cricketer. He would have stagnated as a player and self-doubt could dent his confidence up to quite an extent.
So sending him to play pending enquiry is in the best interests of a team which hopes to bring the Cup home later this year. 
(With PTI inputs)