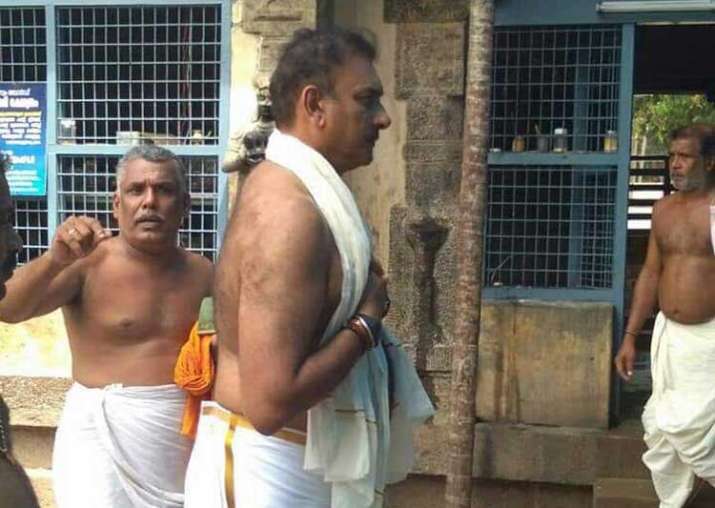 India cricket team coach Ravi Shastri and opener Shikhar Dhawan visited the famous Padmanabhaswamy Temple in Thiruvananthapuram, seeking some divine intervention ahead of the T20 series decider against New Zealand on Tuesday. Shastri and Dhawan offered their prayers to the Sree Padmanabhaswamy, the tutelary deity of the royal family of Travancore, Kerala. According to a report in the Outlook, Shastri offered a coconut to the "Agrashala Ganapathy", who is believed to ward of hurdles.
The 55-year-old Shastri, who took over as the India national cricket team's coach in July this year, spent some time at the temple and also offered 'butter' to Lord Hanuman.
Meanwhile, Dhawan too spent some time at the Temple office and posed for photographs with the authorities. 
With the three-match series locked at 1-1, the Indian team will take on New Zealand in the third and the final T20I at the Greenfield International Stadium in Thiruvananthapuram.
However, there is a considerable threat of rain hovering over the match.
The meteorological office has also predicted that the weather will be generally cloudy with a few spells of rain or thundershowers starting from Sunday till Wednesday.
Apart from this, it will be a thrilling contest between the two team which are evenly matches on the paper as well as on the field.
To clinch the series, India have to display a better show in both batting and bowling department while New Zealand would like to continue with the same momentum.