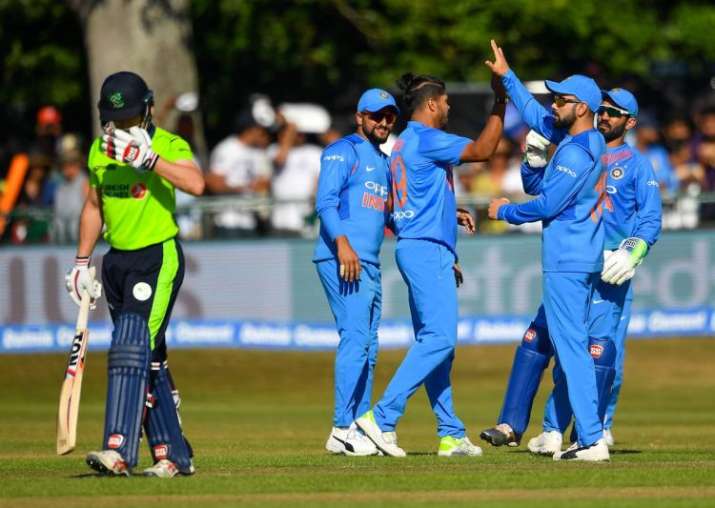 Highlights, India vs Ireland 2nd T20I:
Ireland vs India, 2nd T20I - Highlights:
What a comprehensive victory for Team India. They swept away Ireland and won the game by 143 runs. The misery started by Umesh Yadav and cleaned up by the spin duo of Yuzvendra Chahal and Kuldeep Yadav. Both of them two wickets each while the former took two. Ireland never got off in this run-chase as they lost their first on the very second ball of the innings. Only four of their batsmen crossed the double-digit mark and only eight boundaries were scored, which should explain the things pretty well. Earlier in the day, the hosts were rocked back by KL Rahul and Suresh Raina as they put up a 106-run stand. They took a liking to most of the bowlers and only Kevin O'Brien could manage to put some life in their bowling. However, at the fag end of India's innings, Hardik Pandya brutalized the medium pacer and took the score past 200, the second time in two games. (
SCORECARD
)
IND vs IRE Highlights, India in Ireland, 2 T20I Series, 2018, from Dublin:
23.22 IST: India (213/4) beat Ireland (70-all out) by 143 runs in Dublin to win two-match series 2-0. Chahal 3/21, Kuldeep 3/16. Boyd Rankin OUT! It's all over for Ireland. A flighted delivery around off, Rankin gives charge but misses the ball. DK collects the ball and does the rest. Ireland have been toppled for 70 inside 13 overs.
#TeamIndia clinch the two match T20I series 2-0.#IREvIND pic.twitter.com/MaUa8lUVS8

— BCCI (@BCCI) June 29, 2018
23.19 IST: Peter Chase comes in at no. 11.
23.19 IST: OUT! Chahal removes Thompson for 13. The spin duo looks so dangerous. A very flighted delivery pitches outside off. Thompson comes down the track to hit it over the boundary. The ball grips and turns and sneaks past the blade and clips the leg bail. Ireland is nine down with just 68 on the scoreboard.  Ireland 56/8 in 10.1 overs against India (213/4) in 20 overs in Dublin.
23.12 IST: Boyd Rankin is the new man in.
23.11 IST: OUT! Kuldeep Yadav removes Dockrell for 4. Catching practise! Tossed up ball around middle, Dockrell looks to clear Malahide. All he manages to do is clear up the crease for another man to take his place in the middle. He finds Umesh Yadav at long on to perfection. As easy as it gets. The Yadavs and the Indians rejoice. Ireland 56/8 in 10.1 overs against India (213/4) in 20 overs in Dublin
23.10 IST: FOUR! IRE 56/7 in 10 overs.
23.09 IST: FOUR! A googly this time from Chahal. Thompson goes after it with a cross bat and gets it to top edge it behind the keeper to the boundary.
23.05 IST: George Dockrell is the new batsman in.
23.04 IST: OUT! Kuldeep Yadav removes Wilson for 15. What an absolute beauty from Yadav first up. Irish captain was beaten all ends up. Cracker. Yadav loops it over the eye level of the batsman, lands it outside off and spins it in from there. Gary look s to play it on the off side but the ball comes in sharply and rattles into the leg stump. Ireland is reeling at 44/7 and it doesn't look too bright for them now. Ireland 44/7 in 8.3 overs against India (213/4) in 20 overs in Dublin.
23.02 IST: FOUR! Flighted around off, Gary reserve sweeps it through the third man region. A boundary results.
23.00 IST: Stuart Thompson is the new man for Ireland.
22.59 IST: OUT! Chahal removes Simi Singh for 0. And he is gone. Ireland are falling like nine pins. A tossed up delivery on off, Simi moves cross to sweep it fine but misses it. The ball hits his front pad and the umpire raises his finger straightaway. The replays shows that it would have hit his off stump. Ireland 36/6 in 7.2 overs against India (213/4) in 20 overs in Dublin.
22.57 IST: FOUR! Nice the previous ball, poor the next - Kuldeep. This one is outside off and cut away by Wilson. Yadav at third man runs to his left but fails miserably to keep the ball in play.
22.56 IST: Simi Singh is the new man in.
22.55 IST: OUT! Hardik Pandya removes Kevin O Brien for 0. The Irish procession continues! This time, the bowling hero Kevin O'Brien walks out as soon as he walked in, with a blob against his name. Hardik lands it on a length, Kevin looks to smash it over the on side. Ends up getting the top edge that flies high and towards third man. Kuldeep Yadav has his eyes on the ball and takes it nicely. A dab follows between Pandya and Kohli to celebrate. India well on top here. Ireland 32/5 in 6.3 overs against India (213/4) in 20 overs in Dublin.
22.51 IST: Kevin O'Brien walks in next.
22.50 IST: OUT! Chahal removes Andy Balbirnie for 9.  Bamboozled! Chahal tosses this one up in line of the stumps. Balbirnie lunges to block but misses the ball completely. Perhaps he was deceived in flight. The ball goes on to make contact with the middle and off. Yet again, the front foot is checked. Chahal is just fine. 184 needed off 84 for Ireland. Ireland 30/4 in 6 overs against India (213/4) in 20 overs in Dublin.
22.47 IST: Spin time! Yuzvendra Chahal is introduced into the attack.
22.41 IST: OUT! Siddarth Kaul gets his maiden International wicket. That is Siddarth Kaul's maiden T20I wicket. A front foot no ball doesn't deny him that. He bangs it short outside off, Shannon decides to take it on with a pull. But he skies it off the top edge. It goes up and lands in the safe hands of Rahul at covers. However, the front foot needs to be checked and hence it is taken upstairs. Replays find it to be very close, yet it is ruled in favour of the bowler. The reason being, there wasn't anything to prove that he had overstepped completely. Close margins in sport. Meanwhile, James had already walked out. IRE 22/3 in 3.4 overs
22.33 IST: OUT! Umesh strikes! After being hit for a maximum, the pacer has the last laugh. Porterfield is dismissed after 14. IRE 16/2 in 2.4 overs
22.31 IST: SIX! THAT WAS HUGE! Umesh Yadav just got served. Porterfield is smashing away right now. First maximum in the run chase! Length ball on middle, Porterfield clears his front leg as well as the deep mid-wicket fence with his heave. Massive strike that. IRE 16/1 in 2.3 overs
22.29 IST: FOUR! A misdirected short ball, Yadav pays the price! Banged short down the leg side, Porterfield camps back and gloves the pull. Gets it to the fine leg fence. IRE 8/1 in 2.1 overs
22.25 IST: Siddarth Kaul comes onto to bowl his first delivery in an Indian jersey. A proud moment for the speedster. Let's see what he comes up with. IRE 1/1 in 1 overs
22.21 IST: OUT! Umesh Yadav removes Paul Stirling for a duck on his second delivery.  Umesh and his bun are up and running in Malahide! Ireland one down for none. It is a length ball outside off, Stirling looks to stand tall and punch it. The ball moves a wee bit and takes the outside edge. It travels to first slip where Suresh Raina takes it with his fingers pointing skywards. Sets off to celebrate with his mates. IRE 0/1 in 0.2 overs
22.17 IST: The break wasn't a long one! We're back with the chase. Ireland have to score 214 off the 120 legal deliveries allotted. The Indians are in a huddle, planning their defense. The Irish openers, Paul Stirling and James Shannon are out in the middle. Umesh Yadav, sporting the bun that he made famous in the Indian T20 League, will make the use of the new ball first up. He had the most wickets in the Powerplay of that tourney, can he begin that way here?
22.09 IST: India post 213/4 in 20 overs against Ireland in Dublin. Rahul 70, Raina 69, Kevin O Brien 3/40. Kevin O'Brien to Hardik Pandya, 1 run. Good end for Kev! Very full outside off, smashed down to long off for just one. India finish on 213/4!
A final flourish by Pandya with 32 off 9 takes India past their score from Wednesday - they finish on 213/4. Massive effort needed with the bat to level the series.#IREvIND #BackingGreen pic.twitter.com/HFqIl6vXK6

— Cricket Ireland (@Irelandcricket) June 29, 2018
22.07 IST: FOUR! Length ball on the stumps, Hardik moves away and pulls it down the ground. Such is the contact that long on had no chance even with the dive to his left after running to his left.
22.05 IST: SIX! Nonchalant smash! No half measures there! Fuller length, Pandya gets his front foot out of the way and smashes it straight over the bowler's head. Doesn't bother looking at the ball post that.
22.03 IST: SIX! Meaty strike! The sound pretty much conveyed the result. On a length on the pads, Pandya stands tall and wrists it away. The ball goes off the meat of the blade over the deep square leg fence.
22.01 IST: SIX! It's time for the Hardik Pandya show! Full ball around off, he gets under it and smites it well over deep mid-wicket fence for a maximum.
21.59 IST: FOUR! Length ball outside off, Pandey finally makes some decent contact. Gets it through covers and the fielder in the deep is beaten, even after the dive.
21.57 IST: Hardik Pandya is the next batter.
21.56 IST: OUT! Kevin O Brien removes Raina for 69. Kevin O'Brien continues improving his numbers! He had just brought the cover fielder in the circle and pushed mid-wicket to the deep. He then bangs it short. Raina decides to take him on and plays the pull. Finds Dockrell to perfection in the deep on the mid-wicket fence. With this wicket, O'Brien becomes the joint-highest wicket-taker for Ireland in T20Is. India 169/4 in 17.3 overs vs Ireland in Dublin.
21.49 IST: FOUR! Carried or not? Perhaps not. On a length around middle and leg, Raina heaves it away to the on side. Dockrell, stationed at the deep mid-wicket fence, runs forward and dives. But the ball seems to have just bounced in front of him. Post that, it trickles away to the fence.
21.46 IST: SIX! This time Raina doesn't miss! It's the off-cutter on a length around off, Suresh stays deep in the crease and attempts the heave. Connects and makes a decent contact. Enough to take the ball sailing over deep mid-wicket.
21.43 IST: FIFTY! Suresh Raina hits his 5th T20I half-century off 34 balls. FOUR! 5th T20I fifty for Raina, this one has come after 9 innings! This is full on the pads, Raina just tickles it fine down the leg side to get to his milestone. Raises his bat post that. He's looking good for more.  India 143/3 in 14.5 overs vs Ireland in Dublin.
21.38 IST: Just four runs from the over. IND 135/3 in 14 overs.
21.33 IST: Manish Pandey is the next man in for India.
21.32 IST: OUT! Kevin O Brien removes Rohit for 0. Two in three balls for Kevin O'Brien, the man with the golden arm for Ireland. This is bowled very full outside off, Rohit looks to drive it away from his body. The ball takes the outer half of his blade and goes straight to Stirling at backward point. He makes no mistake and Kevin is up and running. This is Rohit's sixth duck in T20Is. Can Ireland strangle the Indians from here? India 128/3 in 12.3 overs vs Ireland in Dublin.
21.31 IST: Rohit Sharma walks in at number 4 for India.
21.30 IST: OUT! Kevin O Brien removes Rahul for 70. Oh yes, it does! What a dolly! Lottery for Ireland! O'Brien lands it on a length around off, Rahul looks to punch it down the ground off the back foot. But all he manages to do is chip it back to the bowler. Kevin accepts the offering and has his hands aloft in triumph. The ball stopped on the batter on this occasion, perhaps landing on one of the naughty areas that Kartik reported while analyzing the pitch earlier. So, no ton for Rahul today. India 128/2 in 12.1 overs vs Ireland in Dublin.
21.25 IST: SIX! Boom! Rahul takes a special liking to Dockrell, it seems. Tossed up delivery outside off, he stays deep in the crease and smashes it straight over the bowler's head for a maximum. A nice straight bat on display as he does that.
21.23 IST: SIX! Woah! What a shot that. Length ball outside off, Rahul stays leg side and smashes it inside out. Seems to have bounced in at first. The umpire was uncertain too. He has another look, courtesy the replays, and then it becomes clear that it has gone all the way.
21.21 IST: FIFTY! KL Rahul hits his 4th T20I half-century off 28 balls. SIX! KL Rahul is in ominous touch and brings up his fourth T20I half century. Short length delivery angling in, the Indian opener swivels a touch and deposits it over the fine leg fence. This compounds the happy problem for the Indian team management. India 107/1 in 10.1 overs vs Ireland in Dublin.
FIFTY!@klrahul11 is on song here as he brings up his 4th T20I 50 off 28 deliveries.#IREvIND pic.twitter.com/R6DP5xCOcv

— BCCI (@BCCI) June 29, 2018
21.17 IST: FOUR! Dockrell lands it on a short length. Raina has enough time to go back and pull it away to the deep mid-wicket fence for a boundary.
21.15 IST: FOUR! IRE 92/1 in 9 overs. A full toss and punished by Raina. Its outside off and right in the slot for the left-hander who gets down on his knee and lifts it over the 30-yard circle. The ball takes couple of bounces and races to the cover fence.
21.11 IST: FOUR! WOW! This is just a whip and look at the timing. A fuller length on middle and off, Rahul chops it with hard hands and finds the gap through mid-wicket and long on. A boundary results.
21.09 IST: SIX! Rahul is in mood to make the best our of given chance today. BOOM! Another one. What a hit. A gentle flighted delievry on middle and off, Rahul gets under the delivery and connects it beautifully. The timing is such that the ball goes for another maximum to the mid-wicket region.
21.07 IST: SIX! This time, with even better footwork. Walloped! It's outta here. No half measures from the elegant Rahul. A tossed up ball around middle and off, he comes down the track in jiffy and pulls the trigger. The ball goes high and handsome and is lost somewhere in the sky for a maximum.
21.05 IST: Simi Singh is back for another spell.
20.58 IST: FOUR! IND 55/1 in 5.4 overs. He is looking to upset the rhythm of the bowlers and he has been successful till now. Chase goes from over the wicket. Raina comes down the track and gets away from his stumps. Chase follows him with a full delivery on the pads but Raina is up to it. He gets under the ball nicely and clears the infield with ease. The ball races away to the mid-wicket fence for another boundary.
20.55 IST: Peter Chase is back for another over.
20.52 IST: SIX! What a shot to follow up. A fuller ball on the pads, Raina stays inside the line and lifts it over the mid-wicket boundary. He is looking good here.
20.50 IST: SIX! VINTAGE RAINA! Signature stuff from Raina. What a beauty. A fuller length outside off, Suresh gets down on his knee, lines the ball up and goes inside out. The ball sails over the cover boundary.
20.47 IST: SIX! Rahul tries to rebuild the momentum for India. BANG! KL is moving and how! A short delivery into the ribs, he swivels and times the ball up and over. The timing is sweet and as a result the ball sails into the crowd.
20.43 IST: Suresh Raina is the new batsman in.
20.42 IST: OUT! Chase removes Kohli for 9. Indian skipper is gone. Chase has the number of Virat Kohli twice in two games. A back of a length ball on the hips. Kohli takes few steps down the track to hit over the square leg boundary. The ball kept rises on him and as a result, a leading is found. Dockrell comes running from the boundary and takes a nice diving forward catch. India 22/1 in 2.4 overs vs Ireland in Dublin.
We've got the big one first up! Virat Kohli hits it high in the sky off Chase and Dockrell takes a great catch to dismiss the India captain for 9! India 22/1 after 2.4 overs.#IREvIND #BackingGreen pic.twitter.com/1VtkPopaGG

— Cricket Ireland (@Irelandcricket) June 29, 2018
20.38 IST: FOUR! Swatted across the line from KL. A length ball on middle and leg, Rahul gets forward and goes hard at it. The ball finds the gap between mid-wicket and mid on for another boundary.
20.35 IST: Boyd Rankin to start from the other end.
20.34 IST: FOUR! So graceful. So pleasing to the eye. Another tossed up delivery around off, Rahul comes down the track and gets under the ball. He gets it over the infield and the ball races to the boundary at covers.
20.32 IST: FOUR! He comes down the track straightaway. Nice and easy from KL. A flighted one around off, Rahul shimmies down the track and lifts it up and over the bowler for a boundary.
20.30 IST: We are all set for the action. Players are making their way out to the middle. KL Rahul and Virat Kohli are all set to face the music. For Ireland, Simi Singh will take the new ball.
20.25 IST: It's time for the national anthems of both the teams. It'll be visitors' first followed by the hosts'.
20.20 IST: Virat Kohli, the Indian captain, starts by saying that he would have batted first as his team is looking to get the best out of the pitch and utilize the green tinge on it. Adds that he would like his team to repeat the performance from the last game as it was very clinical from the boys. Ends by saying that there are four changes to the playing XI. KL Rahul, Dinesh Karthik, Siddarth Kaul and Umesh Yadav come in for MS Dhoni, Shikhar Dhawan, Bhuvneshwar Kumar and Jasprit Bumrah.
20.15 IST: Gary Wilson, the Irish skipper, says that the green wicket has influenced his decision. Concedes that they lost the game to the Indian spinners and hence, would try to do better in that aspect. States that William Porterfield is in for Stuart Poynter and that he himself will keep wickets.
20.10 IST: India Playing XI: Rohit Sharma, Lokesh Rahul, Virat Kohli (c), Suresh Raina, Manish Pandey, Dinesh Karthik (w), Hardik Pandya, Kuldeep Yadav, Umesh Yadav, Siddarth Kaul, Yuzvendra Chahal
20.05 IST: Ireland Playing XI: Paul Stirling, James Shannon, William Porterfield, Andrew Balbirnie, Gary Wilson (w/c), Simi Singh, Kevin O Brien, Stuart Thompson, George Dockrell, Boyd Rankin, Peter Chase
20.00 IST: TOSS! Ireland win toss, opt to bowl vs India in Dublin. The visitors lead 2-match series 1-0.
Ireland wins the toss and elects to bowl first against #TeamIndia.#IREvIND pic.twitter.com/BGYbP4xZAI

— BCCI (@BCCI) June 29, 2018
19.55 IST: "Important to start on a winning note," Rohit Sharma, who scored a match-winnning knock of 97 in the 1st T20I, said on Wednesday.
Important to start on a winning note - Rohit Sharma#TeamIndia openers - @ImRo45 & @SDhawan25 speak about their match-winning partnership, the importance of starting a long tour on a high note and more - by @RajalArora

▶️https://t.co/OLn5tj5pfG #IREvIND pic.twitter.com/GXPIhrNTYl

— BCCI (@BCCI) June 28, 2018
19.50 IST: Malahide Cricket Club Ground at The Village, Dublin looks all set to host the IRE vs IND 2nd T20I .
What a view! 😍#IREvBAN #BackingGreen pic.twitter.com/UzoS0rEvdl

— Ireland Women's Cricket Team (@IrishWomensCric) June 29, 2018
19.40 IST: Siddharth Kaul receives his Team India cap from MS Dhoni. He becomes the 305th T20I player for India.
19.35 IST: Indian batsmen practice hard for the 2nd T20I against Ireland.
Training ✅

It's match day and the boys look all set for the 2nd T20I against Ireland.#IREvIND pic.twitter.com/5Id8AECLtp

— BCCI (@BCCI) June 29, 2018
19.30 IST: Here are the teams for Ireland vs India, 2nd T20I:
India: Virat Kohli (C), Rohit Sharma, Shikhar Dhawan, KL Rahul, Manish Pandey, Suresh Raina, Dinesh Karthik, MS Dhoni (wk), Hardik Pandya, Kuldeep Yadav, Yuzvendra Chahal, Bhuvneshwar Kumar, Jasprit Bumrah, Umesh Yadav, Siddarth Kaul.
Ireland: Gary Wilson (C & wk), Andrew Balbirnie, Peter Chase, George Dockrell, Josh Little, Andy McBrine, Kevin O'Brien, William Porterfield, Stuart Poynter, Boyd Rankin, James Shannon, Simi Singh, Paul Stirling, Stuart Thompson.
Brief Preview: The Indian cricket team demonstrated their dominance on Irish soil after the Virat Kohli led Team India demolished the hosts to win by 76 runs at the Village in Dublin on Wednesday. Shifting their focus onto the second and final match of the series, India would aim to strike the perfect balance while ringing changes in the staring XI at Dublin.
The Men in Blue got their three-month-long tour of Ireland and England off to a fine start with a thumping 76-run win on Wednesday. (Read full preview)