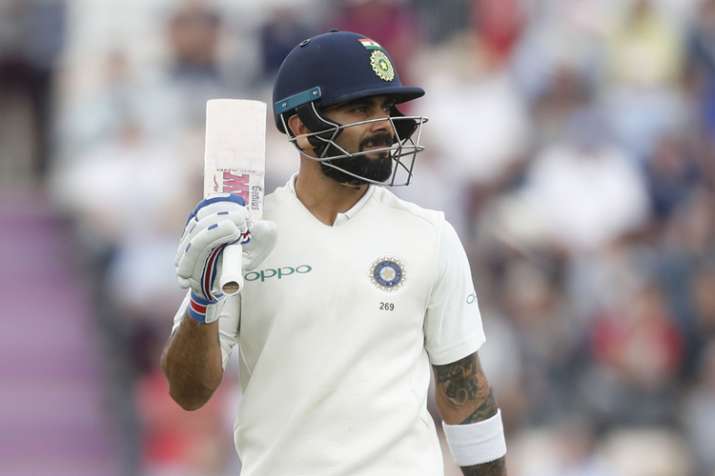 It was an eventful day for Virat Kohli in Southampton on Friday as he achieved the feat of scoring 6000 runs in Test cricket.  Kohli has now become the second fastest Indian batsman to reach 6000-run mark in Test cricket after batting in 119 innings. The fastest Indian to reach 6000 Test runs was none other than Sunil Gavaskar, who did it in 117 innings.
Kohli surpassed a couple of Indian veterans like Sachin Tendulkar (120 Innings), Virender Sehwag (121 Innings) and Rahul Dravid (125 Innings), to become the second fastest Indian in the elite list of achievers.
However, Kohli left short of his half-century and got out on 44 runs by English seamer Sam Curran.
After reaching the milestone, the hotel staff in Southampton arranged a special surprise for the Indian skipper. Kohli was so amused by the hotel staff's "sweet gesture" that he tweeted the photo of a special note by them. 
"What a sweet gesture by the staff at the Harbour hotel in Southampton. Great Hospitality," he tweeted.
Run-machine Kohli is in outstanding form on this tour and has silenced all his critics, who earlier slammed him for his poor show during his last England outing in 2014.
While on the day two, Cheteshwar Pujara carved out one of his finest Test hundreds, a knock punctuated by a mix of trademark tenacity and grace, as India eked out a slender 27-run lead against England in the fourth match on Friday.
Owing to the 30-year-old's unbeaten 132, his first century outside the sub-continent since 2013, India recovered from a precarious 195 for eight to go past England and finish at 273 in their first innings.