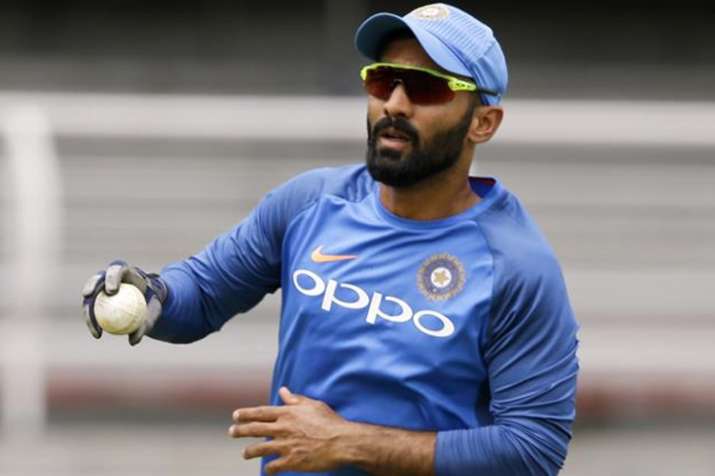 Former India cricketer and opening batsman Virender Sehwag believes that Dinesh Karthik should get a chance ahead of Suresh Raina during the ODI series against England, starting on July 12 in Nottingham.
"I feel Dinesh Karthik might get a chance ahead of Suresh Raina as Karthik's performance in the Nidahas Trophy and IPL 2018 was impressive. I think now is the best time for Karthik to play," Sehwag told IndiaTV during "Cricket Ki Baat" show. (Also Read: Virat Kohli ecstatic after bagging T20I series)
The team composition of the Men in Blue has been a talking point since the beginning of the tour since the squad is oozing with batting talent. Kohli has surprised everyone by promoting KL Rahul to No. 3 while playing as a floater himself. Sehwag felt that it was the right decision and they should continue with it during the ODIs.
"I think KL Rahul should come at No.3 because Dhawan and Rohit will continue to open. Captain Kohli will come at No.4. I feel this will be India's batting order. I don't feel there will be too many changes to the playing XI," quipped Sehwag.
Viru, as he is fondly known, also touched on a number of talking points after India clinched the T20I series 2-1 with an emphatic win in Bristol on Sunday. He emphasised that India start as favourites to win the ODI series if they continue playing in the same way as they have so far on the tour.
"I feel if India play the ODIs the same way they played in the T20I series, they will be able to beat England because in my opinion, the Indian team is stronger than England in both batting and bowling departments. I feel India will clinch this series 3-0 or by 2-1," he said. (Also Read: KL Rahul attains career-best third T20I ranking while Virat Kohli slips)
While India have had a lot of positives to reflect upon from the recently concluded T20I series, the Delhi-born batsman pointed out their fielding as one of the letdowns during the series. He stressed upon the need to put up a better show during the ODIs and said: "I think the Indian bowlers, led by Umesh Yadav, are capable of stopping this England batting line-up. But, India need to improve their fielding. They dropped a lot of catches in the T20I series and if you give chances to the batsmen in ODI series, it will be difficult for you stop them later. England have players like Jason Roy, Alex Hales, Jos Buttler, Joe Root who can be dangerous for India and the visitors will need to be wary of them."
In Sehwag's view, the performance of the spinners - Kuldeep Yadav and Yuzvendra Chahal - will be key to India's chances. "India's spin duo of Kuldeep Yadav and Yuzvendra Chahal have the ability to overpower England in ODIs. A lot will depend on how the English batsmen play against Kuldeep and Chahal in the middle overs," commented the 39-year-old.
The pitches in England have in recent times seen a surge in the scores posted by teams with the hosts themselves putting up 481 - the highest score in T20Is - against Australia last month. Sehwag opined that the batting-friendly conditions that will be on offer will make the toss very crucial.
"Nottingham has been a batting-friendly ground and two 400 plus scores were set there. But on both occasions, the scores were set by the team which batted first. So, it will be interesting to see who bat first in Nottingham," said Sehwag.
When asked about how much should the Indian team be bothered about the slight dip in form of the opener Shikhar Dhawan, the Multan of Sultan replied: "I don't think Shikhar Dhawan's poor show in T20I series will affect India's batting in the ODI series. It happens that you sometimes don't perform well in 3 or 4 matches but when you come into a different format, you have more time to settle down. In T20s, there are 120 balls while in ODIs, there are 300 balls. So, Dhawan will have more time to settle down. I am sure he will deliver in the ODI format."
He cited the example of Rohit Sharma to illustrate this point as the latter was suffering from poor from throughout the IPL but has already scored a century and a 97 in the five matches played so far on the tour. "Before the start of the tour, we were fretting over Rohit Sharma's poor form but we saw how he scored a ton in the final match and led India to T20I series victory. So, I believe Dhawan too will perform in the ODI format," he added.
Indian captain Virat Kohli's form on this tour has been and will continue to be under a lot of scrutiny considering his poor returns on his last visit in 2014 for a full tour. But Viru backed Kohli to score heavily in the coming days. 
"There are three ODIs against England and I feel Virat Kohli will definitely score a century in one or two matches. As I have said before, India's batting doesn't revolve around Kohli in limited-overs format. There are other players such as Dhawan, Rohit, KL Rahul, MS Dhoni and Suresh Raina who are capable of winning matches for the team."
On the role that veteran cricketer MS Dhoni plays in the team, Sehwag felt that the ex-India captain's huge experience continues to make him an invaluable asset to the team. "MS Dhoni's inputs from behind the wicket are very crucial for the Indian bowlers. Dhoni is an experienced player and he shares his inputs with the bowlers which help them in bowling the right areas to different batsmen," opined Sehwag.
Here's Virender Sehwag's Playing XI for the first ODI: 
1.Shikhar Dhawan, 2.Rohit Sharma, 3.KL Rahul, 4.Virat Kohli, 5.Dinesh Karthik, 6.MS Dhoni, 7.Hardik Pandya, 8.Kuldeep Yadav, 9.Yuzvendra Chahal, 10.Umesh Yadav, 11.Siddharth Kaul