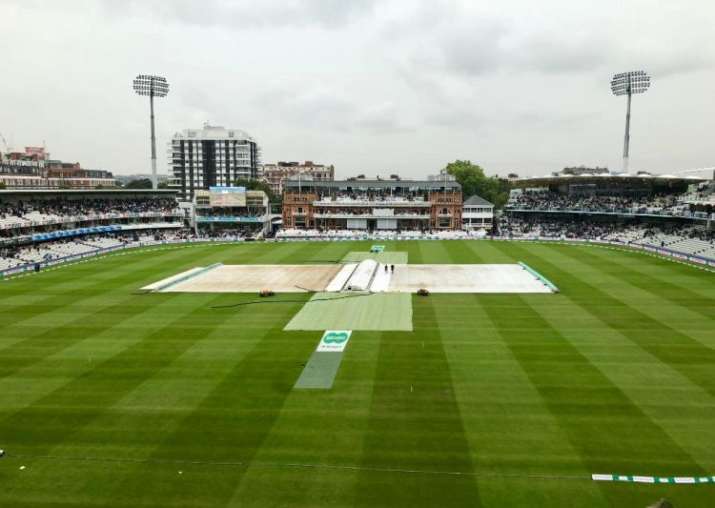 Following persistent rainfall since morning at Lord's, the entire first day of the second Test match between India and England washed out, that too without the toss, on Thursday. 
The last time a complete day's play was washed out at Lord's in a Test match between England and Pakistan in May 2001. Incidentally, it was also the opening day of the Test match.
Frustrating the two teams, incessant rain washed out all three sessions of the second Test. The players did not even step out for warm-ups due to the rain, lashing the city of London since last night.
The match officials decided to take an early lunch, moving the scheduled break ahead by 30 minutes. Even after lunch, there was no respite from the rain and it went on throughout the afternoon. 
A few players, including Virat Kohli, Dinesh Karthik, Shardul Thakur, Jasprit Bumrah, Alastair Cook and Keaton Jennings, did make their way to the indoor nets to pass time. 
As the scheduled tea break came over, there was some weather clearance in the distance and the rain did slow down. The umpires came out and had a chat with the ground staff as well, who were regularly cleaning off water from the covers. At the time of writing, there was no official word on play though.
There is more rain forecast for this weekend as also on Monday, and as such this match could see routine rain breaks.
England are leading the five-match series 1-0 after winning the first Test in Birmingham by 31 runs.
England did name a first 12 on Wednesday, with 20-year-old Olliver Pope waiting to make his Test debut. India have not announced their playing XI but skipper Virat Kohli had said that he was tempted to play a second spinner.
That thought might well have changed now, given the weather conditions and forecast ahead. 
(With PTI inputs)