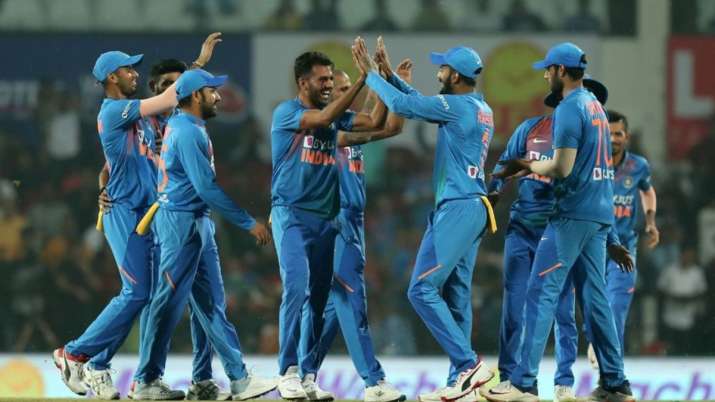 Highlights, India vs Bangladesh, 3rd T20I
IND vs BAN, Highlights: 
India and Bangladesh are set for the series decider in Nagpur after both the sides won a game each in the three-match series. Bangladesh stunned
Rohit Sharma
-led Indian team in the first T20I in Delhi as
Mushfiqur Rahim
's heroics sealed a comfortable seven-wicket victory for the hosts. However, India made a remarkable comeback in the second match after a fiery innings from Rohit pulled India back in the series. There will be significant burning topics for both the sides - the form of
Shikhar Dhawan
is a sign of worry for the hosts, as is the sloppiness of Rishabh Pant behind the wickets. On a spin-friendly VCA wicket, Bangladesh's worries against leg-spin may become all-the-more significant. We're in for an exciting contest between the bat and ball, and you can follow the updates from the final T20I on IndiaTV.
Highlights, India vs Bangladesh, 3rd T20I: IND (175/5) beat BAN (144 in 19.2 overs) by 30 runs, win series 2-1
22.38 IST: Deepak Chahar to Aminul Islam, OUT! TIMBER! INDIA HAVE WON THE SERIES! This is a toe-crusher by Chahar and he has TAKEN A HAT-TRICK! He has become the first Indian to take a hat-trick in T20Is.
22.36 IST: Chahar to Mustafizur, OUT! CAUGHT! Yes, he can! Chahar has taken a wicket and completed his 5-fer. He has become just the 4th Indian to do so. Length ball outside off, Mustafizur makes room and looks to cut uppishly. The ball goes straight to Shreyas Iyer at deep point who takes an easy catch. 
22.34 IST: Chahar to Shafiul, OUT! Slower bouncer again. This is brilliant bowling, and equally impressive captaincy from Rohit Sharma. Perfect use of his pacers on a wicket where advantage to batsmen easily outweighed that to bowlers.
22.29 IST: Chahal to Mahmudullah, OUT! The Bangladesh captain had little option but to go for the slog. He fails, however, completely missing the line. Clean bowled!
22.23 IST: Dube to Afif, OUT! Dube on hat-trick! Afif didn't expect the short ball as he charged down the wicket. Caught surprised by the length, fumbles and tries to flick. An outside edge forces the ball in an air and Dube takes a good catch.
22.19 IST: Dube to Naim, OUT! BOWLED! He bowls the perfect yorker on the off pole. Naim tries to make room and carve it out but misses. Dube hits and Naim has to walk back.
22.15 IST: Khaleel to Naim, FOUR! Enough room for Naim and he drives it over covers.
22.03 IST: Dube to Mushfiqur, OUT! First international wicket for Dube! And what a time to get it! And what a player to dismiss! Dube strikes with his first ball of the new spell. A thick inside edge goes straight at the wicket after Rahim attempted to cut the ball going marginally outside off.
21.55 IST: Chahar to Mithun, OUT! THIRD WICKET! Great display of bowling in tough conditions. Chahar takes the pace off the delivery and bowls it wide, inviting Mithun to hit. No power in the shot, however, and he is caught in the deep.
21.54 IST: Chahal to Naim, SIX! Steps down the track and goes straight over the bowler's head. This is too easy for Naim!
21.53 IST: Chahal to Naim, FOUR! Wide, allows Naim to open his arms and drives it towards the covers. Bangladesh are closing in on their first-ever T20I series win over India.
21.49 IST: Sundar to Naim, FOUR! EDGED AND FOUR! Chance for a catch and a stumping too!
21.49 IST: Sundar to Naim, FOUR! Naim gets to his fifty in style! Floated outside off, Naim gets down on one knee and sweeps this one towards backward square leg for a boundary.
21.47 IST: Sundar to Mithun, SIX! The wicket is too good for batsmen now. Sundar goes full and Mithun goes over bowler's head for a six.
21.41 IST: Dube to Mithun, FOUR! Too short! Dube is struggling with his length here. Mithun guides it over the wicketkeeper's head.
21.40 IST: Dube to Naim, FOUR! Length ball on the off and Naim charges down the track again. A straight shot!
21.35 IST: Sundar to Naim, SIX! Charges down the track and hits it towards long-on! 
21.30 IST: Chahal to Mithun, FOUR! Quick deliveries on this surface are an invitation to hit. This one was short as well, and Mithun places it sweetly towards the midwicket.
21.25 IST: Dube to Naim, FOUR! Almost the same place, but this time, it was intended. Naim times it brilliantly towards the deep third man. Excellent placement on a marginally short and outside-off delivery.
21.24 IST: Dube to Naim, FOUR! Thick outside edge! Naim wanted to go for the cover drive but the ball sails to third man instead.
21.21 IST: Chahal to Naim, FOUR! Third successive boundary of the over! This time, a cut to deep backward point.
21.20 IST: Chahal to Naim, FOUR! Dismissed towards deep mid wicket.
21.20 IST: Chahal to Naim, FOUR! Straight down the ground!
21:09 IST: Chahar to Sarkar. OUT! A needless attempt and off goes another wicket for the visitors. Chahar has two in two and Bangladesh are in trouble now.
21:06 IST: Deepak Chahar to Liton. OUT! Short and low outside off and Liton looks to clear the deep mid-wicket boundary only to find Washington Sundar near the ropes. 
21:04 IST: Remember, India have lost all the four matches they have defended a total in T20Is in 2019. Their latest being against Bangladesh in New Delhi in the series opener.
20:57 IST: Khaleel to Liton. FOUR! Half-volley outside off and Liton comfortably drives it down mid-off for a four.
20:55 IST: Khaleel to Liton. FOUR! A wrist flick, perfectly timed and the ball jumps over the mid-wicket region for a boundary. 
20:53 IST: Liton Das and Mohammad Naim are at the crease. Das is on strike. Khaleel Ahmed opens the attack
20.45 IST: India end their innings on 174/5. After a shaky start, KL Rahul and Shreyas Iyer built the innings well before unleashing fours and sixes in all parts of the ground. Shreyas, in particular, was at his explosive best as he made the leg-side his play ground. Aminul Islam will probably bear the brunt of dropping him in the dressing room at the break, but with dew factor coming into play, it will be interesting to see how Indian bowlers plan to stop the Bangladesh batsmen.
20.37 IST: Mustafizur to Pandey, FOUR! Mustafizur wanted to go for a yorker, but this one comes just below Pandey's waist. He pulls it towards midwicket. Important runs! 
20.31 IST: Shafiul to Pandey, FOUR! Clever! Another short-pitched delivery, but Pandey simply guides it past short third man.
20.29 IST: Shafiul to Pandey, FOUR! Short pitched but on the ribs. Iyer opens the space and pulls it brilliantly towards midwicket.
20.25 IST: Sarkar to Shreyas, OUT! Slower again. Shreyas times it towards the long-off, but the slower delivery doesn't allow the ball to travel the distance.
20.24 IST: Sarkar to Shreyas, FOUR! A low full toss on middle and leg, Iyer flicks this one exactly in the gap at mid-wicket for a boundary.
20.21 IST: Sarkar to Rishabh, OUT! Pant's poor outing ends miserably. Wanted to loft it over midwicket but completely fails to connect. The slower ball does the trick. Bowled!
20.14 IST: Mustafizur to Shreyas, FOUR! Poor delivery. Short pitched and perfectly in line for Shreyas to pull it over fine leg.
20.13 IST: Aminul to Shreyas, 1 run, 50! Maiden half-century for the Mumbai batsman.
20.11 IST: Aminul to Shreyas, SIX! MY WORD! Longest of the three, this one. Between long on and the midwicket.
20.10 IST: Aminul to Shreyas, SIX! Effortless! Consecutive sixes from Shreyas! 
20.08 IST: Aminul to Shreyas, SIX! He loves the leg-side, doesn't he? This time, he waits for the delivery, gets under it and dispatches it over long on!
20.05 IST: Sarkar to Shreyas, SIX! Monster! This wasn't a fast delivery, but what a powerful shot from Shreyas! Slightly full, and Shreyas dispatches it over mid-wicket.
19.58 IST: Al-Amin to Rahul, OUT! CAUGHT! End of an important innings from KL Rahul. He will be disappointed, but that would do him a lot of good. He goes for a six over long-off, but the ball fails to travel the distance.
19.55 IST: Sarkar to Rahul, 1 run, 50! Brilliant innings on a tough surface. Rahul scores his sixth half-century in T20Is.
19.48 IST: Aminul to Shreyas, FOUR! Goes on the backfoot and uses his wrists impressively! Flatter delivery and this one has been pulled away to midiwicket.
19.48 IST: Aminul to Shreyas, SIX! Iyer joins the party! Pitches it up and that's a trademark Shreyas Iyer six. Gets under the ball and directs it over the bowler's head. That's gigantic!
19.48 IST: Aminul to Rahul, FOUR! Poor delivery. Aminul keeps it short and Rahul punishes him. Goes for the pull towards midwicket.
19.46 IST: Mustafizur to Rahul, FOUR! STAND AND DELIVER! Length, and this has been dismissed from KL. Lofts it over mid-off.
19.43 IST: Mustafizur to Rahul, FOUR! Finally picks the gap! This one was short and KL Rahul goes off the backfoot and punches it towards backward point.
19.39 IST: Aminul to Rahul, 1 run. Rahul is getting fidgety trying to find the gaps. He's frustrated, but he and Shreyas are keeping the scoreboard ticking. It is important both stay at the wicket for the moment.
19.32 IST: Aminul to Rahul, FOUR! Cuts it towards deep backward point. This one was short from Aminul, and Shreyas pounces on it.
19.30 IST: Shafiul to Rahul, FOUR! Talk about putting salt on wounds. Shafiul pitches it up and Rahul goes for the cover drive again. Gets a thick-edge which is way beyond Aminul's reach.
19.29 IST: Shafiul to Shreyas, DROPPED! SITTER! Oh my word. Shafiul can't believe his eyes. An outside-edge on a cover-drive takes the ball to backward point, but Aminul makes a mess of it.
19.28 IST: Shreyas Iyer is the new man in.
19.26 IST: Shafiul to Dhawan, OUT! Shikhar looked to dominate the bowler, but this time he mistimes it. He wanted to guide it over long-on, but the ball instead sails high over mid-wicket. Mahmudullah with a brilliant catch.
19.23 IST: Mustafizur to Dhawan, FOUR! GLORIOUS! Mustafizur had made a good comeback in the over, but this delivery has undone it all. Credit to Dhawan - his timing today has been incredible. Mustafizur gives him room and keeps it marginally full, and Dhawan drives it through the covers.
19.20 IST: Mustafizur to Dhawan, FOUR! Poor start from Mustafizur. This one is back on the length, on to the body, but on Shikhar's radar. He simply pulls it brilliantly towards square leg.
19.20 IST: Mustafizur Rahman replaces Al-Amin Hossain.
19.15 IST: Shafiul to KL Rahul, FOUR! This time towards the deep backward point! Stays at the crease and times it through point.
19.14 IST: Shafiul to KL Rahul, FOUR! GORGEOUS! Rahul comes down the track! Anticipates a fuller one and directs it straight over mid-off!
19.11 IST: Al-Amin to Dhawan, FOUR! Lofts it over mid-on this time! The southpaw is taking the charge. Goes on the front foot this time.
19.10 IST: Al-Amin to Dhawan, FOUR! What a timing on that! Dhawan pulls this one. Short pitched and marginal outside off. Dhawan doesn't overhit it, but the timing was impeccable.
19.09 IST: Maiden! The first maiden of the series, and what a time to bring it. India under pressure.
19.08 IST: KL Rahul is the new man in.
19.05 IST: Shafiul to Rohit, OUT! BIG BLOW! Seamed up, and knocked over! Shafiul has got Rohit once again! What a start this is for Bangladesh. India made a considerably slow start and Rohit decided to flick the delivery, but there was no footwork. A thick inside-edge went straight at the stumps.
19.04 IST: Shafiul Islam to bowl from the other end.
19.00 IST: Al-Amin to Rohit, first runs for India on the second delivery. Short pitched, and Rohit goes on the backfoot and punches towards covers.
18.58 IST: The players are out on the field. Rohit to take strike, Al-Amin to bowl.
18.53 IST: India have obviously gone with a bowler short. Considering the side's reasonable troubles throughout the series with leaking runs in crucial stages - is it safe? If one of the five available bowlers go wrong, it will not be easy for Rohit - none of the top six is even a part-timer. Remember - Khaleel Ahmed's form has been far from inspiring and the likes of Washington Sundar and Shivam Dube have leaked runs.
18.42 IST: Another look at Playing XIs:
A look at the Playing XI for #TeamIndia.

Manish Pandey IN place of Krunal Pandya. pic.twitter.com/ogpNlT2TH5

— BCCI (@BCCI) November 10, 2019
18.40 IST: Manish Pandey is in for India in the place of Krunal Pandya. A brave call as India's bowling unit goes thinner. Mosaddek Hossain is out for Bangladesh with an injury, as Mohammad Mithun replaces him.
18.36 IST: Playing XIs:
India: Rohit Sharma(c), Shikhar Dhawan, Lokesh Rahul, Shreyas Iyer, Manish Pandey, Rishabh Pant(w), Shivam Dube, Washington Sundar, Deepak Chahar, Yuzvendra Chahal, K Khaleel Ahmed
Bangladesh: Liton Das, Mohammad Naim, Soumya Sarkar, Mushfiqur Rahim(w), Mahmudullah(c), Afif Hossain, Mohammad Mithun, Aminul Islam, Shafiul Islam, Mustafizur Rahman, Al-Amin Hossain
18.31 IST: TOSS! Bangladesh win toss, opt to field against India in Nagpur. The three-match series is level at 1-1.
18.20 IST: We're 10 minutes away from the toss. Spend your time reading this interview of former Indian wicketkeeper Deep Das Gupta, who has weighed in on the criticism of Rishabh Pant. [READ]
18.11 IST: Yuzvendra Chahal made a solid comeback after spending time on the sidelines in the limited-overs format. The leg-spinner is currently the most economical bowler in the series so far (min. 4 overs), and Bangladesh batsmen have had a difficult time dealing with him. Here's what Rohit Sharma had to say on Chahal: [READ] 
18.03 IST: Rohit Sharma, the Indian stand-in skipper, defended his significantly inexperienced squad after the defeat in the first T20I. He lived up to his words and played the same XI in the second, and shined with the bat himself to guide India to an easy win in Rajkot. Read to know how he did it.
17:53 IST: Bangladesh kickstarted the series with a comprehensive win over India. Both, captain Mahmudullah and Mushfiqur Rahim attempted to downplay the size of the victory in the post-match conference. It was a subdued celebration - the one which hints at the rising confidence amongst them as a team, and their denial to be overawed, no matter who the opposition. However, India's mauling of the side in the second T20I has put Bangladesh in a little trouble. Here's what Bangladesh's coach, Russell Domingo had to say in the pre-match press conference. [Read]
Brief Preview: India will be eyeing their first T20 International series win at home this season when they take on Bangladesh in the decisive third game here on Sunday, with the hope that their fringe players contribute significantly to a victory. [FULL PREVIEW]