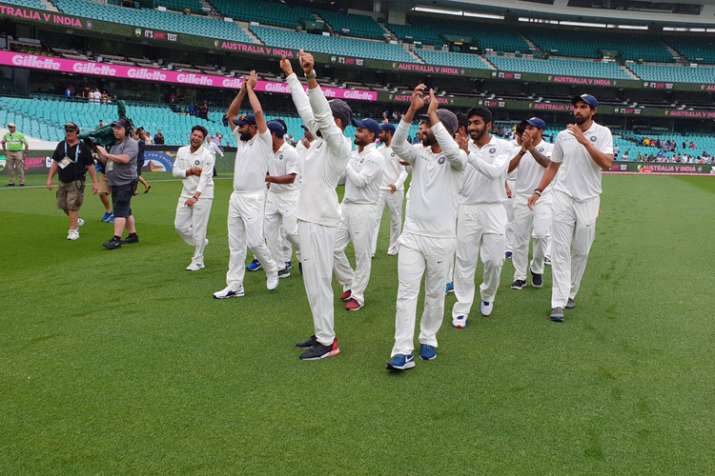 India scripted history by claiming their first-ever Test series victory on Australian soil since they first toured the country in 1947-48. After a rain-hit draw at the Sydney Cricket Ground spoilt India's chances to win an unprecedented third match in a series in Australia, the visitors won 2-1 having won in Melbourne and Adelaide while losing the Perth Test.
1 - The result meant that India have become the first Asian nation to win a Test series in Australia. None amongst Pakistan, Sri Lanka or Bangladesh have been able to trump the hosts Down Under in the history of the game.
Between 1947 (1st tour by an Asian team to these shores) and the just concluded Sydney Test, Asian teams played a total of 98 Tests in Australia winning just 11 of them.
29 - The number of Asian captains who have tried to win a series here but a mere 8 were able to win Tests, let alone a series. The magnitude of what Kohli and his team can be gauged from the fact.
India came close in 1986 under Kapil Dev (drawing all three matches), then in 2004 under Sourav Ganguly where they were denied by Steve Waugh in his farewell Test.
The last time India won 2 Tests in a series Down Under was 1977, but they still ended up losing the rubber as the Australians won the last three matches to take the series 3-2.
1 - South Africa remains the only country (barring Afghanistan and Ireland where India haven't played any Tests) where India have failed to win a Test series. As a matter of fact, no Asian team has managed to achieve this feat.
0 - No Australian managed to score a century during the duration of the series. This is the first time this has happened to the hosts that there were no tons scored in a series of four or more Tests.
2 - Out of the twelve captains to have led India on these shores, Virat Kohli's two wins on this tour is the joint-most along with Bishen Bedi, who won an equal number of Tests on the 1977 tour.
0 - No other Asian captain leave alone an Indian has won four away Test matches in South Africa, England and Australia in a single calendar year.​
1 - So close yet so far: Jasprit Bumrah who has had an astounding maiden year in Test cricket finished the series at 49 career wickets. The rain in Sydney means that he will have to wait longer for that elusive 50th wicket.