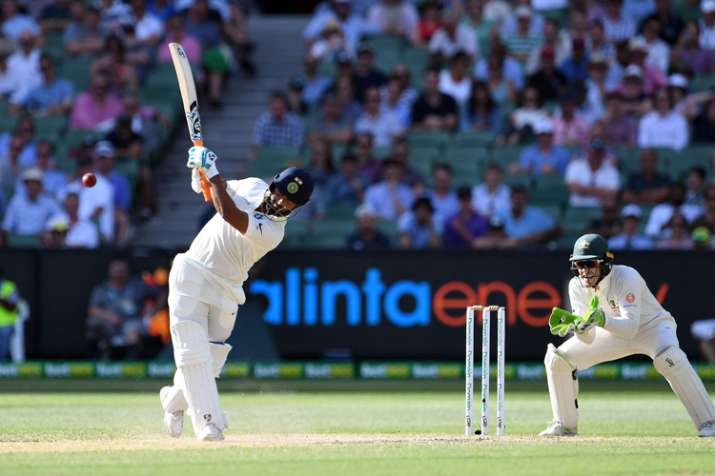 Tim Paine. Australia's new master sledger! The captain has during the ongoing Test series against India emerged as one of the funniest sledgers going around and you can't blame him, can you? Not on Day 3 of the Boxing Day Test. Having conceded a lead of nearly 300 runs in the first innings, and then making an unexpected comeback with five early Indian wickets, the Aussie skipper couldn't help but engage a little tete-a-tete with the always buzzing Indian gloveman Rishabh Pant.
Standing up to the stumps during the 26th over of the Indian innings that Natha Lyon bowled, Paine had a lot of advice for Pant once the Test series gets over, who hasn't found a place in the ODI squad. From babysitting his kids to playing for the Hobart Hurricanes in the Big Bash League (BBL), Paine threw open a lot of options for Pant while Lyon kept teasing the left-hander with his loop and drift.
It almost worked as Pant tried to hit the fourth ball over the ropes after advancing a couple of steps, only managing to get the toe end of the bat on the ball as it bounced before reaching long-off. Here is the full transcript of the funny interaction during which Pant kept quiet, as gathered by news.com.au.
Tim Paine doing some recruiting for the @HurricanesBBL out in the middle of the 'G... 😂 #AUSvIND pic.twitter.com/6btRZA3KI7

— cricket.com.au (@cricketcomau) December 28, 2018
Full transcript:
Tim Paine: "It actually s***s me Finchy, I come out and batted my arse off and then this bloke comes out and bats with a door snake. He does what he wants, he hits everything in the middle and makes it look easy, hits sixes and fours for fun."
(Lyon bowls ball)
Tim Paine: "Tell you what, big MS (Dhoni) is back in the one-day squad too, we might get him down to the (Hobart) Hurricanes this bloke, we need a batter."
Aaron Finch: "I don't think he'd block it."
(Lyon bowls ball)
Tim Paine: "Fancy that Pant, extend your little Aussie holiday. Beautiful town Hobart too. Get you a nice apartment on the waterfront."
(Lyon bowls ball)
Tim Paine: "Have him over for dinner. Can you babysit? (Can I) take the wife to the movies one night, you can look after the kids?"