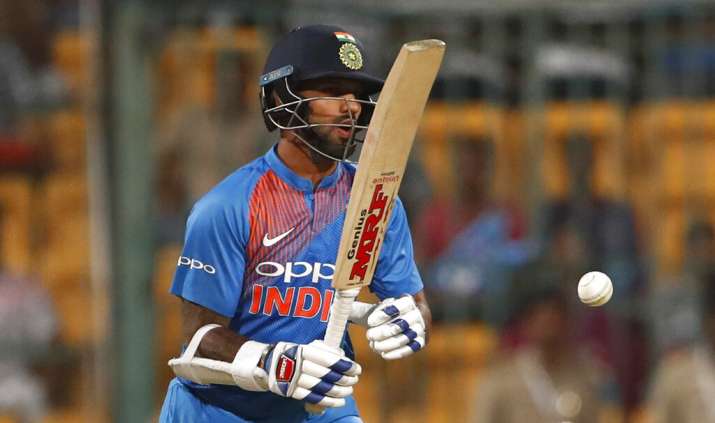 Team India opener Shikhar Dhawan had a rather strange dismissal as his departure sparks controversy during the 2nd and final T20I against Australia in Bengaluru. 
Dhawan lofted a shot over the covers in the second ball of the ninth over and goes a little close to the sweepers where Stoinis ran in and claimed the catch. The umpire had given the soft signal as out but went for a referral upstairs. 
On the big screen in slow motion, the ball seemed to have touched the ground before it landed in Stoinis' hands, but he did have a finger underneath it. The umpires felt that it was the correct decision to adjudge Dhawan as OUT.
Here's how the commentary went on in our live blog. 
"OUT! The umpire feels Stoinis has his fingers underneath the ball and has given it in the fielding team's favor. I feel the soft signal has played a big part here as that could have gone either way. However, one can say, it is the right decision in the end. End of Dhawan's misery and India have lost both their openers in quick succession. Once again, the bowling change does the trick for the visitors. Behrendorff bowls it outside off and it is on a length. It is the cross-seam delivery. Sticks in the wicket a little. Dhawan lofts it over covers but it is a little too close to the sweeper. Stoinis there runs in and he seems to have taken it. The umpires though are not sure and they take it upstairs. The soft signal is out. After quite a few replays the umpire has decided to stay with the on-field call. Australia, just like the last game are crawling back into the game after the Powerplay."
थर्ड अम्पायर नितिन मेनोन को अपनी आँख अछे डॉक्टर को दिखानी चाहिए !
because Shikhar dhawan was not out . @BCCI @cricketcomau @ICC @SDhawan25 pic.twitter.com/G0vqRveD3g

— HowdiNathuram Kala (@AryanDevKala2) February 27, 2019
The opener started his innings quite slow and was eventually on his way back after scoring 14 off 24 balls. However, his opening partner KL Rahul lit up Bengaluru after a fiery 26-ball 47 which included 3 fours and 4 sixes. 
Here's how Twitter reacted to the decision made by the Umpire on Dhawan's dismissal. 
थर्ड अम्पायर नितिन मेनोन को अपनी आँख अछे डॉक्टर को दिखानी चाहिए !
because Shikhar dhawan was not out . @BCCI @cricketcomau @ICC @SDhawan25 pic.twitter.com/G0vqRveD3g

— HowdiNathuram Kala (@AryanDevKala2) February 27, 2019
If @SDhawan25 is out How can we say cricketing technology is now advanced and genuine . @BCCI @ICC 🙄🙄🙄😎 #indiavsaustralia #T20

— Soumya Kanta Biswas (@myselfskbiswas) February 27, 2019
If @SDhawan25 is out How can we say cricketing technology is now advanced and genuine . @BCCI @ICC 🙄🙄🙄😎 #indiavsaustralia #T20

— Soumya Kanta Biswas (@myselfskbiswas) February 27, 2019
It clearly landed on the ground first & than in the ✋ #INDvAUS #notout @SDhawan25

— Mohammed patel (@mohdpatel88) February 27, 2019
@ICC @BCCI #indiavsaustralia #t20 poor decision by third umpire in today's match to given out to @SDhawan25 by wrong decision very disappointed with third umpire🤐🤐🙃😕😡😡

— Akshat Jain (@akshatjain1816) February 27, 2019
Shame on @MStoinis for claiming that. Again, point proven. Have the skills. But zero class. If you can't best em, cheat em. @SDhawan25 was not out. There's no doubt on that one mister 3rd umpire. #INDvAUS #BackTheBlue

— Chaitu (@ckalapala) February 27, 2019