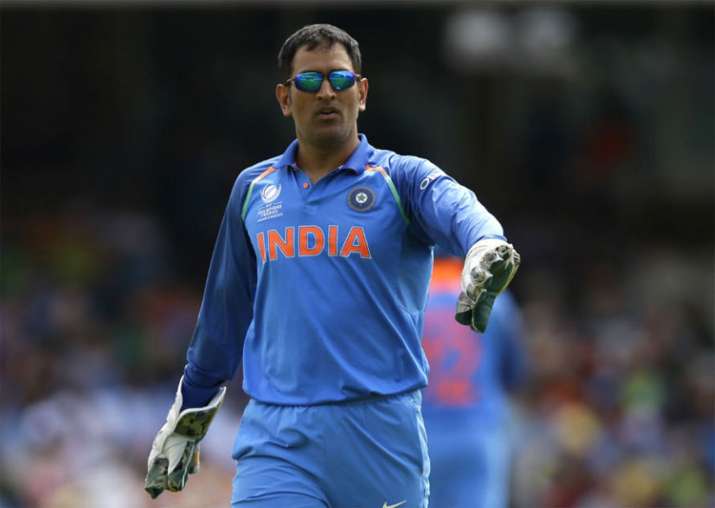 Mahendra Singh Dhoni may have stepped down from the captaincy duties earlier this year but his influence on the field is no less than that of a captain. Dhoni decided to step down from India's limited-overs captaincy in January this year, giving the mantle to Virat Kohli. However, the "Captain Cool" remains a valuable cog in the team's strategy and continues to guide India to victories. Dhoni was in top form in Sri Lanka, having scored 162 runs in the ODI series with a strike-rate of 82.23. The Ranchi stalwart, who played his 300th ODI in Sri Lanka, also made headlines with his quick reflexes behind the wicket, becoming the first wicket-keeper in ODI history to affect 100 stumpings.
Dhoni has carried his good form in the ongoing limited-overs series against Australia as well. His well-calculated 79 in the first ODI in Chennai proved to be vital for India's victory over Steve Smith's men. During his innings, Dhoni also hammered his 100th international half-century. Not just that, he also affected one stumping and completed two catches to contribute to the team's cause.
However, there's another area where Dhoni stole the limelight. And that's his role behind the wicket. Apart from the usual stumpings, Dhoni's guidance to young spinners - Kuldeep Yadav and Yuzvendra Chahal - made great impact in the game. 36-year-old Dhoni's vast experience and insights from behind the wicket helped Kuldeep remove David Warner and Marcus Stoinis, while Glenn Maxwell, Pat Cummins and Matthew Wade were scalped by Chahal.
FIFTY! @msdhoni brings up his 66th ODI 50 @Paytm #INDvAUS pic.twitter.com/nc52IQbQDm

— BCCI (@BCCI) September 17, 2017
Here are some conversations between Dhoni and the spinners which were picked by the stump mic.
"Woh maarne waala daal naa andar yaa baahar koi bhi (bowl the one where he attempts to hit, turning in or away, anything is fine)", Dhoni told Kuldeep.
"Ghumane waala daal ghumane waala (bowl the one that turns)," Dhoni advised both Chahal and Kuldeep. 
"Na, na, na. Isko itna aage nahi (not this full)," Dhoni reacted after Kuldeep erred with his line and length with Glenn Maxwell at the crease.
"Tu bhi nahin sunta hai kya (You also won't listen)? Aise, aise dalo (bowl it like this)," Dhoni told Chahal.
How did Dhoni help Kuldeep stun #AUS? Watch & catch the best moments from the 1st Paytm #INDvAUS ODI on #CricketCountdown, on Star Sports. pic.twitter.com/kiSlH5QC6D

— Star Sports (@StarSportsIndia) September 18, 2017
Well, it's no surprise that skipper Kohli himself turns to Dhoni whenever there's a crisis to handle or a DRS call to be made. Dhoni's accuracy with the Decision Review System has forced his fans to give it a new name - "Dhoni Review System".
Dhoni has always been immensly helpful to spinners and played an important role in Ravichandran Ashwin and Ravindra Jadeja's rise. The former India captain remains an integral part of the team and is destined to play in the 2019 World Cup.
During an exclusive interview with India TV, India coach Ravi Shastri had said that Dhoni has both fitness and current form on his side and that the team will need him in the next ODI World Cup in 2019.
"Where else will you find a legend like MS Dhoni? Dhoni is in the same league as of Sunil Gavaskar, Sachin Tendulkar or Kapil Dev. We have to respect his achievements," Shastri told India TV.
"A player is evaluated on the basis of his current form and fitness and Dhoni has both. If you see his wicket-keeping, he is the best in ODI cricket. His fitness is superb, he batted well in Sri Lanka. And let me tell you, it was just a tralier what you saw in Sri Lanka... now wait for the movie," he said.
Shastri said if Dhoni can cantinue to perform like this then there's no question of not having him in the 2019 World Cup.
"If he continues to play like this, there no question of not having him in the team for the 2019 world cup. You can't even think of a team without Dhoni," he said.