Follow us on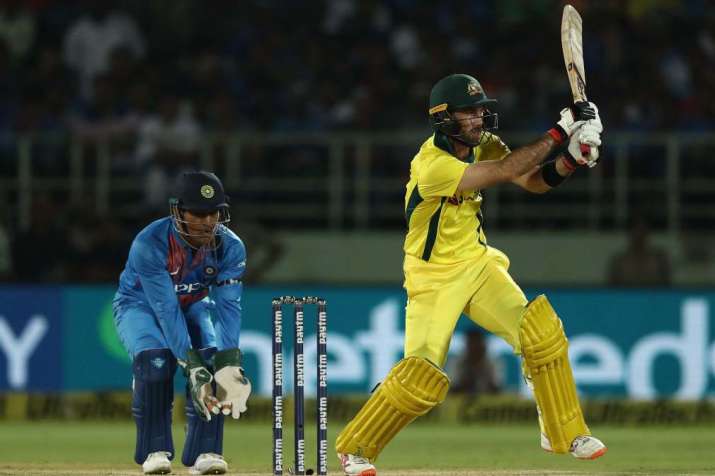 India vs Australia, 1st T20I from Vizag: What a humdinger of a game we have had here. The Australians had lost it from a perfect position but then stolen the game from the jaws of defeat. 14 runs off the last over and 2 off the last ball has ensured that the visitors have taken an unassailable lead in this 2-game ODI series. Take a bow, Jhye Richardson and Pat Cummins to have won the game from where it looked like India were favorites. Nevertheless though, this game should have not come so far till the last ball of the match. The Aussies began really poorly in the chase as they were two down with just 5 runs on the board. But what followed was exceptional hitting from Maxwell and Short as they took their team to a winning position with an 84-run stand. Australia won the match by 3 wickets.  (Live Updates in Hindi) (Live Match Scorecard) 
Highlights, India vs Australia, 1st T20I from Vizag: AUS BEAT INDIA BY 3 WICKETS
The Aussies seemed like they pressed the panic button as the following batsmen went in a procession and the runs were drying up. Bumrah bowled an outstanding 19th over and left Umesh with 13 to defend off the last. Two boundaries and two couples in the final over though helped the visitors cross the line and win the game by 3 wickets. An absolute thriller but the away team came away as deserved winners.
22.17 IST: Australia (127/7) beat India (126/7) by 3 wickets in Visakhapatnam to take 1-0 lead in 2-match series. Maxwell 56, Bumrah 3/16
22.11 IST: FOUR! That comes of Jhye's bat. What a shot! Looks like someone has turned off the volume at the stadium. A short of a length ball on top of middle and Richardson holds his position and pulls this through deep square leg for a boundary. 9 off 4 balls.
22.10 IST: Jhye walks out next. Umesh Yadav will bowl the last over with 14 runs required for the Aussies to win.
22.08 IST: OUT! TIMBER! A corker of a yorker this one! Too good for Nathan Coulter-Nile! Two wickets in two balls for Bumrah. Comes steaming in and bowls it very full. Nathan Coulter-Nile fails to bring his bat down in time and the ball sends the leg stump for a walk. Australia 113/7 in 19 overs
22.05 IST: OUT! The last recognized batsman is out of here. And now one can say, the Indians are favourites to win this game. Bumrah's over keeps getting better. Sees Handscomb come down the track and outsmarts him. He bangs it short. PH is in no position to play the pull but still goes for it. The ball takes the top edge and lobs to the right of Dhoni. He calls for it and takes a the man who has nerves of steel takes a high-pressure catch. Australia 113/6 in 18.5 overs
22.02 IST: A dot to begin with! Short and outside off, Handscomb looks to play across the line but misses.
22.01 IST: Bumrah comes into the attack! A very important over one can say
22.00 IST: 16 required in 12 balls. It's spine-tingling all around as the pressure is immense on both teams. 
21.59 IST: Lovely shot! Very delightful to the eye that! Flighted ball and on off, it is a little too full. Handscomb just leans into it and caresses it through covers. The fielder from long off, Rahul, runs to his right, slides and seems to have stopped the boundary. The umpire goes upstairs to check and replays show that he done well. Saves two in a game where every run matters.
21.58 IST: Sensible from Handscomb! Pushes the last ball to long off slightly uppishly but safely for a single. End of a good over from Krunal, 5 runs and a wicket off it. He ends with awesome figures of 4-0-17-1.
* Mayank Markande to bowl.
21.53 IST: OUT! Bowled 'em! Are the Aussies pulling the trigger on themselves here? Unnecessary shot and the stumps are disturbed. Krunal bowls this one flatter and straight on middle. Krunal removes Turner for 0. Australia 102/5 in 16.2 overs.
21.51 IST: A yorker taken on the full by Ashton as he drives it to mid on. Two dot balls to the new batsman.
* Ashton Turner walks in at number 6.
21.49 IST: OUT! Another run out and it is Short, the well-set batsmen who is taking the long walk back. Umesh bowls a full ball on the pads, Peter Handscomb flicks it through backward square leg. Pandya from fine leg moves to his left and stops it. The batsmen till then, complete one. Peter is off for the second. Short is a little hesitant and hence, Peter stops. Australia 101/4 in 15.1 overs
21.48 IST: OHHHH! The googly almost does the trick. It pitches around leg, Handscomb does not pick it at all. He looks to drive with a gap between bat and pad. It sneaks through, goes agonizingly close past the leg pole. Dhoni too fails to collect it and the batsmen take two. No signal from the umpire there so there must be an inside edge.
21.46 IST: FOUR! That should release all the pressure India were looking to build. Another flatter ball and outside off, D'Arcy transfers his weight onto the front foot and strokes it through covers. Beats the man in the ring and then it is a boundary.
* Mayank Markande is back.
21.41 IST: OUT! Maxwell holes out! He departs after an amazing fifty. Chahal has flighted this one outside off, Maxwell reaches out for the ball and looks to deposit it over long off but the bat turns in his hand as he completed the shot. Rahul at long off settles under the ball and takes a comfortable catch. The target is not a big one but this wicket can still set the cat among the pigeons if a few more follow. Australia 89/3 in 13.3 overs
21.38 IST: Glenn Maxwell scores his sixth T20I half-century. What an innings this has been from the 'Big Show'! In complete control. Australia 83/2 in 13 overs
21.31 IST: FOUR! Cut and cut nicely! The googly outside off, the length is shorter. Short picks it up quickly, goes back and cuts it through point. The fielder in the deep runs to his right, dives but his effort goes in vain.
21.29 IST: Short goes back and works it towards mid on. Mid-wicket moves across to his right quickly and saves a single. Every run is crucial for India here.
21.25 IST: SIX! Blasted into the stands. 'No, no, no' goes Dhoni behind the wickets and you see exactly why. Markande has flighted it nicely outside off and Maxwell takes full toll. He smashes it way back into the crowd at wide long on. AUS 68/2 in 10 overs
21.20 IST: NOT OUT! Maxwell has just made it! The arm ball outside off, it comes in with the angle. Maxwell cuts it towards point. He takes off for a run. Chahal throws down the stumps at the non-striker's end. An appeal follows but not a confident one. Replays roll in and they show that Maxwell is safe. Australia will breath a sigh of relief as another run out is the last thing they would have wanted.
* Run out appeal... A direct hit from the point fielder at the bowler's end. Maxwell is the man in question but he does not look too concerned, only a little pensive. Even the Indians are not celebrating, looks like the man might have just made it.
21.19 IST: FOUR! That is a supreme shot! Some width on offer for the southpaw outside off, Short rocks back and cuts it wide of deep cover for a boundary. It brings up the 50 for the visitors too. 76 runs are required in 72 balls now.
21.18 IST: Debutant Mayank Markane is given the ball and will bowl his first international over.
21.18 IST: Slower through the air and on a middle length, Maxwell pushes it slightly to the right of the bowler where Krunal runs and fields it.
* Krunal Pandya comes into the attack
21.11 IST: FOUR! Gets better for the visitors. 10 from the first two, this was all timing. Again it is slightly short, GM on the back foot, whips it through mid-wicket and a boundary results. AUS 38/2 in 5.2 overs
21.11 IST: SIX! That's gigantic. Maxwell blasts that one of Chahal's delivery. Maxwell has picked the bones out of that one. The key here was, he picked the length early. Short and on middle, Maxwell rocks back quickly and pulls it over the mid-wicket fence. Ideal start to the over. AUS 34/2 in 5.1 overs
21.09 IST: FOUR! Well played shot by Short. Through the covers and sails away for a boundary. Uppish but in the gap! The slower ball again but the length is fuller outside off. Short hits it uppishly but in the gap through covers. Once it beats the fielders in the ring, you are not going to stop it. AUS 28/2 in 4.5 overs
21.07 IST: Just short of India claiming a third wicket. Umesh runs but does not make it in time. 
21.05 IST: Third boundary in the over and a much-needed over for Australia. Maxwell is into the act once again. He clears his front leg for another time and lofts it over the bowler's head. The gap in run and balls needed was 16 at the start of this over, it has come down to 9 now.
21.02 IST: FOUR! Excellent shot! Clears his front leg as Umesh bowls it short. Maxwell smacks it over mid off for a boundary. Dealing in boundaries is Maxwell. AUS 14/2 in 3.3 overs
21.00 IST: Close! Length ball around off, Short stands tall and pushes it to mid off. He sets off for a run. Pant gets to the ball quickly and has a shy at the non-striker's end but misses. Replays show, had Pant hit, Short would have been short.
* Glenn Maxwell walks out to the middle.
20.56 IST: OUT! Bumrah gets the skipper for a duck! The ball is just clipping the leg stump and the Aussie skipper is a goner. Bumrah strikes and Australia have lost two in two balls. A fuller length ball on middle, going on with the angle. Finch is stuck in his crease and looks to push the ball without much foot movement. Bumrah removes Finch for 0. Australia 5/2 in 2.1 overs
20.54 IST: OUT! The crowd here erupts as Stoinis is just short and this is the worst start possible for the Aussies. This is the last thing the visitors would have wanted, a run out. Short works this ball on the pads towards the right of Yadav. Stoinis is in a hurry to get to the other end but D'Arcy is not interested. Marcus now has to turn back and get into the crease. In the meantime, Yadav throws the ball to the bowler who collects it and whips the bails off. An appeal follows and it is a confident one and the umpire takes it upstairs. Replays show that Stoinis has to take the long walk back. A run and run out from this over, top stuff from Chahal. Australia 5/1 in 2 overs
20.52 IST: BEATEN! The slider and outside off, Stoinis looks to hit it through the off side but is beaten by the extra bounce. Three dots to begin with by Chahal.
20.51 IST: Yuzvendra Chahal comes into the attack. 
20.48 IST: FOUR! Short opens his inninsg with a boundary on Bumrah's delivery. IND 4/0 in 0.5 overs
* So, 127 is the target. Looks like it will be a walk in the park for the visitors. D'Arcy Short and Marcus Stoinis open for Australia. While Jasprit Bumrah is handed the ball. Let's get started with the chase.
* Despite those lusty blows from MS Dhoni in the last over, the Aussies will surely enter the break as the happier side. This is a brilliant bowling performance from the visitors, to restrict the Indians to 126 after they were 80/3 at the half-way mark. A 61-ball gap between two boundaries off the bat tells us a story in itself. After Aaron Finch won the coin flip and elected to bowl first, the home side were looking decent at the beginning.
20.35 IST: India score 126/7 in 20 overs against Australia in Visakhapatnam. Rahul 50, Coulter-Nile 3/26
20.31 IST: SIX! Finds the middle this time and a much, much-needed biggie for India. Width on offer and it is fuller. Dhoni clears his front leg and hits it over covers for a maximum. A couple more is what India need.
* Nathan Coulter-Nile to bowl the last over.
20.29 IST: Short of a length outside off, patted towards cover by Dhoni as he picks up a run. That leaves Chahal with a ball to face in this over.
* Change of bat for Dhoni! He has not been able to find the middle with this one, India would hope the change of bat brings change in fortunes. Australia will hope the other way though.
20.21 IST: FIVE WIDES! That will help India. Vital runs and bonus runs. Down the leg side, it tails back in late. Dhoni looks to flick but misses. Handscomb dives to his left but is unable to stop it. Much-needed this.
20.18 IST: OUT! This time the height is not an issue and Umesh Yadav is a goner. As plumb as you get that on. Cummins bowls it fuller than what Jhye had bowled. IT pitches and comes back in. Yadav looks to flick but misses to get hit on the pads. He is right in front and the umpire has no hesitation in lifting the finger. IND 109/7 in 16.4 Overs
* Pat Cummins is back on now. 2-0-12-0 so far for him.
20.13 IST: Too high! Length ball on middle, Yadav walks across and looks to flick but misses to get hit high on the pads. An appeal follows but the umpire shakes his head. The batsmen take a leg bye as it rolls towards square leg.
20.12 IST: Not a good delivery to start with. On the pads, it is clipped through backward square leg. Fine leg runs to his left, does not stop it cleanly and concedes two.
* Umesh Yadav walks out to the middle. Also, Jhye Richardson to bowl from the other end.
20.09 IST: OUT! High on the bat and Maxwell comes under the ball and takes a very simple catch. A length ball from around the wicket, with a lot of pace and bounce on it. Pandya looks to swing over mid-wicket but gets it high on the bat and the ball just balloons up towards point where Maxwell settles under it and takes it very easily. IND 100/6 in 15 Overs
20.05 IST: That remains low! Has happened a lot today. A length ball outside off and coming in a bit, Dhoni looks to cut off the back foot but is beaten by the lack of bounce on that one.
* Krunal Pandya walks in at number 7. Meanwhile, Adam Zampa is back on.
20.00 IST: OUT! BOWLED 'EM! Second in the over for Nathan Coulter-Nile and India suddenly, have half their side back in the hut. Karthik does not trouble the scorers a lot. IND 94/5
19.56 IST: OUT! Another one bites the dust! This time it is the well-set batsman. 50 and out for Rahul and India in a spot of bother here. He moves around his crease to disturb the length of the bowler. However, NCN sticks to landing it on a length and around off. Rahul looks to loft it over mid off. It goes off the bottom. Finch in that position takes a dolly. The bowling change has worked wonders for Australia here. IND 92/4 in 12.2 Overs
19.50 IST: Fifty for Rahul! His 5th in this format! A good knock from him on return. He though needs to stay there till the end. Holds the key for India here. He gets there with a flick through mid-wicket for a single.
19.48 IST: Another play and a miss! Excellent stuff from Cummins. 144 clicks this one outside off and a good length, Dhoni just attempts to push this through the line without foot movement once more. Is beaten once more.
* MS Dhoni walks out to bat at number 5. The crowd is making a lot of noise.
19.45 IST: OUT! Big confusion and Pant has been run out! Two wickets in two overs for Australia. Brilliant fielding this by Jason at point. Pant walks down the track. Short fires it full and wide outside off. IND 80/3 in 10 Overs
* D'Arcy Short to roll his arm over now.
19.41 IST: SIX! That is huge! That spoils Zampa's over. A flighted ball on middle and Rahul has his dancing shoes on as he swings the straight bat and deposits this ball behind the sightscreen.
* Rishabh Pant comes in to bat now.
19.39 IST: OUT! The Indian skipper is out of here! Zampa strikes his second over. The Australians are pumped up and why not? Kohli seemed to be going after the leg spinner and falls in the process. Zampa tosses it up on middle, Kohli uses his feet but gets a little too close to the ball. Hence, he does not manage to get the desired elevation and hits it straight down the throat of Nathan Coulter-Nile who takes it. IND 69/2 
19.36 IST: Misfield costs a couple! Kohli makes room and also uses his feet. Hits it hard towards cover. Finch there does not stop it cleanly.
19.35 IST: Tight over from Cummins only six runs from it.
* Pat Cummins is now on to bowl.
19.31 IST: FOUR! Powered! No need to run for those. Uses his feet, gets to the pitch of the ball and smashes it past the bowler for a boundary. IND 54/1 in 6.3 Overs
19.30 IST: Interesting stats coming up.
Most runs vs an opponent in T20Is:
503 V Kohli vs Aus *
463 M Guptill vs Pak
461 P Stirling vs Afg
436 M Shahzad vs Ire
425 A Finch vs Eng
424 M Guptill vs SA
*  Adam Zampa to bowl now.
19.26 IST: FOUR! Up and over! Once again another over with two boundaries. End of the Powerplay and an expensive last. India will be happier of the two as they just lost the one wicket and have amassed 49 runs. Once again all class from Rahul here. He lofts it over point and bags a boundary. IND 49/1 in 5.5 Overs
19.24 IST: FOUR! Welcome into the attack NCN! Full and angling into the batsman. Kohli plays it with the angle as he flicks it over mid-wicket for a boundary. The bat turned in his hand slightly and hence, went a little squarer then he would have liked. IND 42/1 in 5.1 Overs
* Nathan Coulter-Nile is on now.
19.21 IST: FOUR! Short and wide outside off, the arms of the Indian skipper open as he slashes this one over backward point and wide of third man for the second boundary of the over. No chance for the fielder in the deep. IND 37/1 in 4.5 Overs
19.20 IST: FOUR! Dismissed! Absolutely dismissed. A half-volley little outside off, Kohli just clears his front leg and smashes it uppishly but really hard right past the bowler for a boundary. IND 31/1 in 4.2 Overs
19.17 IST: FOUR! This is even better than the boundary he hit on the first ball. Poor bowling once again by Richardson. He bowls an off pace ball but offers a lot of width outside off. Rahul waits for it and then just lofts it over covers. This is turning out to be another expensive over by Richardson. Still a ball to go. IND 25/1 in 3.5 Overs
19.14 IST: FOUR! What a shot that is! Just brilliant! Nothing wrong with that delivery, it is on a length and around off, Rahul stands tall and then opens the face of the bat. He hits it over cover-point and a boundary results. Ideal start to the over. Third boundary of Jhye. IND 19/1 in 3.1 Overs
* Virat Kohli, the Indian skipper walks out to the middle next amidst huge reception.
19.11 IST: OUT! In the air... taken! Jason Behrendorff draws first blood and it is the huge wicket of the hitman. He tries to innovate, when it comes off, it is brilliant but when it does not, it is not a good sight. Rohit tries to play the paddle scoop. It goes off the toe-end and balloons towards short fine leg. Zampa there tracks back, he seems to lose balance for a second but then keeps it and takes it. Early wicket for Australia, just the start they would have wanted after electing to bowl first. IND 14/1 in 2.3 Overs
19.08 IST: FOUR! Poor bowling! Second boundary in the over. On the pads, Rahul just clips it through backward square leg. The outfield here is lightning quick and a boundary results. Expensive start by Jhye Richardson. IND 12/0 in 2 Overs
19.07 IST: FOUR! This should give Rahul some confidence. He gets a ball on his pads, Indians love it there. He works it around the corner, short fine leg gives it a chase, dives but his effort goes in vain. First boundary of the game and Rahul is off the mark in style. IND 6/0 in 1.2 Overs
19.05 IST: BEATEN! End of a brilliant first by Jason! Once again Rahul is looking for the ball which comes in. This one though angles across. The batter ends up playing inside the line and gets beaten. Just a single from the first over.
19.02 IST: Good delivery to begin with! On a length and around off, Jason is looking for some shape inward. There ain't any. Rohit gets behind the line and blocks it out.
19.01 IST: Jason Behrendorff to bowl the first bowl to Rohit Sharma.
18.59 IST: We are all set for the action to begin now! The openers, Rohit Sharma and Kl Rahul are out in the middle. Jason Behrendorff has the new ball in hand. He has a slip in place. Here we go...
18.50 IST: The players now making their way out for their respective national anthems. We are not far away from the first ball now.
18.36 IST: Indian skipper, Virat Kohli, says they wanted to bowl first as well. Mentions it looks a good pitch to bat on and dew also might not play a factor. Further adds bowling second is something they don't mind. States he hasn't been watching a lot of cricket, he took a few days to get fresh and now he is ready to go. Informs KL Rahul, Umesh Yadav come in. Ends by saying Mayank Markande makes his debut.
18.34 IST: Australian skipper, Aaron Finch, says that the wicket will not change much and hence he wants to chase. Mentions that they are giving a debut to Peter Handscomb and that they want to put in some consistent performances as a team. Laughs and says that they almost know too much about the opposition because of playing each other very often and just coming off a complete tour. Signs off by informing us that D'Arcy Short will be partnering him in the opening slot.
18.32 IST: Teams-
Australia (Playing XI): Aaron Finch(c), D Arcy Short, Marcus Stoinis, Glenn Maxwell, Peter Handscomb(w), Ashton Turner, Nathan Coulter-Nile, Pat Cummins, Jhye Richardson, Jason Behrendorff, Adam Zampa
India (Playing XI): Rohit Sharma, Lokesh Rahul, Virat Kohli(c), Rishabh Pant, MS Dhoni(w), Dinesh Karthik, Krunal Pandya, Umesh Yadav, Mayank Markande, Yuzvendra Chahal, Jasprit Bumrah
18.30 IST: Australia win the toss and elect to bowl for in the first T20I
18.25 IST: Leg Spinner Mayank Markande to make debut for India.
17.30 IST: Will the captain step up today? There is an indication that he will. 
Hello and welcome to our live blog of the India vs Australia 1st T20I live from Visakhapatnam. The TOSS will take place at 18.30 PM IST, while play will begin at 19.00 PM IST. Get all the live scores and updates here. 
Brief Preview: With their eyes firmly on getting the World Cup combination right, a spirited India will look to continue their dominance over Australia, this time at home, when they play the first Twenty20 International (T20I) game on Sunday. The seven-match tour comprising two T20Is and five ODIs will be India's last international assignment before the ICC World Cup which starts on May 30 in England and Wales. (Read Full Preview)