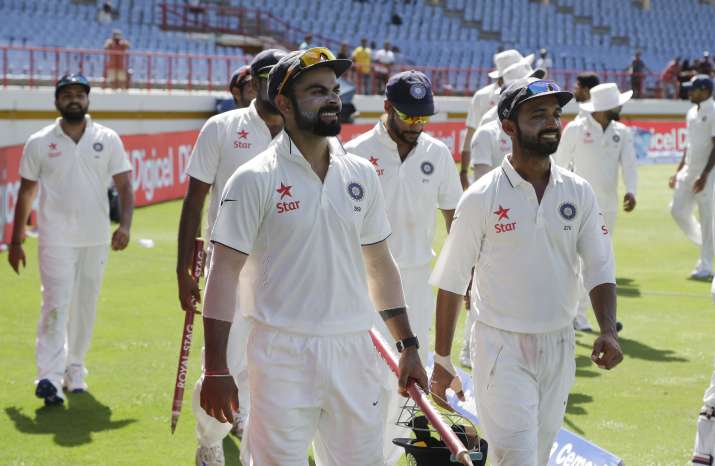 Australia on Wednesday lost its number one Test team position to India after the former was whitewashed by Sri Lanka 3-0. 
In a home series, hosts Sri Lanka handed the tourists a 163-run defeat in the third test with spinner Rangana Herath bagging seven wickets in another 10-wicket match haul.
Before the Australia-Sri Lanka series began, Australia was at the number-one position with 118 points. The Aussies are now placed third with 108 points, behind India (112 points) and Pakistan (111 points). 
But India will have to win the final match of their ongoing four-match Test series in West Indies which it is leading with 2-0. 
If India fails to win the match, Pakistan will reach at the top spot for the first time. 
An upbeat India, which has already sealed the series, will be aiming to complete a 3-0 rout in order to retain its No 1 Test ranking when they meet a listless West Indies in the final Test match of the series tomorrow.
With skipper Kohli making it clear that he will like to have Rohit Sharma at No 5 and promote himself to No 3, it is unlikely that the core batting line-up will have any change in the final Test match. 
However with Shikhar Dhawan not having much of a performance barring his 84 in the opening Test, it will be interesting to see if Murali Vijay, who was dropped in the last game despite being fit makes a comeback in the playing XI. The opener's thumb injury has fully healed, as announced by batting coach Sanjay Bangar previously. 
At this point of time, Cheteshwar Pujara getting a lifeline seems unlikely. 
Even the five-pronged bowling attack could undergo change. In a long season, where India play another 13 Tests, the workload for the likes of Ishant Sharma and Mohammed Shami needs to be managed. 
One of them could be afforded a breather, with a rebounding chance given to Umesh Yadav, or even newbie Shardul Thakur could get a look-in, if Kohli is in experimental mode. Away from these permutations and combinations, India look set in their plans. Their energy will be focussed on attaining consistency, and as the skipper put it, in expressing themselves.