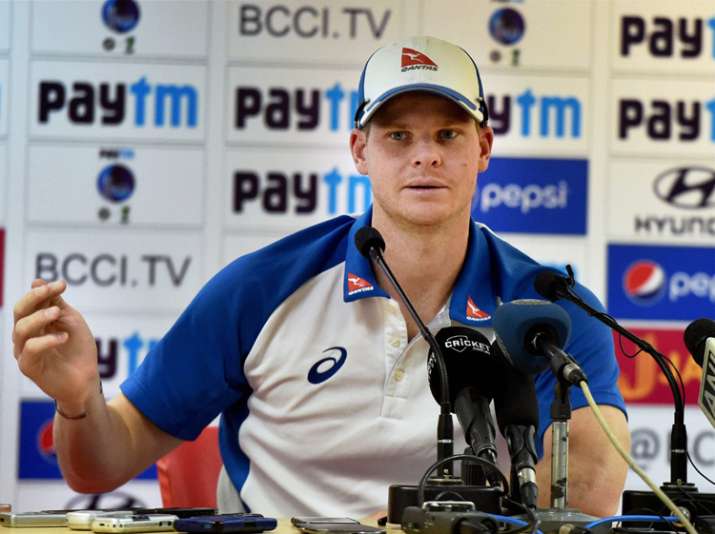 The ongoing India-Australia series has been caught in several controversies including allegations of wrongdoing in taking a DRS call. The latest in line are expletives uttered by Australian captain Steve Smith who supposedly called Indian Murali Vijay a 'f***** cheat' after the fielder claimed to have taken a catch that was deemed not clean. 
Smith was caught on camera while reacting to Vijay's plea and appeared to have used cuss words against the Indian after he claimed to have taken a catch of Josh Hazlewood.
The Hazlewood incident happened in the third ball of the 54th over when he edged one to Vijay in the slips. Convinced that he has taken it cleanly, Indian players started walking back to the pavilion and being an opener, Vijay rushed back to put his pads on. The TV umpire intervened after replays showed that the catch was not taken cleanly. 
In response to @BenHorne8 tweet. This is the video. pic.twitter.com/TiiClKS1BH

— Neroli Meadows (@Neroli_M_FOX) March 27, 2017
The Indian players were called back and Smith, who was in the Australian dressing room, looked displeased with Vijay's quick run into the pavilion and was caught by television cameras mouthing the words "f****** cheat". 
Smith was seen mouthing the cuss word in a video uploaded by the Australian broadcaster. 
When questions were asked by the Australian media on the incident, team batting coach Graeme Hick presented a dead bat. 
Asked if Hick was disappointed with Vijay, the former England batsman sounded sympathetic. 
"No, I mean having fielded in slips and close to the bat, sometimes, you are not a 100 percent sure. He would have felt that got into his fingers and felt that it was a clean catch. 
If anything, once the batter or whoever maybe has gone for the review, yeah fair enough, maybe the fielder should stand around and wait. The processes are in place." 
Hick said that despite the heated arguments, the series has been played in good spirit. 
"At times, this series has been a little bit heated, but I think this game has been played in very good spirit and he obviously thought he had a clean catch. It goes upstairs, come back and get on with the game." 
The incident took place in the 33rd over of Australia's second innings after Maxwell was adjudged LBW by South African umpire Marais Erasmus. 
War of words between Jadeja and Wade 
The four-match series that will be remembered as much for its off-field controversies as on-field exploits, had its fair share of drama on the third day of the fourth and final Test here. 
There was also a verbal sapt between Matthew Wade and Ravindra Jadeja after Glenn Maxwell's dismissal.
The argument between Jadeja and Wade ensued after the Australian wicketkeeper tried to sledge the Indian batsman who had troubled the guests'bowlers on the third day. 
Wade tried to distract Jadeja who was batting at 37 then. 
Wade apparently tauted Jadeja by saying why he is in the Indian team, to which the Saurashtra batsman responded, "If you will start it…I will give it back to you."
Here is a video of the verbal exchange between the two: 
Speaking about that incident at the press conference, Jadeja said, "We all know what happens. I just told him, once you lose and are free, we will have dinner together."