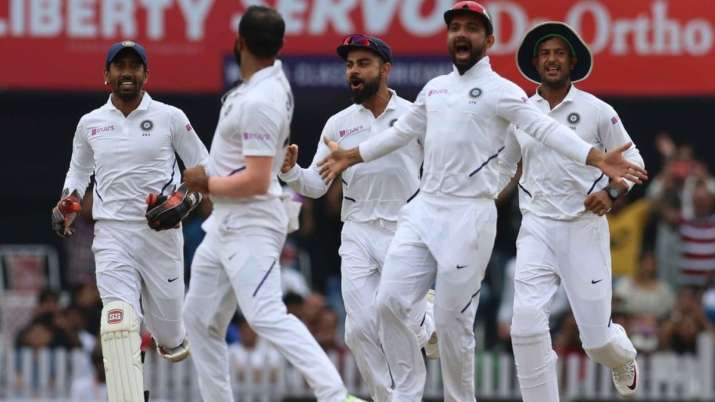 India vs South Africa, 3rd Test, Day 3 - HIGHLIGHTS 
HIGHLIGHTS IND vs SA, Day 3: India have bowled South Africa out on 162 and enforced the follow on on the Proteas in the second consecutive Test match. Earlier, spinner Ravindra Jadeja rattled the South African batting after an entertaining half-century by Zubayr Hamza to leave the visitors reeling at 129 for six at lunch on day three of the third and final Test in Ranchi on Monday. South Africa, who began the day at nine for two, trail India by 368 runs. Replacing an injured Aiden Markram, Hamza (62 off 79) showed fine application alongside Temba Bavuma (32) to give the Proteas some ray of hope after Umesh Yadav cleaned up skipper Faf du Plessis in his first over with a beautiful outswinger. Hamza, who struck 10 boundaries, hit seasoned off-spinner Ravichandran Ashwin for a six over mid-on to bring up his maiden fifty. India now stand two wickets away from victory while South Africa are 203 runs away.
HIGHLIGHTS India vs South Africa, 3rd Test, Day 3: SA 162 all out and 132/8 (f/o) (De Bruyn 30*, Nortje 5*); India (497/9d)
17:10 IST: And its stumps! South Africa trail by 203 runs with two wickets in hand. Bad light forces umpires to call for stumps despite extending the session for 30 minutes more. 
16:59 IST: Ashwin to Rabada. OUT! Goes for the big short, but falls well short as Jadeja takes the catch comfortably. South Africa go eight down. Play extended by 30 minutes now. 
16:42 IST: Jadeja to Piedt. OUT! Charges out and off he goes as well. He departs for 23 and South Africa have lost their seventh wicket. 5 overs more to go for the day.
16:36 IST: Jadeja to Piedt. FOUR! Down leg side and Piedt smacks it down for a four. A partnership of 30 now off 45 deliveries. 
16:17 IST: Nadeem with the attempt and off goes Linde. Needless from him and South Africa lose another wicket, probably the most important one given the kind of partnership that was brewing in the middle. 
16:10 IST: OUCH! Saha gets hurt as the ball from Ashwin strikes his fingertips. He takes off his gloves and walks back as Rishabh Pant walks in as his replacement. New rule allows a team to replace a wicketkeeper with another 'keeper.
16:06 IST: Indian pacers have been impressive in this series - 26 wickets while averaging only 17.5 - their best in any three-plus Test series they have played. 
15:44 IST: Jadeja to Piedt. SIX! Rocks back and slaps it over the sightscreen for a maximum. South Africa showing some aggression now. Linde smacked two fours against Umesh in the previous over. 
15:22 IST: CONFIRMED! De Bruyn confirmed as a concussion sub. Elgar won't be batting anymore
15:29 IST: Jadeja to Linde. FOUR! Uppish in length outside off and Linde steps out to whack it over mid-on for a boundary. 
15:27 IST: 4.83 has been the average od South African openers in this series. It is the fourth-lowest in a Test series (minimum six innings) and lowest for the country.
15:22 IST: Umesh to Klaasen! OUT! Length ball, comes in sharply to strike the pads in line with the middle and off and another wicket falls for South Africa. 
15:18 IST: Theunis de Bruyn is likely to be Elgar's concussion sub for the third Test. 
15:09 IST: So here is a bit of stats, the last time South Africa were followed on in consecutive Tests was in 2002 against Australia at Sydney and in Johannesburg.
14.57 IST: Dean Elgar is retired hurt as George Linde comes out to bat after tea.
14.39 IST: Umesh to Elgar, NASTY! Short ball from Umesh and it hits the Elgar on the helmet. The nasty blow caused an early Tea in Ranchi
14.30 IST: Shami to Bavuma, OUT! A lazy shot from Temba Bavuma and as he knick it for the wicketkeeper to take an easy catch.
14.22 IST: Shami to Du Plessis, OUT! A bad review from Proteas captain as the ball was clearly hitting the middle stump as he was plumbed.
*Skipper Faf du Plessis comes to bat at no. 4
14.00 IST: Shami to Hamza, OUT! Bowled! It was a peach of a delivery from Shami as he destroyed stumps with  Hamza bagging his maiden duck.
13.57 IST: Umesh to Elgar, FOUR! Edged and boundary, Elgar was nowhere in control of that ball.
* Zubayr Hamza comes out to bat.
13.52 IST: Umesh to De Kock, OUT! Umesh Yadav castles De Kock with an absolute beauty and things are getting worse for the Proteas in Ranchi.
13.47 IST: Shami to De Kock, FOUR! What a start! The South African wicketkeeper-batsman has sliced the ball over the slip cordon. A poor delivery to begin with, as Shami gives width and bowls way outside off.
13.45 IST: The two South African openers, Quinton De Kock and Dean Elgar are on the crease to begin the second innings.
13.39 IST: OUT! South Africa are bowled out on 162. India have enforced the follow-on.
13.34 IST: Nadeem to Nortje, LBW Appeal! The umpire gives it out, but Nortje has opted for a review!
13.29 IST: Umesh to Linde, OUT! Full and outside off, Umesh invites Linde to play the drive. However, the Proteas batsman misreads the length and edges it to point! South Africa are 9 down.
13.28 IST: Shahbaz Nadeem continues to trouble Anrich Nortje from over the wicket, but the South African batsman marginally misses the delivery. The Indian spinners are troubling the Nortje.
13.20 IST: Drinks break.
13.17 IST: Change in bowling. Umesh Yadav replaces Ravindra Jadeja.
13.14 IST: The South African tail continues to frustrate Indian bowlers again. The two batsmen have added 30 runs for the 9th wicket, facing 92 deliveries so far.
13.06 IST: George Linde has been playing watchfully, while Anrich Nortje, who was visibly unsettled with an array of bouncers and short-pitched deliveries, has now found some stability.
12.50 IST: Nadeem to Linde, SIX! Comes down the track and lofts it over long-on!
12.40 IST: Ashwin to Linde, FOUR! Plays it across the line, and the sweep is strong enough to send the ball towards the boundary.
12.39 IST: NOT OUT! Another poor review from India, as once again, it goes down the leg. India have lost both of their reviews.
12.38 IST: Ashwin to Linde, Linde goes for the big hit but fails to time. It hits his pad instead, and India have decided to take a review.
12.33 IST: Shami to Nortje, this is serious stuff from Shami. After a series of bouncers to welcome the new man at the crease, this one stays short but hits Nortje on the elbow. The batsman throws his bat straightaway, and the physio is currently on the field to tend him.
12.28 IST: Ashwin to Linde, FOUR! Decides to take the aerial route. Not a bad decision at this stage of the innings, though. Linde steps out and lofts it over the mid-on.
12.23 IST: Anrich Nortje replaces Kagiso Rabada.
12.20 IST: Ashwin to Rabada, RUN OUT! Could it be worse for the Proteas? Umesh Yadav dismisses Rabada with a direct hit. The Indian bowler does a slight misfield but gets the ball back in time to fire a throw at the non-striker's end.
12.19 IST: Kagiso Rabada is the new man in.
12.14 IST: Shami to Piedt, OUT! And again, India takes the wicket in the first over of the session. This time, it's Shami who traps Piedt low on the left pad. 
12.12 IST: Mohammed Shami to begin the proceedings in the 2nd session.
11.31 IST: And it's Lunch on Day 3. India are in command after the first session, even as Zubayr Hamza and Temba Bavuma seemed to steer South Africa to a solid fightback after the early wicket of Faf du Plessis. The introduction of Ravindra Jadeja put a control over the duo's scoring rate and eventually resulted in another batting collapse. Shahbaz Nadeem, too, struck his maiden Test wicket. 
11.23 IST: Nadeem to Linde, FOUR! And that would be the first four Nadeem concedes, and the first four Linde hits in Test cricket. A good sweep from the batsman.
11.21 IST: Dane Piedt is the new man in.
11.19 IST: Jadeja to Klaasen, OUT! BOWLED! That's a thing of beauty from Ravindra Jadeja! Almost unplayable, this one. He pitches it around the off stump this time and the ball beats the outside-edge of Klaasen's bat. Unlucky for the batsman, as he was looking reasonably good till the time.
11.08 IST: George Linde replaces Temba Bavuma.
11.05 IST: Nadeem to Bavuma, OUT! Pressure was mounting on Bavuma and he decides to step out. He has a brief change of mind and decides to play defensive shot instead. Gets too late in the process, misses the ball completely and Wriddhiman Saha stumps him out. Big wicket for India.
11.03 IST: Heinrich Klaasen is the new man in.
11.01 IST: Jadeja to Hamza, OUT! BOWLED! That's a typical Jadeja dismissal. A straight delivery around the middle and leg and it skids through the pitch and castles Hamza's leg-stump.
11.00 IST: NOT OUT! The ball is going way down the leg. India lose the review.
10.59 IST: Jadeja to Bavuma, Big appeal for an LBW, and Virat Kohli takes the review after consultation with Jadeja.
10.58 IST: Nadeem starts off with a maiden.
10.56 IST: Shahbaz Nadeem replaces Ravichandran Ashwin.
10.52 IST: Ashwin to Hamza, FOUR! Back foot punch from Hamza on the occasion. Very short from Ashwin.
10.50 IST: Ashwin to Bavuma, FOUR! Swept away! Bavuma goes down on one knee and times it brilliantly.
10.42 IST: Ashwin has been expensive this morning. In four overs, he has conceded 25. The spinner experimented from around-the-wicket in his first two overs but it didn't work well for him.
10.40 IST: Ashwin to Hamza FOUR! Waited for the ball to come to him and opened the face of the bat. Great timing on the shot. A relatively shorter ball from Ashwin and outside-off, and Hamza slices it.
10.34 IST: Drinks. South Africa took a huge blow in the very first over of Day 3, but things have looked good for the visitors since.
10.29 IST: Ashwin to Hamza, SIX! And that's fifty for the South African batsman! His first in Test cricket.
10.23 IST: Umesh to Hamza, FOUR! Punched! This is brilliant display of batting from Hamza. He is not letting the bad deliveries go unpunished. This one was short but had width on offer, and Hamza punches it towards covers.
10.20 IST: Ashwin to Bavuma, FOUR! Cheeky! Bavuma opted for the reverse-sweep even as the second slip was in place, and he gets the reward. The ball goes past Mayank Agarwal's legs.
10.19 IST: Ashwin to Hamza, FOUR! Driven beautifully between covers and mid-off.
10.11 IST: Ashwin to Bavuma, FOUR-BYES! Ashwin, who is bowling from around the wicket, bowls a little fuller outside off and beats Bavuma on the outside-edge, but Saha fails to collect the ball on time.
10.10 IST: Change in bowling. Ravichandran Ashwin replaces Umesh Yadav.
10.06 IST: Shami to Hamza, FOUR! Opens the face of the bat and times it impressively between point and slip. No third-man and Hamza gets a four again. This is good batting from 24-year-old. Also brings up the 50 for South Africa.
10.05 IST: Shami to Hamza, FOUR! A juicy half-volley and Hamza plays it with a straight bat. Beats the fielder and he gets another four.
09.55 IST: Umesh to Hamza, FOUR! A short of conviction, this one. Drives it through to mid-off, and that kind of shot would give Hamza much-needed confidence.
09.54 IST: Umesh to Hamza, FOUR! EDGED! Eery similarity to the delivery which dismissed Faf! Hamza is lucky, though, as it takes a thick deflection and races to boundary, going past between slip and point.
09.51 IST: Umesh to Hamza, FOUR! Almost like the previous boundary, this one. Short pitched, no third man, and South Africa gets another easy boundary.
09.50 IST: Shami to Bavuma, FOUR! Slashed it brilliantly towards point. After beating Bavuma on multiple occasions with good-length deliveries, this one stays a bit short and Bavuma finally opens his arms.
09.41 IST: Maiden for Mohammed Shami to begin the proceedings from the other end.
09.36 IST: Temba Bavuma replaces the South African captain on the crease.
09.34 IST: Umesh to Du Plessis, OUT! WHAT A START! A peach of a delivery from Umesh! Much improved length from Umesh here, as he pitches it around middle and off, but the ball takes a subtle movement and beats Faf's outside-edge as he attempts to defend.
09.30 IST: Umesh to Hamza, FOUR! First runs of the day. Poor length from Umesh as he bowls down the leg side. Hamza flicks it towards backward point and also opens his account.
09.30 IST: The players are out on the ground. Umesh Yadav to bowl the first over of the day.
09.25 IST: We're five minutes away from the start of Day 3 of the Test. Faf du Plessis and Zubayr Hamza will resume the proceedings on what seems to be a difficult pitch to bat on, with cracks opening up.
08.24 IST: It was an eventful second day of the final Test, which saw Rohit Sharma reaching his first double hundred in Test cricket. During the innings, he also broke numerous records. 
Check out all the major stats from the second day HERE.
08.16 IST: Weather forecast
For the second consecutive day yesterday, bad light forced early stumps in the ongoing Test at Ranchi. There might be a change to it - not in a positive way, though.
Showers are expected at around 1 PM, during the second session of the play. The weather is expected to remain cloudy throughout the day.
8.07 IST: Hello and welcome to the live blog for the third day of the final Test between India and South Africa. We're in for an exciting day for the Indian team as they are on top against the visitors and will aim to continue on their onslaught. Shami and Umesh struck to deliver the early blows for the Proteas as they left struggling at 9/2 before bad light eventually forced early stumps on Day 2.
Brief Preview: Rohit Sharma once again provided unbridled joy with his maiden Test double hundred before India's pacers dented an already scarred South Africa top-order to gain complete control in the third and final match here on Sunday. Revelling in his new avatar, the stylish Mumbaikar smashed his way to 212 off 258 balls in the company of vice-captain Ajinkya Rahane (115), as India declared their first innings at 497 for nine. (FULL REPORT)