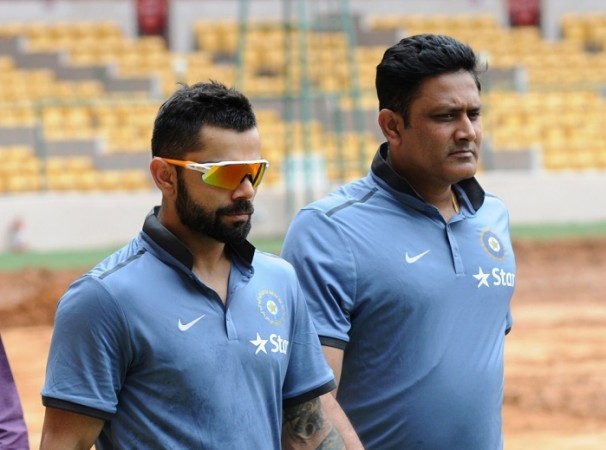 Team India's head coach Anil Kumble on Thursday rubbished allegations of ball-tampering levelled against Test skipper Virat Kohli during the first cricket Test against England at Rajkot that ended in a draw, saying none of his side's players were involved in such activities.
"First of all, I don't want to react to any report that is in the media. As far as I am concerned, neither the umpire nor the match referee ever came to us talking about it," Kumble said ahead of the third Test against England beginning on Saturday here at the Punjab Cricket Association (PCA) Stadium.
After the 'mintgate' row involving South Africa skipper Faf du Plessis in which he was found guilty of ball-tampering, a British tabloid had accused that some footages of the Rajkot Test indicated that Kohli appeared to shine the ball using residue from a sweet.
However, Kohli will face no inquiry because the mandatory five-day window in which an investigation must begin under the ICC protocol had passed before the footage came to light.
Drawing comparison with the du Plessis incident which took place in the second Test against Australia in Hobart, Kumble said his side did not give too much wind to such kind of stories before saying that a "mountain being made out of molehill" in the media.
"South Africa has played exceptional cricket to beat Australia 2-0 and for Faf du Plessis, to be told that ball tampering, it is very silly. It's making a mountain out of a molehill. Something that we would certainly not like to give too much wind to the story. As far as I am concerned, there is nothing to worry about. People can allege and write whatever they want in the media. As far as we are concerned, none of our players were a part of such activity," Kumble insisted.
Du Plessis was fined 100 percent of his match fee for breaching Article 2.2.9 of the ICC Code of Conduct, but was cleared to play the ongoing day-night Test at the Adelaide Oval.
The 32-year-old Proteas player was found guilty after the international cricket body ruled that broadcast footage of him shining the ball with residue from a sweet in his saliva amounted to a breach of the governing body's code of conduct.
India is currently leading the five-match series 1-0 following a massive 246-run win over the Alastair Cook-led side in the second match in Visakhapatnam. The opening match between two sides had ended in a pale draw.
(With inputs from PTI)