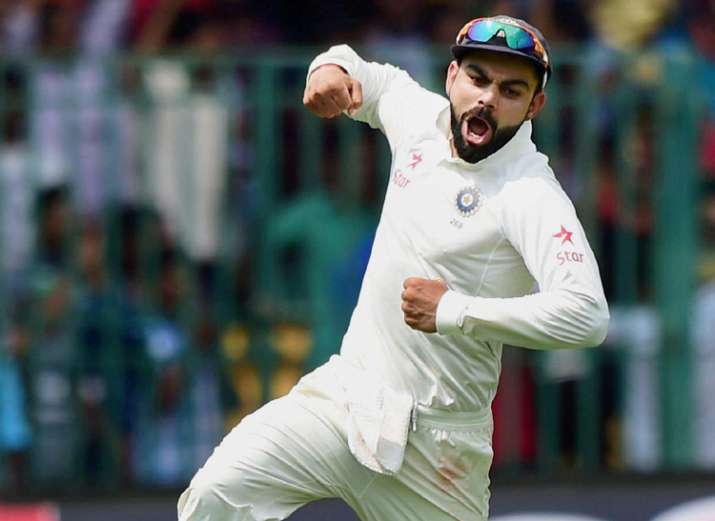 Visibly joyed with the comeback win in the second cricket Test to level the four-match series 1-1, Indian skipper Virat Kohli called the victory against Australia as the best of his captaincy career.
"Till now, this is the best win for me. Definitely, I don't want to talk that much, the game panned out at the way it did. It was a quite emotional game for us, quite draining as well, everyone got along together. We showed the team spirit. It's not about one individual here but by far the sweetest victory for us," Kohli said in the post-match press conference after the 75-run win which helped the Indians draw level in the four-match series. 
Comparing his team to a snake which can sting from any direction, Kohli said people need to keep that in mind. 
"Everyone got along well. Talking about the head of the snake, the head did pretty well. It is not just about one individual here. This snake can sting from any direction. Some people need to keep that in mind," he added, taking a veiled dig at Nathan Lyon's comment about Kohli being the prized wicket. 
Kohli lavished praise on the team's bowlers for ensuring that Australia's first innings lead was not too big. 
"Yes, our bowlers gave only 47 runs in the first session on day two. They (Australia) could have taken the game away from us because they were 40 without loss. Probably, the momentum changed at that stage. Then we picked up six wickets conceding less than 100 runs I think we picked up from here," he said. 
"We surprised ourselves by winning by 75 runs, we thought it to be much more close. After losing the first Test the way we did, we wanted to bounce back and not show anyone but ourselves what we are made of," the Delhi batsman said. 
The hosts fought back well after being bundled out for 189 in the first innings to turn things around and concede just 87 runs before setting a 188-run target for the visitors on an M. Chinnaswamy Stadium pitch which had developed a few cracks after the third day's play.
Terming as "unbelievable" the way the team bounced back, the 28-year-old said he wanted to carry the momentum to Ranchi, where the third Test will be played from March 16. 
Kohli said Ravindra Jadeja, who took seven wickets in the match, was "outstanding". 
"Umesh and Ishant supported very well. These are the things you need as a team to change when the tide is going against you. But one thing is we never stop trying. We did not give in and we did not let the opposition roll over us and get a big first innings total," he said. 
Kohli also praised Cheteshwar Pujara and Ajinkya Rahane, who bailed the team out with a 118-run fifth-wicket stand when the chips were down in the second essay.
"I think that partnership between Pujara and Rahane is the best, I have seen in the past couple of years. It was a champion partnership. That's why they are two of the best Test batsmen we have got, so much character and technique, and heart," he said.
"Wriddhi's (Wriddhiman Saha) knock in the end, Ishant's (Sharma) application, that was a bonus."
"We knew if we got anything over 150, we had a chance. We would have liked anything over 200, we thought from 225 there was only one winner. The moment we got 187, we knew we needed in-out fields, we needed to finish it today," he added.
Kohli said the victory has also made it clear that India does not rely merely on him to do the scoring. 
"Our opponents used to think that once I get out, the team will be under pressure. I told the team that everyone has to perform," he said. 
"If my performance is good and the team wins I am always happy. So, our plan was that the focus should be on the team's performance and let opponents focus on me. This is what exactly happened in this Test match." 
Kohli brushes aside criticism by Ian Healy
Kohli brushed aside criticism by Australian wicket-keeping great Ian Healy, who had stated that he was losing respect for the Indian for his on-field conduct, and said one individual's comments do not make a difference to him.
Healy had on radio claimed that Kohli's over-the-top on-field aggression and antics were beginning to diminish the respect he had for him.
But Kohli hit back at the Australian by citing an infamous moment of 1997, when a furious Healy gestured to the crowd before hurling his bat on return to the dressing room at Centurion Park.
"We've got 1.2 billion people in India, one person doesn't make a difference to my life. Also you need to go and search on YouTube when he was given out down the leg side," Kohli said, on being asked about Healy in the post-match conference.
"I heard he said something about me not having good behaviour with the umpires. I think you all should YouTube that video and I think that says it all," the 28-year-old added.