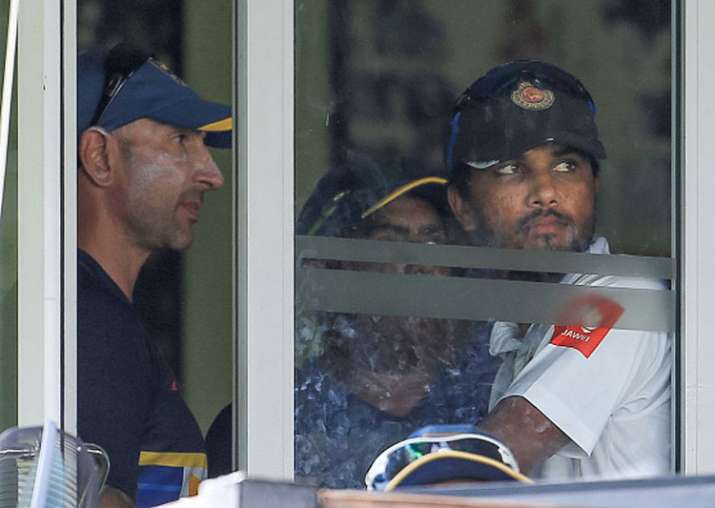 Sri Lankan cricketers should not be demoralised by extraneous elements in the social media and get on with the game, Team mentor Aravinda de Silva said during a motivational session. 
With Sri Lanka facing flak after their dismal show in the ongoing Test series, the Cricket Board here conducted a motivational session last night for the national team ahead of this weeks third and final Test.
The injury-marred Sri Lanka lost by an innings and 53 runs in last week's second Test against India. The hosts lost the first Test by 304 runs. 
They had also suffered a defeat against bottom-ranked Zimbabwe in a home ODI series, besides making early exit from the Champions Trophy in June. 
Young players should "not to be discouraged by extraneous elements that seek to demoralise them via social media and gossip sites", former captain de Silva was quoted as saying by a Sri Lanka Cricket statement. 
Fans ridiculed the Sri Lankan team after their recent performances with one post joking that Sri Lanka had in fact won the second Test because they had played two innings to India's one. 
Government Minister Harsha de Silva also mocked at the team by posting a picture of himself with Indian skipper saying: "Told Virat Kohli #India Cricket to go easy on #SriLanka next Test. 600 a bit too steep." 
Sri Lanka has been going through a difficult phase ever since the retirement of senior players, Kumar Sangakkara, Mahela Jayawardene and Thilakaratne Dilshan. 
After Sri Lanka bowed out of the Champions Trophy, the players were accused of having "pot bellies" by the country's sports minister. 
Former skipper Arjuna Ranatunga also had recently accused the team of spot-fixing during the finals against India in the 2011 World Cup. 
Sri Lanka Cricket said that the players had met with top officials and coaches yesterday in an attempt to regroup after "facing what is perceived to be a slump in their performance and ranking." 
The board also said it is doing its best to rectify "a series of administrative and strategic missteps over the past several years." 
However, the team has got some support from chief selector Sanath Jayasuriya, who urged "everyone to stay focused and remain positive with the 2019 World Cup as their singular goal".